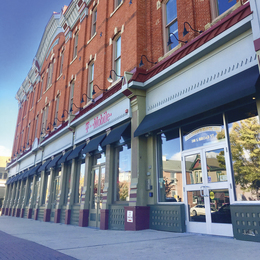 Finding Its Way
How the Greater Woodbury area has been navigating the new norms of business.

Resiliency is a term South Jersey has long been familiar with. After years of taking a backseat to the powerhouse that is North Jersey, the region has learned to roll with the punches and overcome whatever adversity is thrown its way. Of course, a global pandemic is not anything anyone can ever be prepared for and the past 12 months have certainly tested the strength of even the most resilient here.

"From the perspective of a small business owner and the president of the [Greater Woodbury Chamber of Commerce], I feel that we've been doing as well as we can," says Tim Jennings. "There are very few businesses that are doing well, apart from Amazon, Target, etc. Most businesses in our area are struggling."

While the struggle is real, businesses have found ways to adapt, Jennings notes. A year in to the pandemic, communities like Woodbury, Deptford and West Deptford in South Jersey—and those like them across the country—have been working to make the best of the changes that have been forced upon them.
Deptford Mayor Paul Medany has long been one of the town's staunchest supporters. So, when it comes to advocating for the town and making its presence known, there's no one who does it better. And he's been sure to continue to do it through the pandemic.
"We actually have a brand-new Republic Bank being built in the mall parking lot," he says. "We have a new super Wawa under construction. We're constantly trying to attract new businesses.
"I write to CEOs and say, 'Hey, come on here,'" Medany adds. "We want brick and mortar businesses, we're big believers and supporters of them. We love our business community."
With close to 800 businesses in the area, it's clear Deptford has been an attractive location for retail and medical entities alike over the years. Of course, it's been with a lot of hard work, and making itself as business-friendly as possible.
"We have a meeting at least twice a year, where we invite all the businesses that want to show up, and we buy them lunch, and I give them a state of Deptford talk," Medany says. "Then I open it up and say, 'What can we do to help you?' That's the first question I ask. 'How can we partner up with you to make your businesses a success?'"
While the past year has seen many businesses in South Jersey struggle, certain sectors have thrived. That has been particularly evident in areas like West Deptford, where its availability of industrial space has made it a hot commodity.
"I can say towns who rely on brick and mortar probably had more difficulty [over the last year] than a place like West Deptford and Logan Township," says West Deptford Deputy Mayor Jim Mehaffey. "Anyone with industrial space, which is really up and down the 295 corridor here, has profited.
"We had spaces that, prior to COVID, were already in the works, and empty space that now has buildings planned for it," he adds. "We can't get away from it. It's definitely the biggest sector that profited, and we can't supply enough warehouse space. I don't see many buildings unoccupied."
The township, like many others, has begun to look beyond the four walls of buildings, though, and is also evaluating its park system.
"One of the things we're really looking to do is improve our outdoor space," Mehaffey says. "That includes looking at our RiverWinds [community center] structure. Unfortunately, or fortunately, this pandemic has given us the opportunity to get some work done in there and revamp it and bring it back to a Class 1 facility."
Outdoor projects will also be forthcoming in Woodbury, city administrator Franklin Brown says.
"Some upcoming notable improvements and beautification efforts along Broad Street include, but are not limited to, public art projects, decorative lighting installation, enhanced way-finding signage and façade improvements in the connecting residential neighborhoods within the [Neighborhood Preservation Program] area," he says.
While many towns in South Jersey were forced to find new ways to overcome during the last year, with the closure of Underwood Memorial Hospital in 2019, Woodbury had already been working on ways to adapt and pivot. And while the site is no longer a hospital, the now Inspira-Woodbury property is seen as an economic driver with big potential for the city.
"Inspira continues to work with the city of Woodbury, as well as the county, on finding an appropriate use for that site," Gloucester County Commissioner Heather Simmons says. "There are a couple of advantages to that site, including the fact that it's an existing medical building with a parking garage.
"There is great potential there for some kind of use that can create and retain jobs and also bring economic vitality to the town," she adds. "The other advantage is that it will have direct access to the Glassboro-Camden light rail line, which will be going through the county and will also bring economic development and improved property values."
Simmons adds that Woodbury is focused and centered on recovery and resurgence, and everyone involved in the project is looking to do what is best for the community and its residents.
Of course, there is more to Woodbury than the hospital site, and a number of businesses have found ways to open in town this year. Among them is Brynn Bradley, a specialty shop offering sandwiches, salads, catering and market items.
"We knew we were taking a risk opening a shop during a pandemic, but we also knew that if we wanted to go after this dream, we may not get another chance," says Ashley Hartnett, who owns Brynn Bradley—named after her children—with her husband, Matt. "
We have been welcomed warmly into Woodbury. … Since COVID hit, we see just how many people are passionate, now more than ever, about supporting local and shopping small."
It's the civic pride and local spirit that truly has helped most businesses this year, says Lisa Carney, insurance agent and chairwoman of the board of directors for the Gloucester County Chamber of Commerce.
"The most important thing most of us have learned is just how vulnerable we are in both our business and personal lives," she says. "However, we have come together, and I have seen amazing outreach by our community to help those in need and to support our front-line workers.
"Sending food and personal protective equipment to hospital workers, gifts for children, food pantry donations and supporting local businesses have been a priority for this area, even though so many have been unemployed," Carney adds. "This says a lot about the heart of our Gloucester County community."
Though years of practice has made South Jersey resilient, in the coming months the hope is that, while being cautiously optimistic, businesses in the West Deptford, Deptford and Woodbury area will start to see a little less strain on their well-being.
"It has been the small businesses that have endured the greatest struggle during the pandemic," Brown says. "While many have tried to make the necessary adjustments to sustain their businesses during this difficult time, all indications are that many continue to struggle.
""e must continue to be mindful that these are the business owners that have supported their local communities by offering sponsorships and donations for many youth activities programs, community events and private-public partnership initiatives, he continues. "While we remain hopeful that vaccines and other mitigation strategies are placing us on a path toward economic recovery, we must now, more than ever, direct our full complement of resources to supporting local establishments to see them through the pandemic."
15
— Number of businesses, representing the retail, professional services and food and beverage sectors, that have opened in Woodbury over the past year.
34 acres
— S

ize of the farm Deptford purchased through the state's Open Space program for events and outdoor gatherings.
Neighborhood Preservation Program
There's no denying the COVID-19 pandemic has been tough on everyone, but Woodbury has continuously been looking to find ways to offer relief for its residents and business owners. One way is through the state's Neighborhood Preservation program, says city administrator Franklin Brown.
"
Through our Neighborhood Preservation Program (NPP), sponsored by the New Jersey Department of Community Affairs, we have been able to support the businesses in the South Woodbury Business District directly through rental assistance grants. To date, we have distributed approximately $153,000 to 19 businesses in amounts up to $10,000 per business owner. Additionally, through this program, we have instituted a local e-gift card program that has directly placed $33,500 in circulation for local spending within our NPP area, and has provided over $24,000 toward the purchase of outdoor seating, heaters and personal protective equipment for these businesses."
Click here
to subscribe to the free digital editions of South Jersey Biz.
To read the digital edition of South Jersey Biz,
click
here.
Published (and copyrighted) in South Jersey Biz, Volume 11, Issue 2 (February 2021).

For more info on South Jersey Biz,
click
here.
To subscribe to South Jersey Biz,
click
here.
To advertise in South Jersey Biz,
click
here.