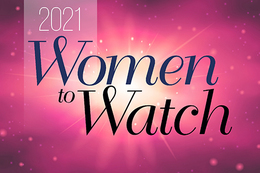 Women to Watch 2021
In a year in which we witnessed a woman become the first female vice president in United States history, it's only right that we recognize some local ladies for the impact they are making across South Jersey and beyond. The 2021 Women to Watch honorees feature great business minds from various professions who impress with their credentials and inspire with their leadership. Get to know them better as they share advice, accomplishments and lessons they've learned along the way.
Counsel, Chair, Employment and Labor, Parker McCay
Hodges represents both public and private sector clients, counseling them on employment and labor matters involving issues like employee discipline, policies and employment manuals, and compliance with state and federal disability and leave laws, particularly those created by the COVID-19 pandemic.
How do you approach work/life balance?
That is probably one of the most difficult things to do as a working mother, especially because of my practice area, I have a lot of meetings at night. For the most part, if my girls had something at school, a concert or a match, I always did everything I could to make sure I could be there. Even now, my youngest is a senior in high school and sometimes I just sit in her room while she is doing homework, just to be with her. When my older daughter is home from college, I do the same thing. I make the time to be with them, even if we are not doing anything specific.
Which female role models have made an impact on your life?
Without question, my mother was the greatest female role model. She instilled in me not only a great work ethic, but the certainty that there was nothing I couldn't do.
President and CEO, Inspira Health
Mansue became took over as president and CEO for Inspira last September, bringing decades of experience in the industry with her. Prior to joining Inspira, she most recently spending the last four-plus years as executive vice president and chief experience officer with RWJBarnabas, the state's largest integrated health care system.
How did you first get into your profession?
The University of Alabama offered a field placement as part of my social work degree that allowed me to go to Washington, D.C. for six months. This led me to the Subcommittee on Health and Long-term Care of the Elderly … Congressman Jim Florio was on that committee and that became the defining moment that has opened every door for me since I was 22 years old. I fell in love with the issues impacting the health of at-risk populations and the process of how public policy becomes law.


What is your proudest accomplishment?

The opportunity to have played a small role in improving the health of people we have served, either through public policy changes or in providing care, is a tremendous honor and gift. Fostering an environment in which we always treat others with respect, dignity and compassion is the key to a successful business and life.

Helen Hannigan
Executive Director, Southern New Jersey Perinatal Cooperative; President and CEO, Family Health Initiatives
Hannigan leads work to improve health services and outcomes for women, infants and families across Southern New Jersey and has more than 20 years of experience designing and implementing initiatives to meet the needs of individuals and communities.
What is your personal motto?
As a student in a Salesian High School in the D.C. suburbs, I learned the motto "Be who you are
and be that well." These words call me to lean into my strengths, to know, accept and present
myself in an authentic manner and to support others to do the same for themselves.
If you could meet any woman in the world, past, present or future, who would it be?
Dolly Parton! I am so impressed by how she brings her talents and resources to every aspect of
her life. I am inspired by her literacy program that brings books to children of all backgrounds. ... I would love to tell her how much joy and inspiration she has brought to my life.
President and CEO, Thrive Public Affairs
Passionate about health equity, Ghee works and volunteers her time to improve community health one project at a time. She has spearheaded several projects and groups that advocate for women and she serves on the board of trustees for the Food Bank of South Jersey and the Cherry Hill Free Clinic.
Which female role models have made an impact on your life?
I have been so blessed to have several female leaders when I was working in health care. One in particular is Dei Hudnell when I was at Children's Hospital of Philadelphia. She challenged me to go and grow past the "chair" I was in. I think this was my first real experience of what female mentorship really was and this was over 15 years ago.
What do you want your legacy to be?
I want my girls to learn and see what it is to help make their community a better place and demonstrate to as many people as I can that we can all do our part to help others.
If you could meet any woman in the world, past, present or future, who would it be?
I would love to have met with Maya Angelou.
Owner, Juno Wealth Management
Leis is the owner of Juno Wealth Management, a financial services firm specializing in sudden wealth primarily through inheritance, divorce and legal settlements. Additionally, she serves as the Grant Finance Chair on the Board of Impact100 South Jersey, is the founder of Working Moms of South Jersey and is a nationally ranked pro-am ballroom dancer.
What is your personal motto?
My personal motto is "Be the change you wish to see in the world." –Gandhi
What do you love about your industry?
I love helping people realize their financial goals and secure their future.
If you could meet any woman in the world, past, present or future, who would it be?
I would love to meet Tina Fey and Amy Poehler because they are brilliant at combining intellect and humor. Imagine the laughs we would have at lunch!
What do you want your legacy to be?
I'd like to inspire others to continue challenging themselves and achieving their dreams at any age.
Senior Vice President and COO, Virtua Medical Group
Lynch oversees the management and finance functions of Virtua Medical Group, a network of Virtua Health physicians that includes more than 150 medical and surgical physician practices in 200 locations. In addition, she serves as the operational lead for Virtua's COVID-19 testing and vaccine clinics—representing thousands of patient encounters each day.
What do you love about your industry?
The health care industry is full of resourceful, committed individuals who are fearless. During the COVID-19 pandemic, I witnessed creative and courageous acts across the Virtua Health system. When your goal as an organization is to be "Here for Good," how can you not be energized to go into work each day? We make a difference in people's lives, which is something I can really get my arms around.
What is your proudest accomplishment?
This past year has allowed me to see the culmination of many of my prior roles into one "mega" leadership role. I am humbled by the responsibilities I have been given. I am proud that my experience and collaborative style have helped Virtua successfully care for our community during this very difficult and challenging time.
Partner, Hyland Levin Shapiro LLP
Balne leads her firm's employment practice group and also serves as the chair of the legal/legislative committee for the Human Resources Association of Southern New Jersey. She further serves the business community by sitting on the board of the South Jersey chapter of the National Association of Women Business Owners.
How did you first get into your profession?
I decided to attend law school directly after finishing college. I double majored in history and theater and the law presented a unique way to combine both my love of research and my love of performing. Not surprisingly, I enjoy trials, presenting my case to a jury and oral argument.
Which female role models have made an impact on your life?
I have been fortunate to have many strong female role models in my life. My mother, Regina Knowlton, has been an incredible influence. She had a successful career as a cancer research scientist and transitioned to teaching, and has been a role model not just to me, but to countless students for the past three decades. She has always pushed me to strive for the top and to pursue my passions. I also had a very invested professor in college, Karen O'Brien, who taught me the invaluable lesson that you need to be your own advocate, and you need to own your accomplishments and your ambitions. In terms of the law, the late Justice Ruth Bader Ginsburg has always been my inspiration. As a Rutgers Camden-Law student, I stumbled upon a paper Justice Ginsburg wrote while a professor, and her words on women in the law still inspire me to this day.
Principal, Needleman Management
Needleman has proudly served in her family's commercial real estate business for the last decade and presently oversees all tenant-relationships, leasing and construction for the firm. Before joining Needleman Management, she held various positions including with her own internet marketing firm and as an executive at iVillage/NBC Universal.
What is your personal motto?
Try to "do good" each day, whether that's offering consulting, philanthropic dollars, volunteer time or simply a random act of kindness.
What do you love about your industry?
Along with carrying on my father's professional legacy, it's having the chance to meet new people, learn about their businesses and help solve space and financial problems.
Medical Director of Gynecologic Oncology Services, Sidney Kimmel Cancer Center-Washington Township
A native of South Jersey, Dr. Wilson-Smith specializes in the diagnosis and treatment of cancers of the female reproductive system, using the most advanced treatment options available. This February, the board-certified OB/GYN reached the milestone of having performed her 1,000th daVinci robotic surgical procedure, which can result in quicker recovery times for patients.
What is your proudest accomplishment?
I am most proud of my four children. I was blessed to have my eldest daughter during my residency, and a set of triplets that I delivered full-term during my fellowship. They are wonderful caring human beings with much to contribute to the world.
If you could meet any woman in the world, past, present or future, who would it be?
I

would want to meet Ms. Dorothy Height. She was an American civil rights and women's rights activist who felt strongly that addressing inequalities for women, as well as African-Americans, is equally significant.
Director of Communications & External Affairs, New Jersey, Easter Division, American Water
Venuti Free is responsible for overseeing communications and external affairs across
American Water's New Jersey, New York, Virginia and Maryland subsidiaries, including customer education, media relations, issues management and community outreach. Free joined American Water in 2009 and was promoted to her current position in 2016.
How do you approach work/life balance?
It's challenging but I do try to make time for myself because I know that makes me a better mom, wife and employee. I make exercise a regular part of my day, from walking the dog to getting on the treadmill. I also love to cook healthy meals, often with my teenage daughter, and we try to have dinner as a family every night. As hard as the pandemic has been on everyone, it has enabled us to have more family time which is helpful in these stressful times.
Which female role models have made an impact on your life?
My female role models are the women who champion equality, not just for women but for all people. If I had to pick one, it would be the incomparable Ruth Bader Ginsberg. And my mom was really my most important role model because she taught me hard work and resilience; that you can't control everything that happens in life, but you can control how you respond and move forward.
Partner, Charny Karpousis Altieri & Donoian, P.A.
Donoian-Pody has 20 years of experience in all aspects of family law with a particular focus of her practice on complex divorce matters involving unique issues. A popular speaker and published legal author, she is passionate about supporting the community, volunteering with South Jersey Legal Services, Food Bank of South Jersey and Ronald McDonald House Southern New Jersey.
What do you love about your industry?
I like helping others in need and, as a family law attorney, I am fortunate to have the ability to make a difference when couples and children are going through what can be one of the most difficult times in their lives. It may be assisting parents with custody disputes or securing an order of protection for domestic violence abuse. In each case I am working to effectuate change and help people move ahead in the best possible way.
How do you approach work/life balance?
This is the reason I left a large law firm in search of a smaller dedicated practice where I could still make a difference in my clients' lives yet do so without negatively impacting my family. Don't get me wrong, the hours are still as long as ever and maybe more so now as a practice owner plus my full caseload, but I am afforded flexibility in my schedule. I can spend time at the dinner table with my family then work into the evening. I am fortunate.
Bechtel founded her business on the principle of helping women entrepreneurs know their numbers and grow their business all while being able to enjoy life outside of work. With more than a decade of experience, she has mastered the complexity of taxes and explaining financials in a way anyone can understand them.
How do you approach work/life balance?
Being a mom of two young boys, I must be intentional with my time. I've learned over the years to prioritize, delegate and always make time for family each day.
Which female role models have made an impact on your life?
On a personal level, I would have to say my Mom. She taught me to go for my dreams, give generously, put faith and family first, and show love in all aspects of life. Professionally, Marie Forleo and Jill Salzman show me that no matter what industry you are in to make it fun, to educate others is a gift, and you should surround yourself with a tribe that encourages, supports, and even challenges you.
What is your personal motto?
"Be a Fruit Loop in a world of Cheerios."
President, Thomas Edison State University
Hancock is a nationally recognized leader in innovative and professional education programs for non-traditional students. She has dedicated her career to serving a multitude of underrepresented populations and advises regularly at the state, national and international levels.
What is your proudest accomplishment?
I am most proud of the fact that I brought my A game to both my profession and being a mother. I completed my Ph.D. as a working parent with a spouse who was frequently deployed. I will never forget a professor who told me I needed to choose between being a mommy and being a professional. This scenario is not unique to me. Any working mother knows the challenges.
What do you want your legacy to be?
I am focused on expanding educational opportunities for adults and under-represented populations. These are the hard-working people who use their degrees to change their lives. I suppose you could say I hope my legacy is having opened the door for our graduates to create their own legacies.
Senior Vice President, NAI Mertz
Ting has over 25 years of corporate real estate experience. She has represented various institutional owners and has been responsible for asset management, leasing and sales of millions of square feet of mid-rise, one-story office, retail and flex projects. Over the past few years Ting has produced transactions in leasing and sales valuing in excess of $100 million.
What is your proudest accomplishment?

Working in a male dominated industry and being a working mom demanded a balancing of priorities. It has led me down a path to realize the importance of family and how important it was to have balance in our lives. I am most proud, not only what I was able to achieve in business but in keeping and maintaining the balance in work and the lives of my family.
If you could meet any woman in the world, past, present or future, who would it be?
Mother Theresa. I would have liked to meet and share her spirit of humbleness and desire to help others with so little. She was someone who had very little in worldly possessions but did so much to help so many.
Senior Partner and President, Schwartz Financial Associates
Kukainis is a certified financial planner and since 1987 and she took over the reins at Schwartz Financial Associates a decade later after previously working in corporate banking and cash management. During her tenure, she has had a direct hand in successfully expanding the practice in offering customized financial planning solutions for a wide variety of clients.
How did you first get into your profession?

I was working in corporate banking for six years when my father approached me with the opportunity to join him in his practice and eventually take over. There were no job share or flex-time opportunities for women at the time in my industry, and we were starting our family. So, I took a chance (and a big pay cut) and joined him and never looked back.

What do you love about your industry?
It is the perfect combination for me of analytics, problem solving and personal assistance. While our industry is focused on growing wealth and asset protection, there is a huge element of helping individuals, families and businesses realize their dreams and overcome obstacles. That is something that energizes me and gives me enormous satisfaction.

What do you want your legacy to be?
I worked and loved hard. I always did my best to improve the lives of my family, friends and clients. And that I did so with honesty.
Co-Founder, Time To Flourish
As managing and operating partner of a women-owned business, Rapp spends much of her
time leading other organizations through operational and financial transformations. She
accomplishes this through building and maintaining high-performing teams and executing
strategy in alignment with financial and operational goals.
How did you first get into your profession?
Whether it was building puzzles as a kid or turning around a struggling business, I have always
enjoyed solving problems. Early in my career, I worked my way up from an entry-level role to
become president of that $140M company.
What is your personal motto?
The quote, "It's not the size of the dog in the fight; it's the size of the fight in the dog" has
always resonated with me. I truly believe in the power of resilience, perseverance, and heart to
overcome adversities and obstacles in all aspects of our lives.
As chief financial officer for YMCA of the Pines, Culotta oversees finance, accounting and human resources for the South Jersey nonprofit. Thanks in part to her leadership, the organization has seen growth in every area of its business over the last five years.
How do you approach work/life balance?
To achieve work/life balance, you need support from both sides of the equation, and I am blessed to have that support. I am fortunate to work for an organization that is quite family-oriented, allowing me the flexibility I need to have both a fulfilling professional and personal life.
At the same time, my husband is also able to work from home quite often and he assists with taking care of household matters to help out. With these supports in place, to maintain balance, I try to keep my schedule as flexible as possible.
Which female role models have made an impact on your life?
I can look to many successful women as role models, but the one constant role model throughout my life is my mother. Rosanna Soldani Aguilera was the mother of seven children, whom she raised in a three-bedroom, one-bathroom house in a modest neighborhood in New Orleans. My father, who passed away when I was 19, worked shift work at a local manufacturing plant, and my mother was a Parochial school teacher for over 30 years. You talk about work/life balance; she was the ultimate expert.
Developer, Sokol Enterprises
Sokol owns a buy and hold boutique real estate investment and development company, which formed in early 2016. She quickly became a specialist in the acquisition, rehab and rental of under-developed properties. In addition, Sokol does commercial real estate consulting specializing in client financing and transaction structuring.
What do you love about New Jersey?
Despite New Jersey's small size it has the best of everything to offer from its beaches, to its universities, to its restaurants and shopping. New Jersey has the best of everything which ultimately leads to a multitude of business opportunities for its residents.
How do you approach work/life balance?
I put my family first and everything else falls into place. When you put your family first, they support you in your business ventures. Not only do they provide me with the time I need to make my businesses flourish but they also provide assistance, feedback and prospective.
Small Business Relationship Manager, Santander Bank
Bliss has been in the banking industry for the past 14 years and in her current role she oversees the Southern New Jersey market. Bayliss prides herself on cultivating strong client relationships and has an unwavering passion for assisting small businesses grow and succeed.
What do you love about your industry?
I come from a rural farm community which ingrained the value of small businesses, I believe this is why I have so readily connected with entrepreneurs to help guide them on their journey as they follow their path to success. This has helped me grow as a business woman and a trusted partner in the industry within our community. I really enjoy helping people reach their financial goals, whether it is growing their business or assisting them in creating their exit strategy to pass their business on to the next generation.
What do you want your legacy to be?
To instill in others to be completely selfless, to go above and beyond and to put your heart into the people and things for which you care deeply.
CEO, Recovery Centers of America (RCA) at Lighthouse
Belamarich has an extensive community service background and she has been with RCA since 2017 where she has served as clinical director and then executive director with clinical and operational oversight of residential and detox programs. Last August, she was named CEO and continues to position RCA as a leader in addiction treatment services.
What is your proudest accomplishment?
I will always be the proudest of the impact, even if small, that I have been able to have on others. Whether it's employing someone who came through treatment or seeing a supervisee grow in their role and skills et, it always gives me the most joy and fulfilment.
What do you want your legacy to be?
I want to be remembered as someone who truly cared about others and worked tirelessly to bring about positive changes in the world. As stated by the famous Maya Angelou, "People will forget what you said, people will forget what you did, but people will never forget how you made them feel." I am hoping to have an impact on people that lives on long after I am gone.
Click here to subscribe to the free digital editions of South Jersey Biz.

To read the digital edition of South Jersey Biz, click here.

Published (and copyrighted) in South Jersey Biz, Volume 11, Issue 2 (February 2021).

For more info on South Jersey Biz, click here.
To subscribe to South Jersey Biz, click here.
To advertise in South Jersey Biz, click here.