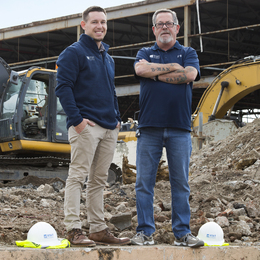 Sponsored Content: Built to Last
A diverse portfolio and four decades of hands-on experience have helped B. Tait Builders earn its reputation as an industry leader known for exceeding client expectations.
When Brian Tait Sr. started B. Tait Builders 40 years ago, he did so on the foundation that he was not only building state-of-the-art commercial properties, he was also building longstanding relationships with his client base. These days, he works closely alongside his son, Chris, who joined the company in 2002 and now serves as Vice President. Together, they have been able to grow the business steadily and substantially with multimillion dollars in sales. The company is widely regarded as one of the leading general contracting and construction management firms in the region.
A proven track record along with solid customer relationships are a driving factor in the success of the Pennsauken-based business. Both father and son agree that their biggest attribute has been the ability to tackle a wide variety of projects with a dedicated approach and unwavering attention to detail.
"I've always tried to be versatile," Tait Sr. says. "[When I was starting out] I was able to do projects that the little guys couldn't do and the big guys didn't want."
With decades of experience and a veteran staff to rely on, B. Tait Builders is skilled enough to handle jobs ranging from a small bathroom renovation to a multi-million-dollar new construction project.
"When you have a company that's done various types of projects over the course of 40 years, there's not much that my father and I haven't seen," says Chris Tait. "We are comfortable with any type of project."
That comfort level has allowed the company to diversify its portfolio; Including everything from strategic partnerships with Planet Fitness, Ikea and Aramark, to local retail shopping centers, food processing facilities and many more.
B. Tait Builders has differentiated itself from its competitors with the help of its in-house AutoCAD design team. They have the ability to conceptualize a project while incorporating the most cost-effective construction strategies without compromising the quality of the finished product.
Another way B. Tait has distinguished itself in the industry, has been the talented team of engineers and architects they have a long-standing relationship with. Working alongside a team of this caliber has added to the dynamic of the level of service B. Tait Builders can provide. This has enabled the company to expand its reach to facilitate and execute projects from the East to West Coasts.
"We meet with a client to discuss their vision. Our dedication to the client remains the same no matter the type of project—new construction, an addition or a renovation to their existing facility—we compile their information and create a preliminary design in-house to present to the client. Once the design is approved by the client, we collaborate with a licensed design professional to finalize it," says Tait Sr.
Tait says that by providing this kind of economic value does not go unnoticed and its's one of the main reasons why so many of B. Tait Builders' clients are either repeat customers or referrals.
"In order to keep clients within their budget, we begin value-engineering their projects from the very beginning; Cutting costs where-ever possible without sacrificing quality. Clients appreciate our attention-to-detail because we truly do have their best interest at heart." he says.
Amid the COVID-19 pandemic, B. Tait Builders has been able to successfully pivot its client base to satisfy various warehousing and industrial needs. They have had the good fortune of hiring employees in various departments since March of this year. This is further evidence of the company's versatility and wide-ranging capabilities that seamlessly blend Tait Sr.'s old-school knowledge with his son's forward thinking.
"We work good as a team," Tait Sr. says. "I'm a paper and pencil guy and he's bringing in a ton of fresh ideas, concepts and procedures."
"We do some pretty unique things and it takes some creative thinking," the younger Tait adds. "And we just keep pushing our boundaries even further."


B. Tait Builders

6646 Westfield Ave. | Pennsauken
856-488-1587 |
BTaitBuilders.com

Click here to subscribe to the free digital editions of South Jersey Biz.

To read the digital edition of South Jersey Biz, click here.

Published (and copyrighted) in South Jersey Biz, Volume 10, Issue 9 (September 2020).

For more info on South Jersey Biz, click here.
To subscribe to South Jersey Biz, click here.
To advertise in South Jersey Biz, click here.