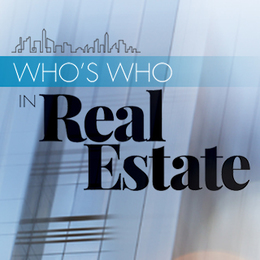 Who's Who in Real Estate
12 commercial real estate professionals paving the way in South Jersey.

It goes without saying the commercial real estate industry has been put through the ringer the past six months thanks to COVID-19. Yet, the professionals in front of you have overcome the challenges that have been presented to them, adapted to selling all facets of real estate during the pandemic and are still some of the top performers in South Jersey. We are proud to present you our Who's Who in Real Estate list.
Rick Schwartz
Founder, Principal, Veritas Real Estate
For 30 years in the commercial real estate industry Schwartz has handled various responsibilities in areas such as investment strategy and asset management functions. As the president of Veritas Real Estate, he has experience working with many leading banks and health care providers in South Jersey including TD Bank, Columbia Bank and Cooper University Healthcare.
"Veritas stands for 'truth' and we pride ourselves on conducting business with truth, honesty and integrity. Hence, success is more than profit, it is the ability to contribute to your community, be a good partner and always strive and embed a culture to do things the right way."
Christopher Jerjian
Founder and CEO, Kiwi Offices
Jerjian, the owner and founder of Kiwi Offices, has been in the industry for the past 35 years. As a promoter of the Kiwi brand, he is responsible for the development, marketing and leasing of office space. He has closed more than 350 large deals with local, regional and national companies.
"The market has truly evolved. My Kiwi model has been designed and tweaked to meet a market niche that will only grow in the years to come. Being a small developer has allowed me to experience the many different facets of commercial real estate. It takes vision and discipline. Moreover, in the age of COVID, all your assumptions will be tested and challenged. You need to be flexible, focused and deliberate in your response to market forces. Listen to the market, give people the value they want, be responsive, be consistent and treat them the same way you would like to be treated, all with a smile and gratitude."
Patricia Laverty
Managing Director, Cushman & Wakefield
Laverty started her career in 1974 and has been working for Cushman Wakefield for almost 25 years. In her role as managing director and a senior member of the global occupier services (GOS) client accounting team, Laverty supports the transition of clients for the finance and finance technology workstreams. Laverty has managed the GOS client accounting workstream for all of their major U.S. clients, which adds up to a 100-plus member finance team and 150 million square feet.
"I have had the opportunity to support the careers of, and mentor, many of our outstanding financial managers and see them progress within Cushman & Wakefield. Successful also means that you are the person that people turn to for answers to the 'tough' questions."
John Cairo
Director, Strategic Funding Alternatives (SFA)
Cairo's role involves many facets of activities such as acquisitions, financings, property management, leasing capital improvements and dispositions. In addition, he works to build strong relations with investors, tenants and other professional partners side by side with his team. In just two years at SFA, Cairo has helped in growing its portfolio of buildings from 20 to 30 sites and its total square footage from 600,000 to 1.3 million.
"The commercial real estate industry is fast-paced as are changes in market trends. These last few months have been challenging for everyone but we at SFA have found our portfolio of low-rise, less densely populated office parks with great exterior space are in high demand as companies look to move outside of more urban areas. So, keeping an open mind and long-term view through troubled times is important."
Adam Rose
President, Rose Commercial Real Estate
As founder and president of Rose Commercial Real Estate, Rose has spent 32 years playing key roles in all facets of the company, from strategic planning and marketing to business development and client relations. A strong proponent of supporting the community, Rose has served on the board of several organizations, including the Jewish Senior Housing and Healthcare Service and Kellman Brown Academy.
"

Over the years, there has been an increase in competition and advances in technology, which are reshaping the commercial real estate industry. While the latter has helped see us through these past few months, COVID has challenged us all. Yet the fundamentals remain—work hard and adapt to change. It is a time for learning to appreciate the good times, grab hold of opportunities and maintain a positive outlook for the future."
Kevin Burns
Vice President, Markeim Chalmers, Inc.
Over two decades ago Burns received his real estate license and he has been specializing in the sale and leasing of office properties at Markeim Chalmers ever since. Additionally, he holds the responsibility of client relations. He is committed to helping his community outside of real estate by serving on the Haddonfield Zoning Board for 10 years and he is a current member of the Haddonfield Lions Club, the Businesses Committee to South Jersey and the Chamber of Commerce Southern New Jersey.
"Three phrases come to mind that are the most rewarding part of the commercial real estate business—client satisfaction, repeat business and getting deals done. To me, these are all rewards but nothing is better than working with a great team—one led by someone I hold in high regard and who openly recognizes the value I bring to the company. I enjoy coming to work every day and it is the people that make it possible."
Christina Del Duca
Senior Vice President, Colliers International
Del Duca has 20 years of experience in the industry advising tenants, landlords and corporate clients on real estate matters across South Jersey, the Philadelphia region and nationally. In addition, she holds experience in other areas such as corporate space planning, budgeting and real estate technology. She has also previously worked as a salesperson in related fields for CoStar and Cofco Office Furniture.
"The time it takes to complete a transaction can be challenging, but seeing the finished product is always rewarding."
Adam Mullen
Greater Philadelphia Market Leader, CBRE Group
In his role as CBRE market leader, Mullen oversees 435 full-time employees across all lines of business including office, industrial, retail, multifamily and capital markets in the Greater Philadelphia region. In 2019, he received CBRE's prestigious market leader award, recognizing him as an individual of the firm who delivered exceptional performance.
"Being successful in my profession means being an authentic leader who leans in, manages conflict and is passionate about helping better the team's offerings to better serve clients."
John Adderly
Executive Vice President, Managing Director, NAI Mertz
Known as a problem-solver and creative strategist, Adderly has facilitated more than 20 million square feet of leases and capital transactions representing over $30 billion in value. He has spent 38 years in the industry, building his reputation as a leader and paying attention to detail with every transaction.
"You can't win them all, and to me success is learning to mitigate problems and move forward in spite of them in order to get the job done."
Kevin Coleman
Executive President, Chief Sales Officer, Wolf Commercial Real Estate
Coleman has been working in commercial real estate for 17 years and his role has been frequently referred to as "player-coach." While he actively works on his own clients and prospects, Coleman also focuses heavily on helping the sales team improve its results. On a more day-to-day basis, he aids in recruitment efforts and contributing to overall company growth strategies.
"We have the ability to interact with businesses of all shapes and sizes and every possible industry. There is a real wealth of experience in working with people from such diverse professional backgrounds. This also opens the door to deepening friendships and learning more about the people as individuals, not only as businesses."
Maria Rita Aristone
President, Legend Properties
Aristone has made her mark in the commercial real estate industry, working her way up to president over the years. Her current responsibilities include business development, operations, quality control and agent recruitment, and in addition she is a member of executive management. Aristone has served on the board of directors of Women in Real Estate for three years, served as the ICSC operations co-chairperson for 10 years and has claimed top producer for four of the last five years.
"My hard work and path to being president is what's made me successful. I started as administrative assistant and rose to the CEO/broker of record. I became a sales agent in a male- dominated business and became respected in the industry before I became vice president, a partner, then president of Legend Properties, Inc."
Sid Benstead
Sales Associate, The Benstead Team Commercial Real Estate
Benstead has worked as a real estate professional for over 30 years in South Jersey, marketing properties and following up on all aspects of the sales. For over 20 of those years, he has worked side by side with his two sons. Benstead has racked up awards such as the NJAR Platinum, Gold and Silver Awards and the BHHS, Fox & Roach Realtors Legend Award.
"The internet revolutionized our business; however, it is still a 'people business' where relationships are overwhelmingly important."
Click here
to subscribe to the free digital editions of South Jersey Biz.
To read the digital edition of South Jersey Biz,
click
here.


Published (and copyrighted) in South Jersey Biz, Volume 10, Issue 9 (September 2020).

For more info on South Jersey Biz,
click
here.
To subscribe to South Jersey Biz,
click
here.
To advertise in South Jersey Biz,
click
here.