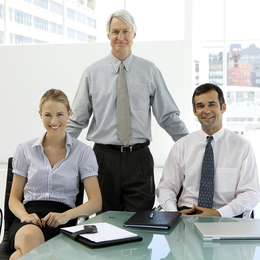 Family-Owned Business Showcase
Grimley Financial Corporation
Maximizing best possible recoveries while always maintaining superior customer service.
In today's economy, hospitals and healthcare institutions face more financial hurdles than ever maintaining best possible Revenue Cycle "Accounts Receivable Liquidity". Heretofore, healthcare institutions have relied on Revenue Cycle firms like Grimley Financial Corporation to assist with their early-out placements of Accounts Receivable (Pre Collect), accounts aged over 120 days (Bad Debt), and special project work such as Workers Comp and Auto outsourcing.
For 35 years, Grimley Financial Corporation, located in Cherry Hill NJ, has specialized in Healthcare, Business-to-Business, and Education debt collections. Grimley has been an industry leader perfecting the delicate balance of achieving best possible netback recoveries (proceeds to client minus contingency fees = "netback") in a fully compliant manner while maintaining impeccable customer service.
A founding principle of Grimley Financial Corporation was to recruit, train, and retain top quality employees, a core philosophy that has paid huge dividends as the average employee at Grimley Financial enjoys a 12-year tenure versus the industry average of 6 months or less. These highly skilled employees are the primary reason Grimley Financial exceeds historical results when compared to other Revenue Cycle companies. Simply stated, higher liquidity and netback results translates to millions of extra recovery dollars for Grimley Financial clients each year.
Chuck Grimley, founder and current Chairman of Grimley Financial Corporation, reflected upon hospital decision making, saying, "Too often, healthcare institutions make the benign mistake of focusing on lowest possible fees, an understandable desire, rather than the best possible liquidity percentage. As we have demonstrated for 35 years, a 2% higher liquidity in collections easily offsets a slightly higher fee, a financial objective which we have never missed and are extremely proud of. I often refer to our outstanding employees as the 'Seal Team 6' of Revenue Cycle, they amaze me more and more every day. The best part, however, is the unparalleled customer service; they are simply a polite group of incredibly resourceful and knowledgeable partners that love to win."
Uncommon to most Revenue Cycle firms, Grimley Financial Corporation has incorporated advanced analytics and algorithms currently overseen by Analytics Manager Chad Grimley, who graduated #1 from Saint Joseph's University (SJU) in Finance and Analytics, to assist in achieving their unparalleled recovery rates. Beyond traditional scoring models, which actually curtailed liquidity success, Grimley Financial has engineered their own algorithms analyzing pay performance data and other factors, and have augmented their core competencies resulting in the highest possible liquidity rates.
Complementing the Grimley Financial executive team is Kristen Grimley Kavanagh, Vice President of Operations, also an SJU graduate, who has fostered outstanding partnered relationships with Grimley's technology and telecommunications partners, Able Technology and USA Phones, respectively.
Recently promoted CEO Marian Grimley characterized Grimley Financial as follows, "We will never be any better than the outstanding and incredible team of employees we have assembled over the last three decades. Chuck's main focus was developing a winning culture with a relentless eye on customer service while maintaining his coaching mantra of always winning for our clients."
Dawn Droge, Director of Revenue Cycle, has been with the company for 23 years, overseeing the Revenue Cycle division. Dawn studied at Rutgers University and manages the Revenue Cycle in both the Bad Debt and Pre Collect environments, fostering long term partnerships with multiple clients with a concentration on compliance and excellent customer service, while motivating staff to exceed all call and revenue expectations.
Maintaining championship results in a compliant and enjoyable environment is what separates Grimley Financial Corporation from the competition. David Averell, Chief Financial and Compliance Officer, has been with Grimley for over 14 years, and is responsible for Human Resources, compliance, and financial reporting. Over the years Grimley Financial has developed and utilized client and employee performance analytics, which allows them to evaluate key performance indicators used to increase liquidity and enhance customer service. Employees at Grimley Financial are always looking to achieve better results than obtained the month prior, and our Finance team of David and Chad make sure we give our staff the tools and reporting necessary to do so.
Grimley Financial Corporation is proud to have been very supportive and on the boards of nonprofits, such as: Boys and Girls Club of Camden County, American Heart Association, Catholic Charities, Ronald McDonald, and Heart Day. Most recently, Grimley Financial sponsored lunches for the amazing healthcare heroes working at Jefferson and Einstein hospital.
The best test and easiest way to get started with Grimley Financial Corporation is with a couple letters of the alphabet and comparing Grimley Financial's results via batch tracking to other Revenue Cycle firms.
Grimley Financial Corporation
1415 Route 70 East, Suite LL-5, Cherry Hill
800-673-1414 |
GrimleyFC.com
—
—
—
—
—


Needleman Management
Founded in 1984 by Howard Needleman, Needleman Management is full-service, family-owned, local commercial real estate company.
Starting with a two-person team, a hands-on approach, and a knack for surrounding himself with the brightest individuals, Howard grew the company to a 20-person team and numerous commercial properties throughout South Jersey.
Two years ago, the family-business transitioned to the second generation. Howard's son-in-law and 20-year business partner, David Cohen, took over the reins. David oversees the daily operations of the company, in addition to all investments, re-financings, divestitures and acquisitions. And with much pride, Howard's daughter, Jackie—who entered the business a decade ago—carries on his legacy of warmth and personal touch, managing tenant relationships, leasing, and construction.
The tight-knit approach extends to the company's employees as well, some of whom have been with Needleman Management for decades and have become like extended family members. Presently, Needleman Management's portfolio is 75 properties, over 2 million square feet, nearly 500 tenants, and a 96% percent occupancy rate.
According to David, "Needleman Management's core principles are relationships matter, fairness in negotiations matter, and deals and leases should always be win-win for the tenant and the landlord."
Jackie Needleman adds: "In this COVID era, our road forward is to be nimble, humble, responsive and creative. If we landlords listen to our tenants and prospective tenants, we can hear their needs, adapt our inventory and create novel leasing structures that provide physical spaces where our tenants can feel safe, productive and within budget."
It is no wonder Needleman Management is the most trusted name in South Jersey commercial real estate.
Needleman Management

1060 N. Kings Highway, Suite 250, Cherry Hill
856-482-5959 |
NeedlemanRE.com
When Janis Sweeney founded NEMR 22 years ago, she wanted to create a company that not only utilized her decades of experience managing staffing companies, but also one that put a spotlight on the "human" aspect of human resources.


While there's no doubt that technological advancements have changed things for the better, Sweeney knew there is no substitute for human interaction and the personal attention to detail that it provides.
That mindset along with a client retention rate that historically exceeds 97% is what continues to make NEMR a regionally recognized leader in the outsourced HR industry. The firm's mission is "to be the decisive advisor that makes a positive difference" and has a client experience department entirely devoted to understanding clients' business challenges and delivering solutions. Values like respect, integrity, honesty and collaboration are the foundation upon which the business is built.
NEMR's growth and success can be attributed to the corporate culture Janis Sweeney has established over the years. A now second-generation family-run businessSteven Sweeney, president, says while working with loved ones is extremely gratifying, one of the most rewarding aspects has been making other staff members feel more like family members than employees . The NEMR team collaboratively strives to make our workplace positive, inclusive and balanced.
"Our open-door policy and everyone's voice counts mentality make all the difference to move the business forward and produce the best results for our clients," he says.
That means that NEMR doesn't simply work for an employer, they work with them in an effort to devise the best plans for their individual needs rather than take a cookie-cutter approach. And while many HR companies use contractors when they engage with new clients, NEMR's staff are all full-time employees of the firm, offering a level of continuity and dependability that helps foster lasting relationships.
"NEMR was founded on the ideal that nothing replaces the human interaction, and nothing ever will," says Steven Sweeney, adding that NEMR directly interfaces with executives, supervisors and employees . "All three of those direct relationships are critically important to understanding the challenges that exist within a business and then being able to resolve them—on a human level."
It all circles back to Janis Sweeney's "human-centric" vision and the benefits of a strong desire to create partnerships that go beyond just business. It's no wonder why NEMR has made exceeding clients' expectations a common practice.
NEMR Total HR
4A Eves Drive, #108, Marlton
856-642-9500 |
NEMRHR.com
Bell Pharmacy
Bell Pharmacy was established in 1931 and is one of the oldest businesses and pharmacies in the city of Camden.


Owned by Tony Minnitti and his sister, Marian, the family tradition in pharmacy began with their grandfather, Ben, and great uncle. Tony and Marian followed their grandfather into business and worked with him from high school on until they became licensed pharmacists. They are committed to the old-fashioned model of personalized service provided by pharmacist owners.


"We pride ourselves on our family dynamic and extending that dynamic to patients," Tony says. "You don't see many family-owned pharmacy practices anymore. We think that's something that sells value and people look for."



The Minnitis are also on the cutting edge of pharmacy practice and are considered a health care "hub." They

purchased Amstar Medical Transportation so patients can enjoy the convenience of both pharmacy and transportation from one provider, and serve as a complete service solution for the growing health care population.

"We recognized the opportunities presented with the advent of telemedicine, which was accelerated by the current COVID-19 pandemic," Tony says. "We had the foresight to make significant investments in building our digital infrastructure and pursuing non-resident pharmacy licensure in other states. This has allowed us to expand our practice area and combine our service-based approach with mail order convenience."

It's a true family affair, with Marian's husband, Allen, who is also a pharmacist, onboard, and his addition allowed the Minnitis to expand their offerings to include medical transportation.

"I believe our success as a family comes from our unique understanding of our strengths and weaknesses. We work very well together because we have an innate understanding of where one may be better able to handle certain aspects of the business."

Bell Pharmacy
1201 Haddon Ave., Camden
856-963-4742 | BellPharmacyCamden.com

—

—

—

—

—

Schwartz Financial Associates, Inc.
The bedrock of any family business is to follow the values that were put in place by its founder.


Nowhere can this be more clearly seen than at Schwartz Financial Associates. Serving clients and small businesses with integrity and professionalism remain at the root of this South Jersey Financial Planning practice.
In 1958 Julian Schwartz took a chance in the Financial Planning profession with a vision to help people achieve financial independence. A child of the Depression from Brooklyn, he understood the need for education and hard work. He raised his family in South Jersey with these values where the tradition continues at Schwartz Financial Associates.
His daughter, Tamara (Schwartz) Kukainis, joined the practice 33 years ago, after gaining valuable experience in corporate banking. She immediately saw the impact of helping clients and small businesses through the values that were put in place by her father. After Mr. Schwartz passed away 13 years ago, Tamara continued to grow their client base. Tamara's son, Daniel Kukainis, joined the practice 3 years ago. He gained experience after college in banking and corporate management with the goal of upholding the family tradition.
During the pandemic, they have continued to uphold these values through proactively calling, checking in via ZOOM, mailing "We Miss You" letters, and delivering care packages to their clients. Now, more than ever, Schwartz Financial Associates feels it is important to treat their clients as Family.
Schwartz Financial Associates, Inc.
The Atriums at Greentree
701 Route 73 North, Suite 6, Marlton
856-216-0390 |
Schwartz-Financial.com
Registered Representative offering securities through Cetera Advisor Networks LLC, member FINRA/SIPC. Cetera is under separate ownership from any other named entity.
Advisory Services and Financial Planning offered through Vicus Capital, Inc., a Federally Registered Investment Advisor.
Click here
to subscribe to the free digital editions of South Jersey Biz.

To read the digital edition of South Jersey Biz, click here.

Published (and copyrighted) in South Jersey Biz, Volume 10, Issue 7 (July 2020).

For more info on South Jersey Biz, click here.
To subscribe to South Jersey Biz, click here.
To advertise in South Jersey Biz, click here.