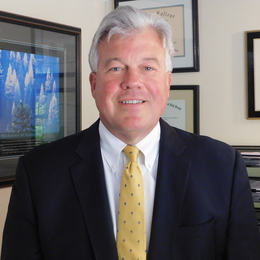 Sponsored Content: A Trusted Guide in a Turbulent Time
As COVID-19 wreaks havoc on the economy, Greg Carafello and First Choice Business Brokers are here to help those looking to buy or sell a business.
As the COVID-19 pandemic brings companies across many sectors to the brink of closure and unemployment rates continue to rise, business owners and employees alike are scared about what the future holds. Yet through all the turmoil, Greg Carafello has managed to remain optimistic, buoyed by the belief that he can alleviate those fears and help people overcome the most challenging time of their lives.

"The perseverance that New York City showed after the terrorist attacks in 2001 is what everybody in our country needs right now," he says. "This is not the end of the world, but people have to make a major adjustment and think long term. Whether they are looking to sell a business or buy a business—whatever the plan is, we can help them get there."

First Choice Business Brokers, founded in 1994, is one of the largest business broker organizations in the world and can assist clients from start to finish in buying or selling a business. Carafello is the president and principal broker of the New York City office, which does extensive work throughout the Garden State, including all over South Jersey.

Carafello's message about the current situation is not a hollow one, because he understands as well as anyone what it takes to endure through a crisis and come out stronger on the other side. A previous business he owned was located in 2 World Trade Center—more well-known as the South Tower—and he was in the building on Sept. 11, 2001, but fortunately he and his employees were able to get out safely.

AbraCadabra Color Copy Centers—which he founded with his wife in their New Jersey home and turned into a successful enterprise generating $4 million annually in revenue—was not so lucky. The loss of the company headquarters and the turbulent financial times that followed led to a significant decrease in sales, and he was forced to sell the business.

"We went from revenues of $4 million to $600,000. No matter what you save and how budgeted you are, you can't budget for that," he says. "It's the same way people did not budget for COVID. They did not plan to go from the best quarter in the history of our country to zero by the end of March. I can definitely see where they are because I've been there myself. You have to stay tough, you have to be very disciplined and you have to be smart with every penny you spend."

Carafello rebounded from his misfortune by relying on his vast business experience and focusing on franchising endeavors. He became a master franchisee for Cartridge World—and continues to oversee 65 stores in eight states—while also developing successful partnerships with Liberty Tax and FastSigns Inc.

A certified franchise executive, Carafello has opportunities throughout New Jersey for potential owners, including home-based businesses with little overhead and provided training. For example, Cartridge World has the Executive Office Model where owners can work from home, Monday through Friday, 9 a.m.-5 p.m., getting into business for $18,000 down to work in the high-growth, business to business area.

"There's 30 million people out of work and one or two million of them are going to buy businesses," he says. "People who are 50 and older are not concerned with going back to the corporate world. They want to finally do their own thing, and this crisis is kind of the motivator. Life is too short and it's changing, so it makes sense to move forward."

At the other end of the spectrum, First Choice Business Brokers guides clients toward the sale of their business in the quickest and most efficient way possible while garnering the highest price. Carafello's team conducts a thorough evaluation—looking at factors such as past, current and future financial position, customer base, operations, assets and market transactions in your specific industry nationwide—to determine the right sale price. They then attract potential buyers through web traffic and Carafello's own 10,000 buyer contacts from 40 years in business.

Whether a business owner is suffering from burnout, health issues or simply wants to retire, Carafello can help them receive value for the hard work they've put in and reach their goals.

"It's never too soon to list your business with First Choice Business Brokers," he says. "Even if I bring you a buyer who wants to pay you what you're asking, you can always say no if you're not ready and that's OK. But you may decide to accept the offer and either retire or try something else."

Owners are also assured confidentiality, since it is crucial that customers or employees do not learn of their plans until they are ready to share that information.

Compared to the glut of real estate agents in New Jersey, Carafello is one of only about 100 professional business brokers in the state and 4,000 across the country, and few can match his experience and success. He is also the only business tenant from the original World Trade Center to return to the rebuilt complex upon its completion in 2015.

Whether helping a business owner reach retirement or a budding entrepreneur achieve the goal of ownership, he finds his career rewarding and looks forward to extending his influence during the pandemic.

"There are plenty of opportunities out there," he says. "Buyers are buying, sellers are selling and lenders are lending."

First Choice Business Brokers
One World Trade Center, 85th Floor, New York
Office: 212-220-5900 | Cell: 973-632-2192


FCBB.com





Click here

to subscribe to the free digital editions of South Jersey Biz.

To read the digital edition of South Jersey Biz,

click

here.



Published (and copyrighted) in South Jersey Biz, Volume 10, Issue 7 (July 2020).

For more info on South Jersey Biz,

click

here.


To subscribe to South Jersey Biz,

click

here.


To advertise in South Jersey Biz,

click

here.