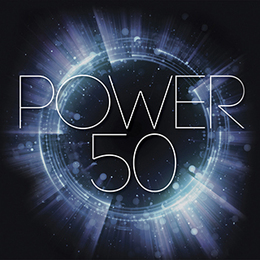 Power 50
Meet the movers and shakers who shape the way we do business.

Influencers. Visionaries. Difference-makers.
Those are just some of the many ways to describe the names on our annual Power 50 list. These distinguished business leaders each bring a unique skill set to the table while sharing a common bond by doing their part to move the South Jersey business world toward an even brighter future. You'll see plenty of recognizable names along with a few new faces that have made a big impact in the past year. With titans of industry like these, it's clear to see that our region is poised for big things both in the short- and long-term.
President, Southern New Jersey Development Council (SNJDC)
"I find a great deal of satisfaction in working with the SNJDC board of trustees and members in influencing state government to promote responsible growth in South Jersey. The role we play in driving economic opportunity and promoting the richness and diversity of our eight-county region has been our mission for almost 70 years, since our inception in 1951."
Managing Partner - Southern New Jersey, Friedman LLP
Bagell is the managing partner of Friedman's South Jersey offices in Marlton and Linwood. With over 40 years of public accounting experience, with a concentration in taxation, his passion for business empowers his clients, colleagues and employees. Bagell's clients rely on him for his expertise with business analysis, federal and state tax audits, operational efficiency and strategic growth planning.
President and CEO, New Jersey Hospital Association
"New Jersey hospitals and their care teams rose to the challenge of COVID-19 this spring, ensuring sufficient capacity in our health care system to care for all patients. I continue to worry about our health care heroes, the supply chain and a re-emergence of the virus. This pandemic further illuminated vulnerabilities that we had begun addressing—racial, ethnic and language disparities; the influence of chronic conditions like diabetes, asthma and others on COVID-19 mortality; the societal ageism that must be confronted as we improve long-term care; and the pandemic's impact on other societal issues like food vulnerability and housing stability."
President and CEO, Samaritan
Under Boccolini's leadership, Samaritan has grown to serve the region as the most experienced provider of hospice care, palliative medicine, primary care at home and grief support services. Samaritan is celebrating 40 years of service as a locally based, independent and not-for-profit provider.
President, Camden County College
"In my experience, a good business leader possesses several key attributes. First, leaders must be customer-focused, or in our case, student-focused. Second, honesty is vital to build trust within and outside of the organization. Third, leaders should take a positive approach to their work, particularly in times of crisis like the one we are currently experiencing. Fourth, strong communication skills are imperative. Next, maintaining accountability is equally about giving credit to your team when things go well as taking responsibility when they do not. Lastly, empathy is important to be able to see situations through the lens of others."
President and CEO, New Jersey Chamber of Commerce
"My greatest career passion is to use my experiences and relationships to help our great state achieve the economic prominence it deserves. We have enormous untapped potential and a strong collaboration between the public and private sectors can result in the stimulus we need to begin our path to new prosperity. I want to be one of the catalysts to get that done."
Louis Cappelli
Director, Camden County Freeholder Board
"We used to think leaders were supposed to have the loudest voices in the room. Today, leadership is knowing that sometimes being quiet and giving someone else a voice is far more impactful."
President and CEO, Deborah Heart and Lung Center
"I can sum up the biggest lesson I've learned in one simple phrase: 'Talk less, listen more.' You will find yourself so much better informed moving forward when you have carefully listened to the input of your team members."
President, Rowan College of Burlington County (RCBC)
"The past few months have created lots of fodder for insomnia, but at RCBC, they have also brought reassurance from a greater sense of community, ingenuity and perseverance to overcome the unprecedented challenges we all face. Our community has pulled together so well that some days my biggest worry is leaving the house without my mask and hand sanitizer."
President and CEO, Campbell Soup
Clouse is the 14th leader in the company's 150-year history. He was previously the CEO of Pinnacle Foods and held senior management positions at Mondelez and Kraft Foods. Clouse served in the U.S. Army as a pilot and captain, and is a U.S. Military Academy graduate.
Market President, TD Bank
"When it comes to my career, I am most passionate about making a positive impact on my colleagues, customers and community."
Southern Region President, OceanFirst Bank
"The obvious factor for me resulting in sleepless nights during these challenging times is in keeping my family and my staff safe, but there is another issue that worries me. I find myself concerned with the overall emotional state of our folks working remotely away from their colleagues. These times remind us of the importance of the personal and social connections we have with our peers working together in the office. I lose sleep focusing on making sure we are sufficiently supporting the full well-being of our team members while they are working independently out of the office."
President and CEO, Inspira Health
DiAngelo's final 18 months as leader of Inspira Health have been emblematic of his career, leveraging growth and innovation to provide exceptional care for his community. Since January 2019, he has overseen the opening of a new hospital and its leading-edge cancer center. And just three months after Inspira Medical Center Mullica Hill opened, DiAngelo nimbly pivoted the organization to meet the unprecedented challenges of COVID-19. He led the response, guided by a strong desire to keep everyone safe and informed. Just weeks from retirement, DiAngelo continues to work tirelessly to help Inspira and its communities achieve a 'next normal' that supports Inspira's goal of fostering healthier communities.
President and CEO, Subaru of America
"One of the biggest lessons I have learned over the years is to pay attention to the fundamentals. The importance of managing our daily business operations and in particular, having a strong understanding of your daily cash flow and profit and loss (P&L) activities is essential in today's marketplace. Every day we focus on our P&L and we make sure we are doing everything possible to keep our customers loyal. During good times, it's easy to ignore these basic fundamentals of daily business, but in times like the one we are in now, it's absolutely critical to your business survival and its long-term success."
CEO, American Heritage Credit Union
Under Foulke's leadership, American Heritage has grown to over 200,000 members. His team is consistently recognized for innovation, outstanding service and community outreach at the global and local levels. As delegate of the World Council of Credit Unions, he has performed philanthropic visits to Africa, Asia and the Caribbean. Foulke founded the Kids-N-Hope Foundation, which has raised $1.7 million for pediatric music therapy programs at local hospitals.
"One of the earliest and biggest lessons I learned was taught by Judge [James] Hunter. One of his constant refrains was that 'it is a people world.' He was right. Cases and sometimes clients come and go, but the relationships and friendships you forge often endure. They provide you with comfort and support during the bad times and they make the good times so much better. Most of my best clients are also my dearest friends. That is the definition of a successful career."
President and CEO, United Way of Greater Philadelphia Southern New Jersey
"Approaching my work—whether at the helm of United Way or as a pastor—with a posture of service is my calling. The most transformational leaders are those who are in service to something other than themselves and who pursue possibility and put people first. Servant leadership moves us from being naysayers and bystanders to doers and solvers."
CEO, Delaware Port Authority; President, PATCO; Chair, Camden County College board of trustees
"Today's leaders are finding themselves relying more on the 'soft' skills, and they are often the hardest to learn. Humility, consensus-building,
listening, empathy and strong communication skills are the
foundation of collaborative effort. Advancing technology and greater availability of information means that members of organizations need less technical support and instruction from their leaders. This trend has accelerated with the pandemic, as people working remotely have found new, creative ways to get answers and perform their work. Leaders are being called upon to bring people together, focus their efforts and make sure that they remain connected to each other, the organization's purpose and their customers."
President and CEO, AtlantiCare
"As a health care leader, I am passionate about the health of our community and the opportunity to make a difference in the lives of our patient and their families. This is especially true as we continue to face uncertain times during the coronavirus pandemic. Each day, and especially now, I am inspired by the tireless commitment of our providers, leaders and staff and I am proud to be part of such an exceptional group of people."
President and CEO, Horizon Blue Cross Blue Shield
St. Hilaire joined Horizon BCBSNJ in April 2020 after eight years as CEO of Capital BlueCross in Pennsylvania. At Capital BlueCross, St. Hilaire led the insurer's transformation into a diversified family of companies, stressing the importance of leadership and corporate citizenship, and driving innovation with patient-focused models of care.
Chairman, Republic First Bancorp; Founder, Commerce Bank
"Building a great brand requires a leader with a bold vision, customer-centric philosophy and a differentiated and high-value business model. These types of leaders foster a pervasive culture where employees are inspired to execute the brand's core values. Legendary growth businesses have one thing in common—CEOs that focus relentlessly on turning customers into lifelong fans of the brand."
President, Rowan University
"I am most passionate about transforming Rowan to an institution that is responsive to the challenges of the 21st century; that provides affordable and relevant education to all, and that strives to enhance the economic well-being of our surrounding communities."
President and CEO, South Jersey Federal Credit Union
"One lesson I learned throughout my adult life is that everyone should have a mentor. I was fortunate to have three mentors in my life. My father was my first mentor. He was the chairman of Atlantic City Electric and instilled in me the importance of respect for others as well as the meaning of hard work. He was an inspiration and looking back, I realize all the valuable lessons he shared with me that I now have the honor and responsibility to share with my children and my co-workers."
President, Rowan College of South Jersey
"What keeps me up at night has been the usual, persistent higher education challenges: declining enrollments, shrinking governmental funding, affordability and academic relevance, and the escalating need for a variety of student success support services. Adding in a global pandemic and civil unrest has exacerbated these issues, while at the same time spotlighting profound socioeconomic insecurity and systematic disparities in diversity, equity and inclusion within our society. Our world has changed—we must think strategically and ethically to adapt quickly to these changes."
President and CEO, Columbia Bank
Kemly began his 37-year Columbia Bank career in 1981 and has held a number of positions before becoming president. He implemented programs to expand employment opportunities at Columbia Bank, created "Team Columbia," where employees volunteer to participate in community/charitable endeavors and expanded the Columbia Bank Foundation—now one of the largest private giving foundations in New Jersey.
President, Stockton University
"One of the most significant takeaways I have learned over the years is that the ability to perform tasks effectively and efficiently gets one noticed within an organization, but it is the ability to work with people and build a team that are the hallmarks of effective leadership."
President and CEO, Cooper's Ferry Partnership
"What keeps me up at night is making sure our strategy to adapt during this crisis is focused, achievable and measurable."
IUOE General Vice President and Business Manager, Local 825
"My deep concern is always about advancing the lives and opportunities of our operating engineers. That means advocating for policies and projects that put them to work and keep them earning a good living, putting a roof over their heads, educating their kids and saving for a secure retirement. Anything that makes their lives better is what we fight for every day."
President and CEO, American Water
Lynch leads a team of 6,800 dedicated professionals who provide service to 15 million people in 46 states. American Water's regulated businesses operate in approximately 1,600 communities in 16 states and provide water and wastewater utility services to residential, commercial, industrial and other customers. He has more than 25 years of experience in both the regulated and market-based water and wastewater industry.
Mahoney has served many leadership positions since starting at Penn Medicine in 1996. He has led several transformative construction projects which have expanded and enhanced Penn Medicine's clinical care, teaching and research missions, including the Smilow Center for Translational Research and the Henry A. Jordan M'62 Medical Education Center and the $1.5 billion hospital, The Pavilion, on Penn Medicine's West Philadelphia campus--the largest capital project in Penn's history.
Anthony J. Mazzarelli, MD, JD, MBE
Co-CEO, Cooper University Health Care
"Leadership, like health care, is always evolving. It used to be thought that leaders needed to focus chiefly on having a vision and leading people to that vision. I think it's becoming more apparent now that leadership is also about making sure you have an intense focus on the employees you serve, so in a crisis they feel heard, protected, prepared, supported and that their organization cares about them."
President and CEO, NAI Mertz
"I don't feel the definition of leadership is evolving, but rather the application of the qualities and principles that are changing. What was once rooted in control and hands-on management is better served by inspiration, guidance and course corrections. Mutual trust, accountability and acknowledgement are key to the successful relationship between the leader and his/her team in today's business setting."
Group Vice President, M&T Bank
"One of the biggest lessons I've learned is self-confidence is the ultimate key to success in business and in life. Self-confidence is what enables you to admit what you do not know or acknowledge what went wrong. Self-confidence is the gift to know the value that you bring, the ability to never settle and to always do what is right."
Market President, AmeriHealth New Jersey
"When I started out in my career, leadership was largely defined by hitting targets. Over the past three decades there's been a seismic shift in behavior, which now focuses equally on the importance of work-life balance. Today, having compassion and being flexible are essential to connecting with employees at all levels throughout an organization. During these unprecedented times these two qualities have never been more important."
Governor of the state of New Jersey
New Jersey's 56th governor has had his hands full this year trying to navigate the COVID-19 pandemic, juggling both public health and financial crisis. He'll continue to have a long road ahead as the state tries to desperately balance its budget in the fall.
First Lady of the state of New Jersey
The former Goldman Sachs employee has certainly been in the public eye since her husband took office—she even gave her own speech at his inauguration. More recently, she helped launch New Jersey's pandemic relief fund to help provide necessary resources to the state's vulnerable communities.
Co-CEO, Cooper University Health Care
"The pace of change in our society is relentless. In order to be effective in such times a leader must be accessible, decisive, and fully transparent with, and accountable to the organization they serve."
New Jersey Department of Health Commissioner
A former ICU nurse and CEO of one of the nation's largest health systems,
Persichilli has led the NJ Department of Health's response to the COVID-19 pandemic with tenacity, critical thinking, compassion and calm.
President and CEO, Virtua Health
"When it comes to my career, I have focused my energy on being a change agent. I believe it is my responsibility to utilize my position as a platform to create meaningful dialogue and to impact the community and people around me for good. I am equally passionate about reaching back and helping the next leaders rise by creating a runway for others to grow and excel. As a leader, I have a responsibility and commitment to mentor others, and to make myself vulnerable in a way that allows others to learn not only from my successes, but also from my challenges and my shortcomings."
Dean, Cooper Medical School of Rowan University
"The overall impact of the coronavirus pandemic keeps me up at night. During this unprecedented time, we're experiencing some of the greatest health, societal and financial challenges of our lifetimes. In my sector of health care and medical education, I worry most about how hospitals will weather the financial impact and whether our medical schools will be able to meet physician workforce needs in the face of uncertain financial support from the state."
President and CEO, Chamber of Commerce Southern New Jersey (CCSNJ)
Renna took over the helm of the CCSNJ in January and has successfully pivoted the organization to an all virtual setting amid the COVID-19 crisis. The CCSNJ has held over 105 online events attracting 11,000 businesspeople to the CCSNJ's offerings since March, while continuing to provide members value and advocating for their interests in Trenton during this unprecedented time.
President and CEO, South Jersey Industries
"Step outside of your comfort zone. It's one of the most valuable lessons I've learned in my career and one of the first things I share with aspiring leaders. When you try something different and challenge yourself, you learn a lot about yourself and your leadership style. That's why the practice is core to how we develop our leaders at SJI. Then, when they meet the challenge they gain the breadth of experience critical to leading larger teams, organizations and communities."
Senior Vice President, Comcast's Freedom Region
"As a leader of 4,500 employees who serve more than 2.1 million customers, caring for the health and safety of our employees and customers through these times is what keeps me up at night. As conditions continue to evolve, so must we to keep customers connected to our vital services, while protecting the health and safety of all. Despite the challenges, the way our company and our team has responded to these challenging times makes me prouder than ever to work for Comcast."
President of NJ Business and Industry Association
"I am passionate about having the opportunity every day to improve the lives of the businesses we serve. Whether it's advocating for policies to make it more affordable for businesses in a very expensive state or providing benefits that can save them money, I relish that opportunity to make a difference. This has been even more true during the COVID-19 pandemic, where day-to-day, and sometimes hour-to-hour, I'm able to directly connect with our members and lead an amazing team that is helping to address serious issues in real time. It can be challenging, but it is extremely gratifying."
Region President, Atlantic City Electric and Delmarva Power
"I am inspired every day by the men and women of Atlantic City Electric who serve our customers in the most difficult weather, and this year have once again risen to assure an essential service is maintained during the COVID-19 pandemic. So often we take for granted the quality of life we live, even during the challenging events of the past year. That quality of life is made possible by all of the essential service providers and their dedication. I am eternally grateful to each and every one of them."
Chief Executive Officer, New Jersey Economic Development Authority (NJEDA)
The NJEDA is New Jersey's principal agency for driving sustainable, equitable economic growth. During the COVID-19 pandemic, the NJEDA has launched and administered a variety of programs aimed at helping diverse small businesses stay open and retain employees, including grants, low-cost loans, technical assistance programs and support for community development financial institutions and innovation economy companies.
Brian Sweeney, RN, MBA, FACHE
President and Chief Operating Officer, Jefferson Health New Jersey
Sweeney joined the Jefferson Health New Jersey leadership team in early March, just as the COVID-19 pandemic was taking place. Managing the organization through many resulting operational challenges, Sweeney—a 23-year Jefferson Health veteran—was named president and chief operating officer in June. Previously, Sweeney supported daily hospital operations across all Thomas Jefferson University Hospital Philadelphia campuses as chief operating officer.
President, New Jersey Senate
"I originally entered public service after my daughter Lauren was born with Down syndrome and I became horrified by the way she and others with disabilities were treated. I wanted to make a difference so they are able to live full and rewarding lives. I continue to be extraordinarily passionate about improving opportunities for those with developmental disabilities."
Senior Vice President, Investors Bank
"The definition of leadership is evolving to place more weight on the leader's personal values and principles. Moreover, the leader must achieve team results through inspiration and compassion for employees and their communities. In the face of unrest and chaos in our society, a leader's success will be determined by his or her ability to maximize engagement by promoting sound values and clearly articulating a path to success for the community. A leader's ability to reinforce inclusion, compromise and harmony will attract followers who, together as a team, will achieve goals and objectives."
Founder and Managing Principal, Wolf Commercial Real Estate (WCRE)
"I have always been intensely focused on building successful relationships. From day one of starting WCRE, my goal was to build a culture with a talented, competitive and committed team that is focused on relationships and our community. I have always done my best to operate with integrity, responsiveness, a passion for the community, attention to detail and open communication even after the deal is done. Loving your job and team is the key to success."


Click here to subscribe to the free digital editions of South Jersey Biz.

To read the digital edition of South Jersey Biz, click here.

Published (and copyrighted) in South Jersey Biz, Volume 10, Issue 7 (July 2020).

For more info on South Jersey Biz, click here.
To subscribe to South Jersey Biz, click here.
To advertise in South Jersey Biz, click here.