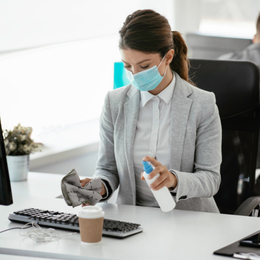 Back to Work
As South Jersey looks to reopen its economy, business leaders are adopting new norms to make sure they do so safely and effectively.
Now that Gov. Phil Murphy has outlined some definitive ways with regard to how and when the state can reopen, business leaders across South Jersey are faced with the challenge of figuring out exactly how they'll get everyone back to work with the threat of the COVID-19 pandemic lingering in the background. With most businesses spending the last several weeks operating remotely, any return to the office will be carefully measured while trying to balance safety with productivity.
As a result, one can expect several drastic changes to the office life he or she is accustomed to. Employees may be asked to take a temperature check before entering the front door. Regular deep cleanings will be scheduled. Workstations will be spread out to enforce social distancing and some companies may stagger schedules to limit the amount of staff in the building at any given time. And, at least in the foreseeable future, remote work will likely still very much be a big part of operations in an effort to limit interactions that could put folks at unnecessary risk.
In accordance with guidelines set by the Centers for Disease Control and the federal government, regional law firm Lauletta Birnbaum plans to implement several new safety policies and protocols starting with having offices routinely cleaned and disinfected. In addition to curtailing business travel for now and limiting face-to-face meetings with clients where feasible, the firm plans on reconfiguring workstations and employee schedules as necessary and shared items and spaces will be restricted. What's more, they'll monitor the health of employees while in the office and allow for telework when possible.
"At the end of the day, our employees' health, safety and mental well-being are our greatest concern and we believe that with the right practices and protocols in place, we can keep everyone safe while also meeting the needs of our clients," Frank Lauletta, managing partner of the firm, says.
Similarly, AmeriHealth New Jersey is being equally mindful ahead of reopening, according to market president Mike Munoz, who says that he is looking not only to the state's leadership for guidance, but relying also on internal feedback from key voices within the company.
"

AmeriHealth New Jersey is taking a measured, cautious approach to reopening and will only begin a return to the office when it can be done safely," he says. "

Our top priorities in our work-from-home decisions are the safety of our associates and the safety of our community. In addition to complying with the governor's

statewide stay-at-home order, we are fortunate to have in-house clinical expertise that informs our reopening planning.
"
Given the uncertain nature of the pandemic, we cannot say exactly when our associates will return to the office, but we communicate regularly and have committed to providing a two-week notice. When it's time, we'll likely reopen our office in a staged approach and will ease back into a new normal," Munoz says.
The law firm Cohen Fineman also plans to implement social distancing and will require employees to wear masks and gloves, but there is some concern with how its attorneys, especially those who handle estate planning and elder care will handle client interaction.
"Estate planning is a social business by nature, so employees are obviously concerned about client contact," says managing partner Samuel B. Fineman. "Making sure clients observe social distancing along with temperature testing would go a long way to alleviate fears of potential contamination."
While some businesses are looking to get back on the job in a regular fashion, the landscape industry has been busy serving both commercial and residential clients alike. But, just because the work takes place outdoors doesn't mean there isn't still a need for a calculated approach to safety.
"
We hold weekly meetings to discuss any questions and concerns from our workforce as it is an ever-changing environment and new issues seem to arise frequently," says Michael Pasquarello, degreed landscape architect with Elite Landscaping.
"
All trucks in our fleet are equipped with sanitation supplies to be cleaned on a daily basis. Outdoor anti-bacterial hand washing stations have been installed at our office and all employees are required to wash hands at the beginning and the end of the workday when they return to office.
"The main determining factor in an individual's comfort level is education. We strive to educate our employees by providing the latest guidelines and data issued by state and local authorities the moment it is released. We've found that when an employee is given the knowledge and proper instruction necessary to stay safe and productive, they generally are able to cope with the situation," Pasquarello adds.
Thankfully, the digital age we all live in had made working remotely a reality long before the pandemic struck.
Jay Winkler, chief creative officer at Idea Lab Digital in Moorestown, says the very nature of his business in digital advertising, branding and web development allowed him to smoothly transition his staff to working from home. Each morning, the team gathers for a virtual meeting to discuss current projects and impending deadlines so everyone has a clear picture of what is expected of them. While everyone is eager to get back to normal, employees will have a say in the decision-making process.
"As of now, our employees prefer to work from home until it's deemed safe by the state to return to the office. We will allow our team members to continue to work remotely if they feel more comfortable and safer doing so," Winkler says.


As employers eye a return to bringing workers back, a key area they need to be mindful of is their responsibilities under Occupational Safety and Health Administration (OSHA) standards to provide employees with a safe workplace. From a legal perspective, Lauletta says the most important thing to do before reopening any office is to have a concrete plan in place. Putting a team together to develop a strong and easy-to-follow policy that can be communicated to employees prior to welcoming everyone back in the office can go a long way to easing any trepidation that staff members may have. And periodically checking in with employees to ensure that they remain comfortable once they return to work at a physical location can be of equal importance.
"Of course, it's a delicate balance, but if you have the buy-in of employees and well-documented policies and practices addressing safety concerns, you greatly decrease your chance of running afoul of OSHA or other government regulations," Lauletta says.
Peter Frattarelli, chair of Archer's labor and employment practice group, feels the guidance coming from both OSHA as well as the Department of Labor's Emergency Operations Center has provided a solid blueprint on how businesses should prepare to reopen depending on their level of risk. But, he says that employers need to be aware of how to handle the possibility of an employee contracting the coronavirus and their required responsibilities on how to notify co-workers and the procedures that would need to follow.
"The bigger issue legally, is what do you do when you have a COVID-positive employee? What are your obligations there? It's important to be proactive," says Frattarelli, who notes there's also a legal obligation to disclose if a customer or client who may have come in contact with workers has tested positive.
Another aspect for employers to consider as they formulate their return-to-work approach is the hurdle that employees with young children may face. With schools and daycare centers closed indefinitely, those affected may not be able to return to work without someone to care for their child. But they are protected by federal law thanks to the Families First Coronavirus Response Act (FFCRA), which gives employees up to 12 weeks of paid leave at two-thirds of their salary or up to $200 a day to cap at $12,000. Businesses are reimbursed with a refundable tax credit administered by the Department of Treasury.
"You are also required to hold their job during that period of time," Frattarelli says. "Businesses are starting to reopen, but schools are not reopening [at this time]. Where the rubber really meets the road will be when we see what happens near the start of the next school year. This protection runs through Dec. 31 and that is significant."
This situation has already been addressed by Winkler and it's one he feels is in the best interest of everyone involved.


"As a small business, we will allow our staff members with children to continue to work from home should daycare centers and schools remain closed. Being flexible and retaining our talent is of the utmost importance, so they can continue to produce award-winning work for our agency and clients," says Winkler.


So as the pandemic forces businesses to grapple with difficult decisions and ongoing challenges, the lessons being learned along the way could prove beneficial for well after the crisis has subsided.


"My biggest takeaway from working through the pandemic is the importance of supporting our clients, employees and vendors in any way possible. We abandoned business as usual when the stay-at-home order was implemented and made it our mission to adapt and assist our clients with almost anything they asked to help keep business flowing," Winkler says.

Lauletta echoes this sentiment, saying that the ability to adjust and adapt on the go is paramount and that when you combine that flexibility with preparedness, you set yourself up for a greater chance of success.


"What this global pandemic has taught all of us, especially business owners, is that quick and decisive actions coupled with the development of strong, well-developed policies and procedures enable both the company and its employees to meet whatever challenges lie ahead," says Lauletta.



Click here

to subscribe to the free digital editions of South Jersey Biz.

To read the digital edition of South Jersey Biz,

click

here.



Published (and copyrighted) in South Jersey Biz, Volume 10, Issue 5 (May 2020).

For more info on South Jersey Biz,

click

here.


To subscribe to South Jersey Biz,

click

here.


To advertise in South Jersey Biz,

click

here.