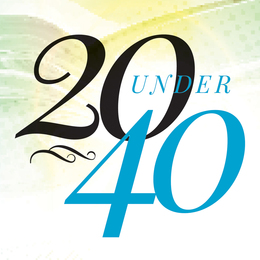 20 Under 40
Meet some of the brilliant young minds helping shape South Jersey's business landscape.
As the South Jersey business world continues to evolve and grow, noticeable contributions are being made by young leaders across various industries. Each year, South Jersey Biz likes to celebrate these individuals, recognized not only for their dedication and accomplishments, but also for their desire and ability to push things forward. Both impressive and inspiring, these 20 folks are certainly ones to watch as their careers continue to flourish.
Settlement Advisor, The Fillion Group at Ringler
Years in the industry:
15
In his role at the Medford location of Ringler—the largest settlement annuity company in the world—Rossetter specializes in providing unique solutions to assist in the resolution of personal injury, medical malpractice and workers compensation claims. He helps clients navigate the increasing complexities of bodily injury settlements, meeting long-term financial needs and protecting government benefits. Away from work, he is committed to supporting as many local charitable causes as he can, including the South Jersey Young Professionals Association, Camp No Worries and Covenant House Camden.
What has been one of the biggest lessons you've learned along the way?
"I've learned that the best path is to always help people, even if there is no financial incentive to do so. Being a trusted resource to my personal injury attorney clients is more important than making money on every case. People want to do business with people they can trust. People who choose to work with me trust me to provide them with sound advice."
Assistant Vice President and Regional Sales Leader, South Jersey Federal Credit Union
Age:
34
Years in the industry: 16
When Young started his banking career in 2004, he was attending Thomas Edison State College with hopes of becoming a high school history teacher. He graduated in 2007 with a bachelor's degree in history, but decided to remain in the industry because it allowed him to continue educating and helping others. He has parlayed his experience into a leadership role, relying on a style that focuses on active listening skills and values collaboration with employees. Young is married with three children and enjoys coaching and playing sports with his kids.
What are you most passionate about when it comes to your career?
"I'm most passionate about helping others. I've had the great opportunity to help my members and customers save money, make money and save time with specific product placement. Equally important, I've also had the chance to see many team members who I have worked with directly grow into leadership roles."
Sales Engineer, DelRen HVAC
Diaz is the type of professional who thrives on enthusiasm for his job, and combined with his strong technical background, that has allowed him to have a significant impact for one of the area's top commercial HVAC equipment suppliers. He also has a passion for mentoring young people and fulfills that role at ASHRAE New Jersey, a nonprofit society for mechanical and HVAC engineers. Under his leadership, the chapter has received several awards for its involvement with students and young professionals.
How do you feel the definition of leadership is evolving?
"I believe that the term 'leader' is becoming less related to job title or position and more about positive energy and influence. Leading by example, to me, is the most effective approach to gaining trust and enthusiasm of those around you. Because of social media, we are interconnected more than ever before. Successful leaders can recognize other leaders within their network and help one another thrive both personally and professionally."
Years in the industry:
17
Polin has a long history of entrepreneurship, having displayed the courage to turn his professional dreams into reality ever since graduating from Penn State University. Among the many ventures he has founded is Global East Communications, which eventually rebranded as OpDecision, a leading provider of corporate wireless expense management services. A married father of two daughters, Polin also believes in philanthropy and supports numerous local nonprofits.
What has been one of the biggest lessons you've learned along the way?
"Create and nurture relationships. Up until the COVID-19 pandemic, I spent almost every single week of my career meeting someone new over a meal or a cup of coffee. At the age of 39, I have over 1,000 people I could reach out to right now who would reply back because I took the time to sit down and meet them face to face, or in today's reality via video conferencing. Taking the time to make that personal connection, learn about someone else personally, professionally, following up with them and genuinely caring is a big part of what has enriched me with lots of good friends, colleagues and business contacts."
Community Development Manager, American Cancer Society
Years in the industry:
7 years in nonprofit
Paschke has spent the past two years in South Jersey managing Relay for Life and Real Men Wear Pink events, organizing volunteers and managing strategic partnerships and spreading awareness for the American Cancer Society. He focuses on family-friendly events in communities across the area. Previously he worked at other nonprofits and spent four years as chief of staff for a state representative in Pennsylvania. In his free time he enjoys running marathons and spending time with his wife and two small kids.
10-year goal:
"In 10 years I hope to continue growing mutually beneficial relationships while fighting for a day without cancer. This fight takes a village and I want to continue to do my part to support everyone else in the fight. I look forward to the ability to coach other staff and volunteers as I move into higher management positions."
Financial Advisor, Cornerstone Financial Advisors Inc.
LaMaina has been a familiar face at Cornerstone Financial Advisors, Inc. from a young age, choosing to follow in the footsteps of her father and founder, Michael J. LaMaina CFP, ChFC—so, it's in her blood. Shauna thrives in her role and her skilled acumen is matched with a commitment to service. She is hands on and responsible for money management, retirement planning and asset allocation. She has her Series 7, Series 6, Series 63, and Series 65 held through LPL Financial and Life, Health & Disability Insurance licenses and is currently studying to become a certified financial planner (CFP). Beyond work, Shauna is an avid sports and fitness enthusiast, active in both field hockey and CrossFit training. She also earned her competitive racing license for the Sports Car Club of America in May 2019.
What are you most passionate about when it comes to your career?
"That's easy and maybe a bit cliché, yet I am most passionate about the opportunity to help people and do so in one of the most important aspects of their lives. When planning, I enjoy taking the time individuals and businesses need, answering their questions and seeing through their eyes. Every client is different and their uniqueness makes the work challenging and highly rewarding."
Operations and Marketing Specialist, CLM Advisors
Years in industry:
4 years
Muracco's career began in 2017 shortly after her commencement ceremony at LaSalle University where she graduated cum laude. Unsure of the career path she wanted to take, she took a position at her father's firm as office manager. Muracco was determined to not be just the "boss' daughter" and she worked hard to build a reputation for herself which led to discovering her career path. Muracco now runs the day-to-day operations at CLM. When she is not in the office she is out building her network connections or getting in a creative mindset to market CLM in the best way possible. From creating graphics to assisting in business decisions, Muracco has built a variety of skills in marketing, management, communications, human resources and networking.
What has been one of the biggest lessons you've learned along the way?
"One of the biggest lessons that I have learned along the way is that you always need to put yourself in another's shoes. You are not going to always see eye to eye with everyone around you, but making sure you understand why someone else thinks the way they do or acts the way they do is important to being successful."
Vice President, Commercial Loan Officer, First National Bank of Elmer
Garcia is a graduate of Wilmington University with a master's degree in business administration and a concentration in finance. He has 18 years of experience in the banking industry consisting of commercial and residential lending, portfolio management and credit risk management. Garcia personifies the statement "service above self" as he continually places others first in all aspects of life. He loves spending his free time with his young family of four, and making new memories with family and friends is a life priority. He is an active member of The Parish of the Holy Cross and dedicates all his accomplishments to his strong faith.
10-year goal:
"I plan to continue my banking career and perhaps one day become a senior vice president. I am also looking forward to getting older and wiser which will assist me in expanding my civic responsibility where I am able to do volunteer work, board service and perhaps local government service. I also have a tingling to expand my education and am considering enrolling in executive banking school."
Attorney, Sidney L. Gold & Associates
Vanguri is an attorney who has specialized in the fields of employment discrimination and civil rights law for the past 10 years. She has had the great pleasure of assisting many clients who have faced discrimination in the workplace in seeking justice. In 2017, Vanguri's work in representing the plaintiff in the case of Blatt v. Cabela's led to a landmark expansion of the civil rights available to transgender employees in the workplace. In 2018, Vanguri was awarded The Legal Intelligencer's Attorney of the Year award for her work on this case. She is the mother to a 1-year-old daughter, who is her absolute greatest joy in life.
What has been one of the biggest lessons you've learned along the way?
"One of the biggest lessons I have learned is that things don't always work out as you plan them to, but if you lean in to the new reality, great things can happen. I did not graduate from law school knowing that I would have a career in employment law. … I embraced my new life at my new firm, and realized how fulfilling it is to protect peoples' civil rights. I certainly never imagined that I would have the ability to expand civil rights, but once I saw a glimmer of that possibility, I leaned in to that opportunity full throttle as well. Basically, what started as a very stressful and frightening time in my life has led to some of the best gifts I could have ever imagined."
Vice President of Laboratory Operations, Medical Diagnostic Laboratories
Winchester received her bachelor of science degree from Shippensburg University in 2003, where she graduated summa cum laude. She joined Medical Diagnostic Laboratories as a laboratory technician in 2004 and has since held various positions of increasing responsibility in the clinical laboratory and quality control departments. As the vice president of laboratory operations, Winchester is responsible for the overall operation and administration of the QA/QC department as well as MDL's clinical diagnostics, including the molecular, microbiology, serology and pathology divisions. She is responsible for the recruitment and employment needs of all laboratory personnel, selection and maintenance of equipment, safety, proficiency testing and process improvement. Winchester participates in audits and regulatory inspections and serves as a College of American Pathologists inspector for outside laboratories. Outside of work she enjoys reading, traveling and raising a family of three children with her husband.
10-Year Goal:
"It's very important to me to continue to grow, learn new things, and to progress in my career. I enjoy challenges and enjoy taking on new responsibilities and duties. Ultimately, I would like to get more involved in developing strategic initiatives and change management activities and eventually hold the position of chief strategy officer."
Director of Alumni Engagement, Rowan University
Years in the industry:
10 years
A lifelong resident of Gloucester County, D'Angelo takes pride in leading the office of alumni engagement at his alma mater. As director, he collaborates with alumni, students and colleagues to develop strategic engagement opportunities to strengthen alumni connections with the institution and one another. Under his leadership, the Rowan University Alumni Association has established new traditions, such as RowanGIVES Day and the Run for Rowan 5K, and has revamped the institution's homecoming celebrations. On campus, D'Angelo also serves as a committee co-chair on the Diversity, Equity and Inclusion Council and as a member of the First-Generation Task Force. He is also an active member of the New Jersey Consortium of Alumni Professionals and volunteers with CASE (Council for Advancement and Support of Education).
How do you feel the definition of leadership is evolving?:
"Now more than ever it's important for leaders, or those aspiring to evoke change, to be able to view challenges from varied perspectives. In many instances this requires self-awareness and understanding one's own strengths and limitations."
Chief Government Affairs Officer, New Jersey Business and Industry Association
Years in industry:
15 years
Buteas is chief government affairs officer of the New Jersey Business & Industry Association (NJBIA), the nation's largest state-level business organization whose member companies collectively employ one million people. Through her tireless efforts and leadership, NJBIA is one of the strongest voices for business in the state. More recently, she has taken a leadership role in convening 80 business and nonprofit groups to lobby together for policies supporting and assisting New Jersey's business community impacted by the COVID-19 response. Buteas also serves as the executive director of the New Jersey Organization for a Better State PAC, a nonpartisan group that promotes business throughout the state.
What has been one of the biggest lessons you've learned along the way?
"There are many lessons I have learned along the way, but I would highlight being honest, the value of hard work, excelling at your craft and the value of having a great team."
Computer Engineer, Federal Aviation Administration, William J. Hughes Technical Center
Years in the industry:
7 years
D'Amico is a computer engineer at the Federal Aviation Administration's (FAA) William J. Hughes Technical Center, the premier air transportation system laboratory in the world, where he tests new and emerging concepts and technology for air traffic control. D'Amico is pursuing a master's degree in engineering management from Rowan University. He serves on the Township of Hamilton Planning Board and is vice chair of the Southern N.J. Section for Institute of Electrical and Electronics Engineers (IEEE). He is a member of the tech center's Young Aviation Professionals (YAP) group and volunteers with its AVSTEM program, where he educates students about aviation, science, technology, engineering and mathematics opportunities.
What are you most passionate about when it comes to your career?
"I find nothing more rewarding than knowing that the organization I work for continues to develop new technologies to help airlines and passengers travel more efficiently and most importantly feel safe. We can't 'turn-off' the National Airspace System to make improvements. It's akin to changing the tires on a moving vehicle, but that is what makes it so interesting."
Partner and digital currency practice leader, Friedman LLP
Graham is Friedman's digital currency practice leader. He has an extensive concentration in the digital currency space and has an in-depth knowledge of accounting issues, which makes him a sought out speaker and author in this arena. With almost 15 years of experience, Graham also specializes in helping private companies in a wide array of industries go public. He is an integral participant in the firm's SEC practice, which assists companies with initial public offerings, regulation A+ offerings and reverse mergers.
10-year goal:
"To continue supporting new and emerging technologies in order to leverage resources and grow the digital currency practice and Friedman LLP."
Sales and Marketing Director, All American Assisted Living
Four years ago, Horner made "the best decision" of her life and changed careers to work with the elderly. Growing up, she regularly volunteered in skilled nursing and assisted living facilities, which inspired her to advocate for elderly rights as an adult, including in Trenton. Horner helped open All American Assisted Living, a 112-bed property, in February 2019, and the facility has exceeded its budgeted census month over month. She is a member of the Chamber of Commerce of Southern New Jersey's Health Issues Committee and Emerging Leaders Council, and recipient of Kaplan Development Group's 2019 Best First Impression Award. She regularly volunteers at Cathedral Kitchen and has collected hundreds of pairs of socks to be donated to the homeless.
10-year goal:
"While I love being a trusted advisor to prospects and their families, my true passion lies in ensuring that every person moving into assisted living gets quality care. I'd love to move on to an executive director position where I can oversee the daily operations of a community."
Years in the industry:
25-plus
Founded in 2010, #TechStarters has grown to become one of the most reliable single-source providers of IT management, cloud support and Web management services in South Jersey. Suleski's company is a certified partner with Microsoft, Google, Watchguard, Dell and other well-known technology brands, and its efforts have helped earn #TechStarters awards and recognitions, including as Best Company for IT Support four years in a row. Suleski, who holds an MBA from Stockton University, is an active member of the community, including the Rotary Club, Moorestown Business Association and the Camden County Chamber of Commerce. His involvement expands beyond business, as he coaches youth community basketball and baseball teams.
What lessons have you learned along the way?
"A person's character is everything, always hire character first. If you insist on micromanaging, know that your business will never grow past the ceiling which requires you being present. Create processes, invest and trust those you've hired to develop the business."
Counsel; Chair, Environmental Law, Parker McCay
Zhou is a former deputy attorney general who represented the New Jersey Department of Environmental Protection, successfully litigating and settling cases at the state trial and appellate levels, as well as the Office of Administrative Law. In her current role at Parker McCay, Zhou advises clients on all aspects of environmental compliance, including land use, site remediation, solid and hazardous waste, the Industrial Site Recovery Act and safe drinking water, among others. She also counsels on due diligence and risk mitigation in corporate and real estate transactions, and on environmental insurance recovery. In 2019, Zhou was recognized as a South Jersey Biz Top Business Attorney.
What has been one of the biggest lessons you've learned along the way?
"Trusting your instincts and your judgment is so important. When you are younger, and just starting out in your field, that can be difficult at times. But you can only learn to trust your judgment if you actually start making the calls."
Branch Manager, Bohler Engineering
Years in the industry:
14
DiBona is responsible for much of the literal groundwork that goes into the development of construction projects, whether retail or mixed-use campuses. His background in landscape architecture and engineering contributes to the full process from site evaluation to ribbon cutting, including site plan design, engineering and permitting, construction management and project team coordination. DiBona is well-versed in the permitting requirements from various agencies such as CAFRA, NJDOT, and NJDEP for freshwater wetlands, flood hazard areas and division of water quality. He is a member of the American Society of Landscape Architects.
How do you feel the definition of leadership is evolving?
Being flexible and adapting to others' needs is defining how successful of a leader you become. As both your employees and clients expect more flexibility, work arrangements, accessibility and responsiveness, your ability to lead is still impacted by how you act but also how you react to what and who they need you to be.
Associate Attorney, Levine, Staller, Sklar, Chan & Brown, P.A.
Morgano earned his bachelor's and law degrees from Rutgers University, graduating cum laude. As an associate attorney at Levine Staller, PA, he represents a wide range of businesses in complex and commercial and employment litigation matters, as well as assists clients with drafting employment policies and daily employment decision-making. Morgano is regularly appointed as an attorney or temporary guardian by the Probate Court for alleged incapacitated individuals. Outside of work, he spends time volunteering for political and philanthropic organizations in the area.
What are you most passionate about when it comes to your career?
Over time I have developed strong interpersonal relationships with a number of my clients. Although I am primarily a litigator, I enjoy helping my clients avoid the courtroom by devising practical solutions to meet their business needs. When litigation cannot be avoided, I love the challenge of convincing a jury that my client's version of events is the truth.


Click here

to subscribe to the free digital editions of South Jersey Biz.

To read the digital edition of South Jersey Biz,
click
here.


Published (and copyrighted) in South Jersey Biz, Volume 10, Issue 5 (May 2020).

For more info on South Jersey Biz,
click
here.

To subscribe to South Jersey Biz,
click
here.

To advertise in South Jersey Biz,
click
here.