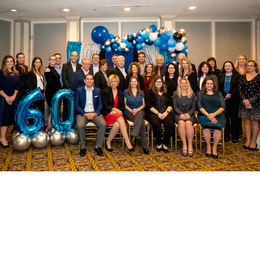 Sponsored Content: Fiscal Peace of Mind
From accounting to advising, Alloy Silverstein provides the full gamut of financial support for businesses and individuals.


In today's economy, business owners are looking for more than an accountant who can help file their taxes—they want a partner who can manage all aspects of their company's financial picture and provide guidance over the years as the business evolves.

For 60 years, Alloy Silverstein has stepped up to that role for clients across the Greater Philadelphia region. The firm's roots are in public accounting, tax preparation and compliance, and it broadened its services to include financial advisory and payroll processing with the creation of The Alloy Silverstein Group in 1999. From their offices in Cherry Hill or Hammonton, Alloy Silverstein's staff of more than 50 professionals serves clients under one umbrella, handling any financial question or issue with care.

Managing Shareholder Ren Cicalese, CPA, PFS, CGMA, says the firm goes beyond taxes and accounting—it can help with backroom processes for clients, such as cloud accounting, or IRS problem resolution, employee benefit audits and business valuations. Alloy Silverstein also represents professional athletes, including more than 15 LPGA and PGA members.

Yet success has come to Alloy Silverstein not just because of its skill in fiscal management, but because of the personal relationships its employees have built with clients.

"We're in the people business," says Cicalese. "We hug our clients, we know their kids' names, where they go to school— there's a personal connection. … I have one client I've represented for 40 years. When he first started with us his kids were 2 and 3, now his grandkids are teenagers. We become part of each other's families."

Cicalese has been with Alloy Silverstein for 40 years, and partner R. Dennis Vogt, CPA, for 45. Most of the management team has been on the staff for an average of 30 to 35 years.

"When they call, they call us directly. They want the answer from that person," says Vogt. "We can listen and relate back to all of the information we have on file and in our heads to help with an answer. We've been successful doing that because that information is available with one phone call."

Its reputation for client service has earned the firm some coveted achievements, including being named a Top Recommended Tax and Accounting Firm by Forbes. Alloy Silverstein was one of only six firms in New Jersey to be recognized, and the only in South Jersey. It was also one of a select few nationwide to receive ClearlyRated's 2019 Best of Accounting award for providing superior client service. This is the only accounting industry award that leverages third-party validated survey responses, and Alloy Silverstein received satisfaction scores of nine or 10 out of 10 from more than 86 percent of its clients.

One of the biggest advantages for clients has been Alloy Silverstein's ability to approach a business plan proactively, getting to know the inner workings and future goals, and then tailoring its services to help move the client forward.

Education is a primary way of empowering not just its own clients, but the business community as a whole through Alloy Academy, monthly workshops hosted in Cherry Hill and Hammonton. "We started these three years ago and it's a lunch-and-learn, free of charge to clients and anyone else," says Cicalese. "The topics vary depending on what our clients feel they have a need in, whether it's technology or year-end tax planning. We'll also invite experts from outside the industry, such as attorneys or human resources professionals. It's a give back to the community and clients and a way to help them all become more efficient."

Alloy Silverstein does more than give back to the business community. Its charitable arm, Alloy Cares, gets involved with a number of organizations across the Philadelphia area, including the United Way of Greater Philadelphia & Southern NJ and the American Heart Association's Go Red for Women campaign. Vogt says one of the biggest projects is the Adopt a Family drive during the holiday season benefitting Catholic Partnership Schools, Center for Family Services and Hammonton Family Success Center. "Clients and employees participate in collecting gifts for families in Camden," he says. "It's amazing how generous the people we know are." In 2019, the firm helped 143 children.

It also holds a company-wide community service day, where all employees volunteer at the local food bank or beautifying a school in Camden. But beyond that, employees are also allotted up to five days a year to volunteer for an organization of their choosing. "Now we have 50 employees who can give five days each to help an organization they are committed to, and the outreach becomes even greater," Cicalese says.

Alloy Silverstein is looking to the future, which may include expanding to other markets including the Shore and up north, says Cicalese. "We like to say that we grew up in South Jersey—our kids go to school here and we make our decisions here in South Jersey," he says. "We have great, long-term employees who help us provide quality work with exceptional service and we're looking forward to the next 60 years."

Alloy Silverstein
900 N. Kings Hwy. | Cherry Hill
856-667-4100

165 N. White Horse Pike | Hammonton
609-561-1555 |

AlloySilverstein.com



To read the digital edition of South Jersey Biz,

click here

.



Published (and copyrighted) in South Jersey Biz, Volume 10, Issue 1 (January 2020).

For more info on South Jersey Biz, click

here

.
To subscribe to South Jersey Biz, click

here

.
To advertise in South Jersey Biz, click

here

.