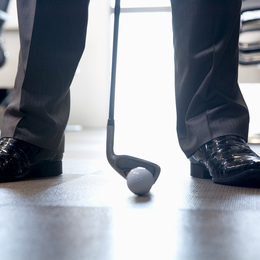 Close of Biz: Secondary Passions

South Jersey executives are passionate about their businesses and work life, and some are just as enthusiastic—if not more—about what they do outside of the office, but don't get the chance to go into detail about it. We thought it would be fun for three local executives to talk about their secondary passion, how they discovered it and how they are able to overlap it in some ways with their business.


Michael Pallozzi, President, HFM Investment Advisors, LLC
What is your secondary passion?
"After my family, my work and all my community activities, I'd have to say I really enjoy golf. It's nice to get away from the office for a little bit and into the fresh air to spend time on the golf course. Golf is a challenging and humbling experience, but it's always fun and relaxing."

How did you discover this passion?
"When I was a kid, my dad used to let me tag along with him and his buddies for their Saturday morning golf outings. All of them took a personal interest and pride in me and they helped me improve my game. They took me under their wings and I built great relationships and memories on the golf course. It was also a special way to spend time with my dad."

Does it overlap with your business? If so, in what ways?
"Golfing does overlap with my profession because golfing with clients is a good way for us to get to know each other better. We can relax outside and enjoy a friendship away from work or a review meeting. By building and deepening relationships with my clients, I am better able to understand who they are and what's important to them."

Michael Lamaina, CFP, CHFC, Founder, President Cornerstone Financial Advisors Inc.
What is your secondary passion?
"Hands down it is auto racing with the Sports Car Club of America (SCCA), the largest amateur racing club in the U.S. I have traveled nationwide to participate in races, spending about 15 weekends behind the wheel. There's such a camaraderie and the adrenaline rush—there's nothing quite like it. To this day, I get butterflies before every race."

How did you discover this passion?
"I was a 'motor head' from a young age and would work with my brother fixing up cars and motorcycles. It was a client who introduced us both to the sport and I was hooked immediately. More than 10 years later, it has become a family affair. My wife and kids are my pit crew and my daughter, Shauna, has not only followed in my career footsteps, but is racing as well."

Does it overlap with your business? If so, in what ways?
"This is a niche for Cornerstone Financial advisors and the services we offer, including business continuation, succession planning and retirement planning. They also have families to protect and we provide individuals with investment management, life insurance and estate planning. We share the same passions—family, business and racing—making for great friends and loyal clients."

Daniel J. Ruoloto, CPA, MS, Partner, CEO Ruotolo, Spewak & Co./DIGIT
What is your secondary passion?
"Giving back is a deep-seeded passion of mine, which led to the establishment of Student Working Professionals (SWP) more than 20 years ago. Built on the principles of social entrepreneurship, the organization provides real world internships, practical experience, life skills and cultural growth to all youth, including those with learning and social disabilities."

How did you discover this passion?
"Early in my career I was fortunate to have a mentor who opened my eyes to the meaning of 'pay it forward' and it has stuck with me. I incorporated a teach-learn philosophy in all aspects of my life and surrounded myself with others who share the same. Yet being a social-prenueur, I wanted to help others discover the power of living a 'pay-it-forward' way of life."

Does it overlap with your business? If so, in what ways?
"The SWP program has helped several hundred aspiring young adults and installs life long character. Ruotolo, Spewak & Co. is only one of our clients who have employed SWP interns within a teach-learn culture. Several of these students have gone onto full-time positions with RS&S Co., two of whom recently became partners."

To read the digital edition of South Jersey Biz,

click here

.



Published (and copyrighted) in South Jersey Biz, Volume 10, Issue 1 (January 2020).

For more info on South Jersey Biz, click

here

.
To subscribe to South Jersey Biz, click

here

.
To advertise in South Jersey Biz, click

here

.