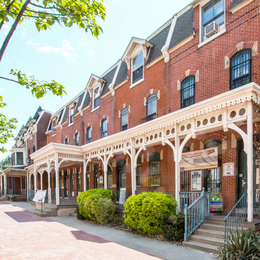 Nowhere to Go but Up
Businesses across Camden County are making positive progress in their respective industries.

It's no secret South Jersey has had a difficult time making a name for itself over the years. Thanks to easily accessible resources, strong economic backing and a larger population, North Jersey has always had a lead when it comes to being successful and has never slowed down.

More recently, however, business owners and individuals alike have turned to South Jersey for fresh perspective and a new start in a place that truly has more to offer than anyone seemed to realize.

Its prime location, more than anything else, is something that just can't be overlooked, says John H. Ciniglia, vice president of business development for Cherry Hill-based Kaye Personnel, Inc.

"It's a great place to work; it's a great region to be a part of," he says. "It goes without saying the access to the turnpike, 295, all the local area bridges and highways that get us everywhere … the location is superb and the access is ideal."

Samir Mody used to work in the City of Camden before he formed his company, Keller Engineers, in 2017 and says he didn't think twice about anchoring his company in Camden County.

"We see the potential for growth and opportunity here and we want to be a part of it. With prior knowledge and experience working in [Camden], it was an easy decision to return back to Camden County and anchor our business here," he says. "We have worked continuously to reconnect with the local community and rekindle relationships with South Jersey-based clients, elected officials and local stakeholders to deliver projects that have a positive influence on the community."

For many business owners like Mody, being in South Jersey has become more than just setting up shop in a good spot, especially in Camden County.

The area's openness to embrace whatever new business or budding venture may come its way is one of its best qualities, says Camden-based Center for Family Services President and CEO Richard Stagliano.

"Camden County is welcoming and forward thinking and so are the businesses that reside in it," he says. "The relationships we've built have helped change the lives of thousands of individuals, families and children, both within Camden County and throughout all South Jersey. It provides immense opportunities for growth and success."

There are a great many parts that make this region a whole, adds Dan Keashen, director of public relations for Camden County.
"The county's foundation of jobs is built on an array of industries rooted in several different sectors that have been growing for years, which include finance, insurance, education, health care, manufacturing, retail, food services, transportation and warehousing," he says.

With this knowledge we took the opportunity to speak with a number of businesses and officials involved in these industries to find out more about what is happening in the area and what keeps business here.

Education and Health Care
Perhaps two of the largest growing sectors in the region are higher education and health care, says Keashen.

"Rowan, Rutgers and Camden County College have all constructed new buildings and have invested in the Joint Health Science Center in Camden, where they all share space," he says. "Cooper University Healthcare continues to expand its assets in Camden County with a new facility in Cherry Hill that will join its main campus, MD Anderson, Cooper-Rowan medical school and myriad other operations throughout the county."

Smaller facilities are also flourishing, including those like Center for Family Services, which was formed earlier this month when Family Intervention Services and Golden Cradle Adoption Services merged.
Stagliano says the merge allows for expanded services and the ability to put effective practices in place that will best serve families in communities across the state. He adds the center's addiction and recovery services have also been expanded to meet the needs of the community, especially those affected by the opioid crisis, and that being in Camden County has played a part in facilitating these changes.

"Our foundational roots lay in Camden County," Stagliano says. "While we've grown immensely since we began offering services in 1920, we feel ingrained in the local community.

"Our headquarters are in Camden, and over the past 20-plus years we've watched the neighborhood around us change and grow for the better while standing—and working—side by side with its residents," he continues. "By keeping our headquarters in Camden, we're able to constantly take the pulse of the community and work together with residents to find out what services will help those most in need."

Camden County Improvement Authority
Camden County has a long and storied history that dates back to 1718. It is a past the county is proud of, but it also means a vast majority of the infrastructure in the county is aging. For cash-strapped municipalities, this presents a problem, especially when these infrastructures are vital to the communities they serve.

Take the current police and fire buildings in Collingswood, for example. Though operational, the buildings are very out of date, and not up to current standards, says Camden County Freeholder Jonathan Young.

So, the city began to work on bringing new facilities to town, and opted to work with the Camden County Improvement Authority (CCIA) to help make it happen.

And happen it will. Groundbreaking for the new, combined police and fire house on Haddon Avenue was Jan. 9.

"This is going to make everything easily accessible for them, and bring them up to the 21st century," Young says. "They're not going to be living in the Stone Age anymore. I'm very happy for the chiefs over there—Fire Chief Keith Davis and Police Chief Kevin Carey. They're excited."

Projects like this are the majority of what the CCIA does, says Christopher A. Orlando, interim executive director for the CCIA.

"For cash-strapped municipalities that don't have the luxury of carrying professionals on staff to execute these projects, we like to tell them to think of the CCIA as an extension of their staff," he says.

Orlando says the CCIA can offer project development and planning services that many municipalities may not otherwise be able to afford, while keeping the project under the municipality's control and as budget-friendly as possible.

Other projects the CCIA has been involved in include the updating of the Merchantville Community Center, as well as the Joint Health and Sciences Center in Camden, which the CCIA was a project manager on.

The CCIA is currently working on a collaborative project with Rutgers to develop the old Campbell's Field in Camden City into a multi-use baseball field. The agency also just finalized—and is under contract for—a development project at Haddonfield Road and Route 130 in Pennsauken that will include single family housing, and it continues upgrades on the Vogelson Library in Voorhees, which Orlando says is one of the most heavily used libraries in the county.

A new parking garage for Rowan Medical School in Camden is also under construction and being led by the CCIA, which will also be working this year to build a new office space in the city for the county One Stop Agency.

In other words, the CCIA is a vital part of much of the growth occurring around the county, and they're ready to take on more.

"We try to keep our hands in a lot of different things," Orlando admits.

Commercial Paving
With a main office and one of its three asphalt plants located in West Collingswood Heights, American Asphalt has built a strong reputation for service in the Camden County area. Suzanne Farnoly, sales manager for American Asphalt, says its location has afforded the company plenty of opportunities for growth over the years and it continues to find success with the business that has been coming to the area.

"You may see our trucks on the roads in Camden County as they travel to and from commercial paving projects," she says. "Our crews have a full plate of work, including new construction, milling and paving of existing parking lots, and maintenance work at retail, commercial and industrial sites throughout Camden County."

More than the work it does in the community, American Asphalt is also driven by the work it does for the community, Farnoly says.

"American Asphalt is driven by our core values, R.I.G.H.T. (respect, integrity, God, honesty and trust)," she says. "Our mission is to help others in our community and our core values aid in doing so, starting with our own employees."

Staffing and Office Space
Though location has played a huge part of Kaye Personnel's success over the years—it has been family owned and operated since 1983 and has been in its Cherry Hill location for over 20 years— Ciniglia admits it's not the only piece to the puzzle. Physical logistics aside, simply being able to offer prospective clients the knowledge that Kaye is local is also a major factor, he says.

"It specifically helps us with employee recruitment," Ciniglia says. "It helps with client development and it provides us with a local address that allows our client base and employee base to know that we're local—we're from the neighborhood; we know what's going on here."

Of course, not every business needs multiple employees to succeed, but having a place to call its own is important. Though some businesses can be run from anywhere—like a spare bedroom or garage at home—most small businesses tend to find more success when they have a base to work from.

With this knowledge, Chris Jerjian, owner of Kiwi Offices, purchased a vacant building in Cherry Hill where he will soon offer small office space for small businesses. Think one office, around 120 square feet, with shared amenities like conference rooms and break areas if the tenant is interested in their use.

"The type of person who rents our product is running away from [executive offices and co-sharing spaces]," Jerjian says. "They want some privacy and individual space.

"They're an entity, and small businesses really need to have their own space," he continues. "So basically, they have their space, and they're the tenant and I'm the landlord. They can put the address out there so that if someone Googles the type of service they offer, it will come up."

Unique to the Cherry Hill location will be inter-connecting offices, Jerjian notes. Like hotel rooms with connecting doors, there will be offices available with doors that can open up the individual spaces.

"If you need three offices for a project for a couple of months or for one year, we will have these available," he says. "This way, you can open the rooms up and be available to each other."

Port Industry
Easy access to major highways is often the first thing people think of when discussing Camden County, especially when it comes to transporting materials. Often the ports in Camden are overlooked, which ironically have been a part of the region's make up for just as long as any of the roadways. But Andrew Saporito, executive director and CEO of South Jersey Port Corporation, is working to change that.

"These facilities are important to not only [Camden City] and [Camden County], but also the state," he says, explaining that the ports in Camden handle commodities that cannot behandled in North Jersey—like steel and wood—that require special handling and storage that the Camden ports have become known for. "That's what we specialize in. Our customers from all over the world know the expertise that is available at South Jersey Port facilities."

Saporito adds that cocoa beans and occasionally fruit are also handled at the ports, along with cement, salt and scrap metal.

"[This industry] actually provides some great jobs for people," he says.

Into the Future
All that being said, with so much going on in the county, it seems there is nowhere to go but up from here. As Keashen notes, 2020 truly looks bright for this area.

"What the business community can expect to see in Camden County in 2020 and beyond is a place that is open for business," he says. "A place that is uniquely located in a highway matrix where goods and services can easily travel up and down the Eastern Seaboard.

"A place that is 1.8 miles away from Philadelphia and a place that has access to a waterway that has been an industrial powerhouse for 400 years—the Delaware River," Keashen continues. "A place that will continue to invest in its infrastructure to create a strong foundation for a variety of industries and will always be a place where businesses can count on a skilled and educated workforce to fill their hiring needs. And, ultimately, a place that will cut the red tape for businesses to open, expand and thrive throughout this county."

FACTS AND FIGURES
The first permanent European settlement in Camden County was in 1718 in West Collingswood

37 municipalities in the county

Camden City is the most populated municipality in the county

Winslow Township is the geographically largest municipality in the county

To read the digital edition of South Jersey Biz, click here.

Published (and copyrighted) in South Jersey Biz, Volume 10, Issue 1 (January 2020).

For more info on South Jersey Biz, click here.
To subscribe to South Jersey Biz, click here.
To advertise in South Jersey Biz, click here.