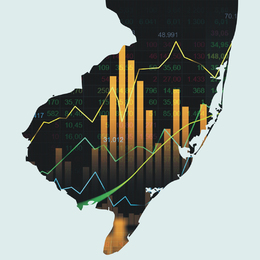 2020 Business Forecast
South Jersey business and financial experts have a positive outlook for our region and expect to see continued growth from 2019.

The last several years have seen continued growth for many South Jersey businesses. And despite a looming presidential election as well as both new and pending legislation that could impact local businesses of all sizes, South Jersey business and financial experts are optimistic that the region's economy is on track for another prosperous year.

Although there has been some concern about the potential for another recession, local experts are feeling confident that a downturn is not in the cards for this year. "I'm cautiously optimistic for 2020," asserts John Herring, New Jersey market president for Liberty Bell Bank. "Talk of an imminent recession seems to have died down somewhat, and most people now seem to think that 2020 will not see a recession." He notes that businesses have seemed to be a little more cautious going into this year, which may help avoid the kind of bubble that precipitated the 2008 downturn.

Ren Cicalese III, CPA, MST, associate partner at Alloy Silverstein, agrees that "optimistic" is one of the best words to describe the current state of South Jersey's economy. "While many feel that the economic growth over the last decade has to slow down eventually, I haven't seen anything indicating that businesses are experiencing decline. Most of my clients have seen growth for the last few years, and expect to continue that trend for at least the next few," he says. "South Jersey [continues to be] a great place to start and operate a business."

In terms of South Jersey's overall economy, it seems like businesses can expect a climate marked by continued growth, although experts warn that it may be slightly slower than the last year or two. Stan Molotsky, president and CEO of SHM Financial Group, points out that even the stock market has continued to perform well this past year. However, even though everything seems stable right now, he always advises businesses to consistently reevaluate their investments and always have a plan in place for all contingencies should the market begin to shift or if unexpected obstacles should present themselves this year.

"South Jersey has always been lagging behind the general market in whichever way it's moving. But right now, we seem to be experiencing some momentum that we haven't had in the recent past," Molotsky adds. "The overlook may be pretty positive right now, but you still need to make sure that you always have some sort of plan and adjust it as you go along. I always tell clients to do their planning yesterday, not tomorrow."

Though the outlook for 2020 may mean plenty of opportunities for growth this year, there are some factors that could negatively impact local businesses in the coming months—one of which, not surprisingly, is a sense of uncertainty as we approach this year's presidential election. "Looking ahead, I'm personally very optimistic about what's going on in South Jersey— and as long as we can get through all of the political chaos, our region should do very well this year," Molotsky says.

Other factors are more specific to New Jersey, and revolve around what's going on within our state government— including new legislation like the governor's planned millionaire's tax or other regulations that might not necessarily enact positive change for all businesses. "Both [these new regulations and the upcoming presidential election] will likely result in most businesses exercising at least some caution so that they aren't over-extended if one or the other results in new policies that are not business-friendly," Herring adds.

Cicalese notes that legislation like the minimum wage and sick pay bill are also likely going to impact a lot of smaller businesses within the South Jersey economy. Early last year, New Jersey legislators passed a bill that would increase the minimum wage to $15 by 2024, while October's Paid Sick Leave Act now requires New Jersey employers of all sizes to provide employees with up to 40 hours of paid sick leave per year to care for themselves or family members.

"While I agree that it's good to raise the minimum wage, I do feel that smaller businesses with employees will be hurt by these bills. Some may even be forced to either cut back on hiring or go out of business altogether," he explains. "Larger businesses are better equipped to absorb these increases—but it will still drive down margins and affect profits across the state."

The financial industry itself has also been undergoing significant changes in recent years, and the region's businesses have had to continually adapt. "In the financial industry, continued consolidation, acquisitions and perhaps mergers of equals have been combined with a continued increasing use of technology as the financials try to generate new customers and wring every last bit of efficiency that they can out of their operations," Herring says. He predicts that 2020 will continue to see banks either merging or being acquired.

"We can only become so efficient. If you're strong enough and have the capital, a merger of equals allows you to preserve your name, your management and your board. If not, you'll be a candidate for acquisition," he adds. "It's a very difficult time to remain as a small, independent community bank—unless you have significant capital and profitability."

Like businesses across all sectors, South Jersey's banks will also continue to be impacted by the proliferation of technology-driven changes. "Apps are everywhere, and they aren't going away. FinTech is becoming more important across all industries," Cicalese says. He adds that consumers aren't the only ones interested in taking advantage of new technologies—many companies are looking to incorporate artificial intelligence to reduce costs and improve margins. Meanwhile, data analytics provides big opportunities for growth—and that's something that can be utilized by businesses across all industries.

"They're using technology to drive sales, increase margins and reduce costs. By doing that, growth is inevitable," Cicalese explains. "Bigger businesses won't have trouble using these technologies, but smaller companies will need to find someone to walk them through the process of finding and using software to develop key performance indicators to monitor the health of their company."

As far as industries that may be on the rise in South Jersey this year, Herring points to businesses ranging from microbreweries to residential real estate. South Jersey has also been the site of lots of other developments in recent months, from independently owned restaurants to chains like Wawa. "When you look around, we are seeing a lot of different companies that are moving into our area, including large regional as well as national companies … and it's all very positive for South Jersey," Molotsky adds.

Among the industries that may continue to struggle this year is—perhaps not surprisingly—retail. "It's just hard to see that changing with the continued ease of online shopping and the related quick delivery times," Herring says. "I remain concerned with the number of retail and office buildings available on many of the major local highways in South Jersey, and I think some of that has been masked by the proliferation in recent years of urgent care and other similar medical centers."

Above all, it seems like South Jersey's businesses are in a strong position to stem the tide of whatever obstacles may come their way in 2020, from new regulations to a new president. "South Jersey continues to be one of the best kept secrets in the world. From our proximity to cities like New York, Philadelphia and Washington, D.C., to the Shore areas to our access to airports and transportation, our companies are situated in an ideal place to do businesses," Molotsky concludes. "If we could eliminate some of the political nonsense and somehow straighten out the property tax burden that we're all confronted with, it would certainly make all of our lives a lot better—both in 2020 and beyond."

To read the digital edition of South Jersey Biz,

click here

.



Published (and copyrighted) in South Jersey Biz, Volume 10, Issue 1 (January 2020).

For more info on South Jersey Biz, click

here

.
To subscribe to South Jersey Biz, click

here

.
To advertise in South Jersey Biz, click

here

.