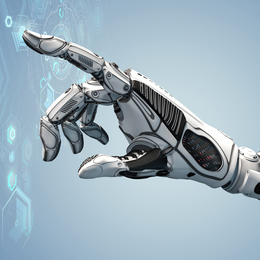 A Higher Intelligence
As artificial intelligence is being implemented in more companies across South Jersey and the state, is it improving the common good or causing concern?
Technology is all around us—from the traffic lights we drive through each day to X-ray machines and MRI scans, and our smartphones and other handheld devices. Technology has evolved over the years and continues to do so in ways where computer systems can perform tasks on their own without the need of humans—also known as artificial intelligence (AI). AI is being applied in just about every sector of the business world, as well as the state of New Jersey as a whole.

"Artificial intelligence is such a broad term. It means many things in different contexts in different settings," says Christopher Rein, chief technology officer for the State of New Jersey. "It basically means a broad set of computational programming, algorithms and software logic that allows the computer to process information that's very broad and in many cases in more humanlike terms. … AI is a blend of databases that can be accessed with natural language or computation that begins to see trends, record them and learn from the use of that software.

"An example is if you dial me more frequently, your phone will put me near the top of your list. You didn't say to do that—the phone software did."

As chief technology officer, Rein and the state office of information technology provide technology infrastructure for all of the state agencies. They are constantly looking for ways to improve communication between state employees and residents, and AI is the answer.

One example is looking into how they can use Chatbots—the box that pops up on websites with someone's name asking if you need help—in a more useful way.

"In many cases that's not a person; it's software AI," Rein says. "We are considering ways across some agencies as to how we can use Chatbot with textual kind of audio so we give higher value to customers and citizens. As opposed to a person sitting there asking the same basic 10 questions and then typing it into a computer screen, they can use his or her time to do more interesting things like research."

In regards to transportation, Rein says the state is implementing AI with the goal to create a more effective and safer way of driving.

"The Department of Transportation and the Turnpike [Authority] are investing in and doing research preparing to use technologies that are considered AI—self-driving vehicles and connecting vehicles," he says. "They give the driver options, such as slowing down because there's going to be a red light a minute ahead, and your phone or GPS can reroute you. … They are connected vehicles. It's the next generation of what Google Maps does as it maps a route for you. … That is a form of AI because the system is basically doing queries and giving you information youdidn't ask for."

As with almost everything, there is a cause for concern when using AI, but Rein says there are certain jobs that a computer just can't do.

"If left unchecked, [AI] could displacejobs and might use information improperly. Andif not used properly, it might cause data privacy issues,"Rein says. "There are jobs and functions that have to be doneby a person. No matter how good computer algorithms are, 911 for example is who to call if a house is burning, if a car crashes and if a child is injured. You have to talk to a person in those instances. AI for something like those events just isn't there."

Health care systems are in the midst of working with AI. Adam Glasofer, associate medical director of informatics and chief innovation officer at Virtua Health, helped create Virtua's Center for Innovation which opened two years ago. Glasofer and his colleagues have numerous projects underway working with not just AI, but other technologies as well. The center opened with a focus on "the quadruple aim."

"We are working toward improving outcomes, lowering costs, improving patients' experience and improving clinical experience," Glasofer says. "We work with different technologies—AI, virtual reality, augmented reality, wearable technology and 3D printing. … AI is a really useful tool that has massive ability to make vast changes."

Glasofer says the challenge with AI and other technologies is implementing them in traditional workflows and in the provision of patient care.

Inspira Health is also working with AI at the Inspira Health Innovation Center. Dave Johnson, vice president of Inspira Innovations, says they have expanded a program called Health+ into Health+ 24/7, thanks to AI.

"It's a digital health platform that includes active remote patient monitoring on multiple levels using advanced AI," Johnson says. "It's the process of separating patient populations into high- and low-risk categories and using that separation to look at patients' history and historical trends so we identify rising risk groups, such as patients that continue to have negative trends toward health outcomes."

Don Logan, CIO with Friedman LLP, has seen the capability and power of AI being utilized in accounting firms and with some of the company's vendors.

"Some firms have monetized the technology to maximize margins," he says. "Something that took hundreds of man hours can now take minutes, in some cases. Specific use cases I have seen include finding discrepancies in billing systems, detectingfraud, improved efficiencies in scheduling jobs and analyzing contracts.

"At Friedman LLP we have begun utilizing AI and machine learning for our onboarding and offboarding processes," he continues. "This is the most manual function undertaken by any firm, and through AI we can reduce the process from days down to minutes. In addition, AI helps us boost accuracy, timeliness, communication, speed and productivity. We expect that as we refine the technology for onboarding and offboarding, we'll begin to leverage it for other uses."

Amazon is on the forefront of automation and relies on AI in its warehouses in South Jersey and around the world. Tye Brady, chief technologist with Amazon Robotics, says robotics and other advanced technologies have made its fulfillment centers "more efficient, safer and more collaborative."

"With the help of these sciences, we've been able to better manage inventory, streamline efficiencies, route packages even quicker and provide better work experiences for our teams around the world," Brady says. "One of our most recent examples of how we are using AI is through ournew pick and stow stations. Using AI, we are able to better understand where inventory has been stowed without the barrier of a hand scanner. For our drive units, they use AI to map sophisticated routes that can avoid debris or associates who are working in the field."

Brady says employees are the ones who focus on tasks where high judgment is needed and they are constantly trying new technologies with "the goal of increasing safety, speeding up delivery times and adding efficiencies within our network.

"With those efficiency savings, we are able to re-invest in new services for customers that lead to the creation of new jobs," he says.

To read the digital edition of South Jersey Biz, click here.

Published (and copyrighted) in South Jersey Biz, Volume 9, Issue 11 (November 2019).

For more info on South Jersey Biz, click here.
To subscribe to South Jersey Biz, click here.
To advertise in South Jersey Biz, click here.