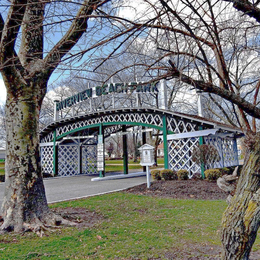 Diamond in the Rough
Untapped potential awaits in Salem County.

Salem County is an area steeped in history. In fact, it has roots back to 1675, when the first Quaker colony in North America was established within its boundaries.

The county offers a welcome relief from more congested areas of South Jersey, with scenic landscapes and sprawling farmland. It's home to a 2,800-acre wildlife refuge that plays host to some spectacular bird watching, and the 52-mile Cumberland Salem Revolutionary Trail that passes through Parvin State Park—all ideal aspects that attract nature enthusiasts and active families alike.

Businesses have also taken notice of all that Salem County has to offer and set down roots, such as The First National Bank of Elmer, for example, whose history in South Jersey dates back to 1903. Bigger corporations continue to see the value in locating here, Amazon among the most recent to throw its name in the ring.

Despite losses of companies like Atlantic City Electric and DuPont, the business community continues to persevere. With some creative thinking and renewed commitment to this diamond in the rough, there's a lot to be excited about in Salem County.



Continued commitment


It's no secret Inspira Health has had its focus on a major project this year—the opening of its new hospital in Mullica Hill. While it could have been easy for Inspira to allow other projects to take a backseat and regain focus once the hospital opened, that has not been the case, and the organization has been working diligently to maintain its solid commitment to health excellence for the communities it serves.

In fact, Inspira Medical Center Elmer has been the recipient of several awards this year, including being named one of America's Best Hospitals by the Women's Choice Award for Obstetrics and Orthopedics.

This is actually the second award for each service, and Delia Passi, founder and CEO of the Women's Choice Award, says it reiterates how important health care is to Inspira Medical Center Elmer.

"In addition to high-level performance on a national level, Inspira Elmer provides the care that women value most, including easily accessible services, timely diagnosis, exceptional care and a true dedication to their community," she says.

John DiAngelo, president and CEO of Inspira Health, says Inspira Health is proud to be the recipient of this award and it reinforces the organization's efforts to offer the community exceptional care right in their own backyard.

"We are extremely honored to be nationally recognized for the quality care we provide at Inspira Elmer," he says. "It is because of the dedication and passion of our staff that we continue to be recognized as an exceptional place to receive great care."

Rebranding
With decades spent in the Salem County region, The First National Bank of Elmer has become familiar with, and a part of, its community. As a community banker, this is an important part of the business, says Brian W. Jones, president and CEO.

"Banking connects small business owners with corporate leaders, governmental figures and nonprofits, and supplies support and infrastructure to all parties," he says. "The bank continues to look for ways to participate with strategic partners to provide value-added resources to local small businesses."

With that being said, though The First National Bank of Elmer has found continued success with the business strategies it currently has in place, the bank is working on finding new ways to make an impact in its community.

"The First National Bank of Elmer has embarked on a rebranding and marketing campaign to support additional outreach to the communities we serve," he says. "As a full-service community bank, The First National Bank of Elmer has the products and services to assist individuals and businesses reach their financial goals."

New focus
Having lost two major employers— DuPont and Atlantic City Electric—in the past decade, Pennsville Mayor Robert McDade says the last few years have been "challenging" for the area. It's not easy to lose employers with such a tax base and availability of jobs, McDade says, but thanks to a number of development plans in the works, Pennsville is ready for a solid comeback.
"[Developers are looking at] ware-housing on the old Atlantic City Electric property," he says. "That sale is going to take place in 2019. … We've met with the developers many, many times, and they're preparing site plans, which we hope to see in the next few months.

"On the other side is the Chemours property [the former DuPont site which is now owned by Chemours]," McDade notes. "They're working with a developer from the U.K.; that project would just be incredible."

Tom Sueta, spokesperson for Chemours, agrees the company has been working hard to bring new opportunities to the site.

"Over the last several years we have worked hard to remove older, unused structures on our site and prepare those areas for future development," he says. "We are currently pursuing multiple development opportunities for that open space, both within Chemours manufacturing areas and with other parties whose presence would complement our own activity on the site.

"Given the large size of our Deepwater property (1,400 acres)," Sueta continues, "we hope to be able to develop the site into a vibrant business complex that offers additional benefits and opportunities for residents of the county."

While many projects in Pennsville are still in the development stages, McDade is confident that moving beyond the town's past and focusing on the future is its best bet.

"We've really come a long way in the past few years," he says. "Our crown jewel is Riverview Park, which is 60 acres, and just a beautiful place on the river. We have September Fest there, and the event just keeps getting bigger and bigger every year."

McDade says a concert in the park series is in the works, and with frequent upgrades, the park will continue to be a focus of the town.

"There's also an underutilized resource in our area, Fort Mott State Park, that is another incredible property," he adds. "It has a lot of historic value and the scenery is beautiful, and it is really something that is unique to Pennsville."

New business
Parts of Salem County are more accessible than people think. Route 295 runs down a good portion of the northern part of the county, offering easy access to areas with plenty of growth opportunity.

In fact, Pureland Industrial Park, in Gloucester County, is housed along this corridor, and for years has attracted businesses, including Amazon, to its 3,000-acre park.

But just one exit down, in Salem County, is Gateway Business Park, which features approximately 3.5 million square feet of distribution and manufacturing space within its 284 acres, according to Scott Mertz, SIOR, president of commercial real estate agency NAI Mertz.

Mertz says over the past five years the complex has attracted several marquee tenants, including Jet.com, Five Below, UPS, AGRO Merchants Group and JE Berkowitz Glass.

"Much like Pureland, Gateway Business Park benefits from its proximity to the Delaware state line, which makes it a tremendous launch point for distribution to the Baltimore and Washington, D.C., markets, in addition to its access to the Philadelphia and New York City markets, which have long driven the demand for distribution space throughout New Jersey," he says.

Due to Gateway's popularity, Mertz says a development group—Matrix—opted to begin speculative construction on two additional large-scale industrial facilities within the park.

"A 334,800-square-foot building was completed earlier this year and is 50 percent leased, and 655,500 square feet will be delivered early in 2020, with Jet.com set to occupy the entire space," he says. "Both properties feature the high ceilings and ample loading required by e-commerce and other distribution users currently driving industrial demand."

As Mertz points out, there has been a lot going on at Gateway, and as more businesses realize its potential, its growth is expected to continue.

"Gateway's success had caught the attention of industrial investors as well," he says. "In 2017, I completed the sale of 1 Gateway Boulevard to an industrial REIT who seeks stable assets with growth potential. Because Gateway features Class A space in a location with excellent highway access, it will continue to be on the radar of both industrial users and investors."

FACTS AND FIGURES
62,607 population of Salem County, according to the 2018government census

The combined Salem and Hope Creek generating site in Lower Alloways Creek, operated by PSEG, produces roughly 40% of the state's electricity — enough to power 3.8 million homes and over 90% of its carbon-free energy.

WHAT BUSINESSES ARE SAYING
Appel Farm Arts & Music Campus, Jenni Quinn, Public outreach director
"Appel Farm Arts & Music Campus is celebrating 60 years in Salem County this year, and we love our community. We started out back in 1960, when Albert and Clare Appel turned their farm into a summer camp, and we've been bringing transformative arts and learning experiences to children and families in our community ever since. There is no end to the creative spirit in Salem County, and we tap into that creativity, and bring people together to help them live their best lives. We can't imagine Appel Farm in any other location, because all of the magic at Appel Farm comes from our community. It's the people that bring Appel Farm to life."
Woodstown Bakery and Coffee Shop
,
Andrew Ratliff, Owner
"The people of our town have helped us immensely. When our espresso machine went down—obviously a pretty huge blow to anyone in the business of slinging lattes—we experienced a tremendous outpouring of love and support. Several of our social media followers suggested setting up a GoFundMe page to replace the equipment and, after taking their advice, we were fully funded within a week. That's just one example, but it really illustrates the way our town has rallied around us to keep us chugging along."
CM Williams and Associates
,
Chris Williams, CEO and owner
"The best part about owning a business in Salem County are the friendships formed with our clients and being a part of a small, close-knit community. We not only work here, but also live and raise our children here. We enjoy supporting our clients through various local events, such as the Ruritan, Salem County 4-H club and little leagues."
Refined Hospitality, Operating the Grove at Centerton
,
Ron Gorodesky, CEO and founder
"Being located in such a tight-knit community has been one of our greatest blessings at
The Grove. Not only did our neighbors entrust us with the future of this classic venue, but they've also expressed their support by hosting their proms, family reunions, birthdays, anniversaries, weddings and more here. To be welcomed into the community and be trusted by its residents with their lives' most important events is something that we take great pride in. We have truly been overwhelmed by the outpouring of support and positive feedback we've received over the past year."
Matteo Family Kitchens
,
Steve Matteo, co-owner/store manager
"After much thought, we decided it was a dream match for us to come to Salem County … and make this place our business home. We made the right decision coming here, as we found if you build it right, treat people the way we would want to be treated and have a quality product in an affordable price range, people will come. We became the location."

To read the digital edition of South Jersey Biz, click here.

Published (and copyrighted) in South Jersey Biz, Volume 9, Issue 11 (November 2019).

For more info on South Jersey Biz, click here.
To subscribe to South Jersey Biz, click here.
To advertise in South Jersey Biz, click here.