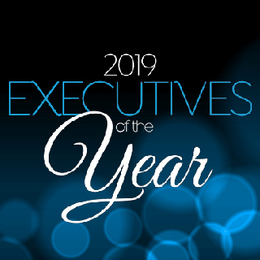 2019 Executives of the Year
20 professionals who have paved the way for success in South Jersey and beyond.
As you read through our 2019 Executives of the Year, you'll find many similarities between all of them, such as their strong work ethic, dedication to their passion, setting their employees on the right path and making a difference by serving the community. But one thing that truly stands out is their experience. All of these individuals are seasoned professionals and self-starters who have taken their companies to new heights and have seen tremendous success.

Fred Wasiak
President and CEO, Food Bank of South Jersey
For more than 35 years, Wasiak has held leadership positions in several organizations, including YMCAs in New York and New Jersey, Goodwill Industries of New Jersey and Philadelphia and Humanics Consulting, where he served as owner and principal. He became president and CEO of the Food Bank of South Jersey in 2018 and oversees all aspects of the organization, including financial sustainability, operational efficiency, community engagement, advocacy, staff enrichment and board development. Wasiak has also served on the board of directors for numerous nonprofits throughout the years. He lives in South Jersey with his wife Betsy, and they have three children.

Gary Stockbridge
Region President, Atlantic City Electric
Stockbridge has more than 35 years of utility experience and has served as president of the Delmarva Power region in Delaware and Maryland since 2005. He added the title of Atlantic City Electric region president in 2018, and plays a critical role for both service areas in shaping policy and engaging in key relationships with state and local officials, community leaders, and business, consumer and nonprofit organizations. Stockbridge, who holds multiple degrees from Drexel University, is a board member for the New Jersey State Chamber of Commerce and the New Jersey Utilities Association.

Gisele Dinatale
Executive Director, Alicia Rose Victorious Foundation (ARVF)
ARVF was founded in 2002 after DiNatale's daughter, Alicia, lost her battle with cancer at age 16. The national organization works to help teens stay positive by offering programs and activities while receiving treatment for cancer and other life-threatening illnesses. DiNatale is a member of the ARVF board of trustees, serves on Virtua Hospital's Patient-Family Advisory Council and co-facilitates a bereavement group for parents and loved ones who have lost a child. DiNatale was the 2019 "South Jerseyan of the Year" award winner from the Senator Walter Rand Institute for Public Affairs, and has previously been recognized by the New Jersey Make-A-Wish Foundation and Philadelphia Phillies.

John Herring
New Jersey Market President, Liberty Bell Bank
This year marks Herring's 40th as a South Jersey banker and his 15th at Liberty Bell Bank, a division of The Bank of Delmarva. As New Jersey market president, he oversees the bank's operations in the state with a primary focus on lending activities in the South Jersey and Greater Philadelphia markets. Herring is a past president of the Rotary Club of Moorestown as well as the Southern New Jersey chapter of Risk Management Associates. He also serves on the finance committee for Samaritan Healthcare & Hospice and on the board of the South Jersey Bankers Association.

Bobbi Jean Formosa
Executive Vice President and Managing Director, NAI Mertz
Formosa was instrumental in growing New America Network into a top four ranked brand known as NAI Global of which NAI Mertz was one of the first 10 members. She made the transition from membership management to brokerage management two years ago when she joined NAI Mertz in a consulting capacity and then in a formal role heading up the day-to-day management and strategic planning for the firm. With a background leading both family businesses and large corporations, Formosa is uniquely qualified. She's also a Six Sigma Green Belt who is methodical in her results-driven approach, while also showing flexibility in her managing style.

John Sartor
President and CEO, PS&S
With more than 20 years of experience, Sartor, PE, has worked on many high-profile environmental and development projects across New Jersey, such as the development of Atlantic City's Borgata Hotel and Casino and the redevelopment of Hoboken's South Waterfront. PS&S has been an integral partner in several South Jersey projects and continues to expand in the region. Sartor's talents include combining his real estate experience in environmental and civil engineering with construction management in large-scale, mixed-use development projects.

Keith Langan
Executive Vice President and Partner, Surety Title Company
Langan joined Surety in 2011 and as executive vice president, he is integral in all aspects of the company's strategic planning. Over the past 20 years, Langan has built a strong reputation and long-standing relationships with expertise in residential and commercial real estate transactions. He is on the board of the Builders League of South Jersey and Businesses Committed to South Jersey, and continuously supports numerous charities.

Mike Munoz
Market President, AmeriHealth New Jersey
Since becoming president in 2017, Munoz has made strides in the creation and implementation of a strategic business plan, as well as building a culture employees can be proud of. He personally connects with associates at every level of the company and launched informal lunches and socials to generate conversations and gather feedback. Munoz added complimentary onsite yoga classes and a work-from-home policy to an overwhelmingly positive associate response. Munoz had a vision for AmeriHealth New Jersey landing in the top 20 Best Places to Work in the state and this year it was achieved, as the company ranked No. 11 on the list.

Mark A. Clouse
President and CEO, Campbell Soup
When Clouse joined Campbell's this past January, he became just the 14th leader in the company's storied 150-year history. Prior to taking on his current role, he spent more than 20 years in the food industry having served in senior management roles with the likes of Kraft Foods and Pinnacle Foods. A graduate of the U.S. Military Academy at West Point, Clouse is a former Army pilot who completed his service as a captain. With a focus on specific strategy, Clouse has achieved notable success since coming on board, evidenced by Campbell meeting or exceeding expectations for four consecutive quarters.

Mary Ellen Rose
Managing Shareholder, Capehart Scatchard
A graduate of West Virginia University and Rutgers University School of Law-Camden, Rose has been an attorney for more than 30 years and focuses her practice in the areas of commercial and business law, transportation and franchise law. She represents transportation companies, particularly railroads, along with automobile and boat manufacturers/distributors in defense of claims under state and federal law. A member of the American Bar Association and New Jersey State Bar Association, Rose also serves on the firm's executive committee, is chair of the franchise law group and is shareholder of the commercial, litigation and transportation groups.

Michael LaMaina
President, Cornerstone Financial Advisors Inc.
LaMaina CFP®, ChFC® has been a financial advisor for more than 30 years, providing personal and corporate clients with in-depth advice regarding one's financial plan, investments, retirement, estate and insurance needs. LaMaina's dedicated approach and attention to detail are well-known; his reputation for unparalleled service and client education is the foundation of Cornerstone Financial Advisors, Inc. Born and raised in Oaklyn, this father of three is very active in his community and served as mayor from 2000-2012.

Craig Johnson
Executive Vice President, Northeast Region, Dewberry
Johnson is the executive vice president of Dewberry's 450-person Northeast region. His role encompasses responsibility for this six-office region and initiatives representing over $100 million in annual revenue. Johnson has spent the entirety of his 38-year career with Dewberry involved in a wide range of projects, including the $900 million 295/76/Route 42 Direct Connection, Atlantic City/Brigantine Connector Tunnel and Route 30/130 Collingswood Circle, from project manager for feasibility assessments to EIS preparation, final design and construction services.

Anne Caruso
President, Networks Plus
Caruso started Networks Plus with her husband, Jerry, in 2003, and with her drive, keen business sense and dedication, has grown the company from a small IT business to a sought-after provider of digital services. She is passionate about serving the South Jersey business community which is reflected through her active roles in various organizations, such as serving as the immediate past-president of NAWBO South Jersey and a member of the executive board of the Women in Business Committee of the Burlington County Chamber of Commerce.

Michael Gower
Executive Director, United Way of Gloucester County
Gower has devoted his life to helping others and has over 12 years of experience in the nonprofit field, in such capacities as fundraising, development, marketing, communication, community impact, grant making, operations and management. He has been in his current role since April 2014, leading an organization dedicated to improving the lives of those who reside and work in Gloucester County. Gower, who has a bachelor's degree from Keuka College and a master's degree from Wilmington University, likes to read, cook, attend sporting events, travel and spend time with his family in his free time.

Terriann Procida
CEO, Innovative Benefit Planning LLC
A founding partner of Innovative Benefit Planning, Procida uses her more than 25 years of experience in the insurance industry to provide employee benefit solutions, not to mention exceptional customer service to businesses across the United States. Well-versed in the health care industry, she is adept at identifying key challenges that employers face and she prides herself on cultivating lasting relationships. Procida has been lauded for her efforts, including being honored with the Samaritan Healthcare & Hospice's Circle of Excellence Award as well as previously being appointed chairwoman of the United Benefit Advisors board of directors.

Joseph M. Davidson
Principal, Ignarri Lummis Architects
A registered architect licensed in 18 states, Davidson has more than two decades of experience in architectural design including retail, housing, industrial, warehouse, office and self-storage. While earning his bachelor of architecture from Temple University and a master of business administration from Rutgers University, Davidson worked in the construction industry and to this day maintains the belief that thoughtful design adds more value than cost. He has been principal of Ignarri Lummis since 2013 and is responsible for the completion of several projects all across the country where his duties range from design and strategic planning to technology research and implementation.

Janis LeBude
President, The Protocall Group
LeBude has been part of the company's rising legacy for over 45 years. Along with her siblings, she has grown Protocall from a small, family-owned recruitment firm to one of the largest employers and women-owned businesses in the Delaware Valley. The company's award-winning heritage is a reflection of LeBude's success-driven philosophy, commitment to diversity and dedication to providing exceptional customer service.

Wayne Hileman
President and Chief Operating Partner, Burlington Automotive Group
Hileman is president and chief operating partner of Burlington Chevrolet, Burlington Volkswagen, Burlington Kia, Turnersville Kia, Allentown Kia, Raceway Kia and Majestic Automotive. He served as president of the South Jersey Automobile Dealership Association, as well as past chairman of the New Jersey Car Association and the Kia Dealer Council. Hileman is a member of the Rowan College of Burlington County Foundation Board, the Burlington County Workforce Development Board and supports local organizations, such as the City of Burlington Police K-9 Unit, the Burlington Military Action Committee and the Moorestown Education Foundation. Hileman has also created an annual scholarship for automotive technology students at Burlington County Institute of Technology.

Frank Plum
President and CEO, Workplace Human Capital Management
Drawn to the payroll industry by a desire to lend a higher level of customer service, Plum's business approach is one where clients are treated like extended family members with a shared interest in seeing their small to mid-sized businesses grow to new heights. That personal touch coupled with the latest technology allows Plum to give business owners the tools they need to improve productivity by creating payroll and workforce management techniques that produce results. Recognized several times for his work, Plum also serves as committee chair on the Tri-State Human Resources Management Association board of directors.

Tim Jennings
President and CEO, Telecorp
Jennings has been a natural entrepreneur ever since his youth. Inspired by his father's work ethic, Jennings sought out any and all odd jobs he could find within his community. Jennings then entered the HVAC industry before working in sales, where he found himself to be a natural. After a few years, Jennings quit his sales job and decided to start his own business, founding Telecorp Inc., a now 22-year business communications company that prides itself on providing its clients with impeccable customer service while also offering clients the most cutting-edge technology available. Telecorp specializes in IT management, phone systems, cloud solutions, internet services and much more.


To read the digital edition of South Jersey Biz, click here.

Published (and copyrighted) in South Jersey Biz, Volume 9, Issue 11 (November 2019).

For more info on South Jersey Biz, click here.
To subscribe to South Jersey Biz, click here.
To advertise in South Jersey Biz, click here.