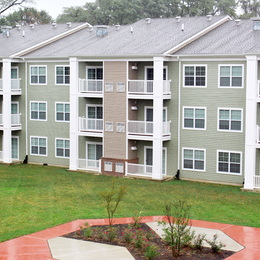 Sponsored Content: A Mission Worth Supporting
TD Bank is proud to work with Volunteers of America Delaware Valley as it brings affordable housing to low-income families, veterans and seniors in South Jersey.

In his three decades as an employee at TD Bank, with many of those years spent in leadership positions, Rob Curley has met countless individuals and cultivated important relationships across a variety of industries within New Jersey.

One that has always stood out and remains close to his heart is the bond he has built with the team at Volunteers of America Delaware Valley.

"I have personally known them for 25 years," says Curley, who is commercial market president of TD Bank. "I was their bank relationship manager at one point and now I'm the market president, but I've always stayed close to the organization because I believe in what they do and what they stand for, and I want to continue to support that.

"What energizes me every day is knowing that I'm meeting with customers like Volunteers of America Delaware Valley who are making a difference in our community, and I feel like I'm a part of that."

Volunteers of America Delaware Valley (VOADV) is part of the national nonprofit Volunteers of America, which was founded in 1896. It provides essential services to people in need, such as seniors, veterans, those who experience homelessness, those returning to society from the criminal justice system, individuals battling addiction and more. VOADV serves over 12,000 people in the Delaware Valley region through a wide range of assistance programs.

"Our CEO, Dan Lombardo, always says that we serve the most vulnerable populations—the forgotten populations," explains Owen McCabe, vice president of acquisitions and development at VOADV. "A lot of people need help and we always help as many as we can." One of VOADV's most successful ventures is its commitment to providing affordable housing for low- to moderate-income families, often with dedicated space for veterans and seniors. McCabe is responsible for finding land, developing affordable housing communities and overseeing the finances, and in his role has found TD Bank to be a devoted and dependable partner, both through the support of the TD Charitable Foundation and the bank's Community Capital Group.

"It has been a longstanding relationship that goes back many years, and TD has always been a big supporter of our work in South Jersey and the Philadelphia area," he says. "We utilize what's known as the low-income housing tax credit program and we partner with TD Bank a lot on these deals. They provide very good equity pricing on the tax credits, construction loans, permanent loans, foundations and bridge financing. They have an assortment of products that has really helped us implement our mission."

While TD has a well-earned reputation for supporting all of its commercial customers and striving to move their businesses forward, getting behind a group like VOADV is a no-brainer for the bank's leadership team.

"Their mission and programs align with TD Bank's corporate citizenship program, called The Ready Commitment," Curley says. "One of our key focuses is to promote financial security— including affordable housing in our markets—and Volunteers of America Delaware Valley builds great homes for people. We're happy that we're not just the lender, but in several cases we're also the equity investor that helps get these projects off the ground and have families move in."

Several notable affordable housing projects driven by VOADV and backed by TD Bank have recently opened in the area or will be opening soon, including Brittin Village in Pennsauken. Named for Audubon native Nelson Brittin, who was killed in action during the Korean War, the community consists of 65 income-restricted rental units, 14 of them specifically set aside for veterans.

Similarly, Centerton Village in Mount Laurel and Waterfront Village in Bordentown also have dedicated space for veterans, along with modern amenities and services for the residents. TD Bank has been involved from the very beginning in each of these projects.

"TD has been very good to us," McCabe says. "These deals are not vanilla by any means; they are very complex and TD really wraps their head around them. They have a great staff throughout New Jersey that really rallies behind our projects and get things done for us. We're very appreciative."

Curley adds that it is key for TD to do its due diligence on each project and utilize a team approach to addressing concerns and solving problems with the customer in mind.

"A lot of these affordable housing and low-income housing tax credit deals are complex," he says. "They're far more complex than conventional commercial real estate loans. One of our team members, Tom Weber, has become an expert in low-income housing tax credits, and having this resource on our team adds value to our relationship with VOADV."

Curley hopes and expects to see that relationship continue well into the future. From its highest levels of leadership, TD has made a commitment to getting to know the VOADV team and learning as much as possible about their programs. It has made for a strong bond that shows no signs of breaking.

"It's definitely helpful to know the people you're lending money to, but beyond that, it generates excitement when you go out and see the project firsthand because you know you're actively participating in that," he says. "It makes you feel good to know you're making a difference in the community.

"Our relationship with VOADV goes way beyond just banking; we support each other and will continue to do so."



TD Bank | 856-232-9111 |

TDBank.com



To read the digital edition of South Jersey Biz, click here.

Published (and copyrighted) in South Jersey Biz, Volume 9, Issue 10 (October 2019).

For more info on South Jersey Biz, click here.
To subscribe to South Jersey Biz, click here.
To advertise in South Jersey Biz, click here.