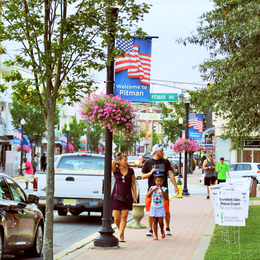 Making Gains
Gloucester County is taking steps to move out of the shadows of other South Jersey counties.

New Jersey has long been a state divided. While there is no "official" designated dividing line, most in the state could tell you whether they live in "North Jersey" or "South Jersey."

These distinctions stem from various differences in the areas, namely a mostly industrial and commercial scene in the north and more farming and residential adherences in the south, but over the years the lines of these distinctions have blurred. In fact, South Jersey has come to make a name for itself in the business industry and more and more investors have found their way south and now call the area home.

Not surprisingly, even with this shift in South Jersey, there are still areas that have become more developed than others. Camden and Burlington counties, for example, have long been enterprising zones thanks to their close proximity to Philadelphia as well as their easy access to major highways, while Gloucester County has remained close to its farming roots.

Much like the rest of South Jersey, however, while there are areas in Gloucester County that are still mainly devoted to farmland, there are many areas that have seen significant growth over the past few years. Clayton, Glassboro, Mantua, Mullica Hill and Pitman are just a few of the towns that have seen projects come to fruition recently and are truly helping to put the area on the map.

We sat down with several borough and county officials, as well as business owners, to discuss what is going on around these towns—and the rest of the county—and what readers can expect for the future here.

Opportunity zones
Glassboro has certainly been experiencing one of the largest renaissances in Gloucester County—and even the state—due mostly in part to its projects in conjunction with Rowan University that have largely focused on the Rowan Boulevard area. Thanks to the federal Opportunity Zone Program, however, which aims to bring private investors to areas of the state with tax deferrals on capital gains, borough officials are hopeful other parts of Glassboro will soon be invigorated as well.

"We fully plan to use Opportunity Zones as our next redevelopment tool and have been proactively formulating a prospectus to engage with strategic partners in the region and nationally," says Clark Pierpont, acting business administrator of Glassboro. "Opportunity Zone funding could be the key to developers taking on projects not only to expand our commercial development but also to redevelop some of our older established commercial centers.

"We want to help simplify the understanding of the mechanisms of Opportunity Zones to attract socially minded investors and developers who will help us to maximize the social and economic impact available in our Opportunity Zones," Pierpont concludes.

For entities that are interested in the opportunities available in Glassboro, in early 2019 officials debuted a "Glassboro Now" section on its website, making it easier to access facts and figures that previously could only be obtained by a phone call.

"It answers a lot of questions that high-end investors may look at, but if there is an entrepreneur who has a business idea, it can help them put a business plan together," Pierpont explains. "It's focused on Glassboro and it makes it easier for everyone to get the information they need."

Glassboro is not the only community in Gloucester County with designated Opportunity Zones. Deptford and Woodbury also have areas with this title, but of course taking advantage of all that Gloucester County has to offer does not mean only considering these zones. As Les Vail, president and CEO of the Gloucester County Chamber of Commerce points out, there is quite a bit of opportunity available all around the county.

"We have affordable land, infrastructure and the ability to educate and train a workforce on all levels," he notes.

Giving beer, wine and liquor a chance
Clayton was not the first place Lawrence Price and Alexi Skriapas considered when they were looking for somewhere to open their brewery, but when they found a building they liked there and were welcomed by borough officials with open arms, they knew they'd found a place to call home.

Though their business, Core3 Brewery, is still in its infancy—its grand opening was Aug. 2— Price says things are going well and they're hopeful for the future.

"[The borough] has been so supportive and helpful and business friendly," he says. "Everything they could do to help us, they did.

"Mayor Tom Bianco has always been upfront with us and in the mix of things, stopping by at least once or twice a week to see how things are going and if there is anything he can do," Price continues. "I can't speak enough about how good Clayton has been to us."

Core3 joins an already strong brewery scene in the Gloucester County area. It joins seasoned veterans of the industry—Human Village and Kelly Green Brewing in Pitman, Eight & Sand Beer Co. in Woodbury, Westville Brewery in Westville, Cross Keys Brewing Co. and 13th Child Brewery in Williamstown, and Death of the Fox Brewing Company in Clarksboro, as well as fellow newcomers Neck of the Woods, also in Pitman, and Bonesaw Brewing and Axe and Arrow Brewery in Glassboro.

All these breweries continue to brew while things remain heated in the state legislature regarding how they operate. The Division of Alcoholic Beverage Control in May issued revised operating regulations for breweries, including outlining the number of private events that can be held at a brewery and disallowing the sale of food—including wares from food trucks—at breweries.

Krystle Lockman, a co-owner of Axe and Arrow Brewery, says she understands why legislation is necessary, and though she believes some of the stipulations are stifling, she looks forward to the opportunities her brewery has in Glassboro.

"We were really drawn to the way they are building up the area around the college and definitely see the positive direction the area is moving in," she says. "It's great to be on the ground floor of this redevelopment project in an area we have so many ties to.

"The town square being directly out in front of the building is an amazing asset to help constantly bring new faces to our front yard," Lockman continues. "Glassboro has been supportive of our startup since the beginning—we feel they understand the role a 'Main Street' brewery can bring to an area."

Interestingly, most of these breweries opened in towns that had previously been dry, or non-liquor selling. There has been a shift the past few years to open these previously dry towns up to liquor licenses so liquor can be served, and this change has garnered a lot of attention. In Pitman, for example, there is now a liquor license available, while a special partnership with the borough helped the owners of Merryman's Pub obtain a liquor license through the state, so there will now be two establishments selling liquor there. Mullica Hill also recently had the opening of its first bar at Naples, an Italian eatery that has long been a staple in the town.

Small-town commitment and loyalty
Despite all the changes that have been happening in the area lately, there is still a small-town appeal that keeps businesses from looking to set up roots elsewhere. The business owners, and their employees, are committed to the area and appreciate all that it has to offer.

One of the biggest examples of an entity that had the opportunity to move but opted to stay is Inspira Health, which is slated to open its new hospital in Mullica Hill this fall.

Inspira could have moved anywhere but decided to stay in the county, which Gloucester County Freeholder Heather Simmons says the county is thrilled about.

"They chose to remain in Gloucester County and expand, which is huge," she says, adding the county is working with Inspira to find a use for the old hospital.

"We've been working with Inspira and the city of Woodbury to redefine the existing space," she says. "The emergency room functions and health care will remain there for the foreseeable future, but for the long-term for the building and that block, Inspira is considering several options for development."

Another entity continuing to expand its presence in Gloucester County is Rowan College of South Jersey, whose most recent projects, in conjunction with Rowan University and the Gloucester County Board of Chosen Freeholders, are the Rowan Medicine Center and the Economic Development Center. These projects bring together all sectors of education, medicine and commerce to the college's Gloucester campus, says Rowan College of South Jersey President Frederick Keating.

"Our recent groundbreaking ceremony on Sept. 13 confirms a commitment to enhancing health care and employment opportunities for students and the surrounding South Jersey region," he says. "This is an innovative and robust partnership of which we are proud."

There are smaller businesses as well that have chosen to maintain roots in Gloucester County instead of expanding elsewhere. William Hoffman, president and CEO of Hoffman Exterminating in Mantua, has operated his business in Gloucester County for 30 years, and says there are a number of factors that have kept businesses like his, and larger entities like Inspira, in the area. One of the major ones is the fact that geographically, it is perfectly in the middle of the Pennsylvania, Delaware and Maryland footprint, which allows him to reach a considerable number of clients within an hour's drive.

But there is also the fact that despite the growth of the area, and despite larger corporations moving in, there is still a small-town feel with a willingness to help others.

"I've had a lot of people ask me, 'Why not go north? There is more business north or south in Baltimore,'" he says. "But [Mantua] is home, it feels like home. You can do business with a handshake and a nod, and it's still like that to this day."

FACTS AND FIGURES
24 Number of municipalities in Gloucester County

Routes 322 and 55 The area in Mullica Hill where the county received funding from the department of transportation to complete a traffic survey for the possibility of another bypass
1
The number of liquor licenses available in Clayton, for which the owner is currently seeking a buyer

2,600 square feet Size of the new Endgrain Coffee in Pitman

1,400 Number of employees employed at the new Inspira Medical Center in Mullica Hill

$100,000 Amount Inspira Health committed to creating a redevelopment plan for its Woodbury campus

WHAT BUSINESSES ARE SAYING
United Way of Gloucester County
,
Margie Brining, director of donor & agency relations
"The best part about having a nonprofit in Gloucester County is the sense of community and that residents genuinely want to give a hand up to those in a tough situation. There are so many issues in Gloucester County that not everyone is aware of, such as homelessness, hunger and domestic violence. United Way of Gloucester County strives to address these challenges and spread awareness so other members in the community can work with us to Build Better Lives. All the funds raised through the United Way's Community Impact Fund stay right here in Gloucester County to help those who live and work here."
Kelly Green Brewing Company
,
Justin Fleming, owner/brewer
"We decided to open our business in Gloucester County because it's where we live. We always wanted to positively impact the area that matters most to us. We have had offers to go to other areas and it just didn't seem like a good fit—we wanted to be close to home. The best part of having our business in GloucesterCounty means we can share our beer directly with our neighbors. Of course we want to distribute everywhere and share our product with as many people as possible, but the support of our neighbors means so much to us."
Inspira Health
,
John DiAngelo, president and CEO
"Inspira Health has a long history of serving families in Gloucester County. With the opening of Inspira Medical Center Mullica Hill, our exceptional physicians and staff will employ the latest health care technology and innovation—from biplane cardiac cath to a full suite of Smart Room technology—to enhance the patient experience, safety and efficiency. Inspira's culture of innovation will also be evident throughout our adjoining cancer center, opening in early 2020."
Endgrain Coffee Roasters
,
Joseph Fultano, owner
"In the past couple years we've seen some really good growth in terms of businesses moving to Pitman and filling up some long vacant spots. We're also trending toward a more 'foodie destination' which I think is great. It allows us to collaborate and work together on stuff."
Astro Signs
,
Chris Painter,vice president of outdoor advertising and real estate
"Gloucester County has stayed on top of its tremendous growth, ensuring the overall county Infrastructure is in place to support this growth. … The best part of having a business in Gloucester County is the business owners and operators. Gloucester County is a great place to live, work and play, and Astrois proud to call it home."

To read the digital edition of South Jersey Biz, click here.

Published (and copyrighted) in South Jersey Biz, Volume 9, Issue 10 (October 2019).

For more info on South Jersey Biz, click here.
To subscribe to South Jersey Biz, click here.
To advertise in South Jersey Biz, click here.