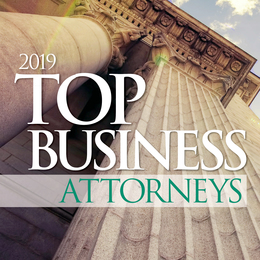 2019 Top Business Attorneys
52 of the leading men and women who advocate for you and your business in South Jersey.

Although there are many perks to owning a business, not everything goes smoothly and in more cases than not, you'll find you need an attorney to help you through legal matters that may arise. Through your nominations and our research, we came up with attorneys leading in their respective fields—some with decades of experience, and all of whom you can trust to have your best interests in mind. We present to you our first annual Top Business Attorneys list.
Banking & Financial Services
Harold G. Cohen
, Cherry Hill
An active banking and business litigator, Cohen is partner and co-chair of the banking and financial services group at Dilworth Paxson.
Bankruptcy and Creditors' Rights
Arthur J. Abramowitz
, Moorestown
Shareholder with Sherman Silverstein, Abramowitz has over 40 years' experience and is recognized as a leader of the bankruptcy bar.
Tami Bogutz Steinberg,
Cherry Hill
Bogutz Steinberg has been with Flaster Greeneberg for 10 years and represents many closely held businesses and entrepreneurs.
Anthony DiMento
, Cherry Hill
DiMento practices in various areas, including business law, representing clients on non-compete agreements, loan transactions and contracts at Elkind & DiMento, P.A.
Leo. M. Garonski,
Moorestown
Founder of Garonski Law, Garonski represents New Jersey and Pennsylvania entrepreneurs in a wide range of transactions and also provides legal services for projects in the real estate field.
Mariel J. Giletto, Esq.,
Parker McCay, Mount Laurel, 856-810-5829
ParkerMcCay.com/Attorneys-Mariel-Giletto
Giletto, a shareholder and chair of the corporate department, often acts as general counsel for Parker McCay clients. She works alongside business owners and their C-level executive teams to develop efficient business processes to protect, prevent and solve the challenges businesses face. Giletto thinks creatively to construct practical solutions to complex legal challenges.
John C. Penberthy III,
Marlton
Penberthy is principal at the Law Offices of John C. Penberthy and an active member of the American Bar Association where he was previously chairman of the consumer bankruptcy subsection committee.
Michael Ritigstein,
Haddonfield
Founding partner of Ritigstein Law and a member of the Camden County Bar Association, Ritigstein is passionate about coming up with strategic solutions for businesses and defending his clients.
Diana R. Sever,
Moorestown
Sever has been a member of Posternock Apell PC for almost 20 years, and in addition to supporting commercial law, she is a senior member of the litigation team.
William J. Caruso,
Haddonfield
Caruso leads Archer's cannabis law practice, providing guidance to retailers, growers and others in the medical and adult-use cannabis industries.
Russell L. Lichtenstein,
Atlantic City
Lichtenstein is a former prosecutor and partner with Cooper Levenson, as well the firm's lead trial counsel representing casino clients.
Ashley H. Buono, Esq.,
Parker McCay, Mount Laurel, 856-985-4057
ParkerMcCay.com/Attorneys-Ashley-Buono
As a member of Parker McCay's construction department, Buono represents public and private sector clients. She focuses on reviewing bids and contracts, contract negotiation and litigation derived from construction projects, which includes arbitration, mediation, trial and appeals. She is committed to developing multifaceted approaches to help her clients achieve their goals.
Jacqueline M. Vigilante, Esq.
Vigilante, founder of Vigilante Law Firm, has almost 30 years of experience practicing law and is certified by the New Jersey Supreme Court as a civil trial attorney.
Yin Zhou, Esq.,
Parker McCay, Mount Laurel, 856-810-5841
ParkerMcCay.com/Attorneys-Yin-Zhou
Zhou, chair of the environmental department, uses her extensive knowledge of environmental regulations and her experience with the NJDEP to counsel clients through complex compliance and liability issues. She secures environmental permits and approvals to facilitate transactions and development projects, and delivers solutions in emerging matters such as PFAS.
Manuela M. Morais, Esq.,
Morais Law, Moorestown, 856-222-0130
Morais has been practicing immigration law for more than 20 years. She partners with clients to attract and retain top-tier international talent and ensure immigration compliance. Given her background in "big law," Morais provides large firm experience within personalized relationships for clients of all sizes, from startup companies to Fortune 500 companies.
Eric R. Clendening,
Cherry Hill
A member of Flaster Greenberg, Clendening advises his clients on protecting and enforcing intellectual property rights online, including the resolution of domain name disputes.
Lam is a partner with Kim IP and focuses his practice on patent procurement and prosecution, and patient litigation in the software, computer and medical device areas.
Investment Management and Securities
Thomas D. Giachetti,
Cherry Hill
Giachetti, shareholder with Stark & Stark, is chair of the investment management and securities practice group and devotes his practice to investment-related matters.
At Brown Connery, Dohn concentrates on labor, employment and complex civil litigation, defending individuals and management alike for claims in state and federal court.
Fernando I. Rivera,
Moorestown
Rivera represents those who have been victimized by illegal employment practices involving workplace harassment, wrongful termination, medical and disability leaves and other employment-related matters.
Rachael B. Brekke, Esq.,
Maple Shade
Practicing commercial litigation with McDowell Law, Brekke has received many accolades for her litigation and negotiation skills in complex cases.
Jeffrey Cohen,
Cherry Hill
Cohen is chair of Flaster Greenberg's litigation department and has spent over 23 years helping clients resolve the day-to-day challenges and decisions facing businesses today.
Thomas A. Hagner, Esq.,
Cherry Hill
Hagner founded Hagner & Zohlman, LLC in 2005 and is known as an aggressive litigator with a proven track record representing his clients in various cases.
Brett Wiltsey,
Cherry Hill
Wiltsey, co-chief operating officer with Dilworth Paxson, practices throughout the Northeast and regularly counsels clients in litigation strategy, including national corporations and financial institutions.
Dube started his career at Sherman Silverstein and is known as a versatile litigator, representing clients in diverse areas focusing on complex litigation and insurance law.
Harris Neal Feldman, Esq.,
Parker McCay, Mount Laurel, 856-810-5854
ParkerMcCay.com/Attorneys-Harris-Neal-Feldman
Feldman, chair of commercial litigation, resolves all types of business issues and disputes for his clients. He understands the pressures faced by businesses and executives and works to develop timely, efficient and practical solutions. Clients regularly draw upon Harris' strategic approach to litigation and risk management to achieve successful results.
Lloyd Freeman,
Haddonfield
Partner and chief diversity officer with Archer, Freeman concentrates his practice in commercial and complex civil litigation, as well as helps carry Archer's vision to grow diversity in the legal profession.
Jordan Goldberg,
Cherry Hill
Goldberg, co-founder of The Law Offices of Goldberg and Wolf, has successfully represented clients over the past 19 years in complex cases.
Daniel Rybeck,
Cherry Hill
As a partner with Weir & Partners, Rybeck represents corporations, partnerships, public entities and individuals in municipal, state and federal court litigation.
Amy SantaMaria,
Cherry Hill
SantaMaria is a principal in Kaplin Stewart's commercial litigation department and represents for-profit and nonprofit businesses, as well as individuals in commercial leases, and secured transactions.
Litigation (Construction)
James H. Landgraf,
Cherry Hill
Landgraf, a member of Dilworth Paxson, has more than 40 years of experience handling construction and related real estate contracting, and construction litigation.
Litigation (Environmental)
Partner with Duane Morris, Cha litigates complex environmental, commercial and mass tort matters in state and federal courts throughout the United States.
Benjamin Folkman,
Cherry Hill
Folkman is managing partner at Folkman Law Offices, P.C. and advocates for his clients and pursues accountability for each case.
Raymond G. Console,
Cherry Hill
Console is the managing partner of Cozen O'Connor's Cherry Hill office and represents many health care providers and closely held businesses.
John D. Rothamel, Esq.,
Haddonfield
A partner at Rothamel & Associates, he advises business owners on intellectual property, human resource issues, tax liability and more related to M&A law.
Anatasius (Tassos) Efstratiades,
Mount Laurel
Partner Efstratiades is the co-chair of Obermayer Rebmann Maxwell & Hippel's business and finance department and also chairs the firm's public finance group.
Donald A. Nogowski,
Cherry Hill
Nogowski is a seasoned attorney who offers public finance services to contractors and developers, corporate fiduciaries, health care entities, port authorities and regulatory agencies.
Jeffrey D. Winitsky, Esq.,
Parker McCay, Mount Laurel, 856-985-4086
ParkerMcCay.com/Attorneys-Jeffrey-Winitsky
Shareholder Winitsky concentrates his practice in public finance law and represents clients as bond counsel, disclosure counsel and underwriter's/purchaser's counsel for the issuance of tax-exempt and taxable municipal debt. These matters facilitate a wide variety of public projects and programs for local, state and bi-state issuers, including cities, counties, school districts, public authorities and bi-state agencies.
Lloyd C. Birnbaum,
Lauletta Birnbaum, Multiple locations, 856-232-1600
Birnbaum continues to exceed the expectations of his clients as he guides them through nearly every aspect of real estate law. Birnbaum's extensive practice in New Jersey, Pennsylvania, New York and throughout the United States has contributed to the firm's continued success.
John Ciocco,
Multiple locations
Ciocco has been with Hoffman DiMuzio for eight years and is a member of the American Bar
Association and Gloucester County Bar Association.
Damien O. Del Duca, Esq.,
Haddonfield
A partner at Del Duca Lewis, Del Duca represents developers, owners, tenants and lenders for leasing, acquisition and land-use approvals in all matters of commercial real estate.
Rhonda R. Feld,
Moorestown
Feld is shareholder with Sherman Silverstein and focuses her real estate practice on acquisitions, sales, development, leasing, commercial lending, workouts and construction-related agreements.
Kenneth M. Morgan, Esq.,
Marlton
Morgan, who founded his own firm, Morgan Law LLC in 2015, concentrates his practice in the areas of transactional real estate, corporate law and business counseling.
Tiffany Wagner Donio,
Haddonfield
Wagner Donio has represented many corporate companies while practicing with Archer, and provides planning and compliance advice on a variety of federal, state and local tax issues.
Randy Ford,
Lauletta Birnbaum, Multiple locations, 856-232-1600
Ford counsels software, technology and manufacturing companies transacting business throughout the world. He provides his clients with a broad range of services integral to their long-term success, and has negotiated hundreds of software and technology contracts. Ford works with his clients to implement appropriate data security safeguards and helps ensure compliance.
Frank A. Lauletta,
Lauletta Birnbaum, Multiple locations, 856-232-1600
Lauletta represents both emerging and established companies in the public and private sectors. With broad legal experience, executive-level background and relationships in the venture capital and technology communities, Lauletta is uniquely suited to serve his clients. The firm's Outside General Counsel Model has enjoyed substantial growth over the last few years, largely due to Lauletta's skills and connections.
Kim is a founding partner of Kim IP and chair of the firm's patent practice group. He is passionate about the practice of law and is a trusted advisor and counselor.
Mary Ellen Rose,
Mount Laurel
As chair with Capehart Scatchard, Rose represents transportation companies and is involved in all aspects of relationships between manufacturers, distributors and dealers.
Stephen T. Fannon,
Mount Laurel
Fannon has been with Capehart Scatchard for 34 years and focuses his practice on the representation of employers, self-insureds and insurance carriers in workers' compensation matters.
Eugene Mattoni,
Swedesboro
Mattoni of Mattoni Counselors at Law, concentrates his practice on the Longshore and Harbor Workers' Compensation Act and workers' compensation claims and employment claims.
Jeffrey D. Newby,
Weber Gallagher, Mount Laurel, 856-667-5804
As co-chair of the workers' compensation group, Newby has decades' worth of experience and has handled numerous workers' compensation defense cases in a wide range of industries including health care, hospitality, retail and health care for Fortune 500 companies, midsize and small businesses. Newby is a Certified Workers' Compensation Attorney by the New Jersey Supreme Court.
Richard K. Tavini,
Marlton
Tavini leads Bennett Bricklin & Saltzburg's New Jersey workers' compensation department where he handles workers' compensation and general liability matters for a variety of large manufacturing companies.

To read the digital edition of South Jersey Biz, click here.

Published (and copyrighted) in South Jersey Biz, Volume 9, Issue 10 (October 2019).

For more info on South Jersey Biz, click here.
To subscribe to South Jersey Biz, click here.
To advertise in South Jersey Biz, click here.