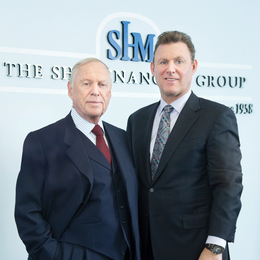 Sponsored Content: A Family Affair
Father-and-son duo Stan and Lee Molotsky of SHM Financial Group pride themselves on giving unbiased, independent advice to clients when it comes to planning their financial future.

When the time comes to seek financial advice and planning for the future, you want someone who has your best interests at heart, will listen to your every need, has years of experience and an excellent reputation. SHM Financial Group checks off all of those boxes and many more. Serving the South Jersey area since 1958, SHM Financial is a family affair, run by father-son team Stan and Lee Molotsky. Stan's brother, David, also works side-by-side with them.

With two locations to serve you— Voorhees and Collingswood—SHM Financial Group offers financial planning, retirement planning, investment management, tax planning and social security maximization. With their guidance, the Molotskys help their clients be prepared for any kind of situation to arise and have an exit strategy, which they say is extremely important.

"What we have tried to set up in our practice is we have exit strategies based on what's happening to whoever it is—no matter what the circumstances are—how you can protect your assets and have an exit strategy," Stan explains. "If you get sick or disabled, how is that going to affect you? Or, if you're older and need assisted care or long-term care, how is that going to affect what you are doing, and more importantly, who's going to pay for that? How can your assets be used to pay for those things and still be available to you if hopefully you'll never need that? These are the kinds of things that go into the true planning process. No one wants to talk about these kinds of things, but you have to and that's part of what we bring up all the time at our practice."

"Money is important, but the overall planning process is more important," Lee says. "In today's world, special needs and long-term care issues become larger and larger as people get older and encounter different issues. Our job is really to get to know that person upside down, inside out and understand their family. Then the planning is somewhat easy. We're not a brokerage firm, not an insurance or accounting firm. It's kind of family planning in a very unique regard."

What's also unique is how SHM Financial's clients benefit from the Molotskys' broad range of suggestions, which aren't always in unison with one another. Lee says they are notone-dimensional like other similar financial organizations that may tell you your only choice is to go down a certain path.

"I don't think you'll get as much diversification and thinking [from another family-run organization] as you do with us," Lee explains. "I recently met with a family—two boys and their mom—they looked around and said, 'All the bases are covered.' They realize we're here for the same reason; everybody's got their own thoughts and nobody is right or wrong, but it's a matter of how you see it. We don't always agree with each other which I think is important, but it's the marriage of sorts. I will give you my opinion, my dad will give you his and my uncle will give you his. Ultimately, it's the client's decision what they think is best, but you're going to get a lot of different perspectives. You'll find independent, unbiased advice from us as to which roador all three make sense to somebody. That's what sets us apart."

The Molotskys took all those perspectives and wealth of knowledge they've gained over the years and released a book called Exit Strategies For a Secure Retirement 2015—now in its second printing—which is available on DVD and can be ordered on Amazon.com or by calling their office at 1-800-MONEY-SHM. All proceeds go to special needs programming at the 1721 building on Springdale Road in Cherry Hill, a program near and dear to the Molotskys, as Stan's grandson—Lee's nephew—has special needs.

"A lot of our thoughts were scattered in articles and in copies of our radio broadcast and television programs we have done over the years," Stan says. "We think it's easy to understand, sensible, relatable verbiage. All the things are straightforward and things we've encountered since been in practice since 1958."

For a complimentary initial consultation and a copy of their book, mention reading this article in South Jersey Biz and call 1-800- MONEY-SHM.

SHM Financial Group
1010 Haddonfield-Berlin Road | Suite 305 | Voorhees
SHM Building | 100 Richey Avenue | Collingswood
1-800-MONEY-SHM |
SHMFinancial.com
To read the digital edition of South Jersey Biz, click here.
Published (and copyrighted) in South Jersey Biz, Volume 9, Issue 10 (October 2019).
For more info on South Jersey Biz, click
here
.
To subscribe to South Jersey Biz, click
here
.
To advertise in South Jersey Biz, click
here
.