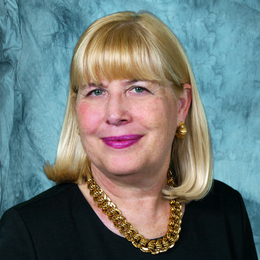 Forever in our Thoughts
Del Val Media and the local business community mourn the loss of Andrea Zane.
Andrea Zane was a woman who seemingly touched the life of everyone who knew her. With an infectious smile and a truly warm heart, she was a loving family woman and friend to many. Her recent passing caused great sadness not only here within Del Val Media, but also across the local business community and throughout South Jersey.
Andrea was so very proud of both of her children, John and Traci, and absolutely adored her grandchildren Gabrielle, Austin, Alexis and Ava. She was an avid reader who also loved spending time in the garden, cooking for her family and relaxing in Sea Isle.
While mourning the loss of Andrea, it also calls to mind the many wonderful moments so many of us have shared with her. Her co-workers will forever remember her as someone who was passionate about her job, but even more passionate about her peers. To say the feeling was mutual would be an understatement.
"Andrea was such a great manager to work with. She made my life easy as she always had everything under control," says Gerry Haggerty, publisher and executive partner. "She was also a tremendous person. Honest, funny and strong. I loved sharing holiday stories with her and hearing about her time with her family. Talking about her children and grandchildren made her face light up and she loved them more than anything else in this world."
"As a manager, she inspired and led. For her clients, she was passionate and worked tirelessly. As a co-worker, she was loyal and dedicated. And as my friend, she was compassionate and kind. She will be missed, but her energy and love will continue to flow within the Del Val Media family," executive partner Ed McCartney adds.
Lindsay Gonzalez, director of sales for House & Home Magazine says, "Andrea was an absolute inspiration. The care she showed to her family, friends, co-workers and clients was authentic. There was incredible satisfaction and a sense of pride she brought to work daily."
"Andrea was the type of person who would help others without being asked," says John Hirth, publisher of Suburban Life Magazine. "She truly cared about people. Family, friends, clients or even people she just met. I will miss my buddy."
"Many years ago, Andrea said to me: 'I always go the extra mile for my customers. It means a lot to me that they are happy.' I always felt she truly took that statement to heart," says Karen Murray, sales manager of Suburban Family Magazine.
"Andrea's ever-present positive outlook and demeanor shaped the way she approached both her career and her life. If she had a bad day, those around her didn't see it and that resounded throughout her entire circle of influence which was extensive. She will be sorely missed," Mike Lawless, general manager of South Jersey Magazine and SouthJersey.com, says.
"One thing that struck me about Andrea was that behind her hearty laugh was a colorful life; well lived," says Hank Alspach, creative director. "Another thing I noticed was her affinity for her customers. I couldn't possibly count how many times she mentioned how much she personally liked each of them."
"Having the fortunate opportunity to work with Andrea for the past several years, I can honestly say I am a better person for it. I will dearly miss our little asides in the hallway as well as the many memorable times we spent outside of the office where I got to know her as not only a valued colleague, but also a great friend. She exemplified kindness and caring and she was as genuine a person as I have met," says Peter Proko, editor.
Julie Shannon, executive managing editor of South Jersey Biz, worked very closely with Andrea. "She was the kindest person I've ever come across. No matter who she came in contact with, she always struck up a conversation like they had been friends for ages. It's no surprise she had great relationships with not just her clients, but the entire South Jersey business community—and they respected her immensely. I am grateful for knowing her, and most importantly, a better person for knowing her."
Of course, Andrea's impact was also felt across the local business world as well. She worked tirelessly to form lasting relationships where she treated her clients like extended members of her family, always willing to go above and beyond to not only deliver on expectations, but surpass them.
"Having been in business since 1958, I've met and worked with many, many people. Andrea was truly one of the very best, caring and honest people we have ever worked with. We will truly miss her," offers Stan Molotsky, president and CEO, SHM Financial.
Regan Young, founder and president, RYEBREAD Architects says, "Andrea was quite a lady. She was always professional, as well as kind. We'll miss her."
When M&T Bank entered the South Jersey marketplace as a new bank in 2013, Andrea was there to lend a hand. "Andrea took us under her wing and with unconditional support helped us build our brand. She was a true professional, but more than that, she was simply a nice and generous person," says Bill Cornelius, senior relationship manager and vice president.
Dr. Patricia D. Claghorn, dean of business studies at Rowan College of New Jersey, considers Andrea to be the standard bearer for college/business partnerships. "The relationship that she forged here will continue to serve as a model for those that wish to create a lasting and meaningful partnership between business and education. She was someone I could count on; she was my friend."
"For those of us who knew her, we were the lucky ones. Andrea was always there for us with that beautiful smile and her willingness to help," says John P. Campbell, executive director of the Greater Woodbury Chamber of Commerce.
Michael Pallozi, president, HFM Investment Advisors echoes the sentiment. "Andrea was a role model for professionalism, knowledge and strength of character," he says. "There was no one who exemplified class better and her presence will be missed."
Krista Collings, senior store manager with Republic Bank, remembers initially getting to know Andrea eight years ago. "One of my first memories of Andrea was when she invited me to attend a group with her that had no other bankers," Collings recalls. "She took me right under her wing and introduced me to others. That was Andrea; anyone who knew her personally or professionally witnessed her non-stop efforts to do good for others."
Les Vail, president and CEO of the Gloucester County Chamber of Commerce, knew Andrea quite well and sums up their relationship by saying, "

Andrea was not just a good business partner, but a great friend. She truly cared about people and would always go above and beyond to help anyone. South Jersey lost one of the good ones. We will all miss her."