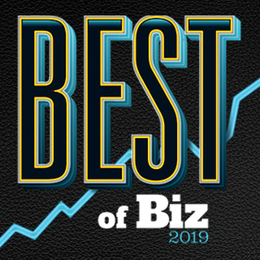 Best of Biz 2019
102 of South Jersey's most esteemed service providers.
The past few months were quite busy for us at South Jersey Biz, as we spent hours researching businesses from all over the region, as well as counting your votes for our annual Best of Biz−and your voices were heard. From banking, construction, law firms and real estate to education, engineering, IT Support and staffing agencies to name a few, we listed companies that are not only the best at what they do, they are trustworthy and respected in their fields.
Bowman & Company LLP
| Voorhees, 856-435-0440 | Woodbury, 856-845-4128 | BowmanLLP.com
Gold Gerstein Group
LLC | Voorhees, 856-770-1400 | Moorestown, 856-727-0100 | G3CPA.com
When an accounting matter escalates to litigation, the experts at this firm investigate every angle and prepare evidence for court in an objective and credible manner. Whether you are a victim of online fraud or looking for a damage assessment, this firm is a skilled resource to count on.
RYEBREAD Architects
| Mount Holly, 609-265-2652 | RYEBREAD.com
For three decades, this firm has been at the forefront of the industry thanks to its concerted effort to help clients find solid ROI, whether that comes by way of a new building or finding creative and efficient ways to adapt and expand existing resources.
Friedman LLP
| Marlton, 856-830-1600 | FriedmanLLP.com
Investors Bank
| Short Hills, 855-422-6548 | MyInvestorsBank.com
William Penn Bank
| Multiple locations, 800-845-3577 | WilliamPenn.Bank
More than just a neighborhood financial institution, this bank prides itself on being an integral part of the communities it serves. Whether that's treating customers like extended family members or helping raise money for individuals and organizations in need, William Penn Bank strives to form lasting relationships.
TD Bank
| Cherry Hill, 888-751-9000 | TDBank.com
Republic Bank
| Various Locations, 888-875-2265 | MyRepublicBank.com
Computer Services/Data Security
radius 180
| Cherry Hill, 856-282-1131 | radius180.com
Whitesell
| Delran, 856-764-2600 | WhitesellCo.com
Coordinated Project Solutions, LLC
| Stratford, 856-282-3452 | CoordinatedProjectSolutions.com
South Jersey Federal Credit Union
|
Deptford, 800-582-7640 | SouthJerseyFCU.com
South Jersey Federal Credit Union has been honored to receive numerous awards during its almost 80-year history, including its most recent recognition of being named Credit Union of the Year by the New Jersey Credit Union League.
Kaye Personnel
| Cherry Hill, 856-489-1200 | KayePersonnel.com
Kaye Personnel has been family owned and operated for over 30 years. Its success has been built solely on its ability to satisfy clients' specific hiring needs. The company specializes in skilled and semi-skilled, industrial, manufacturing and warehouse employees, as well as administrative, finance, customer service and general clerical positions.
Innovative Benefit Planning LLC
| Moorestown, 856-242-3330 | IBPLLC.com
As it celebrates 30 years in business in 2019, Innovative Benefit Planning's people-focused philosophy is more important than ever. With health care costs continuing to rise, it develops effective benefit packages that keep both employees and employers in mind.
Dewberry
| Mount Laurel, 856-802-0843 | Dewberry.com
With 50 locations in 18 states, Dewberry provides a wide array of civil engineering solutions to public and private clients. It recently received a national award for its Garden State Parkway Interchange 163 improvements project, which included the relocation of left-side exits to the right side and two new mainline bridges.
Environmental Engineering
T&M Associates
|

Mount Laurel

,

856-722-6700

|

Toms River

,

732-473-3400

|

TandMAssociates.com
The Braudis Group
|

609-742-9929

|

TheBraudisGroup.com
M Financial
| Marlton, 856-810-7701 | MFin.com
The Aloft
| Mount Laurel, 856-273-1880 | AloftMountLaurel.com
Human Resources Consultant
NEMR Total HR
|

Marlton

,

856-642-9500

|

NEMRHR.com
NJM Insurance Group
|

Hammonton

,

609-567-0300

|

West Trenton

m,

609-883-1300

|

NJM.com
#TechStarters
| Cherry Hill, 877-932-0040 | TechStarters.com
Law Firm: Corporate

Archer | Haddonfield, 856-795-2121 | ArcherLaw.com
With a primary focus on integrity, devotion to clients and superior legal counsel, Archer attorneys cherish the relationships they build with clients in order to deliver strong results. The full-service law firm is ranked among the top 200 law firms in America.
Law Firm: Employment-Labor
Parker McCay
| Mount Laurel, 856-596-8900 | ParkerMcCay.com
Posternock Apell PC
| Moorestown, 866-879-8855 | PosternockApell.com
Mechanical Services: HVAC
Hutchinson
| Cherry Hill, 866-953-8728 | HutchBiz.com
Anchor Moving & Storage
| Moorestown, 800-292-0026 | MoveWithAnchor.com
Shades of Paper
| Mount Laurel, 856-787-9200 | ShadesOfPaper.com
From various wide-format printers and canvas to laminators and heat presses, Shades of Paper carries the highest quality of products from leading brands like Epson and Canon so you never have to give your digital printing needs a second thought
.
Payroll Provider

Montecino & Ciaccia | Sewell, 856-256-1490 | MontecinoCPA.com
Nobody likes being chained to the desk on payroll day, but having an accounting professional assist you every step of the way can make the task a little less daunting. Using modernized options such as direct deposit and cloud-based approval systems, payroll can be approved from anywhere.
Property Management: Commercial
NAI Mertz
| Mount Laurel, 856-234-9600 | NAIMertz.com
Property Management: Residential
Delco Development
| Willingboro, 856-234-5151 | DelcoDevelopment.com
Wolf Commercial Real
Estate
| Marlton, 856-857-6300 | WolfCRE.com
The Bloom Organization
| Mount Laurel, 856-778-0300 | BloomLLC.com
ACCU Staffing Services
|

Cherry Hill, 800-437-ACCU

|

ACCUStaffing.com
USA Phones
| Cherry Hill, 856-761-1000 | USAPhone.com
National Integrity Title
| Marlton, 856-427-4343 | NationalIntegrityTitle.com
Founded in 1992 as Integrity Title Agency and acquired in 2015 by George Duffield, Sr. and Fran Turchi, National Integrity Title Agency serves the real estate community throughout the Delaware Valley. The company continues to grow and offers settlement services, complex search and exam assistance and realtor resources.
Wilmington Trust
| Mount Laurel, 856-642-4058 | WilmingtonTrust.com/wtcom/
Baratz & Associates
| Marlton, 856-985-5688 | BaratzCPA.com
Garrison Architects
| Bellmawr, 856-396-6200 | GarrisonArch.com
OceanFirst Bank
| Toms River, 888-623-2633 | OceanFirstOnline.com
Columbia Bank
|
Multiple locations
,

800-522-4167

|

ColumbiaBankOnline.com
The First National Bank of Elmer
| Multiple locations, 856-358-7000 | ElmerBank.com
As in most areas of today's society, technology plays a major role in the banking experience. But the team at The First National Bank of Elmer believes that good, old-fashioned service goes hand in hand with modern convenience, which is why they have earned a reputation for treating customers like friends or family members.
M&T Bank
| Cherry Hill, 856-428-9858 | MTB.com/home-page
Digital Accounting Institute
| Cherry Hill, 856-414-1282
foodwerx featuring Nicholas Caterers
| Cherry Hill, 856-231-8886 | foodwerx.com
PICS ITech
| Mount Holly, 609-614-3223 | PICS-ITech.com
Many companies today recognize the business advantages of cloud computing, and the experts at PICS ITech can help make it a smooth transition. With ITech Sync, clients can share data and easily collaborate on files across multiple platforms, whenever and wherever they desire.
Quality Asset Recovery, LLC
| Gibbsboro, 856-925-1010 | QARCollect.com
Bluestone Commercial Capital LLC
| Haddonfield, 856-470-3200 | BlueStoneLoans.com
Finding the right business loan comes with its own set of hurdles. Bluestone is an alternative to traditional banks, aiming to streamline the process for obtaining short-term capital with loan approval and funding occurring in a matter of weeks—not months.
Computer Services/Data Security Consultant
PCH Technologies
| Sewell, 856-754-7400 | PCHTechnologies.com
Every business needs technology to function and succeed. Not only will this team of local IT experts put the right infrastructure in place, they will continue to monitor it for issues or data security threats to ensure you are always up and running.
DeSimone Construction
| West Deptford, 856-848-2897 | DeSimoneConst.com
Big Sky Enterprises
| Gibbsboro, 856-435-8400 | BigSkyLLC.com
Corporate Outing

Topgolf
| Mount Laurel, 856-793-4086 | Topgolf.com/us/
Credit Union

Members 1st Federal Credit Union | Vineland, 856-696-0767 | Bridgeton 856-453-9094 | Woodstown, 856-769-3452 | MembersOneNJ.org
The founders of Members 1st saw the need for a nonprofit that provided low-cost financial services and represented the best interest of its members. Since its creation, professionals have been dedicated to providing members with outstanding services to achieve their financial goals.
Document Destruction/Security
PROSHRED
Southern New Jersey
| West Berlin, 856-336-2820 | ProShred.com/Southern-New-Jersey
Education: Community College
Camden County College
| Blackwood, 856-227-7200 | CamdenCC.edu
Education: Corporate College
Rowan College at Burlington County
| Mount Laurel, 856-222-9311 | RCBC.edu
Education: Higher Education
Rutgers University-Camden
| Camden, 856-225-1766 | Camden.Rutgers.edu
Rowan University
| Glassboro, 856-256-4000 | Rowan.edu
Thomas Edison State University
|
Trenton, 888-442-8372 | TESU.edu
This public university—renowned for offering online higher learning opportunities for busy adults—recently announced its second doctoral program—a doctor of business administration—and a statewide launch of the "3-Plus-1" program, providing an affordable path for people who never thought they would achieve a degree.
Assured Partners
| Mount Laurel, 856-795-4020 | AssuredPartners.com
Emerson
| Moorestown, 856-667-9180 | EmersonGroupINC.com
Engineering

Bohler Engineering | Mount Laurel, 856-930-4000 | BohlerEngineering.com
Bohler Engineering provides consulting and design services to residential and real estate divisions including land surveying, landscape architecture, sustainable design, transportation services and much more. It recently took part in restoring a dilapidated residential community that offers affordable housing to occupants.
Environmental Engineering
GZA GeoEnvironmental
| Hammonton, 609-567-9330 | GZA.com
Bradford Estate
| Hainesport, 609-261-8778 | TheBradfordEstate.com
Masso Torrence
| Marlton, 856-988-6664 | MassoTorrence.com
HFM Investment Advisors LLC
| Glassboro, 856-232-2270 | HFMAdvisors.com
For the professionals at HFM Investment Advisors, providing financial services is not about predicting the future or making decisions for their clients. Rather, they focus on building sincere relationships, educating their investors and helping them develop a sound, long-term strategy.
A.H. Meyers & Company: Suzanne Frank
| Marlton, 856-596-9555 | AHMeyers.com
Telecorp
| Woodbury, 856-384-6000 | TeleCorpInc.com
Phillips Janitorial Services
| Mullica Hill, 856-261-9116 | PhillipsJanitorialSvs.com
Law Firm: Banking/Finance
Capehart Scatchard
| Mount Laurel, 856-234-6800 | Capehart.com
Flaster Greenberg, P.C.
| Cherry Hill, 856-661-1900 | FlasterGreenberg.com
Law Firm: Estate Planning
Cohen Fineman
| Cherry Hill, 856-304-0699 | CohenFineman.com
Stark & Stark
| Marlton,

856-874-4443 | Stark-Stark.com
Clients turn to Stark & Stark's accomplished team of trial lawyers to handle their complex commercial cases. The firm's proven track record has elevated its national standing in the legal community, which will only grow with the recent installation of shareholder Bruce Stern as president of the American Association for Justice.
Lauletta Birnbaum
| Sewell, 856-232-1600 | Lauletta.com
Kulzer & DiPadova, P.A.
| Haddonfield, 856-795-7744 | KulzerDiPadova.com
Reger Rizzo & Darnall LLP
| Mount Laurel, 856-778-8950 | RegerLaw.com
Holiday Inn Philadelphia – Cherry Hill
| Cherry Hill, 856-663-5300 | HolidayInnCherryHill.com
Allied Document Solutions
| Swedesboro, 856-241-2000 | Ads-S.com
Perlow Productions
| Marlton, 856-669-1669 | PerlowProductions.com
Bellia Interiors Group
| Woodbury, 856-845-2234 | Bellia.net
Primepoint HRMS & Payroll
| Westhampton, 800-600-5257 | Primepoint.com
Primepoint is a family-owned business started over 30 years ago and continues to expand its products and services. It takes care of everything from payroll processing and taxes to human resource management, offering simple, yet effective solutions that meet customers' specific needs.
Property Management: Commercial
Colliers International
| Mount Laurel, 856-234-9300 | Colliers.com
Vantage Real Estate
| Marlton, 856-797-1919 | VantageRES.com
Capital Grille
| Cherry Hill, 856-665-5252 | TheCapitalGrille.com
SHM Financial
| Collingswood, Voorhees, 1-800-666-3974 | SHMFinancial.com
SpeedPro Imaging
| Blackwood, 856-481-0412 | SpeedPro.com
From banners and indoor signage to graphic needs and even car wraps, these people put the "pro" in SpeedPro by working side-by-side with the client to ensure the finished product not only meets your expectations, but exceeds them.
The Protocall Group
| Cherry Hill, 856-249-0487 | ProtocallGroup.com
DLC Technology Solutions
| Marlton, 856-983-2001 | DLCTechnology.com
The folks at DLC understand that you cannot take a cookie-cutter approach with telecom and IT management as each situation presents unique challenges. By customizing their approach to your needs, DLC not only finds solutions for your immediate issues, they also make sure you're prepared for what may arise in the future.
Title Company

Surety Title | Marlton, 1-800-908-4853 | MySurety.com
Surety Title is a nationwide provider of title insurance and settlement services providing homebuyers/sellers, realtors, legal professionals and more with comprehensive title insurance protection and settlement services to assist in real estate purchases, construction, equity loans and refinances. Prideful in being customer focused, Surety Title introduces solutions to fit customers' needs.
McCollister's
| Burlington, 609-386-0600 | McCollisters.com
NFI
| Camden, 877-634-3777 | NFIIndustries.com
Ewing/Cona Wealth Management at HighTower
| Marlton, 856-291-9300 | HighTowerAdvisors.com