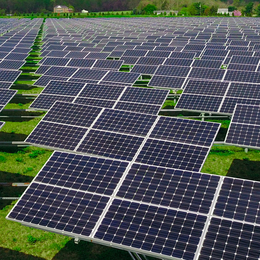 Investing in Green
How to adopt cost-saving green business practices within your company to promote sustainability.

Today there are more ways to reduce your company's environmental footprint—and more reasons to do so— than ever before. Many South Jersey businesses are taking advantage of "green" initiatives that will ultimately both help protect the environment and boost their bottom line. The benefits of investing in environmentally friendly alternatives range from improved efficiency and reduced costs to enhanced employee and customer satisfaction.

Lee Watson, partner/owner and COO of Geoscape Solar in Mount Laurel, notes that solar energy, in particular, has been exploding since Gov. Phil Murphy signed solar-friendly legislation that will push New Jersey to drive 21 percent of its energy from renewable sources by 2021. As per the new law, utilities must meet the new standards by generating renewable energy or buying it from the consumers—or they risk paying stiff penalties. "This makes it more likely and advantageous for property owners to go solar, as they stand to be paid directly for solar production from utility companies," he explains.

Jeremy Conner, CEO of National Energy Partners (NEP), a solar development company based in Voorhees, agrees that solar energy is a lucrative, high-return investment for South Jersey businesses. When investing in one of the company's systems—which will last 25 years with warranties—NEP clients can expect to experience an average payback period of one to two years. "For the life of the solar panel system, businesses receive free electricity generated from their system— and most businesses can eliminate their utility bill for 25 years or more," he explains. Currently, businesses can also take advantage of incentives for renewable energy, such as 60 percent in federal tax incentives as well as state incentives in the form of Solar Renewable Energy Credits that provide annual cash payments for producing solar energy.

But the benefits of "going green" extend far beyond financial incentives and cost savings. "Today, adopting responsible business practices with renewable solar energy gives businesses across all industries a competitive advantage in the marketplace," Connor adds. "Sustainability and corporate social responsibility are important components of a business' brand identity… consumer trends to patronize businesses that operate responsibly were once considered a preference, and are now a demand." As such, he notes that more and more businesses are finding that "green" credentials are becoming a powerful force driving consumer purchasing decisions.

"Studies consistently point to the fact that consumers are more willing to spend money on a product that comes from a sustainable brand," Watson agrees. "Going solar demonstrates to both consumers and employees that the company is sustainable and forward-thinking in terms of creative options to increase the bottom line."

Investing in green energy can even offer the added benefit of boosting the value of your property. While exact numbers will vary with each installation and each property, Watson notes that recent research shows an average increase in property resale value of $5,911 for each kilowatt of solar installed. "Installations in New Jersey yield even higher returns because it's a highly developed solar market," he adds.

Overall, communities are also more likely to embrace and promote companies that exhibit environmental, economic and social sustainability—and even if a business owner chooses not to take the plunge with an investment in solar, there are lots of other ways to promote sustainability. According to Richard Dovey, president of the Atlantic County Utilities Authority (ACUA), recycling is one of the easiest things that businesses can do to have a positive impact on the environment. "For many businesses, doing a good job recycling means there's less trash, which can result in lower tipping fees. … We work with businesses to do waste audits and offer suggestions on how to improve their recycling programs," he explains. The ACUA operates a 40 million gallon-per-day wastewater facility in Atlantic City, which is powered by renewable energy.

As a shared service provider, ACUA also offers towns and businesses opportunities to utilize its Compressed Natural Gas fueling station, green vehicle wash, charging stations for electric vehicles at its facilities and a host of other environmentally conscious services. "We strive to continually reduce our environmental impact, but as a public entity, we have to be sure green initiatives also save money," he adds. "ACUA has been able to implement several different renewable energy initiatives—sometimes by making the investment ourselves, but also by seeking private sector partners when necessary."

ACUA was able to take advantage of CORE rebates to offset the cost of solar arrays in 2005, which made it possible to benefit from the sale of SRECs and quickly re-coup the initial cost of the project. Dovey notes that ACUA saved more than $158,600 last year as a result of its solar project in avoided electricity costs and proceeds from SREC sales. "It's important to learn about the opportunities that exist for your business," he adds, touting the potential for power purchase agreements or other types of partnerships.

Another growing source of sustainable energy are wind farms. Located at ACUA's Wastewater Treatment Facility in Atlantic City, the Jersey Atlantic Wind Farm saved the ACUA over $285,000, a combination of offsetting the cost of electricity and land lease revenue. In 2018, in partnership with Viridity Energy, the ACUA was able to commission a 1 megawatt battery storage project at its facility to help offset fluctuations in "green" resources by storing energy and supplying it to the grid when the sun isn't shining or the wind isn't blowing. "There are many opportunities for businesses to take advantage of programs that can help green their energy profile," Dovey says.

In addition to being good for the company's brand, property value and customer satisfaction, taking strides to create a greener, healthier workplace can be equally as important for employees. "Indoor air quality is becoming more and more of a concern for homeowners and business owners alike—and I think most companies would want to provide their employees with the benefit of cleaner, healthier air," asserts Vincent Ceroli, president and owner of DUCTZ of South Jersey in Cherry Hill, which offers professional HVAC restoration and air duct cleaning services for residential and commercial property owners. "If you're finding that employees are getting sick more often or suffering from allergies, duct work could be the solution … and at the same time, changing filters, cleaning up the units, making sure there aren't any blockages, is going to make your system more efficient." According to Dovey, programs like NJ's Clean Energy Program offer businesses of all sizes financial assistance to upgrade or replace lighting, HVAC and other equipment with energy-efficient alternatives.

Whether you choose to invest in solar panels or upgrade to energy-efficient equipment, becoming a more sustainable company has a tremendous value to any organization in terms of how it's going to be perceived by both employees and the community at large. "Sustainable companiestend to have higher employee retentionrates. … Employees take pride in being part of a company that puts equal value into protecting people and the environment as they do in productivity and profits," Watson concludes.