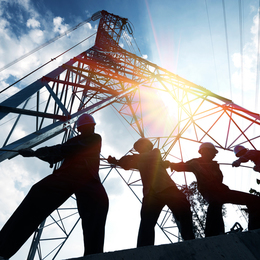 Construction Boom
An attractive market equals numerous projects in the region and there seems to be no end in sight.

When it comes to building and construction in South Jersey, there's no denying the region has been a virtual hotbed over the past few years.

One only need look at the Camden waterfront to see an example of this—the revitalization of the city has included several large undertakings on the new construction front, including the 223,376-square-foot American Water headquarters, the 250,000-square-foot Subaru headquarters and the 394,164-square-foot Camden Tower, which Conner Strong & Buckelew, NFI and The Michaels Organization will soon call home.

There's also the Rowan University-Rutgers Camden Board of Directors Joint Health Services Center, a 95,000-square-foot building also in the works in the city, as well as a 180-bed Hilton Garden Inn and a 156-unit apartment complex.

All of these projects—just the tip of the iceberg in terms of what has been happening in South Jersey on the building and construction front— have helped to keep the proverbial "ball" rolling in the development of the region, and their presence is already being felt.

"Camden is 'on the rise' due to significant and strong investment by Camden City and Camden County, as well as significant investment by local firms willing to invest in their future in the city," says Marge DellaVecchia, AICP, PP, vice president for PS&S, a firm offering architecture, engineering, design and environmental consulting services. "The presence of the new corporate head-quarters is already spinning off accessory uses and businesses, all of which will continue to reframe the city and its renaissance."

That's not to say Camden is the only location in South Jersey to see such growth on the building and construction front.

In fact, Republic First Bancorp, Inc.'s chairman, Vernon W. Hill, who has been lending money for close to 45 years, says what is taking place in South Jersey right now is really like nothing he's seen before.

"South Jersey is generally going through a boom right now," he says. "It's one of the bigger booms, or probably the biggest boom, I've seen." So, what has created this growth? While a strong economy has played a part, it truly comes down to the region's location, along with its accessibility to major roadways and available workforce.


As an example, online mammoth Amazon recognized the area's desirability and opened three fulfillment centers—one in Logan Township, one in Florence and one in West Deptford—as well as a sortation center in Logan Township which helps with last-mile delivery, in recent years, and a new fulfillment center in Burlington City should be operational shortly.

Hill notes the changes that have been taking place in health care have also been a driving force, and DellaVecchia agrees.

"Among projects on the rise that PS&S is involved with, health care stands out as a leader with strong commitments from leading local institutions including Cooper University Health Care, Jefferson Health, Inspira, AtlantiCare and RWJBarnabas Health Systems, to name a few," she says. "With health care institutions now expanding their reach into the communities, there is a need to upgrade, or even repurpose existing, aging facilities."

This expansion means going beyond the traditional "hospital" and developing new ways to reach patients, DellaVecchia adds.

"A current trend in health care is to provide for better and more convenient patient access to needed services," she says. "Customer care is critical and that is reflected by the growth of specialty care medical facilities, and urgent care and wellness centers throughout the region."

There is still a need for the more traditional hospital, of course, and health systems are still building and growing their hospital systems. Inspira, for example, is expected to complete its new, 465,000-plus-square-foot hospital building by the end of the year, and will repurpose its old hospital in Woodbury as a satellite emergency room, among other uses.

Nancy Kowalik, a real estate agent based in Mullica Hill, says physicians are already committing their support to the area prior to the new hospital's completion, and are looking for ways to continue to expand and improve upon the services that are currently available.

Of course, with the new hospital will come new demands for housing and retail, part of which will be addressed when a long-awaited walking community featuring stores, restaurants and housing finally comes to fruition right up the road from the hospital, Kowalik says.

"We already know there is a 400-acre development that has sewer approved, and the developer is currently negotiating roadway infrastructure," she says. "There's been a lot of speculation about this project, and its plans have morphed a little … but it is going to be exciting to see. There should be shovels in the ground soon."

Angelo Alberto, AIA, PPNJ, president and CEO of City Invincible Architecture, says while his architecture firm is also focused mostly on health care right now in South Jersey, he anticipates a move toward more communities like the one planned in the Mullica Hill area.

"All market sector growth is trending toward mixed-use centers," he says. "Young professionals, as well as seniors, want to 'be where the action is' and settle in vibrant, less car-dependent communities.

"Trends will increasingly focus growth on cities like Camden and transit villages," Alberto adds. "Planned projects like the Camden-to-Glassboro line will receive the attention and funding they need. Retail center conversions to mixed-use communities will also increase."

Ground-up construction aside, because so many new tenants are looking to move to the area, older buildings and complexes are being considered for renovations to increase their desirability to potential tenants.

Joseph Fetterman, executive vice president for Colliers International, says this is especially being taken into consideration when it comes to office space.

"In South Jersey—and everywhere, really—the newest office product is probably 20-plus years old," he says. "With a handful of exceptions, like the new stuff on the waterfront and one or two on Fellowship Road and on [Route] 73, it's all inventory that was built in the 70s and 80s.

"I continue to hear the request [for updated office space]," Fetterman continues. "That inventory of office space … it just feels old school."

Of course, everyone is also anxious to see how the region is going to develop once the roadwork on Route 295 is complete, as it will hopefully only enhance accessibility to the area.

"I think there's strong potential for the area [once 295 is complete] because of the absolute absorption of space in all markets in the north," Fetterman notes. "There's not much available space and that's pushing larger requirements down into Burlington County."

While the future remains uncertain, and no one can predict how long this building and construction boom may last, what is certain is that it is attracting a lot more attention to the area than ever before.

And as Jonathan Klear, vice president and industrial specialist at commercial real estate firm NAI Mertz, points out, with more attention will come more desire to build.

"I think it's going to make the market a little brighter than it has been in the past," he says. "It's going to be more attractive. It currently is, but it's just going to be getting better."