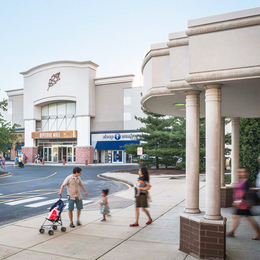 Something for Everyone
The Greater Woodbury area— Deptford, Woodbury and West Deptford— each present their own unique business scene.
It's no secret that malls across the country have fallen on hard times lately for a number of reasons, not the least of which is the rise in popularity of online shopping for everything from yoga pants to video games.

But the Deptford Mall continues to serve as the foundation for its town's economy and the rock for a corridor that includes a thriving restaurant scene, a busy movie theater and increasing entertainment options.

"We're a retail-based economy, so with the advent of Amazon and Wayfair and online shopping, that's definitely a cause for concern," Deptford Mayor Paul Medany says. "But with the performance of the Deptford Mall and the traffic that's still coming there, we're very confident that we're going to be fine.

"At some point folks want to get out of their homes for entertainment, for shopping and for dining. That's our strength; we're very accessible, we have a lot of great stores, it's extremely safe and the traffic flow is good. We have a lot going for us and we feel good about the way things are headed."

Ironically, while the Deptford Mall continues to flourish after 40-plus years in business, the recent opening of an Amazon fulfillment center has had a positive impact on neighboring West Deptford. And in the middle of both towns sits the city of Woodbury, which has potential for a bustling, walkable downtown.

It seems there is something to suit every consumer experience in this pocket of Gloucester County. Add in the major changes in health care, and it becomes clear that this is a very interesting time for the area.

A City in Flux
Walkable towns have been the rage throughout the nation in recent years, and in South Jersey the trend has created a successful formula for places like Collingswood and Pitman. The hope is that Woodbury can establish the same identity; after all, it already has its downtown area in place on historic Broad Street.

The problem has been building a consistent business scene downtown, but potential remains. Last year the city bought the property of an abandoned fitness center on South Broad Street—as well as several adjacent buildings that were vacated—and demolished them, creating a prime spot for interested developers.

"We have this empty space smack dab in the middle of our downtown," Mayor Jessica Floyd says. "It's virtually a clean slate that provides an amazing opportunity for anybody who wants foot traffic and that downtown, walkability feel. That is huge right now. I feel like a lot of towns are trying to mimic a walkable downtown; a lot of the rural places are trying to create it. We have it and it's slowly getting there."
Floyd points to Eight & Sand Beer Company on Evergreen Avenue as a great success story in the city, and says a tasting room for the brewery has been discussed for Broad Street. She would also like to see several restaurants open around the same time to support each other and create a dining hub. "It's been a slow process," she says. "I think what we're having a hard time with is having successful businesses downtown. There's potential and I think it can happen, but we need all of the stars to align."

Several events during the year draw large crowds to Broad Street, including the annual Woodbury Totally Outrageous Auto Show in September, in which the downtown area is closed off and dozens of beautiful cars and unique vehicles line the road. The fireworks display on the Fourth of July is known to be among the best in South Jersey, and the Woodbury Relays—a renowned high school track meet that has been held for nearly 50 years—brings thousands into the city for two days every April.

Most recently, in the demolished lot on South Broad, known as Lot 323, The FAF Coalition has sponsored a popular block party that will return this summer, bringing in visitors of all ages.

"Every two Fridays they take that piece of open land and host bands, they have a beer garden, they have vendors and food trucks, merchants selling crafts and all kinds of cool stuff," Floyd says. "That's huge and it's been gaining momentum."

Of course the major development in Woodbury is the impending move of Inspira Medical Center to a brand-new, state-of-the-art facility in Mullica Hill later this year. The hospital—formerly known as Underwood— has been a mainstay in the community for more than 100 years and its departure has been met with concern by residents.

But Inspira officials are determined to continue providing for people in the area by having a satellite emergency room at the site, with the potential for transport to Mullica Hill through the health care network's own ambulances should admission be required. Other medical services will also be available.

Inspira has a similar operation in Cumberland County, where it has maintained a satellite emergency room in Bridgeton since building a new hospital in Vineland in 2004.

"We said from the very beginning it's not our intent to abandon Woodbury and we're not going to do that," says John DiAngelo, president and CEO of Inspira. "We have a track record in Bridgeton where we did something very similar. … Our goal is to continue to serve the communities we're in and Woodbury is a big part of that."

To further illustrate its commitment to Woodbury, Inspira has worked with the city and the Gloucester County Improvement Authority to pursue redevelopment plans for the campus. Inspira funded a market analysis by the consulting firm Urban Partners—a process that started almost two years ago— and recently made the results public.

While it is Inspira's property, it was important to the company to work collaboratively in developing a vision for the future.

"What we were interested in was a truly participative process that would get us to an end result that everyone felt good about," says Peter Kaprielyan, vice president of government and external relations at Inspira. "It took a couple of years but by having the Gloucester County Improvement Authority and by having the city of Woodbury represented as part of this process, the goal was to come up with something that everyone could support. I think, by and large, that's what we came up with."

"Left to our own druthers we'll be doing health care there," DiAngelo adds. "But if there's something else that might be important to the town that makes sense to do there, we'll entertain that with the town."

The options presented by Urban Partners include possible space for young professional apartments, townhomes, an active adult community, health care services and commercial/retail. The existing hospital could be repurposed or demolished to make way for new construction.

DiAngelo says Inspira is currently looking to work with any interested developers and that a decision is not necessary before the opening of the Mullica Hill hospital in November. He notes that two significant benefits to the property are the presence of an 864-spot parking garage and the proposed light rail line from Glassboro to Camden, which would include two stops in Woodbury.

Two recent meetings open to the public to discuss the options were well-attended. According to Floyd, her constituents are still understandably concerned about losing the hospital, but she also sees positives to the situation.

"I think it's a good thing," she says. "The proposed feasibility study had a lot of good ideas. Some people thought it was all or nothing; that we were going to pick one of the six options they proposed. I don't think they understand that a developer is going to come in and decide what they want to do anyway. They might take some pieces of that and use some of those ideas, but not all of those proposed things are going to work.

"But there's potential. A lot of hospitals don't pay taxes, so now we can have a huge chunk of land that could be ratable for the first time. If we get a redeveloper and get some property taxes out of it, it could be big."

Deptford Adapts to the Times
Although Inspira is getting ready to move out of Woodbury, at the same time it is expanding in Deptford to better serve that area of the county. It recently announced plans to build a two-story, 50,000-square-foot outpatient facility on Clements Bridge Road, and a new Super Wawa will also be going in right next door.

According to Clare Sapienza-Eck, vice president of business planning and development at Inspira, the building will include radiology, urgent care and rehabilitation on the first floor, along with two private practices in internal medicine and orthopedics. The second floor will have practices for urology and dermatology and possibly cardiology.

"We still have to go through approval on this project because there are hospital outpatient services in the building, so we're preparing that submission to the Department of Community Affairs to get our plans approved," she says. "We're hoping to be breaking ground in the summertime and if we have a year for construction then we're talking about the second quarter of 2020 for opening."

Sapienza-Eck envisions this facility as just the beginning.

"The site is a good size—it's about 20 acres," she says. "My plan is that we will be creating more buildings over time. This is the first of hopefully a couple of different buildings on the site that will create more of a health park persona for Inspira."

Nemours duPont Pediatrics opened on Almonesson Road in Deptford in 2016, and now Inspira will increase the focus on medicine.

"That's very exciting for us," Medany says. "We've tried to push in that direction. We don't want to get out of the retail business, of course; that's our lifeblood and we do very well with it. But we want to expand some uses, especially for jobs."

There are also exciting things happening around the mall, including a Republic Bank opening on a pad site across from Outback. Although Sears recently closed, Dick's Sporting Goods will be moving across the street and occupying the lower level where Sears was located. And although the rumor of a Dave & Buster's coming is not true—that chain is headed to Gloucester Township—

Medany says the top floor will be a major entertainment use that he cannot yet disclose. A second movie theater is also coming to Clements Bridge Road near the Inspira facility.

"We're trying to build up other entertainment uses," Medany says. "Launch, the trampoline park, is doing great and the old standby Chuck E. Cheese has been there for about 20 years. The dining scene is very popular; the restaurants are packed seven nights a week and doing fantastic. You can shop, dine and take the kids places, and hopefully that will continue to expand. It's going to be an exciting year for us."

Amazon Comes to West Deptford
While Deptford is still very much focused on brick-and-mortar shopping experiences, West Deptford last fall celebrated the opening of an 855,000-square-foot Amazon fulfillment center. Millions of products come through the facility to be routed up and down the East Coast.

It has already had an impact on the area, as 90 percent of the contractors used for the construction came from local companies and 2,000 full-time employees are now working at Amazon.

"We are super excited to be launching in South Jersey and at our West Deptford location," says Rachael Lighty, a spokesperson for Amazon. "There are a variety of factors that we consider when selecting a location for an Amazon facility. Some of those factors include a dedicated workforce who we know will raise the bar on being customer-obsessed, as well as great local support, and we've found both of those in New Jersey."

Location was also a critical factor in the decision.

"When talking about West Deptford specifically we're also responding to customer demand," Lighty says. "New Jersey is such a great location for us geographically. If you think about where a majority of the U.S. population is located, New Jersey is able to very quickly and easily serve customers not just across New Jersey, but New York, Connecticut, Delaware, Pennsylvania and Maryland. The majority of orders coming out of the West Deptford facility will travel to that main area, but if there are items there that are unique to that fulfillment center they can actually ship across the globe."



What Businesses are Saying


CHRISTOPHER EASTLACK, Vice President, Ace Ford

"The best part about having a business in Woodbury is the people. We have a large and loyal customer base, with the majority living in Woodbury. The proximity to major highways and ease of getting to Woodbury make it an ideal location for a business."

STEVE WARECH, Owner, Refreshments Plus
"Our employees are our most important asset. Once we outgrew our Cherry Hill location, I made the decision to provide amore convenient location for them to travel to as most of our employees were from in and around the Woodbury area. I have always been fond of the hometown feelof Woodbury and once the Gloucester County Times building became an option, I knew fairly quickly this would be a great fit. We have quick and easy access to Route 295, the New Jersey Turnpike and all the bridges for our full-service vending and office coffee service business, along with a well-traveled road—Broad Street— for our newly opened to the public K-CupMix and Match Superstore."

JAY CIPRIANI, Owner, Cipriani Remodeling Solutions
"What attracted me to open my business in Woodbury is the fact that it being a historic town, and close to where I grew up, gave me opportunities to work on older homes whichI really enjoyed. I love the challenge of renovating older homes as they are built so much different than newer, mass production type homes you might see in a development. The woodwork in older homes is more detailed and more interesting to work with. Also, all the business owners I know in town have helped me become a better business person by sharing their best practices on how to better serve customers and teaching the importance of getting involved with and support the surrounding community."

TIMOTHY JENNINGS, President, CEO, Telecorp Inc.
"The best part about having our business in Woodbury is being part of a close-knit business community full of great businesses. Woodbury is packed with history and is a beautiful city with amazing architecture. Woodbury, the county seat, is an area still full of wonderful promise as the business community continues to flourish."

DR. MONICA SCOTT, CEO, Doctor Physical Therapy
"The best part of being in West Deptford is that I have the opportunity to live, work and shop local. I often see my customers in the neighborhood when I'm going about my daily routine outside of work. It's a nice extension of my work life and community involvement."

LISA CARNEY, Lisa Carney Retail Agency LLC, Farmers Insurance
"I love having a business in Woodbury because I've always wanted a small-town agency that could be involved in the community. I feel that the greatest impact you have on people are those that you really get to know by seeing them around town shopping, at community events, at church and even at the local restaurants."

To read the digital edition of South Jersey Biz, click

here

.



Published (and copyrighted) in South Jersey Biz, Volume 9, Issue 2 (February 2019).

For more info on South Jersey Biz, click

here

.
To subscribe to South Jersey Biz, click

here

.
To advertise in South Jersey Biz, click

here

.