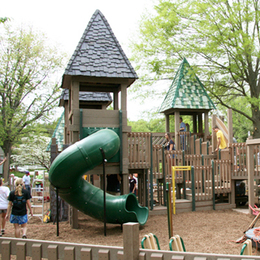 A Community Feel
A strong sense of community, traditional values and vibrant Main Street make Moorestown a great place to live, work and play.
Upholding tradition, yet keeping up with the modern times; a tight-knit community that supports local businesses; a bustling, tree-lined Main Street and great public and private school system—Moorestown has got it all.

"Moorestown is a unique town that has a real sense of community," Mayor Stacey Jordan says. "People are very involved in the town and they love walking up Main Street to shop, hang with their kids, sit outside of one of the restaurants and say hi to people as they walk by. It's just a great homey feeling."

Main Street in downtown Moorestown is home to a mix of businesses—many of which are friendly with each other, Jordan notes. Ten restaurants and coffee shops were added over the last year and there are some businesses that have been fixtures in the town, such as Carl's Shoes, which is celebrating its 60th year in business this year.

"It's meant a lot to be able to stay in one town, and people know Moorestown as a good area," says Jeff Higman, vice president of Carl's Shoes and grandson of founder Carl Barone. "People know it as more of an old-fashioned town with a nice, quiet Main Street. Whether you stop at our shoe store or go next door and have a piece of pizza, it's unique because most towns don't have that. We're lucky in that sense and we draw from all over New Jersey, Pennsylvania and Delaware. Moorestown is known as a destination place."

Even with many businesses calling Moorestown home, the economic development advisory committee is in the process of updating their master plan and economic plan element, according to Jack Twomey, chair of the economic development advisory committee. They are looking into the future and "modernizing ordinances to allow for continued economic prosperity for [their] 20,000 residents, while maintaining measured growth to support local township provided services."

"We're streamlining our permit processes to make it easier for businesses to move to our town, we've hired a new township manager and community development director to facilitate solutions to the challenges of entrepreneurs looking to create business in our community and are working on the logistics of operating efficiently within Moorestown," Twomey says.

Some of the major projects currently underway include the Lenola modernization project, which will add new lighting, sidewalk replacement and bike lanes.

"Additionally, the Moorestown Mall is under transformation with new restaurants, theater and anchor store use transformation," he says. "On a micro scale, we're adding local events such as our recent Food Truck Festival on Main Street to provide adjacent communities an opportunity to experience our town. Further, we're looking into modernizing our ordinances related to this as well as future business on Main Street, such as a local microbrewery, which has gained significant prosperity around the state while complementing our great restaurants."

Students Getting Involved
Moorestown's business community receives contributions from special needs students who are part of Moorestown High School's Vocational Transition Program, which teaches job-related skills through supported volunteer employment.

"Our mission is to prepare students to transition from high school to desired post-secondary outcomes such as employment, trade school or apprenticeship programs," job developer Margie Bard says. "Through participation in a variety of community-based job training activities, students have the opportunity to develop critical employment skills." This program started over 10 years ago when it was partially funded through a grant from the Moorestown Education Foundation. "We believed that educating our students with special needs in the community would provide an enhanced learning environment," Bard says.

Since then, they have partnered with many local and national businesses and organizations, which Bard says is essential to the success of the program. Students ranging in ages from 18 to 21 volunteer at businesses such as Moorestown Hardware, Wawa, Virtua Fitness Center, Panera Bread, Wendy's, Barnes & Noble, ShopRite and TJ Maxx.

"Students stock shelves, maintain dining rooms, inventory, file, scan, assist customers, clean, bake cookies, package items, make drinks and perform other tasks that the employer requests," Bard says.

They also volunteer throughout the community with organizations such as the Moorestown Fire Department, Moorestown Business Association and MoorKids. All students enrolled in the program are supervised at their assignments by Moorestown High School job coaches.

It's a win-win for all involved, and Bard is grateful for the support they have received from the entire community, especially the businesses and organizations that give these students a chance to learn and grow.

"The foundation of our program is the relationships we have developed with local employers. We take our partnerships very seriously and are extremely appreciative of their support," Bard says. "Our partners have been rewarded with reliable and dedicated volunteer workers as well as the satisfaction of making a significant contribution to the development of productive, future adult members of our community."

Virtua Samson Cancer Center
This brand-new, state-of-the-art facility offering comprehensive cancer services had its ribbon cutting at the beginning of October and will start seeing patients in early November. Spanning 48,000 square feet, the center is focused on the patient experience with a peaceful, healing space, and provides a full range of oncology services available under one roof.

"In the building there will be medical oncology, chemotherapy-type services, radiation oncology, and many support services are included—social workers, support groups, genetic counseling services and nurse navigation," explains Stephanie Fendrick, Virtua SVP and chief strategy officer. "From the point a person is diagnosed with cancer and may need help in terms of how to schedule and sequence their appointment, the nurse navigators help make sure they understand what to expect and have another support person on their team."

A few years ago Virtua looked at the services they offered and saw a lot more cancer care being treated in outpatient facilities. "We wanted to create a center where patients could get all services in one location and focus on cancer patients and their specific needs. … We looked at the whole person and how to help them deal with some of the side effects of cancer care," Fendrick says.

One of those side effects—which to some women is the most devastating—is losing their hair during chemotherapy. That is why Virtua created the RCCA Hair Boutique within the center, which will provide professional salon services donated by Rizzieri Salons, Spa and Schools. Patients experiencing hair loss can receive wig-fittings, head wraps and head-shaving services at no cost. Fendrick notes that Virtua and Rizzieri have had a long-standing relationship going back 15 years when they started partnering together, offering community programs for women who were diagnosed with cancer and/or surviving cancer.

"Rizzieri would bring some of their expertise on how to take care of your skin if you've been diagnosed with cancer or had cancer treatments, how to style a wig and how to tie a scarf," Fendrick recalls. "Initially 25 women showed up and it grew each year. [Founder] Frank Rizzieri said he wanted to contribute with what aligns with what he's passionate about. He'd see women with cancer who were losing hair come into the salon and it would be a difficult time, and here we provide the private and peaceful setting these women need and have their family with them."

It was an easy decision to build the Virtua Samson Cancer Center in Moorestown as the town is already home to the Virtua Health & Wellness Center, and the cancer center is located directly across the street.

"There are a number of surgeons who already treat cancer patients in that facility, but there wasn't enough room to put the cancer center there," Fendrick says. "We wanted something in close proximity and the locations are very accessible with [Interstate] 295 and [Route] 38 right there. We certainly wanted to keep services in Burlington County."

"It's fabulous for our residents and people all around us that have a place to go to for treatment," Jordan says. "Virtua is a great neighbor, a great community partner, and I think having that kind of a center in our town shows they value our community."

What Businesses are Saying
ATLANTIC, TOMORROW'S OFFICE, Angela Nolfi, account executive
"The best part of having a business in Moorestown is the culture. At our grand re-opening, we had a ribbon-cutting ceremony in which we were lucky to have over 100 businesses attend. We were honored to have Mayor Stacey Jordan assist us and the passion she has for the town was evident. She was thrilled we had chosen to invest in Moorestown and help the community grow both economically and philanthropically. It is great to be part of a community that cares. Being a part of Moorestown has opened so many doors that we are thrilled to explore."
MOORESTOWN THEATER COMPANY, Mark Morgan, producing artistic director

"Moorestown is very centrally located to so many talented performers—both children and adults—which is definitely part of the reason why we have received 28 'Best Of' awards since 2007 from various organizations and publications in South Jersey. The people and businesses of Moorestown have been very supportive in helping the Moorestown Theater Company grow from one production in 2003 to 19 productions in 2019 and succeed as a nonprofit arts organization from a $25,000 budget for that first production to a $650,000-plus budget in 2018."

MACKERER LAW OFFICES LLC, Andrew L. Mackerer, Esq.
"Moorestown has a tight-knit business community. Coming from a small town in upstate New York, I appreciate the local support and feeling of being connected with the community. The Moorestown Business Association has helped me meet other business owners and given me an opportunity to demonstrate by professional abilities and contribute to the community."
MEND, INC., Matthew Reilly, president
"MEND began our affordable housing mission in Moorestown in 1969 and our offices have remained in Moorestown since that time. As we prepare to celebrate our 50th anniversary in 2019, it's fair to say that MEND and Moorestown pioneered a very effective non- profit developer/municipality affordable housing partnership that has served as a model for Burlington County and the entire state."


HERITAGE BUSINESS SYSTEMS, INC., Thomas Lizzio, president and founder
"The best part about having a business in Moorestown is having the recognition of Moorestown's outstanding reputation of a great place to live and work, and Moorestown corporations prefer to support other neighboring businesses."

POSTERNOCK APELL, PC Dan Posternock, managing shareholder
"The best part about having a business in Moorestown is opportunity. The town's mix of successful businesses and individuals lends itself to a variety of great opportunities. The business community is very welcoming, particularly the officers and members of the Moorestown Business Association. The town embraces a 'small town' vibe that is often missing from business interactions. That has served to enhance the town's well-deserved reputation as a place to successfully operate a 'business family.'"


To read the digital edition of South Jersey Biz, click
here
.

Published (and copyrighted) in South Jersey Biz, Volume 8, Issue 10 (October 2018).

For more info on South Jersey Biz, click
here
.
To subscribe to South Jersey Biz, click
here
.
To advertise in South Jersey Biz, click
here
.