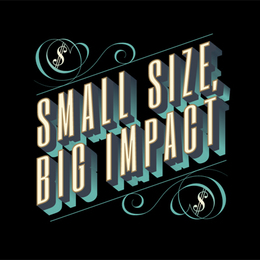 Small Size, Big Impact
17 Small Businesses Making a Difference in South Jersey


It's no secret many big box companies can be found in South Jersey, but there are quite a few small businesses that also call this area home – some for more than 30 years. They have made a large impact on the local economy and beyond, and have made a footprint in their local communities as well.

What makes these companies successful and stand out is their personalized customer service, offering top-quality products and a desire to help each business and client they serve run smoothly.

They may be small in size, but they are mighty and impressive. We present to you South Jersey Biz's Small Business Awards.

MONTECINO & CIACCIA, P.A.
Founded in 1982 as Charles K. Montecino, CPA, the firm was renamed Montecino & Ciaccia, P.A. in 2014 and became a father-daughter establishment with Charles and his daughter, Meggan Ciaccia, who together have over 60 years of accounting experience. Montecino & Ciaccia, P.A. is a full-service accounting firm serving individuals and owners of small and mid-sized businesses with their tax, QuickBooks, accounting and payroll needs. The firm is known for its expertise in resolving IRS tax problems as well as providing monthly bookkeeping and QuickBooks services to small businesses in all industries. Recently, Ciaccia joined the board of directors as president-elect of the South Jersey Chapter of NAWBO— the National Association of Women Business Owners. Additionally, Montecino is a past recipient of the top practitioner award from the American Society of Tax Problem Solvers.

NEW JERSEY COMMUNITY CAPITAL
New Jersey Community Capital (NJCC) is a nonprofit community development financial institution providing innovative financing and technical assistance to foster the creation of quality homes, educational facilities and employment opportunities in underserved communities of New Jersey. Since 1987, NJCC has invested nearly $640 million, creating and preserving 10,700 jobs, 18,950 education seats and 6,350 child care slots, as well as developing close to 10,000 housing units. In 2017, NJCC received the Southern New Jersey Development Council "Investment in South Jersey" award in recognition of an investment in the Cumberland County College Arts and Innovation Center in Millville through THRIVE South Jersey.

NAPOLI CONSTRUCTION, LLC
Located in West Deptford, Napoli Construction, LLC is a commercial, industrial and retail design-build, general contractor constructing new buildings, additions and renovations in New Jersey, Pennsylvania, Delaware and Maryland. Fully licensed, insured and bondable, the company has successfully executed over 100 projects exceeding $50 million over its 13-year history. An emphasis on safety, quality, schedule, transparent budgets and low overhead costs has allowed it to keep these recurring clients through the years: J&J Snack Foods, Eastern Metal Recycling, MAPEI Corporation, Aquatrols, Lifetime Brands and Leonardo Helicopters, to name a few. Other recent completed projects include Bonesaw Brewing Company in Glassboro and Eight & Sand Beer Co. in Woodbury.

EXPERIMAC OF CHERRY HILL
The local Apple experts can be found right here in South Jersey at Experimac Cherry Hill. Experimac offers certified pre-owned Apple computers, iPads and iPhones, and every device it sells includes a one-year warranty. Experimac specializes in providing these products at a discount—some up to 60 percent off—and will offer more if customers trade for a newer product. Owner Glenn Trommer and his staff are known for their great customer service and work with many businesses in the area. Additionally, they repair all Apple products, even if the device is out of warranty.

TRISTATE ENGINEERING & SURVEYING, PC
TriState Engineering & Surveying, PC was founded on a simple principle—successful projects and relationships don't just happen, they are engineered. The firm's experienced engineers, planners and designers can handle any size or type of land development project, and its expert land surveyors have decades of experience in the collection of field data and preparation of property, topographic and land title surveys using robotic stations, GPS, and aerial photogrammetry with unmanned aerial vehicles, or drones.

INNOVATIVE ROOF COATINGS
Innovative Roof Coatings serves South Jersey as well as Philadelphia and specializes in fluid-applied roof coating systems for flat and low-slope roofs. The company's goal is to provide customers with the most cost-effective and green solution compared to tearing off and replacing existing commercial roofs. Its durable system eliminates and prevents leaks where they occur most—at the seams— leaving a lasting, waterproof finish. Customers will save money on air conditioning bills thanks to the energy-saving acrylic coating system which reflects up to 85 percent of the sun's UV rays. Innovative Roof Coatings has coating solutions to weatherproof various types of roofs and offers a variety of optional warranties, which are renewable or extendable.

MB SOLUTIONS
MB Solutions is a full-service credit card processing company that is known for its outstanding customer service, competitive pricing and state-of-the-art products to help businesses grow and become more profitable. Some of its services include gift cards, SwipeSimple, RiO, PayTrace and PAX, and cash discount. It also provides a free EMV-ready terminal, as well as a credit card reader for smartphones. Additionally, the company pays any early termination fees from a client's current credit card processor and provides a lifetime low-price guarantee.

MEMBERS 1ST OF NJ FEDERAL CREDIT UNION
Originally named the Cumberland Teachers Federal Credit Union in 1938, the company added different employer groups to its membership, which resulted in the credit union's name change to Members 1st of NJ Federal Credit Union. Celebrating 80 years, it serves over 8,000 members from over 100 select employer groups. In addition to offering mortgages, loans and financial services, as well as checking and savings accounts, Members 1st of NJ Federal Credit Union offers a wide range of financial products and services at competitive rates while maintaining the credit union's longstanding motto of "people helping people," and to further the financial health of the community.

#TECHSTARTERS
Founded in 2010, #TechStarters is a single-source company for South Jersey businesses that require a more flexible solution to managing multiple vendors for each technical or digital company need. As one of the nation's only companies that is partners with both Microsoft and Google, #TechStarters is able to provide businesses a single point-of-contact solution for their computers, servers, office 365, email, website design, web hosting, SEO, Google Ads, online marketing and phone systems. A large part of its growth comes directly from current client referrals, which is a testament to its level of expertise.

PHILLIPS JANITORIAL SERVICES
Phillips Janitorial Services provides commercial cleaning services throughout the tri-state area. Owner Patrick Phillips, who hires and trains each employee, has remained committed to quality and ensuring customer satisfaction, which has allowed Phillips Janitorial Services to retain many of the customers with whom it started 14 years ago.

M FINANCIAL PLANNING SERVICES
M Financial Planning Services offers many services for businesses, such as financial planning, wealth management, estate planning, retirement, social security and business retirement plans. The firm takes pride in providing financial planning services that support its clients' vision of leading smart, sound and valued lives, and works with clients one-on-one to tailor financial plans to match their distinctive needs. M Financial Planning Services has been part of the Marlton community for many years, and is proud that many of its clients have been with the company for almost 30 years; in some cases, for three generations.

SONITROL SECURITY OF DELAWARE VALLEY
Sonitrol Security of Delaware Valley provides a single source for integrated, state-of-the-art security solutions for intrusion, video, access and fire, all backed with professional monitoring by experienced, trained personnel. It offers a sight and sound advantage through unique audio and video intrusion detection systems, access control, closed circuit TV and fire alarms for commercial and institutional locations throughout Delaware and South Jersey. Above all, Sonitrol Security is a service organization and all employees offer a true commitment to service. The company has been recognized nationally as one of the fastest-growing security integrators in 2012 and 2016.

COPIERS PLUS
With the slogan "service is our specialty," Copiers Plus takes great pride serving South Jersey businesses with top-notch customer service. It is a highly regarded office equipment company with over 30 years of experience and offers world-class solutions from Ricoh, RISO, Dell and HP to handle all of a customer's needs. Copiers Plus is also known for contributing to many nonprofits, including the Dean Randazzo Cancer Foundation, Parkinson's Life Center of Southern New Jersey and Community Quest.

THE JASKOL GROUP
Founded by Jeff Jaskol, The Jaskol Group is a specialized succession and planning firm that works exclusively with owners of ultra-high net worth, closely held businesses. It designs customized and creative solutions to address each client's objectives and help protect, preserve and maintain what they have built. The company also understands it is responsible for multiple generations of families and takes pride in giving each client the level of service and accessibility that a true boutique firm like this can offer. In 2017, The Jaskol Group was recognized as a Lincoln Financial Network Top Performer. Jaskol is also the founder and chairman of the Albert V. Jaskol Memorial, raising hundreds of thousands of dollars to benefit cancer research.

CAMDEN COUNTY BOATHOUSE
Nestled in the 346-acre Cooper River Park that spans Pennsauken, Cherry Hill, Collingswood and Haddon Township, the 23,000-square-foot, four-story boathouse is the ideal location for hosting corporate meetings. Its "Masters" room and "Board" room can accommodate 24 and 26 people, respectively, and are both equipped with smart room technology and connectivity. Outside, the wrap-around deck and the boathouse observation tower offer breathtaking views of the Philadelphia skyline and the sunsets over the Cooper River.

CARTRIDGE WORLD
Cartridge World is all about helping businesses save time, money and the environment while providing top performing equipment and services for printing, scanning, faxing and copying needs—with great customer service to boot. Its 'Why Buy a Printer' program is one example of helping businesses save money. By purchasing initial toner cartridges, which are sold at 20 to 30 percent less than the big box stores, Cartridge World supplies businesses with a free laser printer. It will offer its free service program to your business as long as you continue to use its cartridges.

CORETITLE
CoreTitle was formed by the idea that real estate settlements should be a celebrated experience, and the company's focus is ensuring a memorable and exciting closing for new homeowners. This premier title insurance company offers services such as traditional sales, commercial trades, refinances and equity lines, attorney services, reverse mortgages, short sales and notary services. Its service model of "single point of communication" ensures a seamless process and offers a unique approach to a premier settlement experience in a boutique style office setting. From having catered breakfast and lunch to having on-site entertainment and vendors and displaying clients' photos and new homes on its digital welcome display, CoreTitle has consistently found ways to create a unique experience for each client.


To read the digital edition of South Jersey Biz, click
here
.

Published (and copyrighted) in South Jersey Biz, Volume 8, Issue 10 (October 2018).

For more info on South Jersey Biz, click
here
.
To subscribe to South Jersey Biz, click
here
.
To advertise in South Jersey Biz, click
here
.