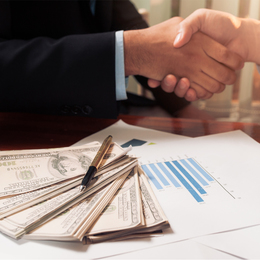 The Money Issue: How Small Businesses Can Utilize Credit Unions
Credit unions offer a wide range of credit solutions for small businesses with a personalized touch.
Before a small business gets off the ground, there are many steps that need to be taken—getting a line of credit, credit cards, obtaining a commercial mortgage and equipment loans to name a few. And for small businesses that have an established history, they need a financial institution to help them form the best course for growth and success. The first thought might be to go to a bank, but another option that could be more suitable for small businesses are credit unions that offer all of these credit solutions in-house.

"Credit unions can offer all of the business products and services that a small business owner would expect from a bank," Mike Dinneen, vice president of marketing with American Heritage Federal Credit Union (AMHFCU), says. "We also offer merchant services and sales financing which has helped many small business owners in their growth objectives. We often help small business owners buy their first building or office. And as a credit union, we can serve as a workplace partner so that your business' employees can also take advantage of all of the value that a credit union provides for individuals and families as well."

More credit unions are popping up all over South Jersey—AMHFCU, for example, is opening a Cherry Hill branch in the coming months. These institutions focus highly on building relationships and customizing business solutions to each business and individual's needs.

"The inherent mission of a credit union is the concept of people helping people and providing economic development opportunities rather than increasing shareholder value," Dinneen says. "As such, we have a vested interest in providing the right credit or cash flow solution to businesses in our community.

"There is a misconception that credit unions don't provide traditional business banking services when in fact, they provide very robust and personalized business solutions. With many banks being mandated to drive shareholder value, they are forced to place their primary focus on larger and more profitable commercial loan relationships. However, small business owners are starting to turn to credit unions to better meet their financing needs and flexibility. Credit unions do not have shareholders; rather they are member owned. This allows credit unions to focus on business of all sizes, and be more flexible in the deposit, loan and cash flow management solutions they provide. At credit unions, a sole proprietor, a nonprofit, or a microbusiness will get the same outstanding service, value and sophistication that our large commercial business clients receive."

To read the digital edition of South Jersey Biz, click
here
.

Published (and copyrighted) in South Jersey Biz, Volume 8, Issue 10 (October 2018).

For more info on South Jersey Biz, click
here
.
To subscribe to South Jersey Biz, click
here
.
To advertise in South Jersey Biz, click
here
.