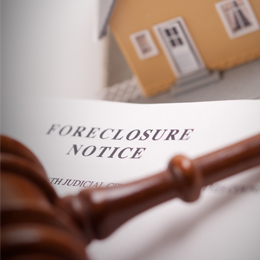 Turning Toxic Liabilities into Community Assets
The Financial Wellness Institute, in partnership with Land Dimensions and the Senator Walter Rand Institute for Public Affairs at Rutgers University-Camden, is spotlighting and raising awareness of the severity of the ongoing foreclosure issue that is plaguing our communities and hosting a panel to discuss a study recently completed by the Rand Institute: Turning Toxic Liabilities into Community Assets.

The study focuses on the South Jersey housing market, in particular the vast number of REOs, foreclosures and abandoned properties, and how the problem is adversely affecting the region's housing market and the economy.

The report also offers strategies that can facilitate foreclosures as a means to provide much-needed housing for entry-level, workforce and middle-income families.

There is no lack of focus in our state on the need for housing that is affordable to low- and moderate-income families. And, there are many advocates who support policy-driven solutions to affordability. Our intent in working with Rand was to put a focus on how market-driven solutions can solve another affordability housing issue within the state; for example, the lack of entry-level housing that is affordable to working and middle-income families.

Because of the inefficiencies within the judicial foreclosure process and the layers of internal systems within the banking industry, thousands of foreclosures are scattered throughout South Jersey. Additionally, we analyzed the continued depreciation of property values in foreclosure, as well as their contagion effect on surrounding homes and neighborhoods. In recognizing the extent of the negative impact of foreclosures on our communities, we turned to Rand to ask them to not only help us analyze a larger number of properties, but also to examine the economic benefits of providing housing that is affordable to a population that is not focused on by policy advocates.

Confirmed speakers include Sean C. Closkey, president, TRF Development Partners of The Reinvestment Fund Inc.; Brad A. Molotsky, Esq., partner, Duane Morris, LLP; and Linda E. Fisher, professor of law, James B. Boskey Research Fellow, Seton Hall Law School.

Three problems will be addressed:
Entry-level home buyers, working and middle-income families are unable to compete with investors to acquire foreclosed homes that are REO properties.

By the nature of the enormity of the number of homes in distress throughout our communities, the myriad of legal layers, as well as multiple moving parts and inefficiencies involved in the process of pre-foreclosure, short sales, sheriff sales and REOs, properties are left to languish, deteriorate and decrease neighborhood property values.

Lack of financing options for CDCs and nonprofits to acquire and renovate foreclosures. Inherent to purchasing foreclosures is the risk of buying a property "as is" and often-times with the requirement of an all-cash deal.

The goal is to create a thriving region for families to live. We hope to come to find solutions that will help expedite the process of getting properties entangled in the foreclosure process into the ownership of nonprofits to help supply the demand of entry-level housing that is affordable to middle-income and working families; develop a loan vehicle that will give access to CDCs and nonprofits to acquire and renovate distressed properties; and develop a unified housing initiative comprised of multi-sector partners to work toward the facilitation of REOs into safe and habitable homes for sale or rent.

We're hoping this event isn't the end but the beginning— spurring the creation of a housing initiative driven by multi-sector stakeholders working toward turning the report's strategies into viable solutions.

Join us at this panel discussion Monday, October 22 from 8:30 a.m.–noon at Adelphia Ballroom, 1750 Clements Bridge Road, Deptford. Please email wphardy@financialwellnessinstitute.org or theresa@landdimensions.com with any questions.

Wanda P. Hardy is CEO and president of Financial Wellness Institute and Theresa DiVietro is vice president of business development at Land Dimensions.