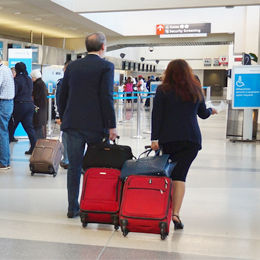 The Secrets of Philadelphia International Airport
The best ways to navigate the terminals before your next business trip
For the frequent business traveler, the headaches often associated with airline travel—long lines at security and unexpected flight delays, among others—are just a fact of life. But for South Jersey residents who are flying from Philadelphia International Airport (PHL), business travel doesn't have to be such a headache.

From pre-flight spa treatments and last-minute shopping to the best food and drink options on the concourse, here are some of the secrets of navigating PHL.



How to Save Time


For the business traveler, time is of the essence. Whether you'reflying to Chicago for a conference or overseas for an international business trip, at PHL, travelers can take advantage of two programs that will save time (and aggravation) at security.

TSA Pre-Check: For a five-year, $85 membership, domestic travelers are granted access to a separate pre-check line at security with shorter waits and fewer steps. For example, there's no need to remove your shoes or take your laptop out of your bag.


Global Entry:
If your job requires international travel, you're probably familiar with the hassles of waiting in line at customs and border protection to re-enter the country. A U.S. Customs and Border Protection program that allows expedited clearance for pre-approved, low-risk travelers, the Global Entry program invites travelers to walk right up to a kiosk, make their declarations, provide a photo and fingerprint and then proceed directly to baggage claim and the exit.

"When it comes to saving time and effectively navigating our terminals, these programs are truly game-changers for business travelers," says Rochelle "Chellie" L. Cameron, CEO of Philadelphia International Airport. "It's the best thing you can do to improve your experience at the airport."

Commuting: If you're driving to the airport, you can avoid scouring the parking garages in search of a spot; travelers can check the PHL website in advance to see all current available parking spots. Cardholders of the American Airlines Aviator MasterCard have access to reserved spots and discounted parking at the ground level of Garage B.

Travelers can also take advantage of SEPTA to get to the airport—trains stop at all of the major Philadelphia International Airport terminals and reach Center City Philadelphia in approximately 25 minutes with one intermediate stop. "A lot of folks drive, but using SEPTA can be both inexpensive and convenient … and now that school is back in session and traffic in our area can be a bit of a bear, it's a really positive thing for business travelers to have that option," Cameron says.

Maps: For even the most seasoned business traveler, airport layouts can often be confusing and overwhelming—but thanks to the terminal maps available on the PHL website, travelers can plan their route through the airport in advance. "We would give any traveler this advice: Make sure you know your terminal and how to get there," she says.

Where to Eat
Through a partnership with OTG and American Airlines, Terminal B is being re-imagined to offer new food and beverage services for passengers. "A lot of people want to get through security and rush to their gate because they're concerned about missing their flight. … But the problem is, they end up bypassing a lot of great food and beverage options along the way," she says.

That's why, at PHL, instead of only finding seats and a podium at your departure gate, travelers will soon find tables equipped with iPads where they can order food from any restaurant across the airport and have it delivered right to their table. Cameron notes that the service will be fully rolled out within the next few months. "If you haven't flown from Philadelphia in the past year, you really do have an incredible surprise waiting for you," she adds.

Other popular dining offerings for business travelers are local favorites like Chickie's and Pete's, Tony Luke's and Geno's Steaks. Recently, celebrity chef Michael Symon installed a tap house concept called Bar Symon in Terminal D, which services airlines including Delta, United and Alaska Airlines.

Things to Do
Among PHL's most unique offerings is a rotating art exhibit, Art at the Airport, for travelers with a bit of time to kill before boarding. Currently, Art at the Airport is a tribute to the Philadelphia Eagles championship season, which will be on display through June of next year.

The program has offered more than 300 exhibits by artists and arts/cultural institutions from throughout the Greater Philadelphia region since its inception in 1998.

Where to Shop
It may not be one of the newest stores at the airport, but Brooks Brothers is a popular retail location for business travelers browsing for a new suit—or the forgetful traveler who has forgotten to pack a tie. "I know travelers who come through our airport just to shop at Brooks Brothers," Cameron says. For ladies, she notes, the Spanx retail location is also a popular destination.

For the business traveler who leaves his charger at home, there are many shops in each concourse to purchase chargers and other electronics on the go.

Services
Of course, PHL also offers an array of services for business travelers to stay connected and get work done while they're on the go. In partnership with Comcast, an Xfinity Zone boasts hot spots offering the ability for travelers to take advantage of high-speed internet downloads. Travelers can also find comfortable seats equipped with stations to charge their laptops or download movies and TV shows to enjoy during their flight.

For those looking to relax—or catch a couple of Z's—PHL houses an express spa and a Minutes Suites location, which offers travelers a private retreat after the security lines within the terminal where they can relax, work or even take a nap. Working mothers can also take advantage of private nursing stations.

Those with access to an exclusive American Express Centurion Lounge (located in Concourse A West) will also find amenities including shower facilities, hot meals prepared by celebrity chefs, a full bar and semi-private napping pods and cube chairs.

"When you think about all of these programs and services we've been able to provide for our passengers—especially considering the fact that we offer more than 500 daily departures to 132 destinations, including 36 international destinations—I would say that Philadelphia International Airport is getting better and better every day," Cameron concludes.


To read the digital edition of South Jersey Biz, click
here
.

Published (and copyrighted) in South Jersey Biz, Volume 8, Issue 9 (September 2018).

For more info on South Jersey Biz, click
here
.
To subscribe to South Jersey Biz, click
here
.
To advertise in South Jersey Biz, click
here
.