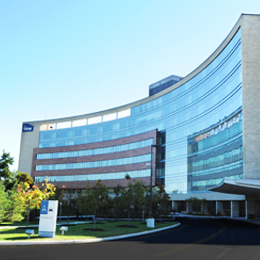 Taking Care of Business
Health services providers in South Jersey are adjusting their missions to meet consumer demands.
Success in business is not easy. Numerous variables can affect a move into the black or red—supply and demand, market fluctuation and economic changes among them—and it is unreasonable to expect to simply present a service to the consumer and achieve positive results.

While every industry can be affected differently by each variable, maintaining a finger on the pulse of consumer expectations and keeping services in line with these expectations is also imperative to moving in a constructive direction. Responding to consumer trends is paramount to success and as such, businesses must change—and continue to change—the way they work. Health services providers are no exception.

Organizations providing health services in South Jersey have always had a focus on the consumer —patients are their main business, after all — but they have been especially cognizant of consumer trends recently regarding availability of specialty care and advanced technology, among other trends, and have been working to develop programs that will stand up to these demands.

"What people want today are answers [to their health concerns] and they want to be able to access their care easily," says Joseph W. Devine, president, Jefferson Health New Jersey Division and executive vice president, hospital and health services, Jefferson Health. "Not only do they want to be able to see their primary care doctor in a timely manner but they want specialty care without waiting four to five weeks. They want their care quickly."

As the product of a merger just over a year ago between Jefferson and Kennedy Health, the organization Devine leads has begun to address this desire for seamless access to care and accessibility to care that may not have been available before, but it's still in thebeginning stages.

"We have been able to give consumers the choice to get more services done in New Jersey, but it's a transition that doesn't happen overnight," Devine says. "It's a multi-year transition."

A similar merger announced in June between Virtua Health and Lourdes Health aims to address the same concerns.

"While we are still in the early stages of planning, it'salready clear that Virtua and Lourdes share synergies around quality, culture and community," Virtua's president and CEO Dennis W. Pullin, FACHE, says. "By coming together, we will provide South Jersey residents with an expanded portfolio of services, greater access to care, and consistent, coordinated patient experiences."

In addition to merging to create a greater network, health care providers are also looking to expand their footprint to reach more of the population.

For Penn Medicine, that has meant the organization's doctors and nurses taking a trip over the bridge to a location in Cherry Hill, instead of the other way around.

"Penn Medicine's expansion into New Jersey gives patients access to exceptional clinical care but closer to where they live," says Tracey Commack, associate executive director of Penn Medicine Cherry Hill. "It gives them the option to see providers with the latest technology, clinical trials and innovation right around the corner."
Of course, improvements in technology are also making it easier for doctors to see patients in a quicker and more effective manner no matter which state they're in, Commack says.

"Technology is constantly making us more efficient but also more effective in our ability to treat our patients across multiple specialties and facilities," she says. "Penn Medicine's uniform electronic health record allows us to transition patient care from inpatient to outpatient effortlessly. Every provider can see all aspects of the patient's care no matter where within Penn Medicine they are seen."

When its new hospital opens in Mullica Hill in 2019, Inspira Health Network— whose current Woodbury location will likely be reconfigured to offer a variety of administrative, outpatient and ER services— will also be able to offer patients greater access to the latest in care.

"When our new hospital opens in the fall of next year, it will be the first new hospital in Gloucester County in nearly 45 years, and Inspira's second new hospital in the region since 2004," says John A. DiAngelo, president and CEO of Inspira. "It will feature the latest in communications and medical technology, allowing us to raise the bar for patient safety, clinical excellence and the patient experience.

"The new hospital will be an economic driver for the region as well," he continues. "When we opened our hospital in Vineland in 2004, there was a local construction boom as businesses, both medical and non-medical, wanted to locate near us. At our new Mullica Hill hospital, we anticipate an even greater impact because we are not just opening a state-of-the-art hospital, we are creating an 'eds and meds' hub with Rowan University."

Recognizing that patients do not just require their assistance when they are sick is another way health services providers are thinking beyond the traditional role of health care, says Barry H. Ostrowsky, president and CEO, RWJBarnabas Health.

"Hospitals have started to acknowledge the evidence that only 10 to 20 percent of what creates health is related to access to care and the quality of services received," he says. "The other 80 percent is related to social, economic and environmental conditions that affect the way people live and dramatically contribute to poor health outcomes and vulnerabilities in our communities.

"RWJBarnabas Health has always offered high quality clinical care but now we are transforming from an organization that primarily treats people when they are ill to one that helps keep populations well," Ostrowsky continues. "Addressing social determinants, such as economic stability, educational attainment and access to affordable healthy food and safe housing is necessary to achieve this goal because health inequalities are inextricably linked to social inequities."

RWJBarnabas is achieving this goal through its Social Impact and Community Investment Practice, with "the strategy to hire local, buy local, invest local to focus on conditions that contribute to poor health outcomes, reduced life expectancy and higher costs," Ostrowsky says.

Other organizations are also following suit. Virtua, for example, works with Ride Health to provide transportation for patients who otherwise may not be able to make an appointment, and it also recently opened a food pantry inside Memorial Hospital (in Mount Holly) that "aims to empower participants to manage their medical conditions through healthy eating and lifestyle changes," according to Pullin.

There is one hang up health services providers are facing despite their efforts to successfully meet patient needs, and that is physician shortage.

"A huge issue facing health service providers in the region — and nationally — is recruitment, a challenge that we see throughout our national footprint," says David Baiada, CEO, BAYADA Home Health Care. "As the need for health care increases, so does the demand for high quality clinicians to provide that care."

BAYADA, which recently became a non-profit, hopes to address the shortage by cultivating an inviting work environment and positive employee experience while seeking out highly qualified candidates for available positions. Part of this involves being able to offer patients and staff the latest in technology when it comes to care—BAYADA was actually the first home health care provider to offer nurses the opportunity to learn and practice their skills in a clinical simulation lab—but as Baiada explains, it's not always about the latest in technology when it comes to health care.

"Technology will surely play a huge role in the way health care is delivered," he says. "However, when I ask our clients and their families what we can do better, they say they just want us to keep sending great clinicians and aids who meet their needs.

"They're not looking for technology solutions; they simply want us to continue to provide great care," Baiada continues. "So that comes down to finding, engaging and developing the best people, and creating a great culture of people working together toward a common goal."

A school in the area that is also working to address the physician shortage is the Rowan University School of Osteopathic Medicine. The school's dean, Dr. Thomas A. Cavalieri, says RowanSOM enrollment has reached 200 for the incoming 2018-2019 class, with a goal to reach 300 students per class in the future.

"The people who live in South Jersey should not have to travel out-of-state to Pennsylvania and Delaware to receive world-class health care," he says. "Our continued commitment to class expansion will help ensure that the health care needs of South Jersey's population are not only being met, but being solved by the best educated and most skilled physicians."

As the aging baby boomer population requires more health care, as consumer trends continue to ebb and flow, and as technology improves, health services providers will continue to adjust their missions in order to successfully move forward.

In fact, several providers suggest the future of health care should involve continued joining together and expanding partnerships that can provide the greatest good.

"We need a partnership among New Jersey medical schools, New Jersey hospitals and the state government to collaboratively address the physician shortage and produce a better overall physician workforce to improve the quality of health care in our state," Cavalieri says.

Devine agrees.

"This is not about us competing with one another, it's about providing comprehensive care for the community," he says. "[Hospitals] are not-for-profits; we are owned by the community. And the community has the right to demand for quality care."
To read the digital edition of South Jersey Biz, click
here
.

Published (and copyrighted) in South Jersey Biz, Volume 8, Issue 9 (September 2018).

For more info on South Jersey Biz, click
here
.
To subscribe to South Jersey Biz, click
here
.
To advertise in South Jersey Biz, click
here
.