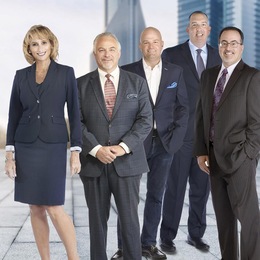 Who's Who in Real Estate
18 professionals who are dominating the commercial real estate industry.

The real estate industry, specifically commercial real estate, has seen tremendous growth over the last year— especially in the first two quarters of 2018 with hundreds of thousands of square feet of space leased and renewed across South Jersey. The men and women behind many of those transactions are in our first Who's Who in Real Estate list—a group of professionals who excel in all facets of real estate and are some of the top performers and producers in the area.

Surrounding themselves with a strong team and creating lasting relationships are just some of the reasons why they are so successful, along with an incredible work ethic. We can't help but think you'll be impressed with their accomplishments over the years and what motivates them on a daily basis.

JASON WOLF
Managing Principal, Wolf Commercial Real Estate (WCRE)
Wolf has 23 years of landlord, tenant and corporate representation experience specializing in office, retail, medical, industrial and investment properties in South Jersey and thePhiladelphia region. Wolf also has extensive corporate services experience representing Fortune 500 and mid-size companies throughout the U.S.He is proud to have been recognized by CoStar Group as one of the region's Top 20 leasing/sales brokers seven times. He is a member of the National Association of Realtors, International Council of Shopping Centers, Cherry Hill Township Mayor'sBusiness Council, Advisory Council for Columbia Bank and is a board member of Samost Jewish Family & Children Service of Southern New Jersey.

"Being a successful businessperson to me means surrounding yourself with an incredible team and culture. To succeed in business, one has to follow their heart and gut instincts. It's imperative to createmeaningful relationships and surround yourself with a great support system and top-notch professionals. I am a big believer in community and if we are allowed to succeed within our communities, then wealso have an obligation to give back as well."

JARROD GRASSO
Chief Executive Officer, New Jersey Realtors
Grasso is the chief executive officer of New Jersey Realtors,the state's largest trade association, serving the professional needs of more than 53,000 Realtors by offering programs and services aimed at conducting business successfully and ethically, as well as advocating for private property rights on the state and nationallevel. Grasso first joined the association in 1999 and was promoted to vice president of governmentaffairs in 2002. He served as NJ Realtors' chief lobbyist before reaching his current role in 2011.

"It is crucial to be an exceptional listener with an openness to communication. Keeping those lines of communication open in a member-focused organization is critical. Hearing from our members allows the organization to gauge where we succeed and how we can improve.It's also important to surround yourself with diverse perspectives and fresh ideas; you are only as good as your team. You have to be willing to accept different ways of looking at the same thing to ensure your company or organization moves forward and thrives."


RONDA ABBRUZZESE
Vice President of Marketing, The Nexus Properties
Abbruzzese is responsible for planning, organizing, development and supervision of marketing and leasing programs related to enhancing, promoting, developing and encouraging business attraction, retention and growthin the borough of Glassboro and for Nexus Properties. Prior to joining Nexus, she held positionswith the borough of Glassboro as their business development director, as wellas with the city of Woodbury astheir economic development director. Abbruzzese has demonstrated success in a business-led environment and proven expertise with a strong ability to improve processes, maximize productivity and introduce system efficiencies.

"Everybody has a great business idea; however, ideas are worth very little. It's those who understand organizing the idea to solvea problem is where success lies. Execution (and follow-up)is everything in business."

BRANDON DIXON
Chief Operating Officer, Tower Investments
Dixon has been working under the leadership of founder andCEO Bart Blatstein for the past 15 years and encourages his team to take an entrepreneurial approach toward deal management and operations. Dixon oversees the company's active real estate portfolio in the Atlantic Cityand Philadelphia markets and is responsible for managing the portfolio's commercial and residential leasing, assetmanagement and business development. In Atlantic City, Dixon oversees the management of the Showboat Hotel'son-site staff and is also responsible for overseeing the hotel's business development team. Under his leadership, the hotel has executed over 55 large-scale conventions, trade shows, food festivals and events on the property's former casino floor scheduled throughout the next year.

"A leader empowers those below and questions those above. True leaders don't create more followers; they create more leaders."

SUSANNE NEWMARK
President, Newmark Associates CRE
Newmark has served as founder and president of NewmarkAssociates CRE since 1986 and oversees all organizational activities, including transaction management and implementation; strategic consulting and project planning; and leasing and property management. At a time when many companies have reduced funding for staff enrichment, she cultivates leadership development of her professional team through facilitating participation in both informative and transformative learning programs. Additionally, Newmark is a member of the Women's Business Enterprise National Council—the nation's leading advocate of women-owned businesses as suppliers to America's corporations.

"The key traits of an effective leader are listening, caring and always trying to make a difference for people."

STEVEN DEPETRIS (CCIM)
Principal, Legend Properties, Inc.
A founding partner of Legend Properties, Inc., DePetris is also a member of DEPG Associates, a development entity with multiple mixed-use projects. His areas of expertise are tenant representation and site selection. In particular, he has excelled working with restaurant and retail chains at various stages of expansion, and most enjoys the task of bringing newly expanding chains into the Philadelphia marketplace. Currently much of DePetris' time is focused on the redevelopment of the Village of Taunton Forge Shopping Center in Medford, where he functions as project manager, coordinating all aspects of development, including governmental approvals, construction and site work contracts and land development.

"Even though I've been doing this for over 30 years, it's been an incredible opportunity to always learn new things in the commercial real estate industry. There are so many facets of our business— dealing with people, real estate and operations. Retail is ever changing, but it's still a business in which personal interaction and knowledge are still very important."

JIM DUGAN
Vice President of Real Estate, Delco Development
Dugan has worked for Delco Development for over 12 years, growing the profitability and footprint of their retail division since 2006. He has a passion and talent for identifying properties in need of revitalization. He looks for synergy when identifying and pursuing the perfect tenants to support the local economy and create jobs in communities where Delco develops. He has negotiated deals with large national brand retailers including Wawa, Walmart, Marshalls, Starbucks, Panera Bread, Aldi, Lowe's and many more.

"Success in real estate is driven by both patience and persistence. Finding a balance between the two leads to success."


FRED BERLINSKY, ESQ.
President, Markeim Chalmers, Inc.
Berlinsky has been with Markeim Chalmers since 1986. As president, he oversees all aspects of the firm's operations, strategic direction, business expansion and third-party brokerage. In addition, he has invested in the local real estate market. An active member of the professional and local community, Berlinsky is currently a board member of the Resource Real Estate Diversified IncomeFund and Resource Credit Income Fund. He has previously held nonprofit board roles with the Katz JewishCommunity Center and Volunteers of America Delaware Valley.

"Whether in a businesssetting or elsewhere, a key to being a leader is making everyone feel a part of the process and inner circle. Through the shared involvement comes the greater likelihood of success. It is also critical that one be honest and ethical—someone that can be trusted to have others' best interests in mind. Most importantly, a leader needs to always be available day or night, 24/7."


BRANDON ANAPOL
Senior Vice President of Brokerage Services, Metro
A member of Metro since 2005, Anapol specializes in tenantrepresentation on a national and regional scale. His active retail clients include Urban Air Adventure parks, Edge Fitness Clubs,Lumber Liquidators, Aspen Dental, Kirkland's, Orange Theory Fitness, European Wax Center and Jamba Juice. In addition, Anapol represents numerous owners ona project leasing basis. His professional experience has taken him throughout the U.S. andPuerto Rico.

"The best business advice I have receivedis to always seek to add value in every possible situation, even if that means that your services aren't the answer to the solution. If you are constantly seeking to help others, it comes back to you exponentially."

SAM LEONE
Regional Vice President, Conifer Realty
In his tenure at Conifer, Leone has held a critical role in the development of over 40 Conifer communities since he joined the company in 2007. Some of his corporate responsibilities include overseeing the plan review functions, ensuring development quality and consistency through the Conifer standards and providing continued mentorship to development team membersin all regions.

"Very early in my career I gauged my success by the volume of profitable and transformative real estate developments I participated in. Now, I gauge my success by how I am helping to grow, define and shape our industry, and by how I am enabling and elevating others at Conifer to find their own value in what we do."

K.C. ISDANER
Chief Operating Officer, The Bloom Organization
Isdaner joined The Bloom Organization in 1996 as vice president before being appointed chief operating officer in 2008. He is responsible for the firm's day-to-day operations, activities and communication between all departments, and directs short- and long-term planning efforts, leading the team to achieve its goals and maintaining the company's core principles. A long-time resident of South Jersey, Isdaner is highly active in the community—both professionally and personally—and is a strong supporter of non-profit organizations. In 2015, he was honored with a Lifetime Achievement Award from the Katz JCC, where he has served as president and was a board member for more than 20 years.

"It may seem cliché but a true leader needs to listen, keeping an open mind while understanding others' points of view even when different. It's also important to create goals and measure results. To be most effective, a leader must have vision—handling the present with eyes on the future."

CINDY WEINER
Vice President, The Flynn Company
Since joining The Flynn Company in 1992, Weiner has maintained over a 92 percent occupancy rate in all the projects she has been associated with through marketing and tenant retention. Formerly an asset manager with The Linpro Company, a national development company, Weiner's 30-plus years of expertise have involved the leasing and management of various high-profile projects, as well as lease and purchase negotiations between owners, buyers and tenants. With her experience in both landlord and tenant representation, Weiner can realistically advise clients in all facets of a real estate transaction.

"A successful businessperson will get the highest and best value for their clients. This is a professional who can provide guidance and knowledge, along with providing peace of mind for every client. Most importantly this person knows that you have gone above and beyond to always meet the needs of your clients."

JEFF SCHNEIDER
Managing Principal, Strategic Funding Alternatives, LLC
Schneider is responsible for identifying investment opportunities in commercial real estate properties for SFA and oversees general construction and day-to-day operations to ensure prompt execution of construction deadlines to meet financial projections. Prior to SFA, Schneider established The Mortgage Group in 1998 to originate commercial and residential mortgages in New Jersey and Pennsylvania, where the company booked in excess of$500 million.

"Being a successful businessperson is a balance of hiring the right people and empowering them to do their jobs. It means being able to operate a business profitably in a sustainable way. It means to provide a product orservice through thoughtful and quality construction and rehabbing methods, and attentive and effective property management."

JOHN J. GARTLAND
Managing Director, Cushman & Wakefield
Gartland focuses on partnering with clients to provide best-in-class service and build specific real estate strategies that align with their corporate objectives. He has over 12 years of experience in corporate real estate, financial analysis, contract negotiation and business development, and has been involved in numerous significant transactions in South Jersey. He has also developed partnerships with institutional clients including Exeter Property Group, Duke Realty, Prologis, Dermody Properties, Principal and Global Logistic Properties.

"My father, who has had a tremendous influence on my approach to business, has a simple motto: Keep your head down, work hard and remain grounded. His advice has defined my work ethic and guided me in undertaking even the most challenging assignments. It serves as a daily reminder of the importance of building partnerships with clients and fully understanding their objectives in order to develop a real estate strategy that best aligns with their overall corporate goals."

MARC ISDANER
Senior Managing Director and Principal, Colliers International
Isdaner has represented many local and national firms in the leasing and sale of most types of commercial and industrial properties, and is especially adept at developing and implementing marketing campaigns for the properties and clients he represents. He is involved in various real estate-related organizations and has been a speaker for the New Jersey Tax Assessors Continuing Education Program, South Jersey Appraisal Institute and Businesses Committed to Burlington County. He has been in the top 10 percent producers of all Colliers USA brokers on numerous occasions and continually the top Colliers producer in the Philadelphia area. In addition, Isdaner has consistently been recognized as a CoStar Power Broker Award Winner for the last 10 years.

"Listen and be open to change. Sometimes it's hard to hear anything when things come at you in tweets, texts and emails. Take the time to listen and hear what people are saying to you; continue to be one who is willing to learn. Stop staring at your phone and instead, pick it up and make a call or better yet, meet in person. It may seem old-fashioned, but it is still an ideal way to differentiate yourself as a highly effective, engaging and thoughtful leader."

SCOTT MERTZ, SIOR
President, NAI Mertz
Mertz began his career at NAI Mertz in 2001 and has since completed more than 900 transactions valued at in excess of $500 million representing over 18 million square feet of space. He is consistently one of NAI Mertz's top producers and continues to improve and perfect his brokerage skills through a commitment to evolving as a result of every experience, by attending educational workshops and seminars, and benefiting from an active sharing of best practices among industry experts. In addition to being a top producer and performer in this area, Mertz emerged as a leader on the global stage and was recognized in the top 10 and ultimately as the top producer of business globally.

"The best piece of wisdom shared with me became the cornerstone of my professional brand, which is ABA—always be available. Clients know when they have an opportunity or issue I am accessible 24/7 to help them maximize return, minimize risk or strategize solutions. Being available to client needs, whenever they arise, has proven invaluable and the source of decades of business, strong professional relationships and some treasured friendships. It doesn't get better than that."

JEFFREY LUCAS
Director of Business Development, Rose Commercial Real Estate
Lucas has many years of experience in the private and public sectors, and was previously director of economic development for Cherry Hill Township. During this time he led a revitalization program that brought over $250 million in commercial development with many new businesses, both small and large to Cherry Hill. For the past 10 years, Lucas has focused on the redevelopment of the Route 130 corridor in Burlington County. This includes the new Willingboro Town Center, anchored by a new township library, a branch of Burlington County Community College and 1,200 new jobs within the new Merck Medco fulfillment center. Additionally, he serves as president of the Medford Arts Center.

"A good leader hires good people, gives them the tools to do good work, encourages them to do their best and congratulates them on their accomplishments."


JAMES WHITESELL
Executive Vice President, Whitesell
Initiated by his father's encouragement to be involved on thefront lines to learn the family business, Whitesell's exposure to commercial real estate began at 12 years old. Years later, he moved into project management handling commercial tenantfit-out projects, and then into Whitesell's marketing and leasing department before leaving the family business to start his own development company in Philadelphia. Since his return to Whitesell and its leasing department over a decade ago, he has worked toward his current position of executive vice president and broker of record through shared oversight and participation in all leasing and marketing matters of the company's 9 million-square-foot office and industrial property portfolio.

"The best piece of advice was from my father when he gave me a copy of Viking Laws, which hangs on my office wall. I look at the laws from time to time and try to consciously apply them in work and life. The law regarding Be a Good Merchant has rules which are easily relatable— find out what the market needs, don't promise what you can't keep,don't demand overpayment and arrange things so that you can return—and inherently contain an ideology which promotes a foundation of good business and being a good person."
To read the digital edition of South Jersey Biz, click
here
.

Published (and copyrighted) in South Jersey Biz, Volume 8, Issue 9 (September 2018).

For more info on South Jersey Biz, click
here
.
To subscribe to South Jersey Biz, click
here
.
To advertise in South Jersey Biz, click
here
.