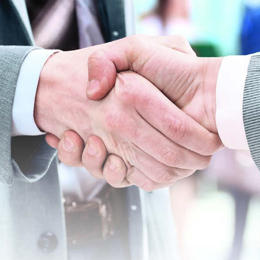 Businesses Committed to South Jersey
An organization dedicated to supporting business relations and economic growth in the region.
South Jersey has seen economic growth in various sectors over the past year, and there is an organization whose mission is to continue that growth, as well as focusing on commercial real estate development in the region.

At Businesses Committed to South Jersey (BCSJ), our goal is to bring superior information, knowledge- able presentations and relationship-building events to those in the community. Speakers consist of economists, developers, politicians, attorneys, brokers and other high-level executives.

BCSJ was initially founded as Businesses Committed to Burlington County, expanding to promote the common good and general welfare of the members of the South Jersey community in 2016. The focus grew to include the orderly development of the commercial/industrial and residential climate of South Jersey as a whole, ensuring that the highest standards of quality are maintained mainly through educational, public relations and promotional events.

The commercial real estate market has been booming in the past couple of years and BCSJ is committed to helping companies with business strategies to be successful. The membership is growing as we continue to provide updated data from varying viewpoints that affect real estate, our communities, our businesses and the people throughout the region. We encourage smart growth in real estate areas such as office, industrial, retail and multifamily.

As a member of BCSJ, you are part of a robust networking group to further your connections and resources in the South Jersey region. BCSJ values the opportunity to interact and network in a comfort- able business environment. We help one another grow our businesses, receive valuable insight and have fun.

Each event provides an opportunity for our members and guests to meet and network over lunch on the third Friday of the month. Luncheons provide a fun and social atmosphere with informative events ranging from topic-specific guest speakers to industry professional panel discussions and holiday celebrations. All are designed to support business relations and economic growth our region.

On Sept. 21, BCSJ is excited to welcome ESPN national correspondent Sal Paolantonio. Join us at Woodcrest Country Club for a lively discussion as Paolantonio talks about his new book Philly Special: The Inside Story of how the Philadelphia Eagles won their First Super Bowl Championship—the first and only week-to-week behind the scenes account of how one of the NFL's most storied franchises put together an improbable season to capture its first Lombardi Trophy. Having covered the NFL and the Eagles for 25 years, only he could write this book, an inside story from the team's storybook start to the nail-biting victory.

Cocktails and networking start at 11:45 a.m. and a buffet lunch is from 12:30-2 p.m. Preregistered members cost is $35 and at the door is $50. Nonmembers are able to register for $50 in advance or $75 the day of the event. For more information or to RSVP by Sept. 19, please contact Donna.Dolanlux@bdnreit.com.

Beverly J. Gerber is senior leasing executive of The Bloom Organization and Keith Langan is executive vice president of sales with Surety Title. Both are on BCSJ's board of directors.

To read the digital edition of South Jersey Biz, click here.

Published (and copyrighted) in South Jersey Biz, Volume 8, Issue 8 (August 2018).

For more info on South Jersey Biz, click here.
To subscribe to South Jersey Biz, click here.
To advertise in South Jersey Biz, click here.