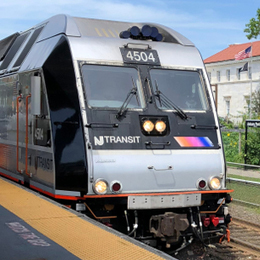 Connecting Communities
The proposed Glassboro-Camden Line is projected to have a major economic impact across the region.
When comparing South Jersey to Pennsylvania and North Jersey, it's no secret that our region is significantly underserved when it comes to a fixed rail transit network. Fortunately, a proposed 18-mile passenger rail line that will run between Glassboro and Camden—the Glassboro-Camden line (GCL)—is projected to alleviate some of South Jersey's travel burdens, as well as have significant economic impacts on the region, including education, tourism and housing.

"The GCL is envisioned to be a more convenient way to travel to work and other destinations than driving a car, which is the only option for most of South Jersey," says Michael P. Venuto, chief engineer for the Delaware River Port Authority (DRPA). When completed, residents willhave the option of walking to one of 14 new locations along the corridor, or driving to one of the park-and-ride lots to use the GCL for travel within South Jersey or into Philadelphia.

"The economic impacts are going to be significant; the line will open up the communities of Gloucester City, Woodbury, Wenonah, Pitman and Glassboro to future business development and transportation for local employees," agrees Marlene Asselta, president of the Southern New Jersey Development Council (SNJDC).

The GCL and River Line together would also offer connections to Trenton, where connections to New Jersey Transit or Amtrak can be made for travel to North Jersey or New York City. "South Jersey is located about 15 minutes outside of Center City Philadelphia— one of the top 10 largest cities in the United States—and yet most people living in South Jersey have to drive. Mass transit in South Jersey is limited to a few rail lines and several bus routes that sit in the same traffic as automobiles," Venuto says. "These new, faster connections will bring residents and businesses closer together across the region."

"Southern New Jersey is significantly underserved by fixed rail transit network relative to southeastern Pennsylvania and [North Jersey]. It's a key opportunity to address this deficiency and benefit the rapidly growing communities in [South Jersey]," agrees Gloucester County Freeholder Heather Simmons.

The proposed line plans to restore and add passenger rail services along the existing rail right-of-way using light rail vehicles, similar to the New Jersey Transit River Line. The Glassboro-Camden Line team is currently in the process of completing the environmental impact statement (EIS) for the project. According to Venuto, a draft EIS is expected to be released this winter, and later this year, the public, stakeholders, and local officials will have a chance to review the draft and provide comments on the findings. Once the EIS is complete, the project can move into design and eventually construction.

According to Simmons, when the study EIS is completed, it will identify potential positive and negative impacts to both the natural and built environments, to all potential users, the impact of construction on the community, and any additional effects to the area over time that would be created by the construction and operation of the light rail system. "One of the biggest challenges the project faces is the availability of funding for construction. Similar projects are being constructed all across the United States, whichmakes federal funds very competitive," Venuto notes. "Such a large undertaking will need support from officials at all levels ofgovernment."

In addition to meeting the increased travel demand, the proposed Camden and Glassboro terminals will support cities that have experienced significant growth over the last decade. The Delaware Valley Regional Planning Council estimates that Gloucester County's population and employment will grow by 29 percent between 2015 and 2045. "This is the highest projected growth of all the counties within the Metropolitan Planning Organization (MPO) planning area, and will need to be monitored closely to contain sprawl," Simmons adds. "The GCL will be integral to focusing this growth, as well as provide transportation and alleviate traffic congestion."

Specifically, the borough of Glassboro aswell as Rowan University have experienced significant growth and expansion—in fact, student enrollment has increased 50 percent since the GCL study began, and is projected to more than double by the time the rail line would be in service. "In addition, the Rowan University/Rutgers-Camden Board of Governors eds and meds program has transformed both Glassboro and Camden since 2000, and created a strong demand for connections between the two campuses," Venuto adds.

Simmons notes that with the Camden campus expansion and merging of the medical schools, the rail line will not only provide transportation for students and faculty, but will also help alleviate parking burdens. Along with providing employment opportunities to those who are transit dependent, the GCL will also promote direct benefits for the region's educational institutions; it will link key institutions, including Rowan, Rutgers-Camden, Camden County College, Cooper Hospital, and provide commuters an alternative to driving.

"Providing students an easy way to get from the Rowan Glassboro Campus to the Rowan/Rutgers Campus in Camden is important," Asselta agrees. She notes that it will also help address the activity generated by the new Inspira hospital in Mullica Hill.

"As Gloucester County continues to expand, having the right transportation options is absolutely crucial to help people get to and from work. … And for people who live here,it enables them to get into the city to make a living, and then spend their money back here supporting their local communities," says Les Vail, president and CEO of the Gloucester County Chamber of Commerce. "We have all of these jobs opening up ...and the question becomes, how will employees get here?"

In addition to providing enhanced commuter options for local residents, the installation of the GCL may also have a positive impact on other sectors of South Jersey's economy, including housing. "People who prefer to ride mass transit, especially trains, will gravitate toward the towns that have stops. This could cause a demand for housing and spur redevelopment and reinvestment in the towns along the alignment," Venuto says. "As infill and redevelopment take place around station areas, more local businesses will start to expand, and the types of services will begin to expand and grow to match the demand."

Indeed, the National Home Builder's Association, Urban Land Institute and National Association of Realtors show nationally that housing values within a quarter mile of a new station increased by approximately 20 percent. In New Jersey, NJ Transit's River Line and Hudson-Bergen Line communities experienced increased land values and economic redevelopment along these corridors.

"It's really a huge value; the businesses that are already here aren't leaving, and with all this growth, we're becoming very attractive to industries that haven't previously considered South Jersey—we have the land and infrastructure, but the one thing we've always lacked is a good transportation system that could help attract top talent," Vail adds.

Studies have also shown the benefits of transit-oriented development last a lifetime. "The aging population will benefit because the GCL will provide mobility choices that are currently limited, and will connect to a network of health care facilities as well as other establishments needed for everyday living," Simmons says.

Ultimately, both South Jersey's residents and businesses alike stand to benefit from the development of the GCL, whether it's a more convenient way to get to work or greater access to educational institutions and recreational venues. "More residents will be able to work, shop and connect with medical and educational institutions as a result of the increased accessibility provided by GCL," Venuto concludes. "This means more customers, clients and employees for businesses and nonprofit institutions—and greater opportunity for residents."

To read the digital edition of South Jersey Biz, click here.

Published (and copyrighted) in South Jersey Biz, Volume 8, Issue 8 (August 2018).

For more info on South Jersey Biz, click here.
To subscribe to South Jersey Biz, click here.
To advertise in South Jersey Biz, click here.