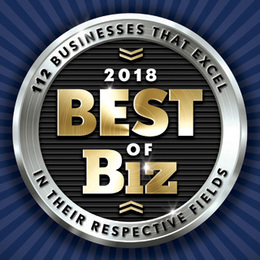 Best of Biz 2018
112 of South Jersey's most respected businesses.
Today, there are more businesses setting up shop all over South Jersey than ever before, and there are some that have called this region home for generations. From accounting, banking, engineering, financial services and IT support to business consulting, construction, real estate and trucking—you name it, South Jersey has it. But who can you trust for your organization's needs? Our Best of Biz list, compiled by editorial selections and readers' picks, is complete with companies that have proved to be the most reliable and excel in their respective fields.

EDITOR'S PICKS
ACCOUNTING
Alloy Silverstein | Multiple locations, (856) 667-4100, AlloySilverstein.com

BANK: BUSINESS
TD Bank | Cherry Hill, (888) 751-9000, TDBank.com

BANK: COMMUNITY
Capital Bank | Multiple locations, (856) 690-1234, CBNJ.bank

BANK: CUSTOMER SERVICE
Republic Bank | Multiple locations, (888) 875-2265, MyRepublicBank.com

BANK: ONLINE
Investors Bank | Multiple locations, (855) 422-6548, MyInvestorsBank.com

COLLECTIONS
Grimley Financial | Haddonfield, (800) 673-1414, GrimleyFC.com

COMPUTER SERVICES/ DATA SECURITY
PICS-ITECH | Mount Holly, (609) 702-3900, Pics-ITech.com

CONSTRUCTION COMPANY
DeSimone Construction | West Deptford, (856) 848-2897, DeSimoneConst.com

CONSTRUCTION MANAGEMENT
Greyhawk | Mount Laurel, (856) 722-1800, Greyhawk.com

CREDIT UNION
Credit Union of NJ | Multiple locations, (609) 538-4061, CUNJ.org

DOCUMENT DESTRUCTION
DOCUVAULT | West Deptford, (856) 209-4705, DocuvaultDV.com

DIGITAL ACCOUNTING
Ruotolo Spewak & Co. | Mount Laurel, (856) 273-1282, NowFinancialNetwork.com/RS-CO

EMPLOYEE BENEFITS
Assured Partners | Mount Laurel, (856) 795-4020, AssuredPartners.com
ENGINEERING FIRM


Bohler Engineering |

Mount Laurel, (856) 930-4000, BohlerEngineering.com
ENGINEERING: SITE AND CIVIL SURVEYING
Tri-State Engineering | Blackwood, (856) 677-8742, TriStateCivil.com
FINANCIAL PLANNING


Masso Torrence |

Marlton, (856) 988-6664, MassoTorrence.com
HOTEL


Hotel ML |

Mount Laurel, (856) 234-7300, TheHotelML.com


INSURANCE FIRM/BROKER
Lisa Carney Farmers Insurance |

Woodbury, (856) 202-8090
LAW FIRM: LABOR & EMPLOYMENT


Obermayer, Rebmann, Maxwell & Hippel |

Cherry Hill

,

(856) 795-3300

,

Obermayer.com





LAW FIRM: IMMIGRATION


Law Offices of Manuela Morais |

Moorestown

,

(856) 222-0130

,

Manuela-Morais.Squarespace.com
OFFICE FURNITURE


Bellia Work + Space Professionals |

Woodbury, (856) 845-2234, Bellia.net

PAYROLL PROVIDER
Abacus | Multiple locations, (856) 667-6225, AbacusPay.com
PROPERTY MANAGEMENT: COMMERCIAL
The Bloom Organization |
Mount Laurel, (856) 778-0300, BloomLLC.com
NAI Mertz | Mount Laurel, (856) 234-9600, NAIMertz.com
REAL ESTATE DEVELOPER
Nexus Properties
|
Lawrenceville, (609) 396-6800, NexusProperties.com
STAFFING
The Protocall Group |
Cherry Hill, (856) 249-0487, ProtocallGroup.com
Surety Title | Marlton, (800) 90-TITLE, MySurety.com
TRANSPORTATION
McCollister's |
Burlington, (800) 748-3160, McCollisters.com
———



ADVERTISING


Haven Media and Marketing |

Haddon Heights, (856) 323-8433

,

HavenMedia.net
Haven Media and Marketing is a full-service, woman-owned agency that provides exceptional advertising and design services driven by effective marketing and media strategies. Think of Haven as an extension of your organization to navigate the complex world of marketing and advertising. At the end of the day, clients appreciate their accessibility, deep understanding of the market and integrity.
ARCHITECTURE/DESIGN


City Invincible |

Camden, (856) 354-1223, City-Invincible.com

City Invincible Architecture, Interiors and Urban Design is a full-service design firm specializing in health care, education, multifamily residential, senior living, hospitality and city planning. Founded in 2016 and located in Camden, City Invincible represents the merger of three regional design firms—Alberto & Associates, Berzinsky Architects and LaVardera Architects—making "CI" both a new firm and a firm with over 40 years of combined professional experience. In 2017 the firm received numerous awards including SNJBP Project of the Year, Gateway Spirit of Community Award and The Anointed News Journal Circle of Winners Award.
BOOKKEEPING/TAX SERVICES


Business Accounting Systems |

West Deptford, (856) 853-5422, Bas-PC.com

Monthly accounting service from the South Jersey experts at Business Accounting Systems is a great way to ensure that your business has the most accurate and up-to-date financial information available. Their financial team provides convenient monthly accounting services to your organization and has served many clients from surrounding areas, including Philadelphia, Delaware and Maryland. Business Accounting Systems provides all the services clients need in one convenient bundle so they can get back to the job of running their business.
1st Colonial Community Bank | Multiple locations, (856) 885-2042, 1stColonial.com
Established in 2000 by Gerry Banmiller, 1st Colonial Community Bank has been investing in the future of its community for 18 years. In addition to its administrative offices in Cherry Hill, 1st Colonial Community Bank operates through two conveniently located offices in Collingswood and Westville. Earning a four-star rating for 64 consecutive quarters by Bauer Financial, 1st Colonial Community excels in areas of profitability, asset quality and customer service. The stability of their officers and lenders provides service beyond what is provided by most financial institutions.

EMPLOYMENT AGENCY


Emerson Group Moorestown |

(800) 875-9180, EmersonGroupINC.com
With offices in Moorestown and Center City Philadelphia, Emerson Group provides recruiting, staffing and consulting services to companies within all industries. Since 1971 they've operated on a foundation of the core values of honesty and integrity; fairness, respect and genuine care for others; and personal touch. Emerson's core purpose is to help others become more successful.
ENVIRONMENTAL ENGINEERING


GZA GeoEnvironmental |

Hammonton, (609) 567-9330, GZA.com
In 1964, GZA's founders shaped the firm based on the values of integrity, professionalism and loyalty. Since then, the company has grown into a major multi-disciplinary, employee-owned firm focusing on environmental, geotechnical, ecological, water and construction management services. The firm employs 650 people in 31 offices in the U.S.—including an office in Philadelphia. GZA's experts build on a legacy of trust through their personal commitment to excellence.
IT SUPPORT
Apex IT | Mount Laurel, (877) 799-2739, ApexIT.com
Apex IT Group provides IT solutions to technology dependent businesses in the Greater Philadelphia region. Core services include strategic IT consulting, IT outsourcing, cyber security consulting, cloud computing solutions and IT project services—delivering results through a proprietary process and mature managed services delivery model. Providing a disciplined approach to service delivery, Apex produces predictable outcomes that positively affect profitability and growth.
Lauletta Birbaum, LLC | Sewell, (856) 232-1600, Lauletta.com
Lauletta Birnbaum, LLC is a business-smart boutique law firm that covers the full spectrum of business law. They combine the expertise and results of larger firms with the high-level sophistication and value-consciousness of a smaller boutique. Lauletta Birnbaum represents private and public companies in various industries, including many in finance, real estate, software, data and high technology. They pride themselves on their ability to anticipate the needs of clients and react quickly to change, and help move your business forward. Previous awards include being a finalist in the smartCEO Circle of Excellence Awards and Most Trusted Boutique Law Firm of the Year by Acquisition International Magazine.
Telecorp | West Deptford, (856) 384-6000, TelecorpInc.com
Founded by Tim Jennings in 1998, Telecorp Inc.'s mission is to provide telecom and IT management for any size business. Located in Woodbury, Telecorp is an authorized dealer for some of the most technologically advanced manufacturers such as Cisco, Samsung, Avaya, Dell and HP. Telecorp also offers the best in carrier services,partnering with names such as Netcarrier, Comcast and Verizon. Telecorp was voted "The Best of Gloucester County" as Gloucester County's favorite IT/VOIP/Computer Company for 2017-18.

———

READERS' PICKS
ACCOUNTING


Friedman LLP Marlton |

(856) 830-1600

,

FriedmanLLP.com
Gold Gerstein Group LLC | Voorhees, (856) 770-1400, Moorestown, (856) 727-0100, G3CPA.com
ARCHITECTURE


RYEBREAD |

Mount Holly, (609) 265-2652, Ryebread.com
AUDITING


Baratz & Associates, P.A. |

Marlton, (856) 985-5688, BaratzCPA.com
Baratz & Associates is a leading Delaware Valley accounting, tax and business consulting firm dedicated to the success of its clients. Established more than 35 years ago, their accountants and consultants provide the highest standards of professional service to individuals and business owners with a unique focus on strategy and creative thinking. They provide accounting, certified audits, tax planning, valuations, acquisitions analysis, financial projections and consultation for negotiations and litigation. Through their partnerships with clients, colleagues and community, they build and further relationships that create solutions for financial success.
BANK: BUSINESS


Liberty Bell Bank Marlton |

(856) 830-1130

,

LibertyBellBank.com

BANK: COMMUNITY
The First National Bank of Elmer | Multiple locations, (856) 358-7000, ElmerBank.com
The First National Bank of Elmer (FNBE) is celebrating 115 years serving the South Jersey community. Since 1903, and in a time of corporate mergers, it is unique that a bank founded well over 100 years ago is still known by the same name and is still primarily owned by individuals who live in the area and near the bank and its branches. FNBE was, and is still known as "The bank of friendly service," with employees knowing their customers by their first names and serving in the communities where they live.
Parke Bank | Sewell, (866) PAR-KEBK, ParkeBank.com
BANK: ONLINE


Ocean First Bank |

Multiple locations, (888) 623-2633, OceanFirstOnline.com
BUSINESS CONSULTING


Hutchinson Business Solutions |

Haddonfield, (856) 857-1230, HutchinsonBusinessSolutions.com
For 18 years, Hutchinson Business Solutions has been working with clients, validating cost and providing opportunities for saving. Services include business taxes, communications, energy and insurance. They concentrate on the costs many people take for granted and identify sources of additional revenue that increase companies' bottom lines.
CATERER


foodwerx featuring Nicholas Caterers |

Cherry Hill, (856) 231-8886, foodwerx.com
CLOUD COMPUTING


PCH Technologies |

Sewell, (856) 754-7500, PCHTechnologies.com
COLLECTIONS


Quality Asset Recovery LLC |

Gibbsboro, (856) 925-1010, QarCollect.com
M&T Bank | Cherry Hill, (856) 428-9858, MTB.com
COMPUTER SERVICES/ DATA SECURITY


radius 180 |

Cherry Hill, (856) 282-1131, radius180.com
CONFERENCE CENTER


Crowne Plaza Philadelphia/Cherry Hill |

Cherry Hill, (856) 665-6666, IHG.com/crowneplaza
CONSTRUCTION


Whitesell |

Delran, (856) 764-2600, WhitesellCo.com
CONSTRUCTION MANAGEMENT


New Road Construction |

Cherry Hill, (856) 424-8888, NewRoadConstruction.com
A-1 Courier | Cherry Hill, (856) 424-8393, A1SJ.com
CREDIT UNION


South Jersey Federal Credit Union |

Deptford, (800) 582-7640, SouthJerseyFCU.com
DOCUMENT DESTRUCTION/ SECURITY


PROSHRED Southern New Jersey |

West Berlin, (856) 336-2820, ProShred.com/Southern-New-Jersey
ProShred Southern New Jersey provides onsite document and hard drive destruction through regularly scheduled service or one-time purges. Each solution is tailored to the client's needs resulting in customer satisfaction and leading to this third consecutive reader award for Best in Biz. The need to hold themselves to the highest levels of data security has resulted in them being not only NAID AAA certified, but also having the additional ISO 9001 certification. These audited certifications coupled with onsite shredding allow businesses to focus on other areas secure in the knowledge that they are complying with the latest legislation.

EDUCATION: CORPORATE TRAINING


Camden County College |

Blackwood, (856) 227-7200, CamdenCC.edu
EDUCATION: COMMUNITY COLLEGE


Rowan College at Burlington County |

Mount Laurel, (856) 222-9311, RCBC.edu
EDUCATION: COOPERATIVE


Rowan College at Gloucester County |

Sewell, (856) 468-5000, RCGC.edu
EDUCATION: HIGHER EDUCATION


Rowan University |

Glassboro, (856) 256-4000, Rowan.edu
EDUCATION: ONLINE


Wilmington University |

New Castle, Del., (877) 967-5464

,

WilmU.edu
Wilmington University is celebrating its 50th anniversary year as a private, nonprofit institution that is setting new standards for flexibility, affordability and academic distinction. The Wilmington University difference begins with work and life-accommodating year-round class schedules and full online learning capabilities, and it has one of the lowest tuitions in the tri-state region. Combined with an intense focus on academic excellence and individualized attention to students in both degree and certificate programs, the WilmU difference is reflected in every student's achievements and each alumni's success.
EDUCATION: MBA PROGRAM


Rutgers University-Camden |

Camden, (856) 225-1766, Camden.Rutgers.edu

EDUCATION: TECHNICAL
BCIT | Westampton, (609) 267-4226, BCIT.cc
ENERGY CONSULTANT


South Jersey Industries |

Folsom, (609) 561-9000, SJIndustries.com
ENGINEERING


Jefferis Engineering |

Runnemede, (856) 933-2005, JefferisEngineering.com
ENGINEERING: ENVIRONMENTAL SERVICES


T & M Associates |

Mount Laurel, (856) 722-6700, TAndMAssociates.com
EVENT PLANNER


Auletto Caterers |

Deptford, (856) 227-3800, Auletto.com
EXECUTIVE COACHING


Clear Path by Cindy |

Woodbury, (856) 534-7070, ClearPathByCindy.com
FINANCIAL ADVISOR


HFM Advisors |

Glassboro, (856) 232-2270, HFMAdvisors.com
M Financial | Marlton, (856) 810-7701, MFinancialPlanningServices.com
FULL-SERVICE MARKETING AGENCY
Thomas/Boyd Communications | Moorestown, (856) 642-6226, ThomasBoyd.com
GENERAL CONTRACTOR


Cipriani Builders |

Woodbury, (856) 853-8398, CiprianiRemodelingSolutions.com
Cipriani Remodeling Solutions has been doing home remodeling for the past 40 years and provides design/build remodeling services for kitchens, bathrooms, additions and whole home projects. They offer award-winning designs and building services with meticulous craftsmen, with a trusted team to help educate the client to make informed decisions; and to make it the easiest and most risk-free experience you can have, along with personal attention from start to finish.
GOLF COURSE FOR BUSINESS


Town & Country Golf Links |

Woodstown, (856) 769-8333, TCGolfLinks.com
GRAPHIC DESIGN


Bellia Print and Design |

Multiple locations, (856) 845-2234, BelliaPrinting.com
HUMAN RESOURCES CONSULTANT


HRComputes |

Moorestown, (856) 982-7162, HRComputes.com
Farmers Insurance: Joe Giacobbe | Swedesboro, (856) 214-3273
IT SUPPORT


TechStarters |

Cherry Hill, (877) 932-0040, TechStarters.com
LAW FIRM: BANKING/FINANCE


Capehart Scatchard |

Mount Laurel, (856) 234-6800, Capehart.com
LAW FIRM: CORPORATE


Archer |

Haddonfield, (856) 795-2121, ArcherLaw.com


LAW FIRM: EMPLOYMENT/LABOR
LaVan Law | Moorestown, (609) 593-0000, JLavanLaw.com
LAW FIRM: LITIGATION


Kaplin Stewart |

Cherry Hill, (856) 675-1550, KapLaw.com
Kaplin Stewart combines the depth and sophistication of a large business law firm with the agility and entrepreneurial spirit of a small one, allowing them to offer timely, practical and cost-effective results. Everything Kaplin Stewart does is based on their clients' goals and objectives, while being cognizant of their bottom line. They pride themselves on their responsiveness and accessibility, and these attributes have earned them the confidence of clients large and small, from Fortune 500 companies to closely held businesses; governmental entities, nonprofit corporations and individuals. With multiple offices to serve you, they provide the business and legal savvy that you and your company need to compete and thrive.
LAW FIRM: TRANSPORTATION


Mattioni |

Swedesboro, (856) 241-9779, Mattioni.com
MAILING SERVICES


Donnelly Distribution Services |

Pennsauken, (856) 663-2642, DonnellyDistribution.com





MANAGED PRINT SERVICES
Allied Document Solutions & Services | Swedesboro, (856) 241-2000, ads-s.com
Established in 1994, ads-s has evolved from a distributor of printing supplies to a full-service printing solutions provider for the Delaware Valley region. Headquartered in Swedesboro, ads-s has attained the highest partnership status possible with HP. With this accreditation, ads-s is a part of an elite group within HP's imaging and printing division. The company has also attained digital sending solutions status with HP regarding solutions around the printing environment.
MECHANICAL SERVICES: HVAC
Hutchinson | Cherry Hill, (866) 953-8728, HutchBiz.com
MEETINGS: HOTEL


Aloft Mount Laurel |

Mount Laurel, (856) 234-1880, AloftMountLaurel.com
MEETINGS: CONFERENCE


Camden County Boat House |

Pennsauken, (856) 661-3184, CamdenCountyBoatHouse.com
MERCHANT SERVICES


Envoy Business Advocates |

Cherry Hill, (856) 577-3360, EnvoyBusinessAdvocate.com
MOVING: COMMERCIAL


Anchor Moving & Storage |

Moorestown, (800) 292-0026, MoveWithAnchor.com
As an agent for Atlas Van Lines, Anchor Moving & Storage is family-owned and -operated and has been providing superior relocation services for residential and commercial clients worldwide since 1969. They have the capability to facilitate projects of all sizes, efficiently and on time, and develop a customized plan tailored to each client's specific needs. Anchor has been recognized by the NJ Warehouseman and Movers Association as a "Circle of Excellence" mover, awarded the "Super Service Award" from Angie's List for achieving and maintaining a superior service rating and ranked by Inc. magazine as one of the fastest growing companies in the Delaware Valley.
MULTI-MEDIA PRODUCTION


Graham Communications |

Woodbury, (856) 430-8082, Graham.Marketing
OFFICE EQUIPMENT


Shades of Paper |

Mount Laurel, (856) 787-9200, ShadesOfPaper.com
OFFICE SUPPLIES


Office Basics |

Moorestown, (856) 797-5700, OfficeBasics.com
PAVING CONTRACTOR


American Asphalt |

West Collingswood Heights, (856) 456-2899, AmericanAsphaltCompany.com
Primepoint | Mount Holly, (800) 600-5257, PrimePoint.com
PHOTOGRAPHER: COMMERCIAL


Dana Romano Photography |

(856) 858-9058, DanaRomanoPhotography.com
PRINTER


Astro Signs |

Glassboro, (856) 881-4300, AstroSignCo.com
PROPERTY MANAGEMENT: COMMERCIAL


Delco Development LLC |

Willingboro, (856) 234-5151, DelcoDevelopment.com
REAL ESTATE: COMMERCIAL /RETAIL


Markeim Chalmers Inc. |

Cherry Hill, (856) 354-9700




Markeim-Chalmers.com Markeim Chalmers is a full-service commercial real estate firm, servicing office, retail, health care and industrial markets throughout South Jersey and the Philadelphia metropolitan area. The firm is also involved in the sale and development of commercial land, acquisitions, property management, appraisals and investments. Founded in 1922, Markeim is one of the oldest and most respected firms in the area and maintains a strong commitment to community enhancement and charitable activities.
REAL ESTATE: COMMERCIAL BROKER


Wolf Commercial Real Estate (WCRE) |

Marlton, (856) 857-6300, WolfCRE.com
REAL ESTATE DEVELOPER: COMMERCIAL


Conifer Realty, LLC |

Mount Laurel, (856) 793-2078, ConiferLLC.com
SIGNAGE


Deptford Signarama |

Deptford, (856) 853-8099, Signarama-Deptford.com
STAFFING FIRM


SharpLink Staffing |

Pitman, (856) 582-2353, SharplinkStaffing.com
TAX ADVISORY SERVICES


CLM Advisors LLC |

Sewell, (856) 589-3100, CLMAdvisors.net
For over 10 years, CLM Advisors LLC has been focusing on increasing profits for South Jersey businesses. With their knowledge of accounting, fiscal management, finance and tax, they develop business plans to guide their clients to achieve their goals. They understand the intricacies of running a business, and as advisors, hold their clients accountable and keep them on track. Whether a business is succeeding, failing; or just getting started, CLM can help it prosper.
USA Phone | Cherry Hill, (856) 761-1000, USAPhone.com
AAA | Multiple locations, (856) 778-8800, AAA.com
TRANSPORT: LIMO


Albert's Transportation |

Mount Laurel, (856) 222-9600, AlbertsLimo.com
TRANSPORT: FREIGHT


Transense, LLC |

Turnersville, (856) 217-9776, TransenseLLC.com
TRANSPORT: TRUCKING


Gray Trucking |

Beverly, (609) 386-7887
WAREHOUSING


RLS Logistics |

Multiple locations, (856) 291-6900, RLSLogistics.com
WEB DESIGN/SEO


Commexis |

Haddonfield, (856) 520-8218, Commexis.com
WEALTH MANAGEMENT


Wilmington Trust |

Cherry Hill, (856) 330-8035, WilmingtonTrust.com
To read the digital edition of South Jersey Biz, click
here
.

Published (and copyrighted) in South Jersey Biz, Volume 8, Issue 8 (August 2018).

For more info on South Jersey Biz, click
here
.
To subscribe to South Jersey Biz, click
here
.
To advertise in South Jersey Biz, click
here