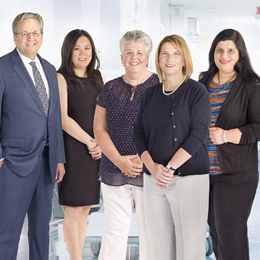 Who's Who in Health Care
These professionals are keeping up with the ever-changing medical landscape.
Our 2018 Who's Who in Health Care List is full of seasoned executives, doctors who have years of experience and provide their patients with quality care, researchers who are on the forefront of technology and educators who are teaching the next generation to be more prepared than they were—all while keeping up with the changing times. Despite the challenges, they continue to be advocates for those who need special care and to advance the state of local medicine in South Jersey.

Anthony J. Mazzarelli, M.D., J.D., MBE
Co-President, Cooper University Health Care
Mazzarelli has had various roles at Cooper University Health Care since his arrival in 1999. His most recent role prior to being named co-president was chief physician executive and senior executive vice president, where he had oversight of quality and patient safety for the health system, as well as oversight of Cooper's practice plan of more than 630 employed physicians who also serve as the faculty for Cooper Medical School of Rowan University.

Prior to that role, Mazzarelli was senior vice president of operations and deputy chief medical officer, where he reorganized the quality and patient safety department, which led Cooper to its recent first-time recognition as a "Top Performer" by the Joint Commission. Under his leadership, Cooper also realized significant improvement in the nationally recognized quality and safety Leapfrog Report Card.

"The biggest challenge by far for health care providers is costs continuing to rise while reimbursements from payers continue to decrease. Closely behind that challenge is a compassion crisis that is accelerating physician burnout— negatively impacting patient outcomes and increasing costs."

Nandini Kulkarni, M.D.
Director of Surgical Oncology, Inspira Medical Group
Kulkarni is a fellowship-trained, board-certified surgical oncologist dedicated to serving the people and communities of South Jersey. She completed her medical school training in 2000 at the Kasturba Medical College in Manipal, India, and trained in premier institutions in India for surgery and surgical oncology. She then completed her surgical residency at Abington Memorial Hospital followed by her fellowship in complex general surgical oncology at Fox Chase Cancer Center in Philadelphia. Kulkarni is double board-certified in general surgery as well as complex general surgical oncology, and specializes in liver and pancreatic resections, gastric and colorectal resections, treatment of breast cancer and soft tissue sarcoma, as well as the comprehensive management of melanoma and other skin cancers. With more than 12 years of surgical training and nearly 2,000 surgeries performed, she combines her passion for learning and research with genuine regard for improving the lives and experience of her patients.

"What drew me to the health care field was my father, who had a massive heart attack that required a triple bypass surgery when I was 13. He had an able team of surgeons and intensivists that pulled him through the episode in a relatively short period of time. He succumbed to the disease 10 years later, but the incident left me with the burning desire to be a part of the health care field. I knew from the beginning that my calling was in the surgical specialty."

David Libon, Ph.D.
Professor of Geriatrics, Gerontology and Psychology, New Jersey Institute for Successful Aging, Rowan University School of Osteopathic Medicine
Libon obtained his doctoral degree from the University of Rhode Island and then went on to receive training in clinical neuropsychology at the Boston VA Medical Center under the supervision of Edith Kaplan, Ph.D. Libon was an early pioneer in conducting research regarding neuropsychological syndromes associated with MRI evidence of white matter alterations and subcortical vascular dementia. For this research, he was honored with the Nelson Butters Award by the National Academy of Neuropsychology. More recently, he has used statistical modeling techniques to elucidate phenotypic syndromes in both dementia and mild cognitive impairment. Libon has recently co-edited a book on Edith Kaplan and the Boston Process Approach as related to clinical neuropsychological assessment. In 2015, Libon was honored by the International Neuropsychological Society with the Paul Satz Teaching Career Mentorship Award for his teaching and mentorship activities.

"The most significant change I have seen in health care over the course of my career revolves around reimbursement and how health care providers, i.e., many physicians and non-physicians, have comparatively little input or control over setting fees and actually being paid for services rendered."

Dennis Pullin
President and CEO, Virtua Health System
Pullin is a seasoned health care executive with operational and business development experience and has had leadership roles in hospitals, academic medical centers, physician group practices and private industry. He was vice president of operations and business development at St. Luke's Episcopal Health System in Houston; vice president of acquisitions and development at Symbion Healthcare, Inc.; executive director of the Baylor Sports Medicine Institute at Baylor College of Medicine; and chief operating officer at Hopestar Medical Management Group. Earlier this year, Modern Healthcare recognized Pullin as one of the nation's Top 25 Minority Executives in Healthcare. Under his leadership, Virtua Health recently signed an agreement to buy Lourdes Health System.

"As health care providers, it is our responsibility to align our services with the needs of the community. Today, that means focusing on behavioral health challenges—including the opioid crisis—as well as social issues that affect health, such as access to healthy food, transportation and housing. Virtua is addressing each of these critical areas through a range of innovative programs and partnerships."

Marilouise Venditti, M.D.
Vice President, Chief Medical Officer, AtlantiCare
Venditti is vice president of AtlantiCare, a member of Gesinger, which comprises AtlantiCare Regional Health Services, including AtlantiCare Regional Medical Center with three locations—ambulatory services and AtlantiCare Physician Group (APG), the AtlantiCare Foundation and AtlantiCare Health Solutions—an accountable care organization. She also serves as president of APG, which includes AtlantiCare urgent, primary and specialty care services. Venditti collaborates with the AtlantiCare leadership team to develop and implement business strategies aligned with AtlantiCare's goals of increasing access to quality care and enhancing the health and well-being of the community.

"We are not only keeping up with rapid enhancements in technology and more sophisticated science, but also proactively contributing to innovations in care. Most significantly, we are focusing on better ways to communicate with the diverse communities and generations we serve. We need to listen to and learn from patients and families—as we partner with them regarding important health care decisions."

Donna Antenucci
President, LHS Health Network
In her current executive role at Lourdes Health System, Antenucci holds responsibility for case management services within a three-hospital system, as well as operational oversight of its accountable care organization (ACO)—managing the care of over 80,000 commercial and Medicare lives. Antenucci shares in the success of that ACO, LHS Health Network, which recently demonstrated positive results in the Medicare Shared Savings Program, ranking fourth in the nation in total percentage saved. LHS Health Network was also recognized with the 2018 National Association of ACO's Innovation Award. Additionally, Antenucci has spearheaded innovative ideas in population health, as she and her team were awarded a Trinity Health Innovation Grant for a telemonitoring project, "Virtual Communication in Population Health."

"Cost is the most important issue facing health care today. Cost impacts every individual, including those with health insurance and those without. Oftentimes, those who cannot afford the cost of health care do not access the care they need. Ensuring high-quality care at a reasonable rate is what we strive for within an accountable care organization."

Lawrence Levine, D.P.M.
Founder, Foot Health Centers, P.A.
Levine is a podiatric surgeon who founded Foot Health Centers, P.A., in Cherry Hill in 1972. Forty-six years later, the practice is considered the largest and most comprehensive lower extremity care group in the region with 18 doctors in 35 locations throughout South Jersey.

Levine, a multiple award winner for health care innovation and top doctor honors, received his doctor of podiatric medicine degree at the Pennsylvania College of Podiatric Medicine and his undergraduate degree at Rutgers University. He holds multiple podiatric and orthopedic surgery board certifications and fellowships, and has taught podiatric medicine at Temple University and New York College.

"I have always been a people person and someone who people always came to for advice even at a young age. My academic strengths were always focused on the sciences and math, so health care seemed a natural path for me. I have been doing it for 46 years and never regretted a minute of it, regardless of the many twists and turns and obstacles which have occurred. I always say that if you play me a new tune, I will learn to dance to it."

Jeffrey S. Berns, M.D.
Director, Nephrology Fellowship Program; Associate Dean for Graduate Medical Education, Hospital of the University of Pennsylvania
Berns is professor of medicine and pediatrics at the Perelman School of Medicine at the University of Pennsylvania where he is also associate dean for graduate medical education and director of the Nephrology Fellowship Training Program, which is among the largest in the country and has a long historyof providing superb clinical and research training, allowing graduatesto embark on successful careers in clinical nephrology,teaching and clinical or basic science research. Berns has been practicing nephrology in Philadelphia for nearly 30 years and also sees patients at the Penn Medicine Cherry Hill facility.

"All I ever really wanted to be was a doctor. I grew up in an era where there were far fewer career paths for someone interested in the sciences. I was fortunate to have great role models and mentors along the way, from my family pediatrician to high school teachers to my professors in medical school and residency. It is a privilege to be entrusted with the awesome responsibility of being a health care provider. There is nothing else I would rather do 30-plus years later."

Susan Hall, Ed.D., MSN, RN
Dean, Division of Nursing and Allied Health, Rowan College at Gloucester County
Hall began her journey into the nursing profession as a student at Gloucester County College (now Rowan College at Gloucester County) and 21 years later serves as the dean of the college's Nursing and Allied Health Division. Hall was a licensed practical nurse before earning an associate's and bachelor's degree in nursing, and then a master's degree and doctor of education from Wilmington University. While the college's name has changed, the nursing and alliedhealth program continues to grow and be recognized for its academic excellence and quality instruction. Under the direction of Hall, RCGC has been ranked the No. 1 nursing program in New Jersey for the second consecutive year.

"In 1959, my mother graduated from Cooper Hospital School of Nursing and was employed as a registered nurse by Underwood Memorial Hospital (now Inspira Woodbury) from the late '60s until 1983. Growing up we were influenced by the Underwood community and engaged in events, such as holiday parties, unit celebrations, coworker celebrations and hospital renovations. The culture of Underwood Hospital was a positive influence, so nursing seemed like a natural career path."

Gregory Goodworth, M.D.
Chief of Body Imaging, South Jersey Radiology and Virtua Health
Goodworth's desire for the medical field started in Los Angeles where he taught high school math and science. He wrote a grant which was approved, resulting in $1 million to establish a health and wellness clinic on the campus, which was in a chronically underserved area. At South Jersey Radiology and Virtua Health he is part of a team with a robust and progressive women's imaging program that includes screening mammography, breast MRI and in-office biopsies for breast cancer. Goodworth went to Temple University School of Medicine and completed his residency and fellowship at the Hospital of the University of Pennsylvania.

"With respect to radiology, the biggest change that we have seen is the growing importance of our wellness and preventive health programs. There is a national imperative to keep people healthy and to catch disease at its earliest and most curable stage. Over the past few years we have developed and significantly expanded our cancer screening programs for lung, prostate and colon cancer with ultra low dose lung screening CT, prostate MRI, and CT colonography, respectively. These technologies and programs are evidence-based, definitively proving their efficacy and ability to help diagnose disease earlier and therefore minimize downstream morbidity, mortality and cost. This is our commitment to the mantra of catching disease early, optimizing treatments and having a healthier population."

Cathleen D. Bennett, Esq.
CEO, New Jersey Hospital Association
Bennett took the helm Nov. 9, 2017, as president and CEO of the New Jersey Hospital Association (NJHA), a nonprofit trade association representing New Jersey's hospitals, health systems and other health care providers that provides leadership on quality and patient safety, education and advocacy in both Washington, D.C., and Trenton. As CEO, Bennett oversees NJHA; the Health Research and Educational Trust of New Jersey, a nonprofit affiliate that promotes continuing education, patient safety, quality improvement and research; and the for-profit Healthcare Business Solutions, which provides group purchasing and other business solutions for health care providers.

"I think a myriad of health care's challenges, like quality of care and affordability, actually are rooted outside our health care system. A recent study from the United Way found that 40 percent of New Jersey residents are considered the working poor who face tough decisions about making ends meet. We need to take a broad holistic view—a societal view—if we want good health for our residents and sustainability and affordability for our health care system."

Joseph Manni
Executive Vice President and COO, Deborah Heart and Lung Center
Manni has been at Deborah Heart and Lung Center for over 30 years and has held various positions during his tenure at the hospital,including director of support services, administrator of Deborah Research Institute and director of materials management. Heholds a master's degree in health care administration from St. Joseph's University and a bachelor's degree inbiology from the University of Scranton. Manni is married with two children and lives in Medford.

"There are many challenges facing health care providers in 2018—quality outcomes, value-based payments, patient experience and consumerization of health care are certainly on the radar, as are clinical and data analytics, mobile health technology, medical device innovations, cyber security and the world of mergers and acquisitions. Ultimately, I believe we are all striving to provide the highest value and quality of care for the lowest cost."

Michael Monte Carlo, D.O.
Medical Director, Kennedy Health Alliance
Family medicine has been Monte Carlo's passion since medical school at UMDNJ/SOM (now Rowan College of Osteopathic Medicine), where he received the Alan Z. Gartzman, D.O., Memorial Award for demonstrating extraordinary dedication to family medicine. Serving compassionate, quality care is what Monte Carlo strives for each day, and he is on numerous committees for Kennedy Health Alliance to better serve his patients and toimprove the delivery and quality of health care in those communities.

"From the age of 5 I always wanted to be a doctor, but it was not until my teenage years after experiencing a personal health crisis that I truly realized being a physician was my calling. I love being a family medicine physician and being involved in all aspects of people's lives."

Pan Zhang, M.D., Ph.D.
Director, Sequencing and Microarray Center, Coriell Institute
Zhang oversees Coriell Institute's powerful, high-throughput laboratory capable of analyzing large volumes of DNA and RNA samples. The facility is also integral to the success of the Coriell Personalized Medicine Collaborative research study, as it performs genomeanalyses for the thousands of enrolled participants. Prior to joining Coriell Institute, Zhang was a senior research scientist with Weill Cornell Medicine New York-Presbyterian Hospital, where she was responsible for developing next generation sequencing for clinical oncology tests in molecular diagnostic laboratory and translational research studies. Zhang earned her advanced degree in neuropharmacology at the Peking University Health Science Center in Beijing, China, and her medical degree from the Shanxi Medical University. She acquired her doctorate in biomedical sciences from Rutgers Biomedical andHealth Sciences.

"Recent technological advancements have made personalized medicine possible, which has greatly improved patient care. New technologies allow deeper and broader exploring of [the] human genome and its association with human disease and health conditions. We are now in the era that personalized prevention is likely to become the standard of care, which will significantly change the landscape of health care."

Joseph Devine
President, Jefferson Health New Jersey
Devine has been instrumental in leading Kennedy Health through its merger with Jefferson Health and in this new era as Jefferson Health New Jersey, which began last fall. A 32-year-plus veteran of what until fall 2017 was Kennedy Health, Devine is an officer of the Corporation of Kennedy Health and an ex-officio of the Kennedy Universityboard of trustees. Under his leadership, Jefferson Health New Jersey (Kennedy Health) has been named a "Top Workplace" five times from 2014-2018. In 2016, then-Kennedy was the only hospital system in the United States to be honored as a Sepsis Hero by the Sepsis Alliance for its extraordinary sepsis detection and treatment program.

"The most important issue facing health care today is creating higher value at lowercost. With today's savvy health care consumers, it is imperative to move the industry toward meeting their demands, including innovations in technology, rapid diagnosis, easily accessible services and quality outcomes. We are doing this with ongoing revenue pressure from government payers, insurers and employers. There's a focus on creating alternative settings for appropriate care (such as outpatient services), while continuing to providehigh-level hospital services for acute care patients. Despite all these changes, we must never lose sight of providing the respect and dignity that patients require and deserve. It's the reason we exist."

Kaitlan Baston, M.D., MSc
Medical Director, Addiction Medicine, Cooper University Hospital; Assistant Professor of Medicine, Cooper Medical School of Rowan University
Baston is dual board-certified in family medicine and addiction medicine. As the medical director of addiction medicine, she runs the perinatal substance use program, the inpatient hospital consult service, general outpatient specialty care and medical education at both the graduateand medical school levels. Baston practices in Cooper's Urban Health Institute, working with an interdisciplinary team of like-minded, driven individuals dedicated to making change in Camden. She strives not only to create a home for patients with substance use disorders within the medical system, but also to end the stigma of addiction in societyand to ensure that all patients suffering from substance use disorders are offered treatments that can allow them to live full and satisfying lives.

"The single most important issue facing health carein our country is disparity. Large sections of our population receive inadequate or inappropriate care due to their race, economic class, geographic location, spoken language or stigmatized illness. This disparity in care manifests through limited access, disproportionate costs and the implicit biases intrinsic toour current health care system. Unfortunately, a health care system motivated by profit is inherently disincentivized to provide care for those people with greatest need. My career has centered on advocating and caring for those patients who would otherwise fall through the cracks in our societal safety net, especially those living with addiction."

Thomas A. Dwyer, M.D., FAAOS and Vincent N. Disabella, D.O., FAOASM
Premier Orthopaedic Associates
Dwyer and Disabella collaborated to restore athletes to optimal performance with new advances in interventional orthopaedics. These advances include the latest methods in platelet-rich plasma and stem cell therapy, which provide techniques that bridge the gap between simple injections and orthopaedic surgery with precision, allowing the best performance outcome for the patient. This procedure enhances healing and shortens recovery times for athletes of all ages.

Dr. Dwyer: "I was driven to the practice of orthopaedic surgery by a few factors. First, the practice of medicine is a privilege and absolute joy. Orthopaedic surgery is very goal-oriented. People usually have a specific problem that can be improved and allow a much better quality of life. Unlike so many areas of medicine where you simply manage chronic conditions, orthopaedic medicine offers a chance to really affect change."

Dr. Disabella: "I wanted to be a physician since I was a child. As a young adult, I was influenced by many good physicians in rural Pennsylvania where I grew up. Throughout my college years and further into my career path, I realized that I could pair up my love for both sports and healing by going into the field of sports medicine. I greatly enjoy working with athletes of all levels and ages."

Josh Kane, OTR
Occupational Therapist, HealthSouth Rehabilitation
Kane works with patients to develop, re-develop and modify skills to regain independence and optimize functioning with everyday tasks, with an overall goal of improving quality of life. He has been working at HealthSouth Rehabilitation for almost 11 years and runs the Occupational Therapy Student Program, coordinating clinical rotations for students in occupational therapy programs and providing a strong hands-on educational experience for the future occupational therapy practitioners. Improving his clients' quality of life and gaining the necessary skills and independence to meet their goals and return home and back into the community is what Kane finds most rewarding.

"I have wanted to pursue a career in the health care field for a long time. In high school I was introduced to physical, occupational and speech therapy [while] volunteering in many health care areas, and it was also during these years where I watched my grandfather battle Parkinson's disease and go through multiple rehabilitation facilities. Being able to help him as well as others was another strong influence that led me to the health care field, and ultimately occupational therapy."

William Adams, D.O.
Neuro-Critical Care Intensivist, AtlantiCare Regional Medical Center; Chief Medical Officer, Acuity Healthcare
Adams received his undergraduate degree from the Philadelphia College of Osteopathic Medicine, and his medical degree from the University of Medicine and Dentistry of New Jersey [UMDNJ]. He is board-certified in internal medicine, pulmonology and critical care.

"Having immediate electronic access to studies, trends and other clinical information rather than having to go to a medical library to read hard copies of journals has added to the efficiency with which we provide care for our patients. So, too, has access to real-time radiology images so we can more succinctly track changes in our patients."


Published (and copyrighted) in South Jersey Biz, Volume 8, Issue 6 (June 2018).

For more info on South Jersey Biz, click here.
To subscribe to South Jersey Biz, click here.
To advertise in South Jersey Biz, click here.