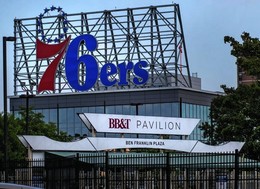 A Culture of Collaboration
Now more than ever, individuals are coming together to foster business growth across all communities of Camden County.
South Jersey is comprised of a bunch of communities, big and small, each one contributing to the whole economic engine. In Camden County, where some 500,000-plus people call home, there are goliaths, like Cherry Hill, with its ever-expanding development, and "Davids," like Somerdale or Berlin, aggressively pursuing projects that will make life better for residents and businesses alike. And there are stories of redemption, as seen in the city of Camden, where once businesses avoided is now experiencing a renaissance that is putting it on the map for good reasons.
Stan Molotsky, president and CEO of SHM Financial Group, who has owned his business in Camden County for 60 years, has been an eye witness to the growth. "The location has attributed to the tremendous growth," he says. "It's one of the best kept secrets in the world; we're close to everything, with highway access, quality education and universities, job opportunities. This expansion means community and large banks can service any needs of an entrepreneur with quality loans they need to create and compete. That makes it more attractive to a businessperson."
Camden County might not be a secret anymore, however, considering the activity. Louis Cappelli Jr., Camden County freeholder director, says an estimated $3 billion in private projects are underway in the county, with a majority in Camden City. "This private investment will result in 5,000 to 7,000 new jobs over the next few years," he says.
Places that have been yearning for action are starting to see it. Developers finally broke ground on the former 35-acre Pennsauken Mart site, which will become Haddon Point Commons, a gated apartment community appealing to young professionals. Stratford is also working on the redevelopment of Stratford Plaza, and Haddon Township's Westmont commercial corridor is bustling with new residents and a Planet Fitness that now inhabits the former Westmont Theater. Cherry Hill continues to attract national chains, with the recent approval for a (controversial) Costco and gas station at the Garden State Park site.
"Costco will be significant in that it will increase the tax base and bring in new jobs," Cappelli says. "Cherry Hill continues to thrive economically in every way."
The county is also investing in overall quality of life initiatives. Cappelli notes a 10-year infrastructure plan on roads, bridges and sewers, making them safer, which helps attract new development.
P arks and trails will also get their share of the love. Freeholder Jeff Nash says funding from the county and the state will work toward several projects. "There will be $30 million-plus in Camden City alone, and $25 million to dredge Newton, Atco and Kirkwood lakes, and significant capital improvements in New Brooklyn, Timber Creek, Berlin and Cooper River parks," Nash says. "The Cross County Trail—a 32-mile trail stretching from the Ben Franklin Bridge to Winslow Township—is under design."
All of this to make the county a better place to live and work. "Parks and open space enhance the quality of life for all residents in a community," says Nash. "It raises neighboring property values and brings a community together."
City of Camden
Speaking of coming together, nowhere d oes this seem to be more evident than in the county seat, Camden.
With the help of the Economic Opportunity Act of 2013, within the last couple of years, several companies have made the decision to call Camden home, including the Philadelphia 76ers training facility, Holtec International, Subaru, American Water and Liberty Trust. Cappelli says seven market-rate residential developments are also taking place and a new hotel will be coming to the city.
"There's never been a better time where there's a perfect alignment of policy makers, businesses and community interest to move Camden forward," says Kris Kolluri, the new CEO of Cooper's Ferry Partnership. "We measure prosperity inclusively, the jobs being created, the $30 million in parks, $40 million in transportation investment, almost $150 million in higher education buildings, $2.2 billion in private sector investments coming in. That is a holistic strategy and that's how you build a sustainable city."
Camden made a confident pitch for Amazon's HQ2, and although it did not make the cut for the top 20, Philadelphia is still in the running, which would still be a major benefit to Camden. "We are actively supporting Philadelphia in its efforts," says Cappelli. "We've made land available along the waterfront that could be cleared and easily accessible. We feel that's an important piece of Philadelphia's presentation moving forward." The 76ers training facility in Camden
Kolluri highlights Camden's cost of living as compared to Philadelphia. "We are roughly 30 percent cheaper than Philadelphia rentals, so you can present that value proposition to someone who works in Philadelphia and can live in Camden and get to work in less than 8 minutes via PATCO," he says. "Neighborhoods are the safest they've been in 40 years, and there are metrics to prove it."
Cooper University Health Care continues to make strides in the city and beyond. In 2017, it opened a new urgent care facility in Runnemede, staffed with board-certified emergency medicine physicians, joining others like it in Cherry Hill, Audubon and Cinnaminson. In response to demand for surgical specialties such as bariatric, vascular, pain management, urology and more, Cooper opened four new state-of-the art operating suites on its Camden campus. "This year, eight additional ORs will open, including a new interventional vascular suite," says public relations manager Wendy Marano.
In keeping with Camden's holistic view of lifting everyone up, Cooper announced the Cooper Health Careers Initiative (CHCI), an education and job training program in the field of medical coding offered free of cost to eligible Camden residents. Partners in the program include Camden County College, Camden County Technical Schools and Hopeworks N Camden, among others.
Marano says qualified participants will receive support and coaching toward completion of a certificate in medical coding offered by CCC. After that, they are eligible for a job with a work stipend at Hopeworks where they can gain further skills.
As Camden continues to rise from the ashes, Cappelli says the county as a whole will benefit. "What's good for the city is good for the county," he says.
Small Towns, Big Plans
Elsewhere in Camden County, mayors are leading the charge and forging new paths and identities for their towns. Cappelli com- mends them. "It's time for each mayor to take a look at the inventory and uses and come up with a plan on how to redevelop it," he says. "The mayors of Stratford, Somerdale, Berlin Borough and Berlin Township are all aggressively pursuing this."
Gary Passanante has been Somerdale's mayor for 23 years. He describes it as a quaint, blue-collar town with about 5,500 residents and growing. "It's small enough that you get to know people and you'll run into them at the store," he says. "We have a central location with a unique mix of a small-town feel with bigger city amenities. We have great access to main highways so you can be in Philadelphia in 15 minutes, or Atlantic City in under an hour. It offers a nice spot to settle in and raise a family."
The feather in Passanante's cap, so to speak, has been the rebirth of the old Lion's Head Plaza into Cooper Towne Center. "It's a 52-acre parcel and when we started redevelopment in the late 90s, it was a $7 million tax ratable. Today, that same footprint is approaching $67 million in ratables. It's a huge turnaround," he says.
Contributors include Wal-Mart, one of the chain's top performing locations, which has helped draw people in, and Flying Fish Brewing Co. Soon to be opening is Cider and Mead, says Passanante. "We want to make this a destination spot for taste testing," he says.
It's also appealing to millennials. "The 122 townhome units brought millennials to Somerdale, and that's good because we need to look to the future," he says. "This has become a walkable community for everyone living there and Cooper Towne has won four awards for the development."
He hopes to continue these efforts of rejuvenation with the newest proposal on the former Our Lady of Grace parish complex on White Horse Pike. Vacant for nearly a decade, there is a conceptual arrangement to develop homes, shops and a restaurant, while keeping the landmark church itself intact.
"We want to preserve the church and the school as much as possible," Passanante s ays, citing resident disappointment when nearby St. Gregory's Church was demolished in Magnolia for a Royal Farms.
Current plans have proposed 30-40 unit active adult apartments and 40-50 marketrate apartments aimed at millennials called "the Reserve at Grace." The rectory will transform into 7,000 to 9,000 square feet of retail space, and the church basement will be converted to a recreational and gym center, with meeting space, locker rooms and a permanent space for the St. Vincent de Paul food bank.
"The top floor of the church will be a restaurant, and the visual concepts of the development will retain the look and feel of the church," he says.
Passanante says things will move quickly, with a planning board application expected in April and demolition in July. "Our goal is to complete the conversion of the school by April 2019 and we're looking at reservations for the active adult units as soon as June, and phase two will be construction of the mid-rise buildings in April 2019 with units on the market by January 2020 at the latest," he says.
All of this aims to fill a void. "We don't have luxury apartments in the community at all, no active adult offerings either and we've already started to get calls and emails from people who want to put their name in," he says. "This is a chance to retain residents who have lived here 40 years and are looking for an adult community. We're filling out an array of housing needs, and turning a property with zero tax ratable into a taxable entity, which is going to continue to contribute to the expansion of the ratable base that has allowed us to keep taxes flat for years."
He continues, "This is a good testament to what small towns in Camden County can do if they put their mind to it."
Gloucester Township's Mayor David Mayer says the Gloucester Premium Outlets, which opened three years ago, have spurred a good deal of positive attention for the town. "That project created about 300 construction jobs and 600 retail jobs, and it's been positive for those employed and for residents of the community. It's brought people in to spend money, which is good for the local economy," Mayer says.
The outlets have been a launching pad for other developments as well. As mentioned previously, Maryland-based Royal Farms recently opened its first South Jersey location in Gloucester Township, with nine more planned, at White Horse Pike and Evesham Road. Along that same corridor of BlackwoodClementon Road, a new Republic Bank is under construction and the European grocery store chain Lidl will open. Mayer says businesses along the corridor will also be getting new facades. A Holiday Inn Express is coming to the corner of Black Horse Pike and Lower Landing Road, and off Williamstown Erial Road, a two-story, 58-unit assisted living community, All American Assisted Living, at Lakeside Business Park, will bring a variety of amenities and care facilities for elder care. Gloucester Township is also home to Founder's Grove, a new private estate wedding and event venue on Evesham Road.
All of these things are good news for Gloucester Township, but Mayer highlights a different challenge, and that's the identity crisis. "We have seven zip codes in Gloucester Township, none of them being called Gloucester Township. People say Blackwood, or Magnolia, but these are zip codes, not towns," he says. "In order to attract businesses you need an identity because if you just search for Blackwood or Glendora, you're not getting the full picture of the potential in Gloucester Township."
Mayer has launched a branding initiative, with signs all around showing the Gloucester Township name, and it's even emblazoned on police cars. An education campaign will be rolling out shortly. Businesses are being asked to rebrand as well, like the former Blackwood Plaza, which is currently under redevelopment as The Shoppes at Gloucester Township.
Mayer's goal is to continue helping new businesses but also the existing ones, and he notes a revolving loan program will be announced. "With the creation of an arts district on the Black Horse Pike and the Main Stage for the Performing Arts, we hope to bring more people into downtown," he says. "It's all about balance, between expansion and open space preservation and recreational endeavors—like the bike share program we launched last year—it's all tying into what's happening on the Pike, the outlets and arts district."
Preparing the Workforce
The business community has a strong partner in Camden County College, which is celebrating its 50th anniversary this year. CCC President Don Borden says the college is always asking what businesses need from it in terms of training for students to be gainfully employed. And the college responds and acts on the answers.
Examples include the aforementioned Cooper partnership for medical coding, or an apprentice program with Holtec International. CCC offered a 210-hour welding program, after which graduates may be able to transition immediately to employment at Holtec, says Borden. "These are examples of what we want to replicate throughout the Delaware Valley," he says. "We reach out to business partners and educate our students in a way that helps them hire capable employees."
Borden highlights manufacturing, robotics a nd machining as among the most in-demand fields, and says CCC has a robust auto tech program. "We're in the process of putting together a cyber security program because we see that as another necessary offering," he says.
CCC is also putting something in place they believe to be the first of its kind. In collaboration with Rowan University and the Rutgers University-Camden Board of Governors, CCC will offer the Alzheimer's Journey Coordinator Certificate Program, a series of four courses over six months and a 90-hour externship in health care settings in the local community. "So many families are dealing with this, and this program will train people who can be by the side of these families as they navigate what they need and what it means," Borden s ays. The program will launch fall 2018.
"Community colleges have to be all things to all people," says Borden. "We provide a quality education, and in a time when the debt crisis is ever more an issue, we are a conduit to employment. Camden County has embraced the idea of a partnership approach to post-high school education, not just in business and industry in cities, but in the southern end of the county. The governing body, the freeholders, are reaching out and being inclusive. It's an exciting time for higher education and everything we do is about providing opportunities for the citizens of South Jersey."
Image courtesy of Camden County Freeholders
Published (and copyrighted) in South Jersey Biz, Volume 8, Issue 2 (February 2018).
For more info on South Jersey Biz, click here.
To subscribe to South Jersey Biz, click here.
To advertise in South Jersey Biz, click here.