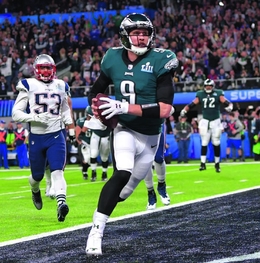 Flying High
The Eagles first-ever Super Bowl win will be a memory we won't soon forget.
When the Philadelphia Eagles soared to victory over the New England Patriots in Super Bowl LII, our lives were forever changed. For generations, a loyal, proud and dedicated fan base wanted nothing more than to see the team finally capture that elusive Lombardi Trophy. Now the franchise and those of us who bleed green along with them can breathe a sigh of relief as this team of self-described underdogs delivered a world championship.
To help celebrate this monumental event, South Jersey Biz reached out to area business leaders and asked them to sum up what this big win means to them personally in addition to examining the local economic impact. There's no doubt this team has captured our hearts and the love affair is only getting started.
The Eagles' historic playoff run and first-ever Super Bowl win had South Jersey in a state of euphoria during the second half of January and early February. But it wasn't just fans—many restaurants, bars, grocery stores and retail stores among others in this area had the same feeling, as the win made a huge impact on the local economy.
"I think there's always an increase when a team makes the playoffs. I think what we experienced in a Super Bowl setting is exponentially beyond a marginal increase of playoff games," says Eric Liguori, associate professor and Rohrer endowed chair in the William G. Rohrer College of Business and executive director, Center for Innovation and Entrepreneurship at Rowan University. "When we experience a home team making the game, we see a lot more camaraderie impact, a lot more merchandise and newspapers being purchased, a lot more people going to restaurants and bars celebrating and more retail establishments offering a variety of specials and deals that cater to that crowd of people."
Liguori also mentions how Super Bowl Sunday is one of the biggest "food days" of the year, even when your home team isn't playing in the big game.
"People like to barbecue and cook for the Super Bowl and I think the Philly area is a foodie city, it's only logical the restaurants and grocery stores experience a lot more impact," he says.
All five Zallie's ShopRite locations across South Jersey felt the impact, where they experienced a significant increase in their catering department the days leading up to the big game.
"With catering alone, [business] was up 40 percent on Super Bowl Sunday," says Giuliana Zallie, director of marketing of Zallie's Supermarkets, Inc. "The Super Bowl is always a holiday for us, but with the Eagles in it, it took it to a whole other level."
Local transportation, especially PATCO, also saw a spike in tickets purchased the day of the Super Bowl and the parade. Tickets ended up being sold out mid-afternoon the day before the parade, some waiting in line for up to an hour hoping to snag one. The long lines continued the morning of the parade.
"All the trains were sold out for the game, there was added hotel revenue and even Uber and Airbnb activity," Liguori says. "There was a lot of direct and indirect impact on the economy as a whole."
Crowne Plaza Hotel in Cherry Hill was one of the hotels in our area that reached maximum occupancy the night prior to the parade, according to Kristin Stahl, director of sales and marketing.
"Cherry Hill is typically first to feel this business compression any time Philadelphia hosts a major event. … The parade brought three times the volume of travelers compared to the same time last year," she says. "We hosted a mix between corporate business travelers who wanted to avoid the chaos, as well as the parade goers.
"Aside from the obvious business boost, the Super Bowl win for our city boosted the feel-good spirit and camaraderie throughout the building. Our team spent the week celebrating this long anticipated victory by sporting Eagles gear along with our guests; [there were] lots of Eagles chants and high-fives going around."
Michael Orr, owner of Nationwide Print- ing and Signs, says he felt the impact the week prior to the Super Bowl when the Eagles beat the Minnesota Vikings.
"From the moment the Eagles won the NFC Championship, the orders started pouring in," he says. "Just when we thought it could not get any crazier, the Eagles won the Super Bowl and round two started. Fortunately late in 2017, we invested in a new automatic press that allowed us to meet the daily demand of truckload after truckload of blank T-shirts and sweatshirts coming through our doors. Our team did a fantastic job keeping up with the pace sending those now screen printed t-shirts and hoodies out the door. As fantastic as this was for our business, we are even more excited to see the Eagles bring home a championship."
Camden County Freeholder Bill Moen was ahead of the game and proclaimed the Eagles Super Bowl victory last summer during training camp. At the dedication of the Governor James J. Florio Center for Coach Doug Pederson celebrates Public Service Building in Camden on Aug. 8th, 2017, Moen said the following:
"As everyone will see shortly, we expect the LED lighting on this building to become a bright beacon of energy for this fast-rising Camden skyline. The lighting will be used to commemorate special events. For example, the lights will turn green when the Eagles win the Super Bowl this season."
He said this in front of many peo ple, including former governors Jim McGreevey and Donald DiFrancesco, and other distinguished guests in attendance. The reaction from just about everyone— laughter.
And when the Eagles did win, Moen was ecstatic and celebrated with millions of others at the parade—something he said he'll cherish forever.
"When they won, I thought about my late grandfather and instilled a sense of pride. It helped take a burden off the shoulders of so many people in the region," he says. "I say that half jokingly but a burden in a sense that as Eagles fans, waiting for this moment for not my entire life, but for nearly the entire life of my father and for so many Lasting Impact others, that was something you carry with you every season. For so many people it was a generational win, and I think separate from the win, after attending the parade and being over there [in Philly] for a couple hours during and after the parade, it was a day I won't forget."
Many companies in our area were also in the Eagles spirit and had celebrations of their own before and after the Super Bowl, like TruMethods in Moorestown. Owner Gary Pica hosted an Eagles hype party the Friday before the Super Bowl where lunch was provided and employees were encouraged to wear Eagles gear. Additionally, employees were allowed to come in late the day after the Super Bowl and they were given a paid day off to attend the parade on Broad Street in Philadelphia.
It was a similar scenario at The Bloom Organization. The week of the Super Bowl, the office was decorated with Eagles memorabilia and balloons and like TruMethods, employees were encouraged to wear Ea- gles gear and were given the day off to attend the parade. For those who chose not to go, a party was held in the office and the parade was shown on television.
Employees at 7th Level Mortgage were also given off the day of the parade and customers were given special discounts and promotions in honor of the Super Bowl win.
Rothman Institute was in the Eagles spirit all season long. They held "Eagle Fridays" once a month where employees who dressed in Eagles gear were entered to win tickets to Eagles games and other prizes throughout the season.
Other companies, such as McDowell Law, PC, were in the giving spirit. In honor of the Eagles victory, they decided to sponsor the Maple Shade Youth Baseball league to help kick off their spring season.
Karen Morrison, owner of Sweetsboro Bakery in Swedesboro, is still celebrating a few weeks later. "I still have balloons from the day of the game in my window at the shop," she says. "There's so much to celebrate."
The Win Hits Home
What the Eagles' triumph means to South Jersey's business leaders
Jason Wolf, Principal, Wolf Commercial Real Estate
"The best part of the entire Super Bowl weekend was to be able to share in the experience with my son. This is a memory the two of us will have forever!"
Mike Regina, Owner, Big Sky Construction
"When the clock ran out, the ball hit the ground and five seconds went by without any flags, I felt 43 years of not winning a championship be lifted off my shoulders. Then to celebrate the victory with family and my closest friends, who are also diehards, made for an epic celebration. I'm still on cloud nine today. We are World Champions!"
Steve Graham, Owner, Graham Communications, LLC
"This Eagles season was one for the memory books. I had the opportunity to enjoy Eagles games in a variety of settings, including with family in North Wildwood; with my dad, a lifelong fan, at his home; with my wife, Patti, and son, Steve Jr., at an Eagles bar in Fort Lauderdale; singing the fight song at my daughter Megan's wedding reception in late December; sitting in freezing temperatures at Lincoln Financial Field on Christmas night; and finally with a large family gathering at my home for the Super Bowl, where our screams of joy were heard throughout the neighborhood. The joy carried over to the streets of South Philly for a massive parade celebration. It was without a doubt, the best season ever. Fly Eagles Fly!"
Rich Bradley, Public affairs specialist, AAA South Jersey
"This year has been unbelievable. The fact that the team did so well; especially considering all of the injuries they had to deal with the year is a testament to the team and the coaches. I was in a state of disbelief until I saw that final pass hit the ground as time ran out. It took a few seconds to hit me that we had actually won—being a Philadelphia sports fan, I expected to see a penalty flag, or time added back on the clock to give the Patriots one more play and one more chance to tie the game."
Gary Pica, President, TruMethods
"After the last play of the Super Bowl, there was this realization that after all these years, they had won. I just thought of what it meant to the city and thought back to all the Sundays spent with my friends and family. It's something we have in common, something that pulls us together. Going down to the parade, everyone was just so happy, so positive. I don't know too many things that can do that to the city. It was amazing walking around the city through different neighborhoods and watching the replay of the game on the jumbotrons. It was a great atmosphere.
"It was an easy decision to offer the day off to our employees [for the parade]. It was a nice, uplifting thing here. We wanted our employees to be excited about this moment and not feel like they had to use a day. You can say it's expensive [for the company] because we have production numbers to think about, or you can say it's cheap, because you don't get many chances to build up the company culture like this."
KC Isdaner, COO, Bloom Organization
Brothers KC and Marc Isdaner with family and friends "My first reaction to the Eagles win was to hug my son and I just started to cry—tears of joy, happiness and real emotional release. All those years of never reaching the top came to an end. Being in the stadium with my son, son-in-law, brothers and other family and friends where the energy and excitement when the ball bounced on the ground and the clock said 0:00 almost blew the roof off. My thoughts turned to my dad and father-in-law, who both saw the Eagles win the championship in 1960, but passed away before they saw the Eagles win the Super Bowl."
Rachael Brekke, J.D., MBA, Associate attorney, McDowell Law, PC
"The Eagles finally winning the Super Bowl means that we will never let anyone tell us we aren't good enough again. It means that hard work, teamwork, and confidence will take us wherever we want to go. It means that underdogs are hungry dogs, and hungry dogs run faster!"
Anthony Piccone, Chairman, 7th Level Mortgage
"As a lifelong Eagles fan, I was simply overjoyed that the Eagles had finally won the big game and the Philly curse was lifted. I remember vividly watching the Eagles games at my aunt's house in South Philly every Sunday as a kid and for me this game rivaled and certainly surpassed the excitement and joy of the first Miracle in the Meadowlands game."
Dr. Peter DeLuca, Rothman Institute
"I have been the team physician for the Philadelphia Eagles for 21 years and I have been part of many ups and downs over that time. Being on the losing end of a Super Bowl, as we were in 2005, leaves you with such an empty feeling. As the clock ticked to 0:00, there was a delayed reaction on the sideline. Everybody looked at each other and suddenly we all yelled, "We won!" Once that green and white confetti came flowing down from the rafters, all of those emotions from years past were released with tears streaming down my face."
Karen Morrison, Owner, Sweetsboro Bakery
"The win, to me, was something I obviously have been waiting for my entire life. I remember the 1981 Super Bowl and the 2005 Super Bowl where we came up short. This Super Bowl Dr. Peter DeLuca was special because it felt like it was their destiny. The Eagles had so many obstacles this season and yet they kept winning and overcoming those obstacles. I only wish that my father was here to witness it; he would have loved the win. So would have my brother-in-law."
Jon Hoffman, Operations manager, Primepoint
"I'm not certain which was more exciting, the Super Bowl win or the parade to celebrate, but one thing's for sure, sharing both with my family and friends is a memory I will cherish forever! Go Birds!"
Robert Kelly, President and COO, Evesham Mortgage
"Our entire company was so excited and so overjoyed to see this year's Eagle team come together as one against all the adversity and naysayers who doubted them. The Super Bowl victory meant so much to the entire region. I feel it brought people together and erased years of heartache and disappointment for all of us diehard Eagles fans."
Published (and copyrighted) in South Jersey Biz, Volume 8, Issue 2 (February 2018).
For more info on South Jersey Biz, click here.
To subscribe to South Jersey Biz, click here.
To advertise in South Jersey Biz, click here.