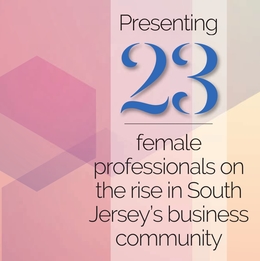 2018 Women to Watch
23 Female Professionals on the rise in South Jersey's Business Community
Strong. Empowering. Inspiring. These are some words to describe the women on the following pages who are not only thriving in their respective business sectors, but making a difference in the community. Whether it be volunteering at nonprofits, serving on various boards or being part of the local governing body during their "off" hours, making a difference in the lives of others in addition to performing at their peak professionally is important to these women. They are also proving that when you set your mind to something and stick to it, anything can be accomplished.
JEN SEGELKEN, vice president of community services, Philadelphia Freedom Valley YMCA
Segelken is passionate about the Y's mission to strengthen community through youth development, healthy living and social responsibility at one of the largest YMCA associations in the country, which serves over 160,000 members and 240,000 individuals at 21 locations throughout the Delaware Valley and the Poconos. She is responsible for unique programs that often take place outside the walls of the YMCA, including Soccer for Success, the Women's Opportunity Center and Y Achievers, among others. Identifying and building relationships with partners is a key component of this work that is essential to securing support for services that benefit those who need it most. Additionally, Segelken serves as a board member for Contact of Burlington County and as vice chair of the Burlington County Regional Chamber of Commerce Young Professionals Network, and volunteers for Camp No Worries and Community Treatment Solutions. "I've been fortunate to work for the Y for the past 18 years, so defining success comes from a place of community which I believe applies to many, if not all industries. That is, if in each day, we can do something that nurtures the potential of young people, helps families live healthier lives and allows people to feel more connected, then we have accomplished something great."
JEAN EDELMAN, co-founder, Edelman Financial Services
Edelman and her husband, Ric, are the founders of Edelman Financial Services, one of the nation's most popular independent financial planning and investment management firms. While her husband emphasizes the more traditional elements of personal finance, Edelman focuses on the other side of money, sharing her insights to help us see ourselves and the world around us in a positive, loving way. That is also the title of her book, which is a compilation of the many columns she's written over the past decade. A graduate of Rowan University, she serves on several corporate and nonprofit boards, including the Rowan University board of trustees. Edelman is a benefactor of the Inova Edelman Center for Nursing at Inova Health Foundation, The Edelman Planetarium and The Edelman Fossil Park—both at Rowan University. She also actively supports Boys & Girls Clubs, HEROES Inc., Make-a-Wish Foundation, The Leukemia & Lymphoma Society and many other charities. "Treat people with dignity and respect, and always have a very clear vision of why your business exists. If you focus on your customers/clients and your employees, the rest will take care of itself."
DR. EMILY COOPERMAN, senior architectural historian, PS&S
Cooperman is an architectural and landscape historian and historic preservation and cultural resource management consultant in practice for more than 25 years. A nationally recognized expert in evaluating the historical significance of buildings, structures and landscapes in the assessment of project effects upon such cultural resources, she has also taught undergraduate and graduate courses in art history, architectural history and landscape history and historic preservation. Her clients have included private property owners, attorneys, colleges and universities, local governments and state agencies, architects and landscape architects, engineers, planners, real estate developers, preservation advocacy organizations, historical societies and museums. "An effective leader not only has to have vision and inspire vision and passion in others by example, but also never loses sight of the true good of the organization. An effective leader understands that leadership is a means to an end and not an end in itself, even when that end is too far away to be clear at the moment. The most effective and durable leadership comes from strength of character and perspective as much as technical understanding. The strongest authority is a gift to an effective leader from those whom he or she leads, and doesn't come just from the title on the nameplate."
KATE GIBBS, head of business development, Engineers Labor-Employer Cooperative
Gibbs currently heads up business development for the Engineers Labor-Employer Cooperative, a collaborative trust focused on creating work opportunities for the members and signatory contractors of Local 825 Operating Engineers. In that role, she advocates to promote economic development and investments in infrastructure. In January, Gibbs was elected by her peers on the Burlington County Board of Freeholders to serve as freeholder director. Gibbs was first elected to the board in November 2015, becoming the youngest woman in New Jersey to be elected to a county- wide office. During her first two years in office, she served as deputy director, passing two budgets that cut county spending and taxes. Prior to joining the freeholder board, Gibbs served on the board of trustees for Rowan College at Burlington County, where she played an active role in establishing the college's partnership with Rowan University and the "3+1" program, which provides access to affordable, high-quality degrees. "If you are passionate about what you do, you will not only be happier; you will work harder and do a better job. Also—always carry a notepad and pen."
DR. JOANNE O'CONNOR, chief of staff to the president of Rowan University, liaison to the board of trustees
A member of the senior leadership team, O'Connor oversees a wide variety of strategic initiatives and works closely with external constituent groups. She is responsible for ensuring progress on major university-wide initiatives and advises the president on matters affecting the university. She is also a big supporter of women finding and pursuing careers at Rowan and serves as chair on the American Council on Education (ACE) Women's Network at Rowan, the statewide ACE board and the Girl Scouts of Central and Southern New Jersey. O'Connor also supports the Boys & Girls Club of Camden County, Gloucester County Chamber of Commerce, United Way of Gloucester County, Symphony in C of Camden and is president of the Haddonfield Memorial High School Alumni Society. "I am fascinated by leadership and read about it often. I believe effective leaders understand that collaborative approaches are ideal, but that there are times when you have to be willing to make a decision quickly and unilaterally. It is also critical to allow employees to learn and grow by providing them with opportunities while still holding them accountable."
SHEILA MINTS, ESQ., tax attorney, Capehart Scatchard
Mints specializes in health care transactional matters, including shareholder and employment agreements, purchases and sales of medical practices, including ACO and IPO transactions and practice mergers. She acts as general counsel to many large practices and ambulatory care facilities, assisting with transactional, tax, human resources matters and negotiation with payors and vendors. An experienced tax lawyer, Mints represents her clients before the Internal Revenue Service, the federal Tax Court and state taxation depart- ments in a variety of tax matters. Additionally, Mints serves as general counsel to the New Jersey Medical Group Management Association, which provides education, mentoring, advocacy and networking opportunities for health care professionals throughout the state. NJMGMA is a state affiliate of the national Medical Group Management Association. "Effective leaders guide and can act as sounding boards but don't micromanage. I'm happy when people show initiative and are interested in the projects they have. I think an effective leader remains approachable and is part of the team, not above the team."
LESLIE DILUIGI, senior vice president and retail market manager, Republic Bank
In her current position, DiLuigi is responsible for deposit growth and promoting and enhancing the Republic Bank brand throughout the market. Prior to joining the bank in 2017, DiLuigi spent two years as the senior vice president/ head of branch administration at ConnectOne Bank. She was the senior retail officer for Commerce Bank's Upstate New York and Vermont market prior where she supported a network of 68 stores. She's spent over 25 years holding various retail banking positions with Commerce Bank including South and Central New Jersey. DiLuigi maintains a strong commitment to the communities where she lives and works. She is currently on the board of directors for the Chamber of Commerce of Southern New Jersey as well as t he Junior Achievement of South Jersey. She was previously a board member of the Atlantic/Cape May County Community College Foundation and has been involved in a number of chambers and local business associations. "To be an effective leader, it is imperative that you listen to those you are leading. Take the time to understand what is important to them. Sound communication fosters mutual respect and builds stronger teams."
FLO RYAN, vice president, business development, Emerson Group
Ryan has over 26 years of business development experience in the staffing and recruiting industry. She joined Emerson Group in 2008 as director of business development. In 2015, Ryan was promoted to vice president of business development and is a key member of Emerson Group's Leadership Team. She is best known for her relationship development and follow-up skills, along with her dynamic personality. Ryan has the uncanny ability to make clients and candidates feel comfortable, and quickly becomes a trusted advisor. In 2015, Ryan was honored as a Delaware Valley HR Consultant of the Year nominee. She is currently a board member of the Tri-State Human Resource Management Association and has been an active participating member since 2008. "First and foremost you must have a good work ethic. Be persistent, have excellent follow-through skills, be sincere, kind and trustworthy; they are the foundation which I believe leads to a person's and company's success. Never give up, always strive to do what's right and remember the climb."
LAURA WALLICK, program manager, THRIVE South Jersey, New Jersey Community Capital
Wallick joined New Jersey Community Capital (NJCC) in February 2015 as the program manager for THRIVE South Jersey. In this role, she is responsible for managing relationships with funders, community stakeholders and partner organizations; promoting capacity building and financing resources to businesses, nonprofit organizations and public agencies; structuring transactions and tracking economic impacts. Prior to joining NJCC, Wallick spent over 25 years at the New Jersey Economic Development Authority where she served as the director of finance and development. In addition, she also served as the program manager of the Camden Economic Recovery Board. Wallick earned an associate's degree in business finance from Bucks County Community College and numerous certificates from RMA, NDC, CDFA, IEDC and Rutgers University Community Development Institute and Center for Management Development. "Being a successful businessperson means doing the right thing because it's the right thing to do. Throughout my career, I've had the privilege of working with many different entities and by working closely with each of them, I've helped to structure unique and creative financing solutions that in turn helped them achieve their goals. So, their success has fueled my success."
ESTHER DEBLINGER, PH.D., co-founder and co-director of the Child Abuse Research Education and Service Institute
Serving these leadership roles, in addition to professor of psychiatry and psychology at Rowan Medicine in Stratford, Deblinger has been awarded numerous grants to conduct research on the impact and treatment of child sexual abuse as well as other traumas. She and her collaborators developed, and extensively tested, TraumaFocused CognitiveBehavioral Therapy (TF-CBT), an evidence-based treatment program that has evolved as the standard of care for children and families impacted by trauma. She also collaborated on developing and evaluating another evidence-based treat- ment approach designed for parents at risk for child physical abuse and their children. Deblinger remains committed to ensuring that therapists, who dedicate their lives to caring for children and families impacted by trauma, receive optimal training while also receiving support to engage in effective strategies for self care. "A really effective leader is someone who is true to their mission and inspires others through their words and actions. In short, 'do as I say not as I do' doesn't work well as a parent, as a teacher or as a leader. I believe being a successful leader requires one to be an effective role model for those around you in your organization and beyond."
MARLENE LAO-COLLINS, executive director, Catholic Charities Diocese of Trenton
Lao-Collins was appointed executive director of Catholic Charities Diocese of Trenton (CCDOT) in January 2011. As CCDOT was entering into the start of its second centennial, Lao-Collins and her team identi- fied national and local public policy changes that would have significant impact on many of the services offered by CCDOT, especially to behavioral health which represents 50 percent of the services offered. Her team saw the need to make changes to their strategic plan. Lao-Collins worked with consultants, the leadership team and board to revamp its strategic plan and developed measurable outcomes to keep focused on becoming the provider of choice. Simultaneously, they continued focusing on creating centers of excellence that restore dignity and independence to individuals and families—especially the poor and vulnerable. "[My predecessor told me to] fill my own shoes. It was not up to me to be a carbon copy of someone else, but to draw on my own gifts, talents and instincts to lead this organization into the next centennial."
BARBARA E. LITTLE, trusts and estates attorney, Obermayer Rebmann Maxwell & Hippel, LLP
Little devotes her practice to all aspects of estate planning, estate and trust administration, estate trust and fiduciary litigation, business succession planning, nonprofits and family foundations. She believes the practice of law is about helping her clients plan for their future, protect their assets, and achieve tax savings toward the ultimate goal of creating a peace of mind and the client's legacy. She is sensitive to the personal and important decisions her clients have to make and provides steadfast guidance to each family's unique circumstances. Little walks her clients through the difficult conversations and legal maze creating well-thought-out estate plans focused on family values, diminishing taxes and protecting loved ones. "The best advice I received was the ethos of living—don't settle and don't just dream, action and risk are imperative. It is not always easy, sometimes it is simply a grind, but to wake up every day passionate and prepared—that is living. And at the end of the day, to look into the mirror, be thankful for your successes, acknowledge your mistakes and be proud you stayed true to your character and ethics—that is living."
KAREN PIERSON, general manager, co-owner, Town & Country Golf Links
Pierson spent 20 years in the heavy construction industry before taking on the day-to-day management duties at Town & Country Golf Links in 2003. Being a nongolfer allowed her to concentrate on running the business at hand, which she continues to operate like a large construction project on a spreadsheet. In the 15 years that she's been at the helm, the business continued to place course conditions as a top priority for their customers and have consistently turned out 30,000 rounds of golf annually. Under Pierson's guidance, the business has grown its Ladies League to over 100 members, instituted a highly successful golf academy providing instruction to over 300 juniors and adults each season and built a restaurant business with revenues rivaling that of the golf business. "The No. 1 rule is, never spend more than you earn. Cash flow is to a business what blood and oxygen are to the brain. You can have every activity working efficiently in your business, but if cash flow is cut off the business can die—sometimes overnight."
VERONICA PAIGE, assistant vice president of operations, South Jersey Federal Credit Union
With over 20 years of experience in the financial industry, Paige is grounded in her success. Her leadership style is centered by humility, passion and courage. During Paige's 16 years with South Jersey Federal Credit Union (SJFCU), she has earned six promotions. In her position at SJFCU, she has almost half of the total employees reporting to her. Paige has the ability to lead while striking a balanced understanding of the boss/employee dynamic. Taking pride in being a mentor, she guides and coaches her employees to grow and flourish. In the SJFCU headquartered community, Paige is a board member on the Deptford Business Advisory Committee and the SJFCU president/CEO awarded her a well-deserved Prestigious Gold Star Award for Leadership. Despite her praises, Paige considers her greatest professional accomplishment is watching employees evolve into professionals achieving new positions and executing challenges. "[Being a successful businessperson] means being a role model and being able to influence others to reach their desired success."
RENEE FIORELLI, president, Peterson Service Company
Fiorelli is a second-generation owner of Peterson Service Company, a commercial HVAC and smart building controls company started by her father, Samuel Peterson, in 1981. She began her career there in 1997 after graduating from the University of Delaware with a bachelor's degree in mechanical engineering and became president in 2007. Despite this being a maledominated industry, since Fiorelli took over, annual sales have increased each year and the business has grown and flourished under her direction. She dedicates herself to her employees and the industry by being active in the HVAC world as treasurer of the Mechanical Contractors Association of New Jersey, serving on the legislative and oversight committee and also serving on the board of managers for the Mechanical Service Contractors of America. In 2008, Fiorelli was named Contracting Business Woman of the Year. "My father told me early on in my career to always do the right thing. All of the decisions I make in my life and career are determined by knowing I did the right thing at the end of the day."
MICHELLE BANFE, vice president, Delco Development
Banfe believes that success comes from building strong "work family" bonds. She is consistently re-inspired by watching little successes unfold for each individual in the organization as they grow within the Delco family. As vice president, Banfe manages the operations of all Delco Development entities. The hustle and bustle of property management is great, but her passion stems from the hospitality division of Delco Development. She enjoys seeing smiling team members exceeding guest's expectations because she was a hotel general manager herself. A graduate of La Salle University, Banfe enjoys running races and doing projects with her husband and three children. "Empathy is the No.1 trait I believe all effective leaders must possess. It is obvious we can never be successful without the help of others; therefore, we must understand those around us—family, friends and co-workers. In addition to being an empathetic leader, a good leader must have the ability to self-evaluate and truly know what things they are good at. A good leader knows when to seek help from others."
NATASHA HEMMINGS, MPA, chief marketing and communications officer for the Girl Scouts of Central & Southern NJ
A long-time advocate of girl empowerment and leadership, Hemmings is a lifetime member of the Girl Scouts of the USA and has served the organization in various roles for more than 17 years. In her current position she has significant strategic and managerial responsibilities pertaining to both marketing and communications and retail operations. Hemmings graduated from The College of New Jersey with a bachelor's degree in communications and theater and went on to earn her master's degree in public administration from Rutgers. She has been selected to serve on Girl Scouts of the USA's national convention action team for the past four National Council Sessions. She is also a ctive as a volunteer, including serving as the vice president of the Barbados-American Charitable Organization of New Jersey and as a member of Executive Women of New Jersey, which is committed to increasing the presence of women serving on corporate boards of New Jersey companies. "To me, being a successful businessperson means that my work changed someone's life for the better—that I was able to be the change that I wanted to see in the world. To be successful means that there was purpose in my work, and my work is changing lives positively."
KATHY KOSTIUK, marketing manager, Greyhawk
Kostiuk's career in the construction management and claims consulting industry covers more than 30 years and includes experience in marketing, business development, administrative and technical support. She has played an impor- tant role throughout the years in establishing new office locations and supporting business operations on a corporate level. As the director of marketing and business development and a shareholder with Greyhawk, she has helped streamline the firm's marketing efforts and created more opportunities for success. Known as a mentor to her colleagues, she also leads training and education sessions among her other responsibilities. Kostiuk is involved with the Society for Marketing Professional Services— an organization dedicated to serving the architecture, engineering and construction industry—and has achieved recognition as a certified professional services marketer. S he is also active on the membership committee of Commercial Real Estate Women. "Early in my career I had a mentor that had a lasting effect on me and my professional career path. I did not know it at the time, but her advice to be confident, strive for success and be professional in all aspects of business have become a clear message that I readily pass on to others who follow in my footsteps."
PATRICIA HASSON, president and executive director, Clarifi
In her position at Clarifi, Hasson leads an organization committed to providing sound financial counseling and education services and helping its clients achieve "lifelong financial literacy." In her 20 years at the helm, Clarifi has tripled in size and now has more than 20 offices in New Jersey, Delaware and Pennsylvania, along with an administrative staff numbering more than 55. Hasson has received numerous accolades throughout her career, including the Prudential Leadership Award for Exceptional Nonprofit Boards in 2012. She was appointed to the board of the Philadelphia Federal Reserve as a Class B Director in 2016 and reappointed this year, and also serves on the oversight board for the Philadelphia Mayor's Office of Community Empowerment & Opportunity. Hasson has been an active member on various bank advisory boards as well, including the PNC Bank Regional Community Advisory Board and the Capital One Consumer Advisory Council. "I believe building an adaptable team and relationship building are two key traits of an effective leader. Circumstances are constantly changing in this current economic environment. Being flexible and finding new and different paths while keeping the team engaged requires a leadership style that is flexible and approachable. The stronger you are at building relationships in and out of your organization, the more successful you will be."
HELENE BURNS, MSN, RN, chief nurse executive, Jefferson Health
Burns not only has more than 30 years of experience in health care, but she has held various managerial and leadership positions for many of those years at hospitals in Pennsylvania, Texas and New Hampshire. She also spent 15 years in leadership roles at AtlantiCare Health System in Atlantic City. She has been in her current role since 2013 and is responsible for overseeing patient care services and nursing operations at Jefferson Health's New Jersey hospitals located in Cherry Hill, Stratford and Washington Township. Burns was named one of the New Jersey Institute for Nursing's "Divas and Dons" for 2012, recognized for her extraordinary impact on the profession and the community. She has been a member of the American Organization of Nurse Executives for many years; has served as a president of the Southern Pennsylvania Organization of Nurse Leaders; and is currently a board member for the Organization of Nurse Leaders New Jersey. "When I accepted my first nurse manager job at 27, I asked my dad for advice. He told me two things: 'It doesn't matter,' and 'Be nice.' I asked what he meant by those statements, and I learned my best lesson ever. My dad said, 'It doesn't matter if someone you work with has the most important title and makes the most money, or makes the least amount of money for the company, when you treat everyone with the same respect, you become a great leader.' I'll never forget his wisdom."
SUSAN ANDERSON, controller, DeSimone Construction
With Anderson's careful attention to detail and strong background in bank auditing, she processes subcontractor and vendor billings by ensuring compliance and her goal is to assist clients in understanding and feeling comfortable with the financial portion of their construction experience. In addition to being on the board of the South Jersey Construction Finance Association, she is a heavily involved in the Woodbury community as a member of the Greater Woodbury Chamber of Commerce. She also works on various committees with several organizations and volunteers in a joint effort with MSWI, GWCC and the Merchant's Association to actively support the local business and residential community. She also previously co-founded C.H.A.D.D of Gloucester County. "Leaders envision and express what they see in the future, keep in mind the lessons already learned and respect the individuals of the team they created. They would have surrounded themselves with those who bring new ideas to the table and really listen to those who are actually performing the work for ideas and solutions. Leaders know some decisions must be made quickly, others need to be explored and trust their team. They always respect those who they employ."
DENISE ZEMANIK, vice president and branch manager, Capital Bank
Zemanik was the seventh person hired when Capital Bank of New Jersey was being formed in 2007. As a highly regarded and well-known banker in the Vineland area, she was a great fit and made an imme- diate impact as the bank opened its doors. As vice president, branch manager and security officer, she has used her experience and professional attributes to help the bank grow into a highly successful community bank serving South Jersey. Zemanik is very active in civic and professional organizations as member of the Vineland and Millville Chambers of Commerce, the South Jersey Security Officers Association and as a coordinator for Challenger Little League. She started her banking career at Minotola National Bank as a teller in 1979 and through the years has completed various educational programs, including the Cumberland County Leadership Program. "A successful businessperson demonstrates dedication to people and the organization. They work hard, are a member of the team and have a good relationship with peers while respecting and supporting subordinates."
KRISTA EGAN, marketing director, Flaster Greenberg
As the marketing director for a commercial business law firm that serves clients across a range of industries, Egan's role is to support and execute marketing initiatives that fit with the company's overall strategy. Her strong communication skills allow her to work closely with Flaster Greenberg's marketing team, attorneys and other administrative departments. Her responsibilities include all aspects of marketing, project management, website maintenance, business development and more. Egan, who graduated from Rutgers with honors, previously worked as a marketing specialist for the New Jersey office of Ballard Spahr and joined Flaster Greenberg in 2009. Away from the office, she is active in her community. She is currently a councilwoman in Oaklyn—where she is the director of buildings and grounds—and also served on the Oaklyn Board of Education for six years. "Honestly, there's not one piece of advice that I consider the 'best,' rather a compilation of advice and encouragement from the many wonderful mentors I've had the fortune of working with and for. Validation of my abilities, encouragement to take a chance, and advice like 'Don't worry, you're not going to fail,' has helped tremendously in how I see myself and how I approach my job."
Published (and copyrighted) in South Jersey Biz, Volume 8, Issue 2 (February 2018).
For more info on South Jersey Biz, click here.
To subscribe to South Jersey Biz, click here.
To advertise in South Jersey Biz, click here.