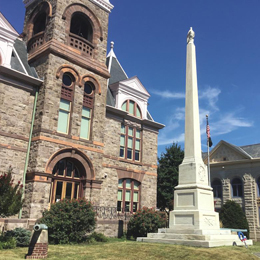 Ready for Revival
Around Town
Dubbed as one of the nation's oldest "small cities," Woodbury spans just a little over two square miles and is home to around 10,000 people. And while the city has faced its fair share of hardships over the years, it's not a secret to the business leaders and influential people of the community that Woodbury is making the trek to greatness.
Mayor Jessica Floyd, who has been on the job since the beginning of the year, says there are plans to revitalize the problematic areas of the city that have been vacant for far too long. Those plans include acquisition, demolition and sales to interested developers who share Woodbury's vision of revitalizing their community. Floyd says the city has many locations that are appealing for both small- and large-scale projects.
"We have greatly benefited from the new additions [of] Councilman Ken McIlvaine and City Administrator Scott Carew," notes Floyd. "Together, they have accomplished more economic progress in a few short months than in previous decades. Their experience and expertise have proven invaluable."
It's no secret that the city has seen a resurgence in recent years and this is thanks to the hard work of residents and nonprofits stepping up to increase Woodbury's appeal in the business community. "Partnerships with organizations like The FAF Coalition, Woodbury Old City Restoration Committee, Main Street Woodbury, Merchants Association and the Greater Woodbury Chamber of Commerce have resulted in the creation of many events to showcase Woodbury's potential as a destination to live, work and play," says Floyd. "It is exciting to see our social calendar filling up so quickly."
Andrew Bellia, president of Bellia Print & Design, echoes Floyd's sentiment and specifically notes The FAF Coalition's opening of the summer pop-up Lot 323 in 2016 and again at the beginning of this past summer. Tucked away from Broad Street in the parking lot at West Centre and Russell streets, a passerby may miss it as it is hidden from the hustle and bustle of Woodbury's main drag. The area invites people every summer to come together to enjoy and transform the community.
"Lot 323 has been a great addition to the town bringing outside people in and showing off all we have to offer," says Bellia.
Bellia says their family business thrives because Woodbury is a friendly and supportive community that is centrally located to all highway systems and is close to Philadelphia. "We have made it our home now for 45 years and we are here to stay," he says. "There is a lot of opportunity in Woodbury. The business community welcomes change that will continue to produce opportunities for investment for the betterment of the town."
Patrick Nolan, chief operating officer of Inspira Medical Center Woodbury, says Woodbury is an engaged community that is very excited about its future and is remembering and building upon its past experiences.
"The very vibrant chamber of commerce— both in Woodbury as well as Gloucester County—certainly feeds off the excitement in the Philadelphia region right now and also in the Camden County area," says Nolan. "Woodbury also has a lot of tradition and, not only that but, forwardthinking individuals who really care about the community and love what it has to offer to its citizens."
Nolan says one thing that still surprises him that he finds unique to Woodbury is that it is a walking community. "There is no bus service to the local schools because it is all within that mile geographic radius and we see that," says Nolan. "We have three bus stops around the hospital and we have patients, employees and visitors who utilize that service to access us."
As a health network, Nolan says Inspira has been in a hyper growth mode during the last 24-plus months with opening up physician office practices, urgent cares and imaging center settings and continuing to expand the services at their Woodbury hospital.
A new addition Inspira has added at their Woodbury hospital is implementing the use of robotic surgery at the beginning of this past summer. Just focusing on general surgery at the moment—in hopes to move to urological procedures sometime this month and following with gynecological—the use of robotic surgery for less invasive procedures will improve the quality of the procedure as well as recovery time for the patient.
Soon after that addition, Inspira also recruited a new bariatric surgeon who will begin programming and implementing their bariatric surgery program this fall with hopes to start doing procedures themselves during the first part of 2018.
"We are [also] anxiously awaiting the completion of our radiation oncology center which is being built across the street [from the hospital on Oak Street]," Nolan adds. "It's going to be a fabulous building with state-ofthe- art technology but really a state-of-the-art experience."
This center will give Inspira the opportunity to actually have a window in the treatment area where the linear accelerator is, so that patients can look out and see a garden and natural light when they enter and exit the room. "The vast majority of all linear accelerators and where people receive radiation oncology treatment are named vaults for a reason," says Nolan.
Dr. Anthony Wehbe, chief population health executive at Kennedy Health Alliance, says their health network has also seen significant growth in the last 18 months.
"We've been in West Deptford since 2010, that was our very first Kennedy Health Alliance office. Our Kennedy Health Alliance is our employed physician group. It's a subsidiary of Kennedy Health System. We opened back in 2010 and we outgrew the space," explains Wehbe. "Because of the tremendous growth, we went to three physicians and three nurse practitioners in that period of time, we decided last year to expand even more and that's why we went from about 5,000 square feet to a little over 9,000 square feet in our current space in Woodbury."
Wehbe says the location for their new Woodbury office in Gloucester County is great. "It's good for business because of the new opportunities that are there. I know Woodbury has gone through its struggles over the years, but we really believe that care should be delivered locally and that's why Kennedy has expanded into that area in Woodbury." After officially merging with Jefferson Health in September, Wehbe says the partnership is excited to deliver even more local services to the community and is in the planning stages right now.
"We've expanded OB-GYN services in the area because a lot of patients who come from that area deliver at our Washington Township hospital and have procedures in that hospital," says Wehbe. "We are also adding breast surgery, vascular surgery and bariatric surgery. So we are adding both existing Kennedy services and Jefferson services to that area so for us, it's an opportunity to serve our patients locally right in their community of Woodbury."
John Campbell, the executive director of the Greater Woodbury Chamber of Commerce, says their chamber membership has grown to 298 members with their Coffee Clatches on the last Wednesday of each month increasing to 70 businesses attending for networking and building relationships. "Being a Greater Woodbury Chamber of Commerce member is probably the most effective way to meet your fellow business people in the surrounding communities," explains Campbell.
While Campbell also mentioned The FAF Coalition's work within the city, he pointed out the Woodbury Old City Restoration Committee as another positive influence in the community. "They are instrumental in preserving the historic character and the historic structures of the city," he says.
Main Street Woodbury is another organization that Campbell says is helping to improve the city's community life. Campbell says the nonprofit organization's mission is to revitalize the downtown district by promoting events to bring feet to the street for economic development.
"I like the people of Woodbury and the genuine caring attitude of helping each other to do business with one another," says Campbell. "Woodbury is seeking a new direction to build upon uniting the cultural past of the city with future advancements in designing a path to its future."
Published (and copyrighted) in South Jersey Biz, Volume 7, Issue 10 (October, 2017).

For more info on South Jersey Biz, click here.
To subscribe to South Jersey Biz, click here.
To advertise in South Jersey Biz, click here.