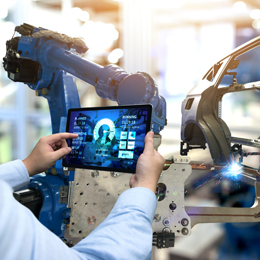 Can Manufacturing Make a Comeback?
October 2017
Despite a common misconception that it's on the decline, South Jersey's manufacturing industry remains a significant piece of the regional economic puzzle.

From life sciences to food to biopharmaceuticals, along with traditional industries like metalworking, John W. Kennedy, Ph.D., chief executive officer for the New Jersey Manufacturing Extension Program (NJMEP), notes that New Jersey is home to more than 10,000 manufacturing companies that employ some 350,000 people.

Fortunately, the state is offering support for South Jersey's manufacturing companies to continue to thrive. Recently, state legislators renewed their mission to strengthen New Jersey's manufacturing industry and help employers put local residents back to work by establishing a bipartisan Manufacturing Caucus; the first meeting was held in September and addressed policies that include improving partnerships between education and manufacturing, research and development, and job creation and retention. With the support of more than a dozen state legislators, the Manufacturing Caucus will meet frequently to discuss the opportunities and challenges facing the state's manufacturing sector, as well as host discussions with industry experts and share information.

"There's a common misconception that manufacturing is dead, but that couldn't be further from the truth. That's why it's so important to host local events like Manufacturing Day this October and create this legislative caucus to create a voice for the industry," Kennedy says.

NJMEP has been a strong advocate and partner of the Manufacturing Caucus, and works closely with legislators across the state. The organization aids in the recruitment and expansion of the talent pipeline and strives to create new pathways and opportunities for residents to find stable and rewarding middle-class jobs within the industry.

"We all need to come together to champion the necessity for a strong manufacturing sector in New Jersey, which has more than a 200-year history of harnessing manufacturing to push the boundaries of science, technology and commerce," he says. "We're hoping this caucus sparks conversation about what needs to happen, because there are a lot of people in our state looking for pathways for work—and we can definitely provide that within our industry."

According to Dave Seifert, director of operations for Airborne Systems North America in Pennsauken, the state also supports its companies with Department of Labor state training grants, in addition to networking opportunities for regional businesses to promote innovation, collaboration and efficiency. "Companies need to take advantage of what organizations and partnerships such as the NJMEP and Manufacture NJ Talent Network (MNJ) have to offer," he asserts. "These organizations exist to support and promote manufacturing in New Jersey. With their help and a constant vigilance to improve productivity and reduce costs, the industry in New Jersey should remain competitive and continue to grow."

While the new caucus is tasked with the responsibility of helping the region's manufacturers grapple with several policy issues, including taxation, regulation, workforce education, transportation, innovation and collaboration, the good news is, according to Lee Laurendeau, director of manufacturing for Holtec International in Camden, the state—and the rest of the country—is undergoing a renaissance in manufacturing. Many companies are choosing to bring work that was previously outsourced to other countries back to the U.S. (a process called re-shoring), he says. "Growth in manufacturing will continue, and the trend of re-shoring is undeniable," he explains.

However, that doesn't mean that local manufacturing companies aren't dealing with massive changes that have occurred within the industry. Seifert notes that the company has to constantly innovate new ways to improve productivity and reduce costs—including material, labor and utilities costs. Additionally, what a career in manufacturing encompasses today is vastly different than in previous generations.

"Many jobs associated with manufacturing are very different from those manufacturing jobs our parents or grandparents once had. Manual tasks have been replaced by automation and robotics, creating a need for high-tech machine operators, programmers and industrial engineers—and grinding and hammering have been replaced by pushing buttons," Laurendeau explains. "There is a demand for these high-tech manufacturing skills, and educational institutions must adapt to provide the skills manufacturing companies require."

Kennedy agrees that while technology has helped boost productivity and streamline operations in many ways, it has also created a need for a new era of workers. "There have been a lot of advancements that allow us to do more with fewer people, but while we have robotic assistants and manipulators that help people do their jobs and reduce problems and injuries, it also means we now have this increased demand for hightech people who can actually operate these robots," he notes.

"It's definitely difficult to find people who can program the robots. … These are people who are probably working for companies like Apple, Google or Amazon," Laurendeau says. "But the availability and lower cost of robots and automation make it a good business decision to move toward automation.

Today's manufacturing companies are relying on these technical advances to dramatically improve quality and time to market, Laurendeau notes. Complex machines can now be designed quickly using computer-aided design tools, and rapid prototypes are made using 3D printers. The machines used to make parts are computer-controlled and highly flexible with the ability to load a file and parts. "All of this translates to a leap in time to market and quality, and this becomes the competitive advantage for United States companies," he says.

As a result, one of the ways that South Jersey's manufacturing companies are actively trying to close the skills gap is by offering training, internships and other programs for a new generation of employees. "Instead of the never-ending search for the perfect candidate who has all of the skills and experience to do the job, we've decided to partner with local trade schools and high schools to find ambitious, hardworking young adults and offer opportunities to earn credit while gaining real work experience with our company," says John Mueller, general counsel and vice president of risk management for Glassboro- based Demountable Concepts.

In fact, DCI Group, the leading manufacturer of Demountable Truck Body Systems and MyGlassTruck rack systems in North America, completed its inaugural internship program with students from the Gloucester County Institute of Technology this summer. Meanwhile, Demountable Concepts received NJMEP's Manufacturer of the Year Award for leadership, innovation and growth in the medium manufacturer category.

"We've found that by providing training and a little bit of flexibility, we've opened the doors to talented young employees who are willing to learn. … And after weighing their options and considering the cost of a college education, are excited about pursuing alternative career options in fields like welding or becoming a heavy machine operator," Mueller adds.

Seifert agrees that because South Jersey's manufacturing industry is operating in a very competitive environment, having skilled and flexible work forces seems to be the key for local companies to continue to prosper.

"It's imperative that companies continuously look for ways to improve productivity and reduce costs to stay ahead of the competition. Companies need to use new technologies and training to become more productive and to also help offset other challenging areas where we continue to see rising costs, such as health care," he concludes. "Those companies that embrace and figure out how to utilize the new technologies will be the ones that survive and prosper."

Published (and copyrighted) in South Jersey Biz, Volume 7, Issue 10 (October, 2017).
For more info on South Jersey Biz, click here.
To subscribe to South Jersey Biz, click here.
To advertise in South Jersey Biz, click here.