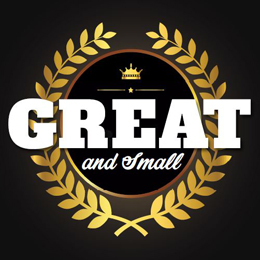 Great and Small
Small Business Awards
The artist Vincent Van Gogh once said, "Great things are done by a series of small things brought together." And so it is with South Jersey's small business community. Their footprint may be small, but their impact looms large and makes a daily impact on the local economic landscape. With our annual Small Business Awards, South Jersey Biz scours the area to recognize the companies that provide exceptional service and compete with local corporate giants. The companies featured herein go above and beyond to keep South Jersey on the forefront of business excellence.
Bratton Scott Estate & Elder Care
The experienced attorneys and coordinators at Bratton Scott Estate & Elder Care focus exclusively in niche practice areas—elder law, life care planning, estate planning, asset protection and tax. This enables them to make and maintain the important personal and professional connections necessary to advise their clients. They have been recognized by clients, peers and national legal rating agencies, as well as regional publications with numerous awards for their legal skills, professional ethics, community involvement and commitment to providing clients with focused expertise, innovative thinking and unprecedented service.
City Invincible
City Invincible Architecture, Interiors and Urban Design is a full-service architecture, interior design and urban redevelopment firm specializing in the areas of health care, education, multifamily residential, senior living, hospitality and city planning.
Founded in 2016, City Invincible represents the merger of three regional design firms—Alberto & Associates, Berzinsky Architects and LaVardera Architects—making it both a new firm, as well as one with over 40 years of combined experience.
The group's foundations are not only to provide quality professional design services but to engage with the longterm mission and vision of clients and communities. This approach has taken the company beyond pure sticks and bricks construction to a company-wide philosophy that encourages community involvement, volunteerism and charity.
CLM Advisors, LLC
A provider of tax advisory services oriented to small and mid-sized businesses in the Delaware Valley, CLM aims to help businesses define and establish standards of performance, grow revenues, maximize profits and increase cash flow. They apply core financial and accounting principles, along with sound budgeting and forecasting, customized to each business' goals, then reinforce those principles with a consistently collaborative relationship. Their team can provide improved internal accounting function, sound tax planning and finance coaching and better analytics of key metrics.
Cora Capital Advisors
This Marlton-based independent financial planning firm was created in 2015 with the merger of two premier financial services firms: Copper Beech Financial Group and Baratz Financial Services. The company brings together certified financial planners, CPAs, personal finance specialists and insurance experts in a true full-service organization with over 100 years of combined experience to provide planning advice for individuals, business owners, women and retirees. Additionally, Cora offers employee benefits, disability and life insurance options for both individuals and entrepreneurs. They pride themselves on providing clients with individual attention and creative solutions to financial planning goals.
Fralinger Engineering, PA
This Bridgeton firm has been in business since 1966. Their staff of 36 consists of seven licensed professional engineers, eight licensed professional land surveyors, environmental specialists, AutoCAD draftsmen and construction inspectors.
They currently represent 24 municipalities in Atlantic, Cape May, Cumberland, Gloucester and Salem counties as the municipal engineer or land use board engineer. The firm handles all land surveying, capital improvement projects, civil site design projects, environmental permitting and construction inspection services for each municipality. They have extensive experience working on commercial and residential developments, government projects, educational facilities and more.
They have been voted the best engineer by the Bridgeton Area Chamber of Commerce for the past five years.
Grimley Financial Corporation
Grimley boasts over 32 years of experience serving the accounts receivable needs of various health care providers, schools and businesses. B2B clients benefit from their "cradle-to-grave" services, which include credit consulting, third-party collections, pre-collect work and bankruptcy preference related work. They attribute their success to having an abundance of talented employees who have been with the company on average for 10 years, an unprecedented average in the collection industry. They have been named one of Philadelphia's top 100 fastest growing privately held companies, South Jersey's top 25 fastest growing companies, The Inc. 5000 fastest growing companies and best places to work.
Hawks & Company
In 1976, Mark Hawks took his background in commercial and industrial boilers and burners and turned it into a vision for a fresh approach to mechanical services. Today, this relationship-driven, full-service commercial HVAC company has been in business for over 40 years. Hawks & Company specializes in systems designed to support large facilities such as senior living communities, warehouses, private schools and more. Their core focus is on commercial HVAC systems, offering preventive maintenance, design-build, retrofit and a host of other services to meet customers' specialized needs.
HFM Investment Advisors
HFM Investment Advisors is an independent, fee-based investment management and financial planning firm that empowers clients through coaching and discipline to reach a higher level of investing peace of mind. Their guiding principle is to keep clients educated, involved and confident in every financial decision they make. They are also committed to giving back to the community in which they serve. Every fall since 2010, the group has conducted a coat drive for the less fortunate members of Gloucester County. To date, the drive has collected over 12,200 coats working with more than 30 businesses throughout the county that sponsor collection boxes. The coats are distributed through a partnership with the Heart of South Jersey and the Y.A.L.E. School.
Innovative Benefit Planning
Since 1989 Innovative Benefit Planning has combined innovation with integrity for midmarket employers nationally and internationally consulting on employee benefits, human resources, wellness and retirement planning. Their experienced staff and sound financial advisory services have helped thousands of organizations and their employees achieve their employee benefit planning goals and more. They pride themselves on responsiveness to questions from management and employees alike, thorough explanation of benefits packages, helping employees understand all of the information that encompasses their benefits and in filing claims appeals and ensuring they are paid when necessary.
Kokua Technologies
Kokua (the Hawaiian word for help) provides technology services for the area's small and medium-sized businesses, installing, configuring, maintaining and troubleshooting desktop, laptop and workstation computers; server hardware and operating systems; software applications; mobile devices; hardware peripherals (printers, routers, etc.); and computer networks at multiple locations. They provide everything from ongoing technology consulting, planning, infrastructure projects, machine repair and replacement, technology vendor management, backup and disaster recovery, phone systems to mobile computing, Web development and technology training.
Lane Hipple Wealth Management
The majority of Lane Hipple's team members are certified financial planners, which means they have fulfilled the requirements necessary to obtain that designation and have met the high standards of competency and ethics established and enforced by the CFP board. Their areas of expertise include indepth financial and estate planning, investment consulting and retirement plan services, working with families, small businesses and institutions to create, manage, preserve and distribute wealth for a diverse clientele from a variety of backgrounds. As a Registered Investment Advisory firm, they remain independent and are dedicated to providing unbiased advice.
Their employees grew up in South Jersey and are committed to helping grow the local community.
Liberty Technology Solutions
Liberty Technology Solutions was founded in 1996 as Liberty Communications and Data Systems in Marlton. In 2010, Gerry Gordon—the company's president and CEO—saw the industry making a turn more toward IT-based services and made the decision to rebrand and become Liberty Technology Solutions. They have 10 full-time employees and are now headquartered in Moorestown, providing everything from managed IT network services, carrier services, VoIP business telephone systems, on-premises telephone systems, hosted telephone systems, network security, CCTV camera and offsite data storage. They also have their own infrastructure cabling technicians to support an array of network and telephone needs.
MBO Engineering, LLC
Located in northern Burlington County, MBO was founded on experience in traffic and safety engineering in the public sector. Their staff has a thorough understanding and knowledge of traffic and safety engineering principles and practices, having provided these services to state, county and local municipalities within New Jersey. Solutions might be specific to an intersection or may involve systemic recommendations to be applied regionally. Their staff is wellversed in communicating with all levels of agency and organizational officials, engineers, planners and the general public.
MCR Services, Inc.
With offices in Pa. and N.J., MCR Services is a general contractor that specializes in commercial construction (ground up, fitouts, renovations, etc.), handling everything from demolition, to site work, to construction, to cleanup services and more. They are able to self-perform much of the work required on most jobs, which helps to contain costs, ensure consistency of outcome and guarantee performance. The group provides design-build services, creating a single point of responsibility, ideally suited to fast-tracking projects including apartment buildings, commercial freestanding buildings, distribution centers, hotels, medical facilities, mixed-use buildings, office buildings, restaurants, retail stores, shopping centers, supermarkets and more.
Mid-Atlantic States Career & Education Center
This nonprofit organization and approved New Jersey Private Career School has assisted New Jersey residents throughout 10 counties in realizing their potential. Focused primarily on job-readiness skills and job placement, the company helps its clients reclaim the direction of their lives through gainful employment who have faced some hardship. They work hard to break down any barriers their clients are faced with including little to no work experience, previous incarceration, limited transportation and the lack of a high school education. They offer job-readiness programs, parolee employment placement, specialized transportation services, forklift training certification, ServeSafe food handling certification, as well as youth and senior programs, among others.
The Mudjacking Guy
The Mudjacking Guy has been repairing South Jersey's concrete surfaces for over 12 years. Mudjacking is a process that raises and levels sunken concrete, eliminating the need for concrete replacement. It can be applied to all types of sunken concrete, pool surrounds, sidewalks, steps, floors, etc. A mud slurry is pumped into the hole(s) in the concrete. The hydraulic pressure then raises up the concrete until it is at the desired level. Their method of fixing the situation is one-half to one-third the cost of replacement, less intrusive and is a green alternative.
Networks Plus
When founding Networks Plus in 2003, Jerry and Anne Caruso pictured an ideal customer service experience and proceeded to build a company around it. That includes plain talk, immediate and personalized attention, a welltrained, on-site staff and the most progressive IT and Web development services under one roof. Services include providing technical expertise in IT services, costsaving telephone solutions through Internet Phone (VoIP) technology and websites for a powerful online presence. Located in Cinnaminson, they are strategically located to respond to daily service calls as well as off-hour emergencies.
Penzone Realty
Joseph Penzone, the founder and broker for Penzone Realty, traveled an interesting path into real estate. He's been an architect, a building developer and a real estate investor— so he has experienced real estate from many perspectives. Wanting to do real estate better motivated him to found this real estate company. Many of Penzone's agents also entered real estate after successful careers in other fields such as architecture, medicine, finance and engineering. They chose real estate because they love it and that passion is palpable in every interaction.
Saratoga Benefit Services, LLC
Located in Moorestown, New Jersey's business community, Saratoga has been creating custom employee-benefit plans for its clients since 1998. The independent insurance broker offers access to diverse products and insurance carriers, both local and national. Their priority is providing business owners the benefits package best suited to their employees' personal needs at a level of service atypical in the health care insurance industry. Their back-office support is efficient and responsive to client inquiries and concerns, developing an affordable benefits plan that looks out for and safeguards employees' health and lifestyle needs.
Shades of Paper
Located in Mount Laurel, this sales distribution and solutions center services customers locally as well as throughout the U.S and worldwide. Shades of Paper is a leading supplier of printers, papers, canvas, inks and finishing supplies, and is dedicated to supplying the highest-quality products to the fine art, photographic, proofing, CAD, solvent, dye-sublimation, DTG and signage markets. As an EPSON Authorized Pro Graphics Premier Elite Reseller, EPSON Authorized Solvent Reseller and Canon ImagePROGRAF Platinum Reseller, Shades Of Paper offers their complete lines of printers, ink and media. They have been named one of the fastest growing private companies in South Jersey, one of the 100 fastest growing companies in Philadelphia and one of the Future 50 in Smart CEOmagazine.
Solvix Solutions, LLC
Solvix Solutions is a certified women-owned small business providing a wide variety of office and technology products. During their first three years of business, they have focused on supplying and supporting the U.S. Federal Government and now are expanding to provide the same success and value to the business community. Their relationships with premier manufacturers such as HP, Dell, Microsoft and others allow them to save clients' time and money while receiving the best possible solutions available. They also work with the main distributors for technology products, which provides access to over 80 warehouses throughout the U.S. and the ability to provide free next-day delivery on most orders.
Telecorp, Inc.
Founded in Woodbury in 1998, Telecorp is a business communications outfit that specializes in the needs of small to medium- sized companies. Whether it's phone systems, IT services, carrier services, even surveillance, Telecorp prides itself on providing cutting-edge technology along with top-notch service. Their IT department can work as a sole resource for keeping computers and networks up to date or they can work alongside your standing computer support techs. Additionally, they can assist with project management, communication consulting, customer advocacy and of course, ongoing technical support.
Triad Associates
Founded in 1978 by CEO Michael Zumpino, Triad has expanded from a grant-writing firm to a company offering a full array of community and economic development services and strategic planning solutions. As an approved affordable housing administrative agent for local municipalities and developers, the firm has assisted in the development of over 1,000 units of affordable housing in N.J. and Pa., having secured more than $870 million in grants and other financing, resulting in billions of dollars in new investments to revitalize local communities. Zumpino believes the achievements of Triad Associates reside in the communities that have been served and in the projects that have been instrumental in improving the quality of life in counties and municipalities during the firm's nearly 40 years in business.
Published (and copyrighted) in South Jersey Biz, Volume 7, Issue 10 (October, 2017).

For more info on South Jersey Biz, click here.
To subscribe to South Jersey Biz, click here.
To advertise in South Jersey Biz, click here.