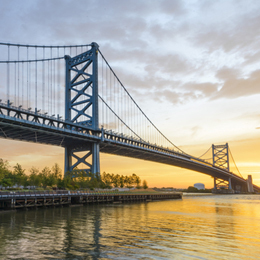 Bridge Over Troubled Water
If you've driven over any of the 6,730 bridges across New Jersey, there's a good chance that you've driven across a bridge that's structurally obsolete or deficient, a new report found.
The report, conducted by the American Road & Transportation Builders Association, found that more than a third of the state's bridges fall under these two categories.
A quarter of New Jersey's bridges are classified as "functionally obsolete," which means they don't meet design standards in line with current practice, the study found. It also classified 9 percent of bridges as "structurally deficient," which means that one or more key elements—such as the deck, superstructure or substructure—are in poor or worse condition.
The report also found that 2,250 New Jersey bridges need repairs, which will cost an estimated $7 billion.
Are they dangerous?
But these classifications don't necessarily mean those bridges are unsafe, officials say.
"First, it is important to understand the terminology used in the bridge report. 'Structurally deficient' does not mean a bridge is unsafe. It means that ... the deck, superstructure or substructure is in need of repair or rehabilitation," says Steve Schapiro, communications director at the N.J. Department of Transportation.
"A 'functionally obsolete' bridge is one that was built to standards that do not meet the current minimum federal requirements for a new bridge. It does not mean the bridge needs to be repaired. Functionally obsolete bridges include those that have substandard geometric features, such as narrow lanes, narrow shoulders, poor approach alignment or inadequate under- clearance."
"Sometimes 'structurally deficient' and 'functionally obsolete' are combined into one category, which leads to a misrepresentation of the condition of New Jersey's bridges," he continues. "They are two different categories entirely, and neither implies that those bridges pose any danger to motorists."
Schapiro also stresses the state does its due diligence in inspecting—and sometimes closing—bridges.
"Every bridge that is 20 feet in length or longer is inspected at a minimum of every two years, according to federal requirements. Bridges that pose a greater concern are inspected more frequently. Between NJDOT staff and our consultants, there are more than 200 inspectors evaluating bridges statewide every day," he says. "If the inspectors ever come across a structure that we determine to be unsafe, NJDOT will close either a lane or the entire bridge to make emergency repairs and would not hesitate to take the bridge out of service."
NJDOT has invested $4.4 billion in state and local bridge programs between fiscal year 2011 and 2016, he notes.
The Transportation Trust Fund
Enter the Transportation Trust Fund, which was approved by Gov. Chris Christie last year. It raised the price of gas in New Jersey by 23 cents per gallon, with the intent to generate enough funds to help repair the state's aging infrastructure, like fixing those deficient and obsolete bridges. It was the first hike in gas taxes in the state since 1988.
This tax, while hotly debated, was much needed, some experts say.
"The tax assists [in] maintaining a stable fund for the transportation program to improve the quality of life for New Jersey residents, maintain and improve the movement of goods and provide increased public safety. The [Transportation Trust Fund] funding had not seen an increase in decades, so while cost of living and goods has increased, transportation funding had not," says Jennifer Grenier, assistant vice president and deputy area manager at WSP/Parsons Brinckerhoff Engineering Services.
"This tax was needed to replenish the TTF in order to maintain a state of good repair on state roadways, continue and increase local aid monies to counties and municipalities, as well as continue to leverage federal matching dollars," she continues.
The gas tax—and the resulting investment in TTF—will allow the Department of Transportation to continue its efforts to improve state owned and maintained bridges, Schapiro says.
Fill 'er up … at a cost
Coupled with rising gas prices across the country, the tax has meant a bigger price tag on filling up your tank across the state in recent months.
"New Jersey gas prices are up compared to last year. In addition to the new tax that went into effect on Nov. 1 that raised the price of gas by 23 cents per gallon, gas is still about 50 cents more per gallon than it was this time last year," says Rich Bradley, spokesperson for AAA South Jersey.
But Bradley stresses that while the cost of filling up your tank may be higher, the gas tax will indirectly save you money on repairs to your car, once ailing infrastructure is fixed.
"At AAA, we believe the tax was necessary, provided the revenue generated is dedicated to fixing our roads and bridges," he ex- plains. "We've conducted studies that show that crumbling roads cost the average driver more than $600 a year in repairs. In contrast, the 23-cent- per-gallon tax will cost the average driver less than $4 a week."
And while there were many who worried that increased gas prices would mean a hit to the local economy, Bradley says that's simply not the case.
"Most people have adjusted to the near-daily fluctuations in gas prices, so we're not aware that the new tax is hurting businesses," he says. "The new gas tax will cost the average driver less ... than the price of trip to Starbucks."
"The simple truth is that people will continue to drive, and to do that they will need gas in their car. We may see a bigger impact during the summer months when people drive more than they do in the winter, but it seems like people have simply accepted the additional costs and continued with their lives as they did before the tax was implemented," he continues.
Short-term pain means economic gain
And while paying a bit more to top off your tank may be irksome, fixing these crucial pieces of infrastructure could mean potential economic benefits for South Jersey.
"Prior to the tax being implemented, many people thought that it would severely impact the state's economy because commuters would just fill up elsewhere when driving across the state, so they didn't have to fill up in New Jersey," Bradley notes. "However, even with the tax, gasoline is still cheaper in New Jersey than Philadelphia or New York. The difference is not nearly as significant as it was previously, but it's less cheaper."
Repairing aging infrastructure is critical to the local economy, Grenier says.
"As bridges deteriorate, they can become load restricted. When this occurs, goods cannot move freely to and from business and homeowners," she explains. "As roadways deteriorate, commute times increase, incidents increase, and wear and tear on vehicles increase, all of which negatively impact business and employees."
The gas tax will also be a positive for local businesses, she notes.
"The TTF funding also allowed for increased funding to local governments to help fund improvements and maintenance on county and municipal facilities. Currently, municipalities maintain more than 60 percent of the state's roadways and county governments maintain approximately 7,000 bridges at a cost of nearly $600 million annually. The state previously contributed about $100 million to local aid. The new tax increases that funding to approximately $400 million," she continues. "This increased source of funding should reduce the need for local property taxes to fund those programs."
What's more, providing much-needed funding to the TTF means South Jersey's transportation infrastructure keeps up with the times, which in turn boosts the local economy.
"Aging bridges and rail lines require significant capital investment to extend their useful life. At the same time, the system needs to stay current with increased investment in our Intelligent Transportation Systems (ITS), such as providing real time traffic information, crash detection and smart traffic signals that adjust to traffic demands readily," Grenier says.
Real time traffic information increases efficiency, helps clear accidents more quickly, decreases bus and train wait times, and allows buses to flow more smoothly through traffic by connecting them to traffic signals. This improves riders' experience on the state's transit systems, she points out, which in turn, supports local businesses.
"Maintenance of our roads and transit systems is crucial to supporting New Jersey businesses and residents and keep us competitive with neighboring states," she explains.
Overall, repairing ailing roads and bridges is crucial to the local economy, experts say.
"A safe and reliable transportation system is critical to economic growth," Grenier says. "By investing in our infrastructure we can expect improved reliability of the overall roadway system which will allow for growth in South Jersey businesses."
Published (and copyrighted) in South Jersey Biz, Volume 7, Issue 3 (March, 2017).
For more info on South Jersey Biz, click here.
To subscribe to South Jersey Biz, click here.
To advertise in South Jersey Biz, click here.