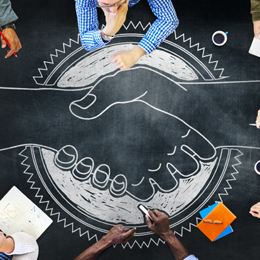 Community Minded
It's not just residents of communities in South Jersey that have a major impact on the local economy. Students at colleges and universities across the region are working directly with and learning from businesses in the area to also help stimulate the economy.
Powerful partnerships
A major player in these partnerships is Virtua, which is also South Jersey's largest health care provider. The hospital system has teamed up with Rowan College of Burlington County to offer the needed courses for students to become state-certified emergency med- ical technicians or paramedics. RCBC officials spoke with industry partners for the innovative alliance.
"We know one of the fastest growing sectors in South Jersey is health care," says Paul Drayton, president of RCBC. "We said, if we're going to expand our health sciences program, what is the best way to do it?"
Officials at Virtua took a good look at programs already being offered at RCBC and worked with the school on what current programs to expand and grow, what isn't as successful and should be taken out and also, which new programs should be added "based on the changing landscape of health care," Drayton says.
"This process has been amazing," he adds.
Students have two program options; they can work toward certifications in paramedic science or an associate of applied science. Clinical semesters are taken at Virtua locations in Mount Holly, Voorhees and Marlton.
"It really shows how the higher education and the business worlds can work together to design curriculum and programs that will allow our students to graduate into high-paying careers," Drayton says. "All of that is done in partnership with one of [South Jersey's] leading employers."
But, the collaboration with Virtua is a two-way street. RCBC knows that to stimulate the local economy and keep major business players in the area, they need to offer something Virtua could take advantage of for employees already there.
"Virtua employees who decide to return to school, or who are currently enrolled in a two- or four-year college, can transfer to or register with RCBC," Drayton says. "What Virtua can do is provide an additional tuition reimbursement benefit over what they provide to other schools, if their staff go to RCBC. Through that, we will provide additional benefits for Virtua employees to attend RCBC."
Offering experience
Over at Rutgers University-Camden, Mike Sepanic, associate chancellor for external relations, says experiential learning is the hallmark of what they do.
"The classroom learning is good, even better is when you can put it to work in the community," he says. "Part of how we get at that, we are very heavily focused on civic engagement and civically engaged learning. Civic engagement is the act of going out and doing good in your community, being a good and honest partner and trying to find solutions. I think we actually excel at that."
There are several courses each semester, Sepanic says, where students apply what they are learning at organizations and businesses around the city of Camden. In fact, this is required for all faculty members.
"It helps the community," Sepanic says. "We find fresh perspectives on research. This is a significant thing."
Rutgers-Camden has extremely close partnerships through its nursing school with several major health care providers, he adds. Nurses do clinical [rounds] at area hospitals, most notably their neighbor, Cooper University Hospital.
"But," says Sepanic, "we also work with them on programs where our school works with nursing [programs] to identify Cooper employees who are interested in advancing their careers. Through this program, we are trying to build a pipeline to help folks who are predominantly from the city of Camden change their careers directly and help increase the diversity of the nursing program."
The Camden campus is also home to the NJ Small Business Development Center.
"We work with entrepreneurs who have an idea for a business but they don't know how to make it happen," Sepanic says. "Or, those who very recently started a business and they need help. Those are things we do to nurture economic growth."
The center, part of a statewide network, helps small businesses with consulting, like getting information on business plans, marketing, loans and more. They also work with those wanting to open businesses with how to write a business plan, get financing and understanding financial statements.
Rutgers-Camden, housed in a city of just over 75,000 people, also serves the local community by expanding its own school. A few years ago, when the university opened a major housing development project, it also opened a 24-hour 7-Eleven and a Subway, both of which are frequented by everyone in the area.
"Both of those are tremendous assets not just to the students, but to the community," Sepanic says, adding that he hopes for the same with future openings. This summer, the new nursing and science building is slated to open. The school has signed a major retail tenant to the ground level.
Camden's involvement in its community doesn't stop there. Their law students are working directly with Camden residents to provide legal assistance.
"Our law school hosts a number of clinics that allow the law students some amazing opportunities to engage in practice under the guidance of practicing attorneys, but it's also providing predominantly Camden residents with legal representations they would not have otherwise," Sepanic says.
And business school students can participate in the business leader development program, available to a select cohort of students.
"In addition to their regular work," Sepanic says, "they do a pretty aggressive schedule of activities with business executives, who come to cam- pus. It's a mentoring program. Our students are graduating and are so extraordinarily well-prepared to hit the ground running."
Grassroots gains
At Cumberland County College, business department head Charles LaPalme says he takes the name of the college very seriously; they really do so much work to directly benefit the county. A business advisory board—made up of 15 local business owners, civic leaders and academic leaders—guides business students' curriculum and activities. LaPalme says the board has been working very actively in the last two years with the business school.
"Our county has the perfect demographics and information that would lend itself to entrepreneurship in the county," LaPalme says. "We are actively developing it."
The school had a very successful business leadership summit last year and is gearing up for their next one, to be held in mid-April.
Speakers include Ed Roth, partner with Tower Hospitality, a hospitality management company based in Vineland that owns and operates many lodging and dining properties in South Jersey, including Days Inn and Bennigan's, and Michelle Drolet, founder and chief executive officer of Towerwall data security company.
Also speaking is Steve Vinter, executive leadership coach for Google.
LaPalme says last year's summit was highly successful and resulted in a number of students signing up for entrepreneurial courses at Cumberland. Each year, he adds, a couple students open a business in the area.
Building on basics
Carol McCormick, senior account executive at the Camden County College Corporate Training Institute, works directly with South Jersey businesses to customize training programs for their employees. "We partner with employers who have hiring needs so we can develop a personalized training program for dislocated workers to meet the skill sets they need," McCormick says.
Currently, McCormick and her team are working with a brand new manufacturing facility on the Camden waterfront. She says they are having a "great hiring demand" for when they start operations, specifically for welders, an occupation many recent Camden County College residents are proficient in.
Before students and other residents of South Jersey become accomplished in these areas of expertise however, they may have done career training at Camden County College's career and technical institute. Students get training in many different areas such as cosmetology or computers to do overall career training to meet a market demand.
"They can go from zero to 80 and get to a point where they are employ- able," says Kaina Hanna, project coordinator for the program.
Learning from example
Just before press time, Rowan College at Gloucester County's President, Frederick Keating, announced ambitious plans to revamp the school's campus, in part by working with local businesses to secure financing. In an era of decreasing federal and state funding, public-private partnerships or P3s are an increasingly popular option that allows a public institution to maintain land ownership while private entities take on the cost of development in exchange for branding or other benefits.
The expansion, which would include seven new buildings in total, would focus heavily on health care programs not only by aiming to attract more nursing and allied health students, but by opening an urgent care center and a 40,000-square-foot medical office building in Deptford Township. Expanded student housing, a parking garage and retail space are also part of the new plan. A feasibility study will take place through June, but if approved, these developments will benefit not only South Jersey's students, but its residents as well.
Published (and copyrighted) in South Jersey Biz, Volume 7, Issue 3 (March, 2017).
For more info on South Jersey Biz, click here.
To subscribe to South Jersey Biz, click here.
To advertise in South Jersey Biz, click here.