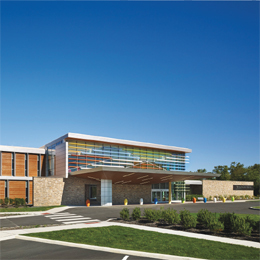 A Community Culture
Paul Medany has served as Deptford Township's mayor for 11 years, but his involvement goes back much further.
A lifelong resident, he joined the Deptford Democrat Club at just 18 years old. While coaching youth sports teams, he and others found the then mayor unwilling to fund the recreation department. "I ran for council and got elected in my first election and never looked back," he says.
And, he did so with a plan in place. "With this administration, the first thing we did was a master plan revision to try to control the growth in a certain fashion that made sense, and we've been pretty successful with that," says Medany.
While business growth has centered largely around the Deptford Mall, he describes residential growth as having been haphazard. "We wanted to make sense of all that growth:
Where to put certain businesses, certain residential densities. We just wanted to be careful about that," he explains. "With residential growth, you have more kids in schools, so you have to build schools, you have to hire cops, bring municipal services. ... The bigger you get, the more services you need."
Meeting the needs
With a population increase of 14 percent between the 2000 and 2010 U.S. Censuses, the need was certainly there. That's one reason local government worked to bring Nemours duPont Pediatric Family Health Care Center, which opened in late 2016, to the area. "We have received a level of welcome that is unprecedented," says Pauline Corso, chief operating officer of the Deptford Physician Practice, who's had a 16-year tenure with Nemours. "It also spoke to the need. Everyone rallied to figure out how to get it done. That's a testament to the impact that having these services has on these communities and families."
Elected officials, county representatives and residents worked alongside the group, including the mayor and Sen. Steve Sweeney who Corso says, "recognized the importance of the kind of investment Nemours was making in the communities that he serves, and that includes jobs and a local system of care."
The full-service facility enables local families to get the best quality care without traveling to Wilmington or Philadelphia, and has the capacity to transform the health care landscape here. "Deptford is seen as more of a retail/business sector and we [just introduced] a health care sector," says Corso. "I think it's begun to get the attention of other health systems that will eventually offer benefits."
Indeed, Medany says that following the Nemours opening, "We're starting to get calls from other medical companies that have heard about that and that's what we want. ... They bring great paying jobs and a much needed service."
Reviving retail
But don't count out the impact that the mall and surrounding retailers continue to make in the area. "I know online shopping is hurting a lot of retail places, but I think at the end of the day, people want to get out of their houses," says Medany.
With a 90 percent occupancy rate and 10 to 12 million annual visitors, the Deptford Mall remains one of the strongest in South Jersey. "Each brand now has multiple ways of reaching their customers," Jim Mackey, senior manager of the Deptford Mall says of modern competition. "What they are finding is that they need an online presence, but they also need a brick- and-mortar presence." And, the mall continues to evolve to maintain relevance with both retailers and visitors in an increasingly digital age. Things like free WiFi and new restaurants improve customers' shopping experiences and lead them to stay longer, shop more and come back to the mall time and again.
Medany concurs, "[The mall] always evolves and they have done a great job too. ... If something closes, it's a chance for operators to reinvent themselves and that's good for us." This is the mayor's overarching message, that everything represents an opportunity. "The glass is always half full."
Like Corso, Mackey also sings the praises of the mayor and local officials who work with local businesses. "You can look at Deptford Township as the model for a business- friendly culture," he asserts.
"We consider [businesses] residents because at the end of the day, the managers and owners probably spend more time here than they do at home," says Medany. "So, we want them to help us, but we surely want to help them too."
WHAT BUSINESSES ARE SAYING
WILDFIRE GROUP, LLC
Joe Kelly, CEO/developer
"The thing that's great about doing business in Deptford is that it is a main thoroughfare for the county. [Its] easy access for our customers from all over is key to our business, and to be able to reach, Philly, Delaware, the Shore and Central and North Jersey all within an hour is really convenient."
DEPTFORD SKATING & FUN CENTER
Charles Kirchner, owner
"There are three reasons why I think Deptford is a great place for a business: location—[it's] just over the bridge from Philadelphia and all traffic in South Jersey comes through Deptford; government—a mayor and council that care about businesses by open communication and keeping taxes as low as possible while maintaining good roads; community and schools—great people with family goals and a school district and superintendent that care for every child."
COLUMBIA BANK
Kimberly Nolan, branch manager
"Deptford represents an ideal fit for Columbia Bank. Deptford's growing mix of residential housing, shopping malls, restaurants and small businesses, along with its commercial base, certainly supports the township's broad appeal and closely mirrors the products and services our bank offers. Because we are both an experienced consumer bank, serving individuals and families and also a full-service business bank, providing cash management, investment and commercial lending services to local businesses, we are most confident that we can help Deptford remain a great place to live in, work in or visit."
COMPASS SELF STORAGE
Debbie Dukes, general manager
"Deptford is truly a great place to do business. The town officials really care about the success of its businesses and make every possible effort to promote and patronize each and every one of them. I am not only proud to operate a business in Deptford but proud to be one of the 30,000 residents that can call Deptford home."
DEPTFORD MALL
Jim Mackey, senior manager, property management
"When it comes to Deptford Township, we have a very business-friendly culture established by the mayor and the council. They're very progressive and forward-thinking and very willing to work with the business community. That goes for big businesses like the mall right down to the little guys. I sit on the mayor's business advisory group. We meet once a month, and together we work very hard to make sure everyone in this town that's a part of that business community, their voices are heard."
AULETTO CATERERS
Jim Auletto, owner
"Deptford is a great place to do business. The township is very focused on and cares about the business in Deptford. It has been a pleasure to work with the township over the years."
Published (and copyrighted) in South Jersey Biz, Volume 7, Issue 2 (February, 2017).
For more info on South Jersey Biz, click here.
To subscribe to South Jersey Biz, click here.
To advertise in South Jersey Biz, click here.