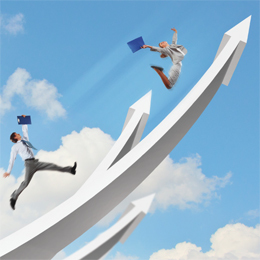 Supply & Demand
Though South Jersey's real estate and construction industries have faced the same challenges as the rest of the country over the past several years—and the new presidential administration has caused a new level of uncertainty— the region is on track for several exciting developments in 2017.
"There's been a lot of development in the last two years, and we're still going strong," asserts Lloyd C. Birnbaum, attorney and co-man- aging member of Lauletta Birnbaum, LLC. "There are still plenty of great housing options and an educated workforce, and New Jersey is working hard to lure big businesses back to our state."
According to Jeffrey Lucas, director of business development for Rose Commercial Real Estate, South Jersey will soon be home to an increasing number of luxury modern apartments and townhouses; last year, his firm was active in selling land for developments in townships including Cherry Hill and Mount Laurel. He notes that there has also been an increase in businesses wanting to purchase office space.
"We're seeing a tremendous amount of new ownership in existing buildings—mostly office space—and the former owners are often choosing to sell their assets and reinvest their money in different ways to get better returns," agrees K.C. Isdaner, chief operating officer of The Bloom Organization.
Harry F. Renwick, president of Renwick and Associates Real Estate Appraisers Inc., notes that the uptick in apartment project approvals throughout the region is directly related to the recessionary influences in the marketplace that continue to impact the affordability of single-family home ownership. "More recently however, we're seeing signs of improvement in single family resale home prices—which historically has led to strength in new home construction and sales," he adds.
The lack of first-time homebuyers can also be attributed, in part, to the rise of the millennial population in South Jersey. According to Mark Tillman, mortgage loan officer for Citizens Bank, there has been a noticeable lack in first-time homebuyers relative to the amount of availability in the marketplace. "Many millenials continue to pay rent instead of investing in real estate, and the market is still having trouble finding people who are willing to settle long enough in one particular place to buy a house right now," he adds.
But Robert Kelley, president and chief operating officer of Evesham Mortgage, adds that the slight increase in mortgage rates shouldn't have a negative impact on the local real estate market. "I expect the market to continue to build momentum, and for home values to steadily climb at a modest pace over the next 12 to 18 months," he says. "The area is thriving and home values have really started to show sustained appreciation."
From a lending point of view, many banks and mortgage brokers are rolling out first-time homebuyer programs and trying to place a greater emphasis on helping residents afford their first home. "I also think we're seeing new home builders recommitting to this area," Tillman adds.
According to Kelley, there are several exciting new construction projects currently being built in Evesham Town- ship: the construction of mixed-use residential apartments and small commercial properties on Main Street, the apartments on Maple Avenue, the Ravenswood townhouse community at Marlton, as well as a large $70 million commercial project on Route 70 at the old K-Mart shopping center. The Shoppes and Residences at Renaissance Square will be a brand-new retail center along with two restaurants and over 300 luxury apartments.
"The entire downtown area of Marlton is being reconfigured and made more accessible to local residents as well as visitors ... emulating the look and feel of a downtown Main Street, USA," he says. "These projects bring employment opportunities to the town and drive more foot traffic to existing businesses."
Another segment of the local real estate industry that's growing can be attributed to baby boomers and the need for age-appropriate housing for residents over the age of 55. According to Lucas, there's heightened demand for homes with smaller yards or townhouses with the master bedroom on the first floor. "A lot of people don't want to live in a restricted community; they want to be able to live at home without having to care for their own grass or snow removal or walk up steps," he explains.
There's also a trend in the South Jersey market for redevelopment of vacant land. Lucas says that the firm recently trans- formed 110,000 square feet of office space that nobody was purchasing into a four-story hotel and restaurant complex— and the completed project turned into a bidding war. "We've learned that we sometimes have to be creative in terms of the usage of a particular property," he says.
Renwick adds that New Jersey—particularly the southern part of the state—has already set aside millions of acres in forested and farm environmental conservation projects. "I see a situation arising whereby insufficient land remains to support new projects. Therefore, development will take place principally where infrastructure currently exists to support new construction and projects," he adds. "The limited supply of land could lead to an increase in public and private redevelopment projects and consolidation of existing smaller parcels."
The new presidential administration has also continued to create some uncertainty in the market, and the real estate market is no exception. "The president promises to help small businesses, but there's still a lot of uncertainty as it relates to changes in our health care system or policies in terms of foreign companies," Isdaner says.
In the meantime, Renwick notes that the resurgence of Camden City and Glassboro- Rowan University as employment and growth centers is providing a cartelistic shot in the arm for South Jersey. "Meanwhile, although Atlantic City is suffering economically from the fallout of the casino closures, there are signs of a solid al- though slow recovery emerging," he says. "Strong interest appears to be emerging from large distribution entities along the tri-county Delaware River waterfront."
Holtec International is just one of the companies taking advantage of the Grow New Jersey tax benefits by building major manufacturing and office facilities in Camden. "That development alone is really helping local residents and businesses. ... There was once a lot of unused real estate, and now they're providing jobs for so many people," Birnbaum says. The development is also attracting supermarket chains, while housing developers are considering building multi-family housing in Camden to accommodate residents who want to move closer to their employers.
However, as companies take advantage of the tax credits for relocating their business to cities like Camden, companies may end up vacating their space in outlying areas throughout South Jersey. "The Grow NJ tax credits have created a boom for cities like Camden, and nobody can argue that it has led to significant benefits for the city," Isdaner says. "But the office space that companies will be vacating the South Jersey suburbs over the next few years could be quite dramatic. ... It could create vacancy issues and have a negative impact on the South Jersey office market."
Other areas of growth in the real estate market have been big box warehouses, such as the developments in Logan Township along I-295. "There are so many companies like Amazon and FedEx that are doing distributions to their stores up and down the East Coast, and now Exit 6 has become an especially exciting market because it's where the Pennsylvania Turnpike meets the New Jersey Turnpike," Lucas explains.
As major online retailers like Amazon continue to dominate the market, experts note that, un- fortunately, retail at the local level continues to struggle. However, Lucas says that in South Jersey, many upscale retailers as well as restaurants are continuing to thrive. "We've seen some businesses closing because they can't compete with the internet. ... But if you want a hoagie, you're not going to order it online," he says. Throughout many other industries, confidence is continuing to grow; Birnbaum confirms that there are many businesses expanding into new locations, and certain sectors of the economy continue to prosper despite economic challenges, including service companies, legal and medical practices, and even manufacturing and industrial firms.
"Five years ago, many businesses were hoping just to survive ... and now they're opening up a second or third location," Lucas concludes. "A lot of people talk about consumer confidence, but what we need now is small business confidence. ... Investing in new equipment, opening new locations and hiring new employees is a big part of how we grow the economy."
Published (and copyrighted) in South Jersey Biz, Volume 7, Issue 2 (February, 2017).
For more info on South Jersey Biz, click here.
To subscribe to South Jersey Biz, click here.
To advertise in South Jersey Biz, click here.