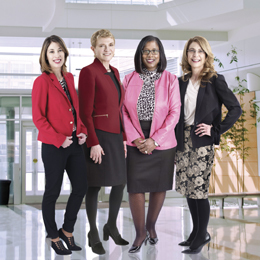 Women to Watch 2017
During the 2016 presidential election, a slogan that entered into popularity in the 1970s was given new life. Regardless of your political leanings, there is a lot of evidence to suggest that the future is, indeed, increasingly female. Our annual Women to Watch are making an impact on every sector of local business, achieving success in the fields of finance, litigation, technology, hospitality, nonprofit and more.
On the pages that follow, you'll learn more about their achievements, how they got to where they are and personal statements that will educate and maybe even inspire you.
ANNE CARUSO
President, Networks Plus
Since its inception in 2003, Caruso and her husband, Jerry, have grown Networks Plus from a small IT business to one of the region's most sought-after providers of digital services. Caruso serves on the executive board and several committees of the Burlington County Regional Chamber of Commerce, on the advisory board for Community Treatment Solutions, as an Honorary Commander with the Joint Base McGuire-Dix-Lakehurst, and NAWBO's distinguished board of directors.
Of note: In addition to NAWBO's 2017 Company of the Year honor, she was awarded the Burlington County Regional Chamber of Commerce Chairman's Award of Excellence in 2016.
"Young people, especially young women [inspire and motivate me]. In reality they are mentoring us and showing us the future through their eyes."
MARGE DELLAVECCHIA
Senior director, PS&S
Working out of their Cherry Hill office, DellaVecchia has worked in Camden County for the past six years. Joining PS&S, DellaVecchia brings years of experience working in South Jersey with both private companies and state and local governments. She has also spent 13 years in various roles around Cherry Hill so she is accustomed to the area she works in.
Of note: DellaVecchia previously worked as the deputy director of the Municipal Utilities Authority.
"With the challenges in today's world, it's important to remember the passionate part of what we do. Some of the work can be a grind, and often it is not exciting and sometimes it's easy to lose your enthusiasm. It is most important to always remember why we do what we do. It's about the work, the change we get to see, and the results that make a difference in people's lives."
ANNE D'AMICO, CPA, PFS
Associate partner, Alloy Silverstein
A member of the firm since 1988, D'Amico offers personalized tax and accounting services to a wide range of clients including—but not limited to—law firms, medical practices, engineering firms and retail businesses. She also works alongside business owners and high net worth individuals to help them reach financial independence. D'Amico assists clients with current tax code complexities and helps them plan for the future as a CPA/PFS.
Of note: D'Amico received the AICPA Personal Financial Specialist (PFS) accreditation in 2000. This prestigious honor has been bestowed upon less than 5,000 CPAs nationwide.
"The first thing that comes to mind for many people when they think of success is financial success. I do believe that to an extent, but the very first thing that comes to my mind is passion. I feel that a successful businessperson had a calling, and followed that calling no matter what obstacles were thrown in her way."
TIFFANY WAGNER DONIO, ESQ.
Partner, Archer Attorneys at Law
Specializing in corporate and tax law, Donio provides representation to for-profit entities and their principals in manners such as entity information, corporate governance, corporate and partnership terminations, mergers and acquisitions, business contracting and public company reporting obligations.
Of note: She also advises clients on an array of tax issues including choice of entity, conversions from one form of entity to another, income tax planning and federal and state tax audits and appeals among others.
"An effective leader leads by example, is empathetic and is more concerned with doing what is right rather than what is popular or easy. [Being a successful businesswoman] means being able to provide quality products and services to customers or clients, give back to the community you serve and find personal satisfaction and fulfillment in the work you perform."
SHARON DUNKEL
Owner, TNRC Associates LLC
Being owner of her own business—which is named after her grandchildren—Dunkel is a payroll consultant for PayDay Payroll Resources in Bellmawr. She assists companies large and small to service their payroll applications and human resources. With 35 years of experience in corporate America, Dunkel was an executive responsible for running and managing ADP and retired from Paychex, Inc.
Of note: Dunkel is active in the community and was formerly the president of the American Diabetes Association. She joined South Jersey NAWBO when she opened up her business and accepted the position of sitting on the board of Corporate Sponsorship.
"Success doesn't come from what you do occasion- ally. It comes from what you do consistently! My reality is a reflection of my strong beliefs. [I] think, grow [and] prosper for my success."
SHARON HAMMEL
Chief retail officer, Republic Bank resources officer, Virtua
Hammel is responsible for the growth of Republic Bank's store network, working with managers to grow de- posits and exceed customer expectations. She oversees the store administration, consumer lending, marketing and product management all in an effort to widen Republic's reach and enhance brand recognition. She also leads Republic Bank's community outreach and formerly held executive positions with both Beneficial and Commerce banks.
Of note: A member of the Chamber of Commerce of Southern New Jersey, Hammel also serves as the secretary of South Jersey Bankers Association.
"A successful businessperson is someone who is passionate about exceeding organizational goals and establishing new benchmarks for which to strive. They also show a genuine interest in the achievements of other employees, inspiring and motivating them."
RHONDA JORDAN
Senior vice president & chief human resources officer, Virtua
Bringing 25 years worth of experience to her current position, Jordan serves as the hospital's strategic and operational leader. Jordan is responsible for setting Virtua's vision for utilizing the organization's people resources to achieve its mission of, "Be Well, Get Well, and Stay Well." She is also responsible for the development and execution of the people strategy in all aspects including talent management, organizational culture, change and development, talent acquisition and compensation and benefits.
Of note: Active in her community, Jordan has been a panelist for Junior Achievement's Women's Future Leadership Forum as well as last year's Rutgers University for the Successful Women's Forum. She was recently a judge for the Camden's Boys and Girls Club Youth of the Year Award and is vice president of a local high school cheerleading booster club.
"My life purpose is to leave a place better than how I found it. I get the opportunity to do that every day. As a senior human resources professional, I get to work with great colleagues to design people strategies that support Virtua's mission to help you be well, get well and stay well."
RENEE GARRISON
General manager, Adams Technical Maintenance Services Company
Through past experiences in the professional field, becoming more involved with clients and gaining an understanding of the gravity of their loss and how it affected them, Garrison chose to join Adams Technical Maintenance, an experienced restoration company. First working with marketing activities, Garrison got several certifications enabling her to move to the production side of the company. In 2015, she became the general manager where she leads a staff of over 14 members.
Of note: Garrison loves that she gets to help people every day and feels blessed that she has a staff willing to help her achieve that.
"No one likes to fail, but it is how we recover from that failure that is most important. So in failing we gain a new perspective on how to make better decisions, be a better problem solver and learn how to avoid problems in the future."
DINA ROSSI ELLIOTT
Superintendent, Cumberland County TEC
Born and raised in Cumberland County, Elliott began her educational career in 1998 and has worked her way up from elementary school teacher to principal to superintendent. She is the president of the Cumberland County Association of School Administrators, sits on the board of the Greater Vineland Chamber of Commerce and is a member of the Cumberland County Workforce Investment Board as well as the county's economic development board.
Of note: Elliott was one of the key figures in opening CCTEC in September 2016. The state-of-the-art school is the county's first full-time technical high school.
"Passion drives every decision and choice I make as a school leader. It enables me to positively effect change and cultivate a positive culture within our school community."
SUSAN M. LOVE
Executive director, PowerBack Rehabilitation Moorestown/Genesis HealthCare
Joining the company in 2013, Love has been responsible for coordinating all services to ensure the highest degree of quality care and customer service in a fast-paced short-stay center. Her commitment to provide access to quality patient-centered care in a rapidly changing industry keeps her motivated and inspires her to achieve a high level of success.
Of note: Before taking her position in Moorestown, she spent 27 years as the administrator of Southgate Health Care Center in Salem County.
"[The] health care industry has valued women in leadership roles for a long time. I believe there is continued growth in the number of women elevated to health care executive-level roles. I believe a woman's instincts, care and compassion enhance the diversity of opinions and experiences that make an organization stronger."
SUE LEHRMAN
Dean of the William G. Rohrer College of Business, Rowan University
Lehrman has made it her mission since being appointed dean to develop a strategic plan for the future of the college—and business education in South Jersey, as well. Beginning her tenure in 2015, she took her "Two Months, 200 Stories" initiative head on and spoke to more than 200 stakeholders to gather information for developing the college's future directions for success. Lehrman's 20-year career in higher education has been focused on organizational innovations and renewal, entrepreneurship, program development and team building.
Of note: Gathering university leaders across the curricula in 2015, Lehrman and colleagues established the Hatch House last year—an on-campus center designed to enhance student startups, entrepreneurial ecosystems and program offerings.
"Fortunately, since my youth and the early days of my career, women are in demand in STEM fields and the business world has increasingly embraced gender diversity in leadership roles. Change is still needed, but long gone are the days when girls and young women were actively steered into 'female' tracks."
Lisa Joswisk
Founder/owner, blackbook
In March 2015, Joswick launched blackbook, a boutique financial services firm that provides resources and services for managing payables, receivables, banking transactions and other financial management needs, including monthly financial reporting. Prior to launching blackbook, she worked directly with venture-backed middle market companies in CFO and con- troller roles. It was through these experiences she noticed a need to help businesses develop, implement and manage financial policies and procedures to help them meet their goals.
Of note: Joswick is the creator of the black method, a trademarked process used to teach the basics of achieving business and personal financial goals.
"Emotional intelligence is a trending topic in leadership research for good reason. Being in tune with your emotions, their causes and how you react to those emotions, helps you be more emotionally aware of those around you; and, in turn, leads to more effective communication, decision making and ability to inspire action."
PEGGY IRELAND
Vice president of leasing, Whitesell
Working for Whitesell—the area's largest commercial real estate company—Ireland devotes her time to the business and operational needs of clients and has a hand in logistical planning and lease negotiation while also taking the lead in coordinating several other areas of managing the client process. She works with several organizations including the Chamber of Commerce Southern New Jersey and Businesses Committed to South Jersey.
Of note: Ireland has 23 years' experience in the real estate industry, having spent the last 15 with Whitesell.
"Successful people inspire me and my drive motivates me. I'm wired to constantly adjust, but humble enough to know there's much more to learn. There's a constant reminder to exert myself in order to grow. Success has given me the ability to give back to the community and this too is a motivational factor."
GINNY MARINO
CEO, Girl Scouts of Central & Southern New Jersey
Since 2013 Marino has led her organization that works with more than 20,000 girls, engages more than 10,000 adult volunteers and is responsible for the Girl Scout mission and brand in nine New Jersey counties. Prior to joining the Girl Scouts, Marino spent 12 years with YWCA Delaware, including 10 years as its CEO. Before her social profit career, Marino held senior level positions in the banking and IT industries.
Of note: She was honored by Wilmington Women in Business/Fresh Start Scholarship with their Inspiration Award, and by the National Association of Women Business Owners (Del.) with the Pioneer Award for her advocacy on behalf of women owned businesses.
"I'm a huge believer in taking calculated risks and stepping outside of my comfort zone. I think it helps us learn and grow. Every year, one of my resolutions is to do something that challenges me and stretches my comfort zones. I think it keeps me sharp and sometimes it also provides some great stories to tell."
CAROLE MATTESSICH, ESQ.
Executive director, Cape May County Economic Development
With a B.A. in government from Trinity College in Washington, D.C., a law degree from Catholic University Law School and serving as the school's editor-in-chief of the Law Review, you could say Mattessich is well-rounded. She served as a law clerk on the United States Court of Appeals for the Third Circuit before working at a Wall Street law firm specializing in business law. She has also worked as a journalist where she has been awarded for excellence three times by the New Jersey Press Association.
Of note: She has taught courses in both law and journalism at Rowan University and Cumberland County College.
"Women have a strong presence in economic development and our numbers seem to be growing—with good reason. Success requires energy, creativity, a working knowledge of economics and government and good people skills. Sounds like a lot of women I know!"
MELISSA ORSEN
CEO, New Jersey Economic Development Authority
Since February 2015, Orsen has served as chief executive officer of the New Jersey Economic Development Authority. Prior to her current role, Orsen was the deputy com- missioner of the New Jersey Department of Community Affairs, where she oversaw a workforce of nearly 400 employees. She's also served as chief of staff to the DCA and began her career as a deputy attorney general in the New Jersey Department of Law and Public Safety's Division of Law.
Of note: Between 2012 and 2014, Orsen was the chief of staff to Lt. Gov. Kim Guadagno.
"Stepping out of one's comfort zone is vital to continued growth, both personally and professionally. Throughout my career in New Jersey state government, I have been fortunate to meet incredible people, both women and men, who have taken a chance on me, encouraged me, and made sure that I pushed my own boundaries."
JANIS SWEENEY
Founder & CEO, National Employee Management Resources
Sweeney entered the workforce in 1967 and worked for more than 20 years in the temporary-help services industry. She became partners with the owner of a local business, Harris Employment Services in the late '80s and earned ownership in the business, eventually buying the entity in full. In 1996, as a complement to her existing agency, Sweeney founded National Employee Management Resources, a human resources outsourcing company. In 2006, she founded her third complementary enterprise, National Employee Management Resources Service Group, a second human resources outsourcing business that served an alternate business segment.
Of note: Sweeney is passionate about children with special needs and serves on the family executive council for Bancroft in Haddonfield.
"There are more women in leadership positions than ever before. Women have formed support groups and systems to help each other. Women are now more accepted in the workplace as leaders and innovators. This is not a miracle but rather through hard work and perseverance that women have gained recognition."
SHARON REMPFER
Owner, Deptford Signarama
Along with her husband and sister, Rempfer has been the owner and operator of Deptford Signarama for six years. The store, while independently owned, is part of Signarama's global family, allowing them to not only serve customers in South Jersey by making signs, banners and displays, but also giving clients the option to coordinate national and international signage needs in one place. Rempfer currently sits on the board of directors of the Greater Woodbury Chamber of Commerce.
Of note: Rempfer has more than two decades of sales experience in the pharmaceutical industry.
"Enthusiasm is contagious. If you are excited and passionate about what you do, your customers will get excited too."
DENISE L. SANDERS, ESQ.
Partner, Capehart Scatchard
Serving as an advisor for health care providers and vendors on the requirements of HIPAA Privacy and Security and federal and state Data Breach Notification rules, Sanders also works with an array of public and private entities and businesses regarding federal and state data breaches and identity theft. She also served as a licensed social worker in the New Jersey Department of the Public Advocate before entering into private practice.
Of note: Sanders is a frequent lecturer and author on health law-related issues such as privacy, security and data breach compliance and response.
"It all boils down to people. If you have trouble connecting with someone, learn to bow down to their 'Buddha nature.' When you approach someone from this basic, common element, you can start to communicate with them and forge a relationship."
MONICA TITUS
Regional CEO, Acuity Specialty Hospital of New Jersey and Lourdes Specialty Hospital of Southern New Jersey
With more than 20 years experience in the health care industry, Titus joined Acuity Specialty Hospital in 2013. Before joining, she served as trauma program director, neurosciences institute director and critical care extenders director for AtlantiCare Regional Medical Center. Titus began her initial career as a registered nurse in acute care hospitals. She currently serves as a board member of Acuity Healthcare's Quality Advisory Committee.
Of note: Titus is currently pursuing a board certification in health care management as a fellow of ACHE (FACHE).
"I have been privileged to be surrounded by motivated individuals who strongly believe that they can create a significant impact in health care. This kind of energy is infectious. I wake up in the morning feeling excited to find solutions to the challenges."
Published (and copyrighted) in South Jersey Biz, Volume 7, Issue 2 (February, 2017).
For more info on South Jersey Biz, click here.
To subscribe to South Jersey Biz, click here.
To advertise in South Jersey Biz, click here.