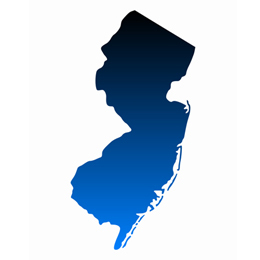 Sustaining South Jersey's Momentum
In the wake of what can only be described as a tumultuous presidential election, many of the region's businesses are wondering what 2017 will bring under the wings of a brand-new administration. With the promise of lower taxes and regulatory burdens, many South Jersey experts say that businesses are optimistic for continued growth in the new year.
"I think the overall business attitude in South Jersey and throughout the tri-state area has been much more upbeat and positive than I've seen in a while," says Ted Massaro, chartered financial consultant and principal at M Financial Planning Services.
"Business confidence is probably the highest it has been in the last several months. ... Building permits and expected construction projects have increased, spending is up on things like equipment and software—and these are all positive signs."
David Hanrahan, president and CEO of Capital Bank, agrees that business owners have been spending—and borrowing—more for capital expenditures for building and equipment as of late. "There seems to be more confidence and optimism in the air," he says. "Some are investing now out of concern about rising interest rates that would make borrowing more expensive later." There's also been a greater willingness for businesses to hire new employees, he adds.
Ruotolo, Spewak & Co. serves businesses in Burlington, Camden and Gloucester counties, and also reports seeing increased investments and economic growth—in addition to new construction projects underway, such as expansions by universities like Rowan—throughout the region. However, Daniel J. Ruotolo, CPA and managing partner at the firm, warns businesses that they should closely monitor any upcoming changes in the health care system and tax laws that may come as a result of the new administration. "These changes could have a major impact on a business owner's finances and operations," he says. "It will be an interesting year with the change in administration, but the signs appear to [indicate] that this could be an overall positive year for businesses." For local companies to remain competitive this year, he advises business owners to focus on digital marketing and social media along with using data analytics to improve their services to customers and position themselves for growth.
And, of course, businesses should also remember that the promise of change that tends to arise after a new president is elected may not always align with reality. "When you look at the general business climate, we're poised for growth, so when the president-elect comes in and talks about reducing tax rates and easing regu- latory burdens, it gives businesses a sense of optimism," asserts Kevin Cummings, president and CEO of Investors Bank. "But there is always a credibility gap between what a new president may say and the reality of what it's actually going to take to implement the necessary changes to see these developments happen."
Additionally, businesses need to keep in mind that no matter what happens after the new president takes office, they shouldn't aim to dramatically change the way they conduct their business right away. "With a new president, there is always a possibility of tax law changes, and these changes can make it difficult for small businesses to plan and make decisions for the future. But politicians have little to do with the success of your company," asserts Jefferey M. Cappelle, CPA at Cappelle Accounting, LLC. "The No. 1 factor in the success of a company is the business owner."
Indeed, with any major shift in government, local companies should continue to be wary of the unknown as they begin conducting business in the new year. "The impact of the new federal administration is always an unknown; but if tax rates decrease as speculated, spending could very well increase," says Richard A. Middleton, CPA at Alloy Silverstein.
According to Mark H. Wander, CPA at Baratz & Associates, PA, if tax rates go down, there may be some effect on the deficit, and there's a chance that interest rates will climb over the next 12 months—and the cost of borrowing will inevitably increase. "Relief may come in 2017 or 2018. ... We really don't know yet. New tax legislation takes some time to wind itself through the House and Senate before the president actually signs it," he explains. "But no matter what happens, it's going to be a balancing act in terms of how much the tax rates go down and how much it actually stimulates the economy."
pastedGraphic.png Middleton notes that some good news for 2017 might be found within the un- employment rate. With the exception of the Macy's closures, he says, un- employment seems to be improving, and major developments in South Jersey— such as the activity along the Camden waterfront, including the Philadelphia 76ers' practice facility—should continue to create new jobs. "Improvement in un- employment could impact the available labor pool for certain industries, particularly skilled blue-collar jobs," he adds.
Additionally, major developments in both South Jersey's educational and medical industries—such as hospital systems like Virtua building new facilities in Burlington County—will also continue to boost the local economy. "I think the 'eds and meds' seem to be the two leading areas that continue to boom in South Jersey, and it looks like that trend will continue in 2017 and beyond," Massaro says.
"I think we all need to hope that health care continues to grow, because over the past five to eight years, most of the major deals being done in this area are in the 'eds and meds'... and that needs to continue until a different sector rears its head and begins to grow, whether it's the financial, technology, or professional or legal sectors," adds Fred S. Berlinsky, president of Markeim Chalmers, Inc.
Wander agrees that the expansion of the region's major health systems will continue to breathe new life into the economy this year. "It seems that every major health system has a new building in every neighborhood in South Jersey, and we can certainly attribute the building surge we're experiencing to the health care industry," he notes. The tax rebates that have been made available for businesses to relocate to cities like Camden should also continue to make a significant impact on the local economy in 2017. "The higher-populated areas of Burlington and Camden counties have seen some significant tax rebates and adjustments to help lure businesses and new developments into the city," Wander says. However, he notes that there's still between a 10 to 15 percent vacancy in many commercial buildings.
"I think a lot of small businesses have some optimism, and they're hoping that 2017 brings a more stable environment. ... But South Jersey has lagged a little bit behind the rest of the economy, so some of our businesses are looking for other markets in North Jersey, Washington, D.C., and New York," he adds. "These are markets that are seeing a faster expansion and better opportunities; it's not that our market isn't improving, it's just not growing at that same rate."
For brick-and-mortar stores that may be struggling with the rising popularity of online retailers like Amazon, Wander advises thinking about expanding into new markets and taking full advantage of the internet to sells goods and services beyond South Jersey, particularly when it comes to reaching younger customers. "You'll also want to continue to monitor your cost of capital as you expand, and nurture your banking relationships," he adds. "If you're looking to grow, interest rates are still pretty reasonable. ... So this could be an opportune time and you may want to do it now."
"Businesses need to monitor their costs and expenses at all times, even when your business is—or appears to be—profitable," Middletown agrees. "Too often, owners and management focus on costs only when the business is having a downturn or struggling." Experts say that technology and innovation will also continue to dramatically impact the success of local businesses in 2017. "Innovation and the acceptance of change are key success factors in today's high-tech economy, when change is happening so much more rapidly than it did even 10 years ago," Cummings asserts. "New Jersey is one of the most competitive states in the country, and business is constantly changing. ... So people have to accept that and make the effort to be proactive and innovative, no matter what business they're in."
In terms of the real estate industry, 2017 may bring improvements in areas such as the residential rental market because more and more millennials are opting for renting over purchasing, Middleton notes. "However, I think real estate in general will remain somewhat flat, and new housing may also remain somewhat flat," he predicts.
Berlinsky adds that property taxes in the commercial real estate industry will continue to remain a challenge for businesses this year. "It's a continuing challenge—and will always be a challenge—because it puts an enormous bur- den on each and every tenant and landlord on each and every property," he says. "It's certainly going to continue to be a theme and a challenge for 2017 and going forward."
However, a bright spot in 2017 might lie in the fact that developers in South Jersey aren't focusing their efforts on build- ing new, speculative office space. "That means the supply we have is the supply that we're going to have—it's not like the market is being inundated with new office supply space that's going to take away from existing buildings," Berlinsky says. "And that's good for those existing buildings because they're showing much higher occupancy levels; today, most office buildings in South Jersey are 90 percent occupied, and that's great for the market."
For the business owner, any other unknown legislative changes in 2017 might just mean it could be time to strike while the iron is hot in terms of making new in- vestments. "My personal opinion is that now is the time. ... The economy and the markets have started an upturn and a presidential election is behind us. While we never have any guarantees, I believe this a great time to speak to your banker about where you are and where you want to be—after updating your business plan and speaking with your accountant," asserts Daniel Sulpizio, senior vice president and director of retail banking for ParkeBank. Sulpizio projects that the banking industry will continue to make strides in 2017, from increased loan demand to many banks hiring new staff. "I can see the competition heating up," he adds.
Ultimately, one of the most strategic things a business can do in the face of uncertain times this year is to continue to cultivate strong relationships and develop partnerships with their business and financial advisors. "Businesses should utilize their professional advisors as part of their decision making, especially prior to and during the process. Owners and managers sometimes include the advisor after the fact, and miss out on better alternatives or suffer through a costly correction of a mistake," Middleton concludes. "It's a lot easier to stay out of trouble than it is to get out of trouble."
Published (and copyrighted) in South Jersey Biz, Volume 7, Issue 1 (January, 2017).
For more info on South Jersey Biz, click here.
To subscribe to South Jersey Biz, click here.
To advertise in South Jersey Biz, click here.