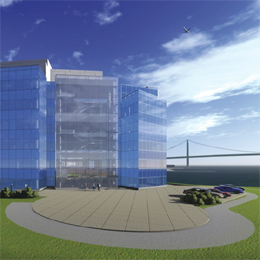 At the Center of Greatness
Camden County is truly at the center of it all here in South Jersey. Close to Philadelphia and all of the major highways running through South Jersey, businesses are seeing the opportunities the county has to offer and are continuing to expand and build where they know they will reap the benefits.
"We offer affordable training opportunities that are designed to meet the needs of local businesses," says Don Borden, president of Camden County College. "Our mentality is we are a public service provider and we are open to any possibility that would benefit the communities, students and businesses we serve in the most cost-efficient way possible."
While Camden County College certainly has a laundry list of new programs, a few notable changes are the expansion of opportunities for high schools to provide remediation programs to help students be college ready and avoid taking develop- mental courses that are not credit bearing and widening their programs to encourage high school students to take and earn college credits (both at their high schools and on one of the campuses).
Borden also states the college is partnered with Rutgers University—Camden on the "Bridging the Gap" program that allows students with family incomes of less than $60,000 to go to four years of school tuition-free and students with family incomes of between $60,000 and $100,000 to go for no more than $20,000 in tuition.
Comcast unveiled a brand-new, 42,000- square-foot facility at their location in Voorhees on Nov. 18. The new building, the Center of Excellence, expands Comcast's already existing footprint within the county and brings about 250 communication operations employees to provide real-time support for Comcast technicians out working in the field.
"We have been very happy with our location in Voorhees in terms of the quality of the facility, and the ability to find talented employees to fill positions," says Comcast regional senior vice president Jim Samaha. "Fortunately, the opportunity to take more space presented itself and became the natural choice for this project. We've already brought more than 65 new positions to the location with plans to hire dozens more in the coming months."
The new center was designed with sustainability in mind complete with high ceilings, an open floor plan and the latest technology. It also promotes a productive work environment by providing an exercise center, cafeteria, on-site parking, public transit access, collaboration and meeting spaces and the nearby availability of shopping locations and restaurants.
Lourdes Health System in Camden has brought on two new aspects in the form of a neuroscience program and a hybrid operating room. "These things really go hand in hand," says Vice President, Planning and Development, Kimberly Barnes.
The neuroscience program brought on new physicians from the Drexel Neurosciences Institute about a year ago. "They are the most experienced neurosurgical team in the Delaware Valley," Barnes says. "In addition to working over in Pennsylvania, Lourdes is their only site in New Jersey where they are working."
Barnes says Lourdes has really expanded their capabilities as a hospital because of the new physicians' expertise and the combination of the hybrid operating room that opened this past September.
"[The operating room] is a combination of a specialized radiology suite and a traditional operating room. So you can do a wide range of procedures within the operating room because you can do very specific neurovascular procedures where you actually don't have an open surgery, but you are doing things through a catheter and you have live images of blood vessels and brain tissue," says Barnes. "So you are able to do some of those interventional procedures that we hadn't been able to do in the past and if something arises and you actually have to convert to an open surgical procedure, you have the ability to do that all in one room."
Penn Medicine in Cherry Hill celebrated the grand opening of their new 150,000 square-foot facility on Route 70 East in October. "It's really an aggregation of four sites that we had in Cherry Hill before," says Dr. Ronald Barg, executive director of Penn Medicine's Clinical Care Associates practices, about the new facility. "So it's an aggregation and an expansion."
An investment of approximately $55 million built the new site. The four sites that were combined to create it were the old Penn Medicine Cherry Hill, Penn Cardiology and two sites that provided OBGYN services to the area.
The building is complete with 28 special- ties and expanded radiology and laboratory settings all in one building. This new facility allows patients to see their primary care doctor, a specialist, receive lab work, radiology service and get prescriptions all in one convenient location.
"The new site is significantly larger and the plan is to grow our services that we already have over there and add new services and do it in a way that's more convenient for our patients who are in that market," says Barg. "There's not a lot over there that I can think of that we don't have, to be honest."
While the county as a whole is definitely flourishing and knows no bounds, a positive spotlight has definitely been cast over the city of Camden recently more than ever before.
"The redevelopment that is taking place in Camden City will have a significant impact not only on the city, but on the county as well," says Freeholder Director Louis Cappelli Jr.
"From Holtec to the Sixers to Subaru to many other companies that are now making an investment of private money into the city, there will be the creation of thousands of jobs in the next 10 years. Many of those jobs will go to city residents which will help the city's renaissance and many will go to county residents."
Art Campbell, president and CEO of the Camden County Regional Chamber of Commerce, says the county's business marketplace has grown significantly with the addition of retails and mixed use projects in multiple municipalities. To speak directly to Camden, Campbell says economic development incentives will deliver over $1 billion in new construction in the city, and establishing Rowan University as a major research university has spurred dramatic growth in public/private partnerships in Glassboro and the surrounding area. It has also led to a new medical school in the city of Camden.
"Rutgers University—Camden now has more control of its future and holds more of its revenue which is paving the way for more collaborative activities and the first expansion of that campus in decades," says Campbell. "Partnerships between county colleges and universities are reducing the cost of higher education with the result of producing a more educated work force. That economic factor attracts new businesses and jobs."
Campbell also credits the development along the port of Camden and Gloucester City to add thousands of high paying jobs for high school graduates and college graduates alike in upcoming years.
Dr. Kris Singh, president and CEO of Holtec International, considerably weighed the benefits Camden had to offer when choosing the location for the Holtec Technology Campus.
Ed Mayer, program director for Holtec International, says there were many factors that went into the decision to go to the city of Camden with this vision. The company looked at Charleston, S.C., and Paulsboro, but Singh's roots drew him back to Camden. "Because of the success of Holtec [located in Marlton], Singh had an ethical impetus—he had the occasion to give opportunity to Camden—the opportunity to stimulate manufacturing jobs and the potential for highly trained citizens," says Mayer.
Holtec Technology Campus construction will be complete by Jan. 1. With having to install the necessary equipment during the winter, the campus will begin manufacturing in the summer of 2017.
"We expect to have 400 employees on site this time next year (200 relocated and 200 new hires), 1,000 by the end of the decade and thousands up to 10,000 by 2030," says Mayer. "Holtec is proud to bring manufacturing back to Camden with a full spectrum of jobs: engineers, designers, welders, machinists, laborers, etc."
Holtec's director of manufac- turing even worked with the board of education and Camden County College to put curriculums in place to train welders. "Our goal is to do the best we can to hire city and county citizens," says Mayer. "The City of Camden and Camden County have been remarkably helpful in making Singh's vision a reality."
With county businesses continuing to plant more roots and expand their already growing businesses, the city of Camden has followed suit and is experiencing a resurgence. It seems that Cappelli put it best, "The city [of Camden] is a rising tide that is going to lift all boats in Camden County."
WHAT BUSINESSES ARE SAYING
Local companies and officials tell us what they like most about doing business in Camden County
COMMEXIS
Len Ward, President
"Camden County is always poised for growth. Our fundamental understanding of the ebb and flow of business in Camden County gives us an advantage over our competitors. We know local because we are local. Being local also means the commute is manageable and our clients can come in to see us whenever they want a face-to-face. That personal connection is what sets us apart."
PS&S
Marge DellaVecchia, Senior Director
"Camden County is literally the 'center of it all' with a fantastic variety of businesses and landscapes. There's the rural southern end, and the more active northern portions which make Camden County a place for everyone. There is a great variety of businesses, development and redevelopment potential and community involvement here. There is also great support from the county and from local administrations who are all thinking about making their neighborhoods, communities and the County safer, healthier, and better for everyone!"
TEAMLOGIC IT
Stewart Paul, Owner and President
"As a Managed IT Services provider, TeamLogic IT has clients throughout South Jersey and Philadelphia. Camden County is located within easy reach of many of our key clients. ...We are projecting significant growth based on new client acquisition and the expansion of our existing clients in Camden County. ... I couldn't be prouder of our team of engineers and technology consultants and look forward to assisting our growing clientele in Camden County with improved efficiencies, security and productivity through the leveraging of innovative technologies."
ALLOY SILVERSTEIN GROUP
Ren Cicalese, Managing Shareholder
"[I like that we have] lots of opportunities [in Camden County]. South Jersey businesses like to do business with other South Jersey businesses. Because we went to school here, live here with our families and take our home-town into consideration with our business decisions, we're in the position to truly understand the marketplace and be an advisor to our own business community. …We have great potential with our South Jersey neighbors and the success they're seeing."
RUTGERS UNIVERSITY—CAMDEN
Michael Sepanic, Associate Chancellor for External Relations
"Camden County has everything, including an impressive network of businesses and nonprofit organizations that contribute to the growth of our region every day. And so much of that excitement is increasingly located right here in Camden! ... Camden County is growing, and so is the city of Camden. The opportunities in Camden City for organizations and individuals alike are unprecedented and amazing. This really is a once-in-a-lifetime chance to contribute to the rise of Camden and to an impressive national story."
PINSETTER BAR & BOWL
Mark Platzer, Owner
"[I like that Camden County is] so close to everything [with] great demographics, lots of industry and a huge population. ... [We are] very excited about the growth [of the county] especially with Rutgers, Cooper Hospital and the entire Camden waterfront. ...Our business continues to grow each year especially our corporate and team building events.
Published (and copyrighted) in South Jersey Biz, Volume 6, Issue 11 (November, 2016).
For more info on South Jersey Biz, click here.
To subscribe to South Jersey Biz, click here.
To advertise in South Jersey Biz, click here.