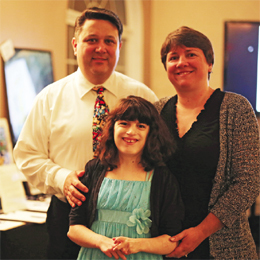 Caring for the Community
Any economy is only as sound as its community. That means no one can be left behind. Nonprofit groups often fill the gaps that citizens can fall into, from children to adults suffering from illness, disabilities or financial and educational deficiencies or any number of disadvantages. South Jersey Biz is proud to recognize these 15 organizations for their philanthropic work in our area.
Allies, Inc.
Allies celebrated its 17 year this past summer and has remarkably accomplished so much in that short time frame. For over a decade, they have been paving a path to independence, acceptance and equality for individuals with special needs and their families. Driven by the individual needs of the people they serve, innovation is the hallmark of the agency's services and underscores their every pursuit. With this in mind, they seek to transcend barriers by partnering people with disabilities to communities of their choice, paving the road to independence. Through effective advocacy, innovative programming and flexible support services their dedicated staff is helping people live richer lives.
American Diabetes Association
The American Diabetes Association's mission is to prevent and cure diabetes and to improve the lives of all those affected by diabetes. The New Jersey market serves the more than 900,000 individuals in the state who have been diagnosed with diabetes, helping them manage the disease as well as those who are trying to prevent type II diabetes. They advocate for individuals in school and in the workplace and provide health care institutions with the best standards of care. They also work with companies throughout the state to help them provide a healthy environment for their employees through their workplace wellness programs and mission engagement initiatives.
The Arc of Gloucester County
The Arc Gloucester is celebrating 60 years of providing programs and services to children and adults with intellectual and developmental disabilities. What started with a small group of parents who wanted educational opportunities for their children has grown into an organization with over 30 programs throughout all of Gloucester County. Residential programs, adult training services and businesses and family support programs provide individuals with intellectual and developmental disabilities the opportunity to live in their own home and be active members of their community, to learn new skills and earn a paycheck from meaningful employment and to spend time with peers participating in recreational and continuing education activities while providing families and caregivers time to focus on other needs.
Community Treatment Solutions
Community Treatment Solutions (CTS) is a nonprofit organization, established in 1990 to address the needs of youth, ages 5-21, who have been abused, neglected and/or abandoned by the adults in their lives. The organization, dedicated to serving the most at-risk youths in New Jersey (the majority having a diagnosis of PTSD), serves over 450 youth and their families in a variety of clinical intensive and specialized community-based services. Their mission: to provide services that build a foundation for healing, growth and success for children and families.
The impact: Mike came to Community Treatment Solutions (CTS) when he was nine years old, after having failed in 11 foster homes because of his behaviors. He was de- scribed as hearing voices, unable to manage his personal hygiene and hoarding food. After a psychiatric evaluation which could not identify a diagnosis fit for his symptoms, we began to explore Mike's story with him. He told us that from age 4-6 he and his sister were left alone for weeks at a time, often eating out of the neighbors' trash cans. When his father would come home, he would sexually molest his sister. When his mother came home she would put cigarettes out on his arms. At around age 51⁄2 Mike began to resist so his parents locked him in the closet and fed him through a hole in the door. They allowed him out for one bathroom break a day. He stayed in that closet until a neighbor became concerned that she hadn't seen Mike for over six months and contacted the authorities. Every single behavior Mike was displaying was connected to his traumatic experiences and he was showing symptoms of post-traumatic stress disorder.
Mike, who has said that he "would not be alive without CTS," is now 26 and is working as an employee of CTS. Prior to coming to CTS, he worked for four years at a convenience store while going to community college and getting an associate's degree. Like other youth in our programs, Mike's successes belong to him. CTS only gave him opportunities like life skills classes, art, drama, dance music classes, recreational activities like fishing trips and overnight camps, museum trips and going to a play, gardening, sporting events, tutoring and college prep classes, dining out somewhere besides a fast food chain and, of course, treatment.
Cooper's Ferry Partnership
Cooper's Ferry Partnership is facilitating the revival of the city of Camden by creating an environment where people choose to live, work and invest. They develop visionary, long-range plans for the redevelopment of Camden's waterfronts and work with private sector, government and community partners to make these plans a reality.
Crossroads Programs
Crossroads Programs works to empower youth who are homeless, abandoned, abused or at-risk, to lead healthy, productive lives despite transitioning to independent young adulthood without the guidance and support typically provided by a family. A private nonprofit, Crossroads Programs has been providing a continuum of care for homeless youth—shelter care, outreach services, group homes, residential treatment, community-based treatment homes, and family therapy—since 1978. Crossroads' programs offer youth developmental assets, educational and emotional mentoring or coaching and life skills training.
Girl Scouts of Central and Southern NJ
It began over 100 years ago with one woman, Girl Scouts' founder Juliette Gordon "Daisy" Low, who believed in the power of every girl. She organized the first Girl Scout troop on March 12, 1912, in Savannah, Georgia, and every year since, the Girl Scouts make her vision a reality, helping girls discover their strengths, passions and talents.
The Joseph Fund
The Joseph Fund is a 501(c) (3) nonprofit organization dedicated to shepherding re- sources to inspire self-determination, raise aspirations and lift spirits of all the individuals and families served by six Camden-based organizations that provide educational opportunities, permanent housing solutions for lower- income individuals and solutions to end homelessness for those willing to receive a "hand up" of support. The six missions are organizations that grew out of the work of their visionary founder, Father Bob McDermott former pastor of St. Joseph's Pro Cathedral Parish in East Camden.
The impact: Rakeem Miller recalls his experience at St. Joseph's in vignettes, from Mrs. Green's invitation for lunch to watch an NCAA tournament, to production of the school play with Mr. Moore, to volunteering with his class- mates and teachers at a food pantry. He especially remembers Ms. Mohr's indelible act of compassion toward him and his classmates. In his words, they were comforted, reassured and prepared. Whichever vignette he elicits, the recurring theme of serious care and of deep connection resounds. As a teacher, Miller relies on his St. Joseph's foundation to create structure for his current career, especially as it pertains to how to build relationships with his students, discipline them and teach them life lessons. The deep connection with staff and student and with student and student live on. His experience at St. Joseph's influences him still and reinforces the importance of family, something, he says, you can't get anywhere else. Support of The Joseph Fund maintains this rich legacy and makes the impossible, possible for future "young Rakeems."
Kingsway Learning Center
Kingsway Learning Center provides an alternative educational environment designed specifically for the academic, therapeutic, social and emotional development of students with multiple disabilities. Kingsway provides the highest quality individualized services and support by working closely with families to help students reach their full potential. The goal is that each program they offer fulfills different needs and allows students and families to live each day with a better quality of life.
The impact: In June 2015, Alex and 25 of her peers graduated from Kingsway Learning Center's secondary program. For 17 years, Alex spent her days at Kingsway forming relationships with friends and teachers, experiencing physical and intellectual stimulation, and developing skills that would help her with daily living. On that bittersweet graduation day, she held her head up high, proud of her accomplishments.
Alex's mom, Tina, describes her first experience with Kingsway. "I just knew Kingsway was the right place for her the second I walked through the doors." Alex thrived in her new environment. "Not only were her educational and therapeutic needs met, but she also did things typical kids did."
Alex is one of many students who have benefited from Kingsway's unique programs that are individualized to meet students' needs. Kingsway's newest endeavor is the development of an adult program that will directly benefit individuals such as Alex, who are over the age of 21 and require high-quality services.
The New Jersey Community College Consortium for Workforce & Economic Development
For over 12 years, NJ Community College Consortium for Workforce and Economic Development has played a significant role in aggregating the vast resources of the state's 19 community colleges primarily to address the skills gap in the workforce of the state through in-demand training programs for both incumbent employees and unemployed workers. Funded through grants from the federal and state Departments of Labor, the Consortium has helped nearly 6,700 businesses both large and small, and trained over 150,000 workers.
Robins' Nest
At Robins' Nest, the mission is to protect children, strengthen families, and empower our communities through innovative, life-enhancing services. They currently offer 65 different programs and services that impact children, adults, families, veterans, caregivers and the community at large. They directly serve the communities throughout the seven southern counties of New Jersey, and they are moving services into Ocean County for the first time ever with the incorporation of a new Family Success Center, which will offer free community support and resources to residents in Barnegat and Stafford Township.
United Way of Greater Philadelphia and Southern New Jersey
The mission at United Way of Greater Philadelphia and Southern New Jersey is to harness, leverage and strategically invest the collective power of donors, advocates and volunteers, to drive measurable results that improve the lives of people in the region. Their Impact Fund changes lives and strengthens communities—one child, one adult and one family at a time. They take a holistic approach to improving education, financial stability and health, and they make sure that community members can meet their most basic needs—food, shelter and safety.
The impact: As a caregiver of two parents with Alzheimer's, Elizabeth wanted to give her father, Lou, an outlet to be expressive and engaged through activities, and where she could devote much-needed attention and care to her mother, whose disease had progressed further. The Tender, an Alzheimer's respite program and United Way Impact Partner, has nurtured Lou's passion for singing and introduced him to a new love for dancing. "Thanks to The Tender, my dad's life has purpose again," says Elizabeth.
Rowan Medicine Cares Institute
The CARES Institute provides an array of medical and mental health services developed to meet the diagnostic and therapeutic needs of children through an individualized plan for the specific circumstances of each child and family.
Women's Opportunity Center
The Women's Opportunity Center is committed to help women gain economic self- sufficiency through education, job readiness, networking, outreach, referrals and emotional support. The Center also promotes aware- ness of women's rights and issues through public advocacy.
YMCA of Burlington and Camden Counties
The YMCA of Burlington and Camden Counties is a cause-driven, community based, charitable organization that strengthens community by building healthy, confident, connected and secure children, adults and families. Serving over 37,500 individuals in more than 70 locations in neighborhoods and towns across the two counties, the Y offers pro- grams, services and initiatives that focus on youth development, healthy living and social responsibility.
The impact: Dominic and Natalie, 12-year- old twins, never had the opportunity to attend summer day camp. Then in 2015, the YMCA began a free four-week Cycle & Science Summer Camp through the Y's Watershed Education by Bike program funded by the William Penn Foundation. Before at- tending camp, Dominic did not know how to ride a bike but after working closely with the counselors at the Y camp he quickly became a pro. Natalie was familiar with biking but never really learned herself. Like Dominic, she was able to quickly pick up the sport. Both Dominic and Natalie not only loved the biking aspect of the camp, but they also enjoyed the science portion involved. Thanks to the Y's Cycle & Science Summer Camp, Dominic and Natalie have learned a valuable life skill that will take them to new places and help them reach their goals.
Published (and copyrighted) in South Jersey Biz, Volume 6, Issue 11 (November, 2016).
For more info on South Jersey Biz, click here.
To subscribe to South Jersey Biz, click here.
To advertise in South Jersey Biz, click here.